Home of the Old Ammo Guy's Virtual Cartridge Trading Table

Offering a wide range of antique, obsolete, and modern ammunition and related items for collectors
---
Please note: Unless otherwise indicated, the pictures on this web site are my property, and should not be used by anyone without my permission.
---
I am retired and spend a good amount of time away from my home, which means I may not be able to fill your order in a timely manner. Please email me prior to mailing your order to ensure that I am at home. Thanks.
---
Cartridge boxes, guns, gun parts, powder flasks and cans, loading tools, and related items for sale or trade..
I will list here cartridge boxes and other gun and ammo related items as I get them in. These will usually be singles, but I will indicate if I have more than one if that is the case. When I do have more than one of an item, the one you receive may not necessarily be the same one pictured on this page, but any condition problems that differ from the pictured item will be discussed prior to finalizing the sale or trade. For foreign sales, cartridges will have to be made inert prior to shipping.
>>>Recently added books are at the bottom of this page.
---
8m/m Roth-Steyr stripper clip

It is in very good condition; matked on the bottom with a super-imposed GR in a circle. The cartridges were made from shortened Argentine made M1901 Mannlicher cases and are not included $75
Frankford Arsenal .45 Revolver boxes: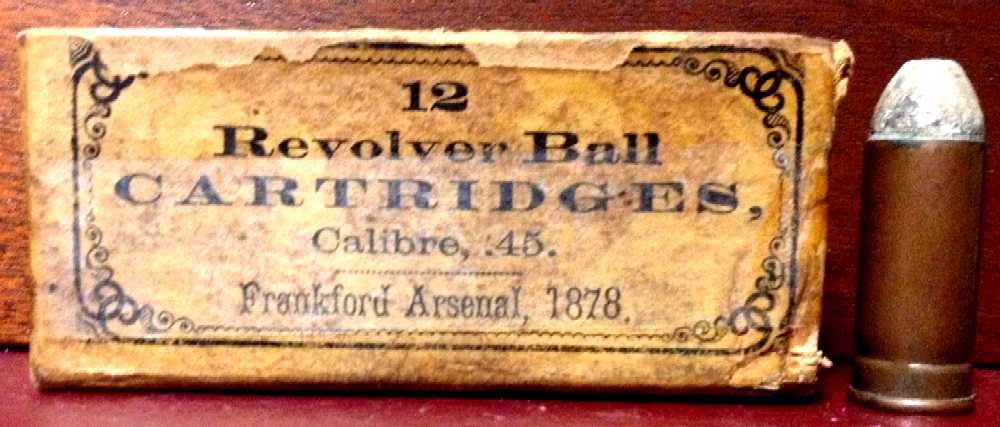 1878 - box is missing it's top and a single Benet-primed cartridge remains $100

1889 blanks - stamped on top OCT. 4 1889; sealed with it's pull string intact, and in excellent condition, cartridges made after 1881 will be externally primed $200
Frankford Arsenal bar primed .50-70 cartridges made in 1867
Pictured here is a full carton of Frankford Arsenal bar-primed .50-70 Springfield cartridges, taken from a wood crate that was packed at the arsenal in April of 1867. The full crate held 25 of these cartons when originally found in the 1950s by a gentleman in Utah, who sold a number of the cartons in the succeeding years at local gun shows. The carton contains eight small 5 round boxes, each of which will be labeled on the front 5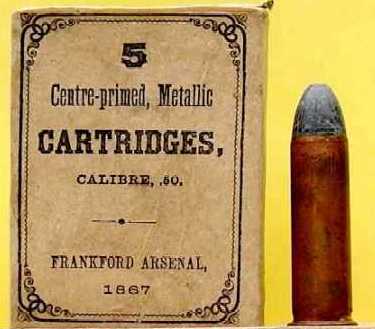 CENTRE-PRIMED METALLIC CARTRIDGES CALIBRE .50 FRANKFORD ARSENAL 1867. The stenciling on the wood crate shows that it was initially sent to Major John R. Edie in Omaha, Nebraska. Major Edie was on temporary duty as Chief Ordnance Officer for the Army's Department of the Platte in Omaha. He had been tasked with making arrangements for the supplying of troops under the command of the department with the newly issued Model 1866 Breech-Loading (2nd Model Allin) rifles and the new center fire bar-primed ammunition that was initially issued with them as replacements for their Civil War muzzle-loading rifles, which had become a high priority issue for the Army following the December 1866 Fetterman massacre. Major Edie had been a member of the military board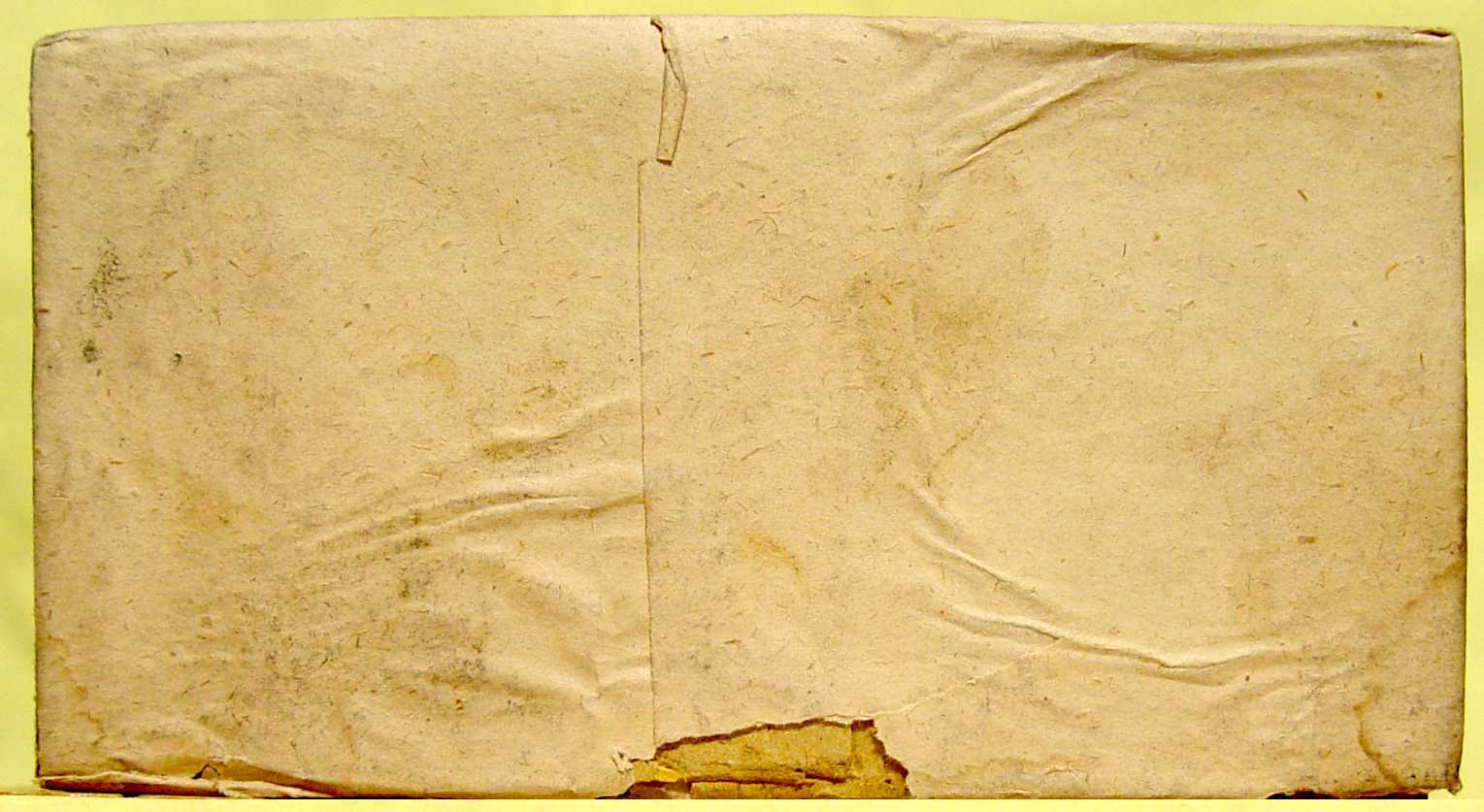 which selected the Springfield trapdoor rifle for adoption by the Army. In 1873, he was the Ordnance Department officer who signed the contract with Colt's Firearms Manufacturing Company for the first 8,000 Single Action Army revolvers. His signature as the Armory Ordnance Inspector, along with that of Armory Sub-inspector O. W. Ainsworth, appears on the inspection reports that were made for these revolvers after their delivery to the armory.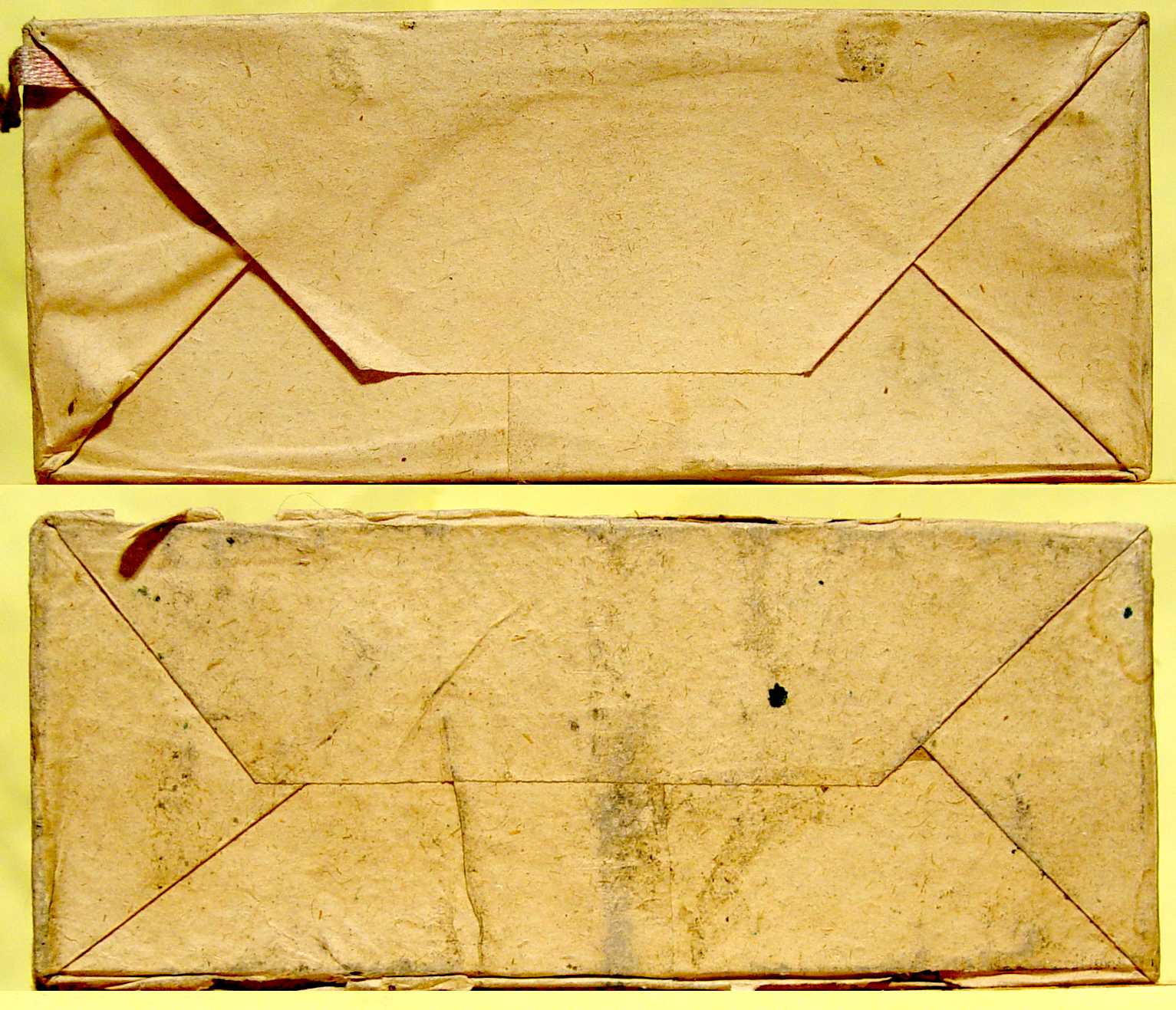 From Omaha, the crate was shipped to Lt. Col. William H. Lewis, Commanding Officer of Camp Douglas, near Salt Lake City, Utah. Lt. Col. Lewis also had an interesting military career. During the Civil War, he received a Brevet promotion to Major in March of 1864 for gallantry and meritorious service involving the destruction of a Confederate train at the battle of Peralta, New Mexico. He was the commanding officer of Fort Dodge, Kansas when, in 1878, troops under his command engaged a band of renegade Cheyenne Indians near White Woman Creek in Scott County, Kansas. During the battle, Lt Col Lewis sustained a wound to a femoral artery, from which he died the following day, September 28, while enroute to Fort Wallace, Kansas. He has the dubious distinction of being the last casualty of the last Indian battle in Kansas.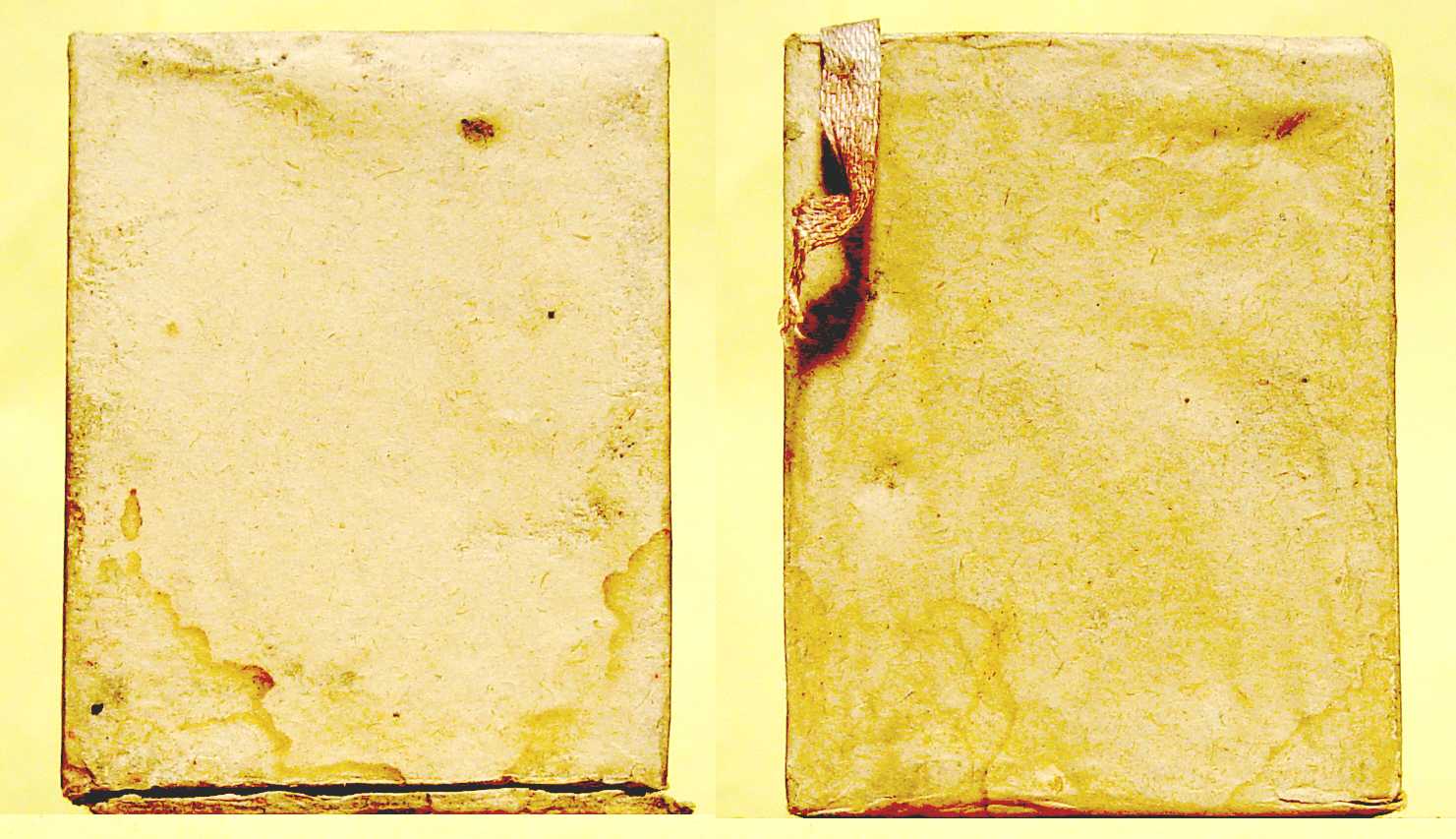 The 40 round cartons with their 5 round packs were made for less than a year; a similarly labeled 20 round box replaced it in the later part of 1867.
The 5 round packs are $600 each; the 40 round carton is not available for sale.
Full box of UMC Co military contract .50-70 cartridges made in 1873

.
.
.
.
.
.
This is another box of .50-70 cartridges that was found in its original wood shipping crate; in this case the crate was packed on Christmas Eve in 1873 at UMC's Bridgeport ammunition works with fifty of these boxes of cartridges, destined for the Army depot in

Washington, D.C. These were probably part of two million .50 caliber cartridges that the government contracted with UMC to produce in late 1873. At that time, the government arsenals were focused on production of the new .45-70 cartridge, as the Model 1873 Springfield had just been selected as the standard for Army use in May of 1873. Once the crate was packed and the top secured in place, it was painted a dark red,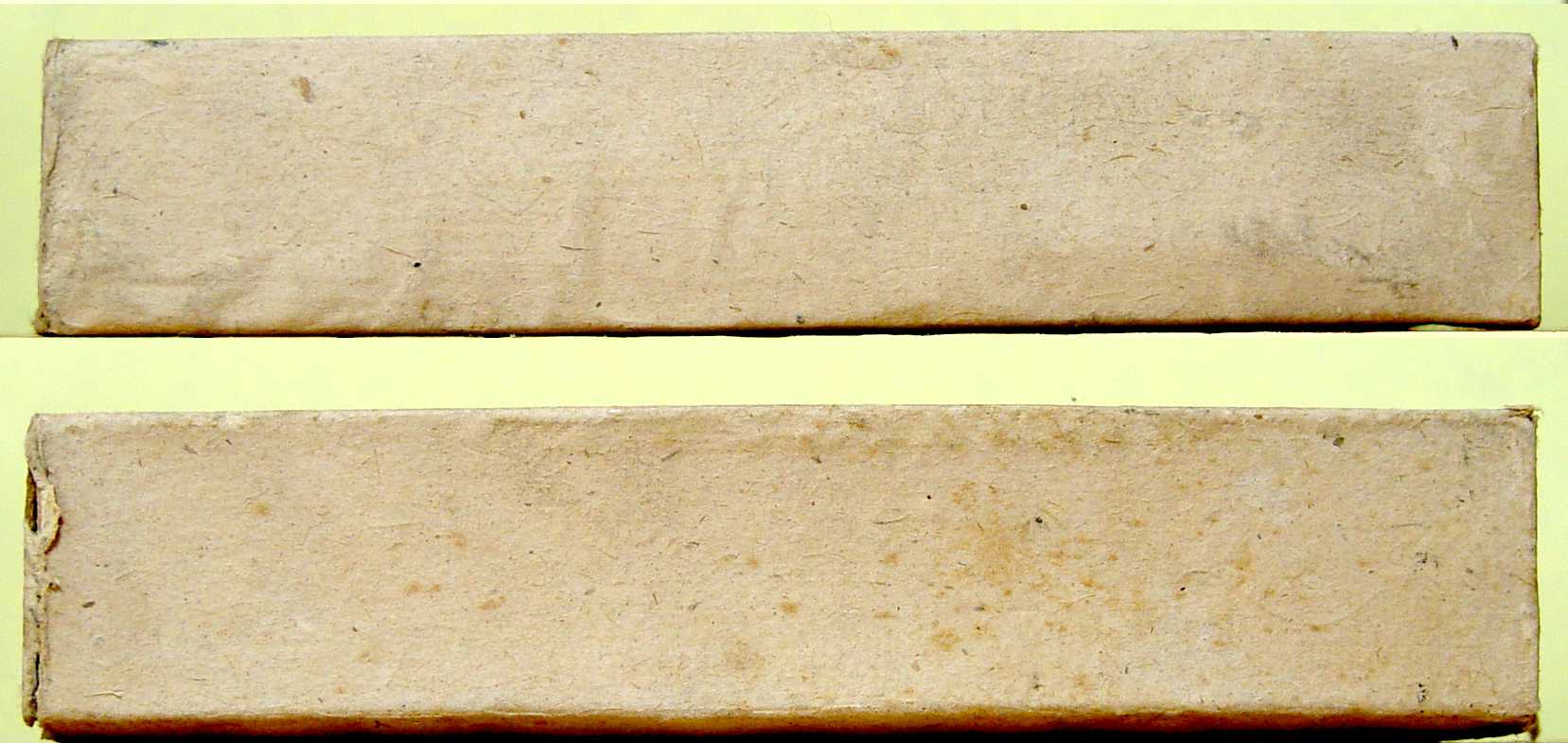 then stenciling and the date stamps were applied to both ends, and it was ready to be shipped. Upon arrival in Washington, it was probably packed away and forgotten for a while. Some time later, the top was re-painted gray, and addressed in black stenciled lettering for shipment to the Adjutant of the Virginia State Militia, in Richmond. Typically, the guns and ammunition issued to the states were, in turn, distributed to the various county militias. These were usually stored in the county court house where, more often than not, they were never needed. This was certainly the case for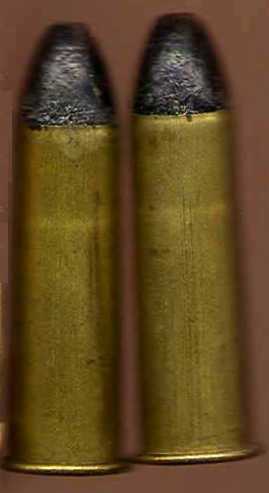 at least a portion of the boxes that were in the crate, as the ten unopened boxes that came with it were in very good condition. The fact that the original top was still with the crate would support the likelihood that it was still screwed in place when found by the previous owner. One opened box was also found with the crate, revealing the cartridges also to be in excellent condition. They are the Berdan primed, unheadstamped case style with the raised ring head typical of early UMC cartridge production. The box labels are rather plain, lacking the 'dog's head' UMC logo that was standard on the company's ammunition intended for commercial sale during the 1870s and 1880s. Four patent dates are printed on the labels; these include Hiram Berdan's patents of March 20, 1866, for the external primer cap and fixed anvil in the head of the shell, and September 29, 1868, for a cup fitted inside the case to strengthen the head. The other two are S. W. Wood's patents of April 1, 1862 and April 2, 1872, both of which I believe applied to the processes for forming drawn brass cartridge cases.

The boxes themselves are constructed of four separate pieces of cardboard, consisting of two pieces to form the body of the box and two end pieces, all held in place by a pasted-on buff colored paper wrapper, with a pull string for opening the box. When viewed from the end, the top and bottom do not form 90 degree angles to the front and back, but instead are canted slightly. As a result, when the cartridges are placed in the box, the bullet tips resting against the angled bottom cause the rims of the front row of cartridges to be positioned slightly above the back row, allowing for easier removal of the cartridges from the box. The pull string can be seen to the upper right in the picture. Pulling this string tears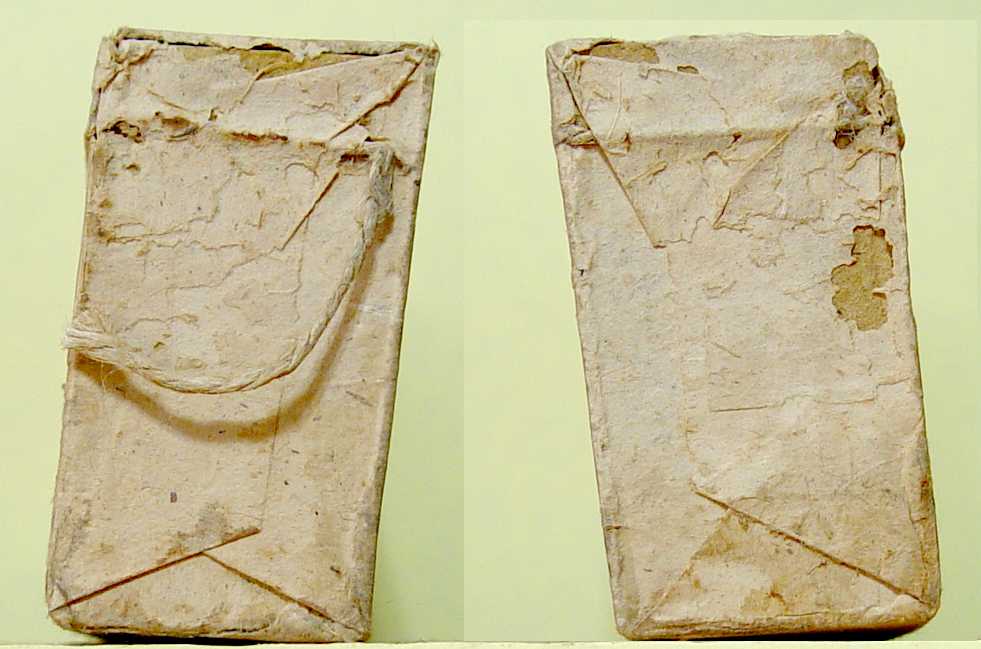 the paper wrapper across the end of the box, then across the back and the other end. The top can then be opened and 'hinged' on the untorn wrapper along the front top edge of the box to expose the cartridges.
This box is solid and in very good condition, with the exception of several areas of silverfish damage on the ends. $800.00
.
Rim Fire Boxes:
..
.
Federal Lightning .22 long rifle........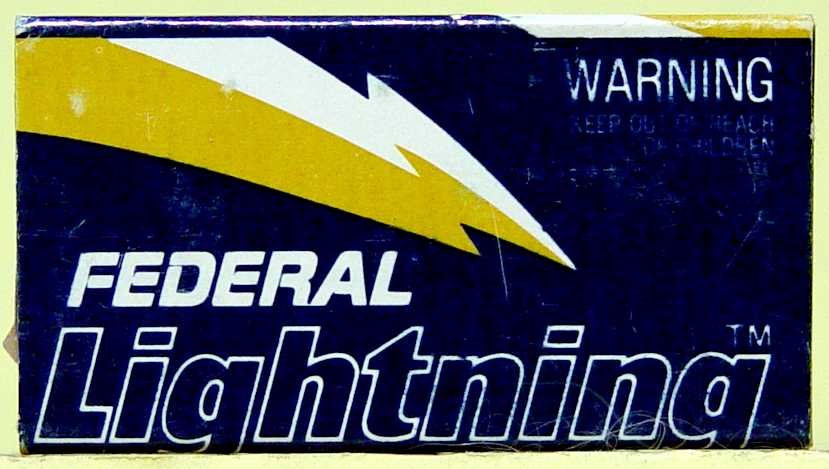 This is a full box of Federal Cartridge Corporation Lightning .22 long rifle cartridges. Brass case with F headstamp. Cartridges and box are in excellent condition. Product number 510; 'Howard's' $1.00 price sticker on end flap. $15.00
.
.
.
Federal Hi-Power .22 short hollow points.....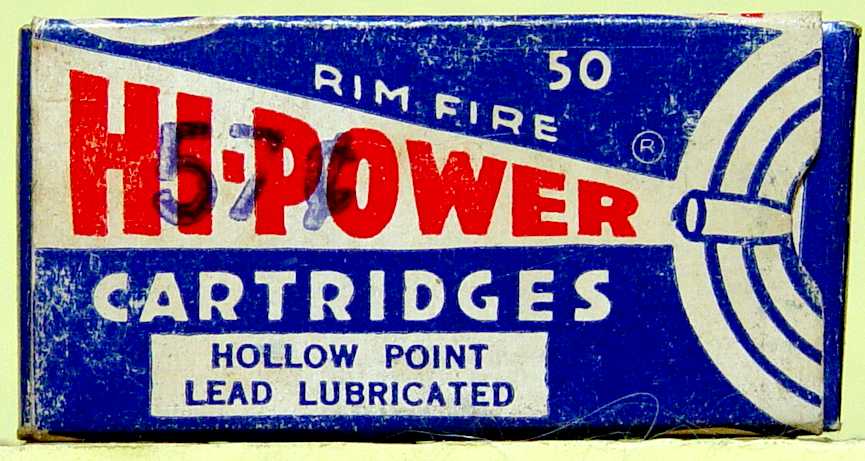 This is a full box of Federal Hi-Power .22 short hollow points. Brass case with HP headstamp. Product code 703. Price stamp (57 cents) on front. Cartridges and box are in very good condition. $25
.
..
.
Winchester Smokeless EZXS .22 long rifle Match.....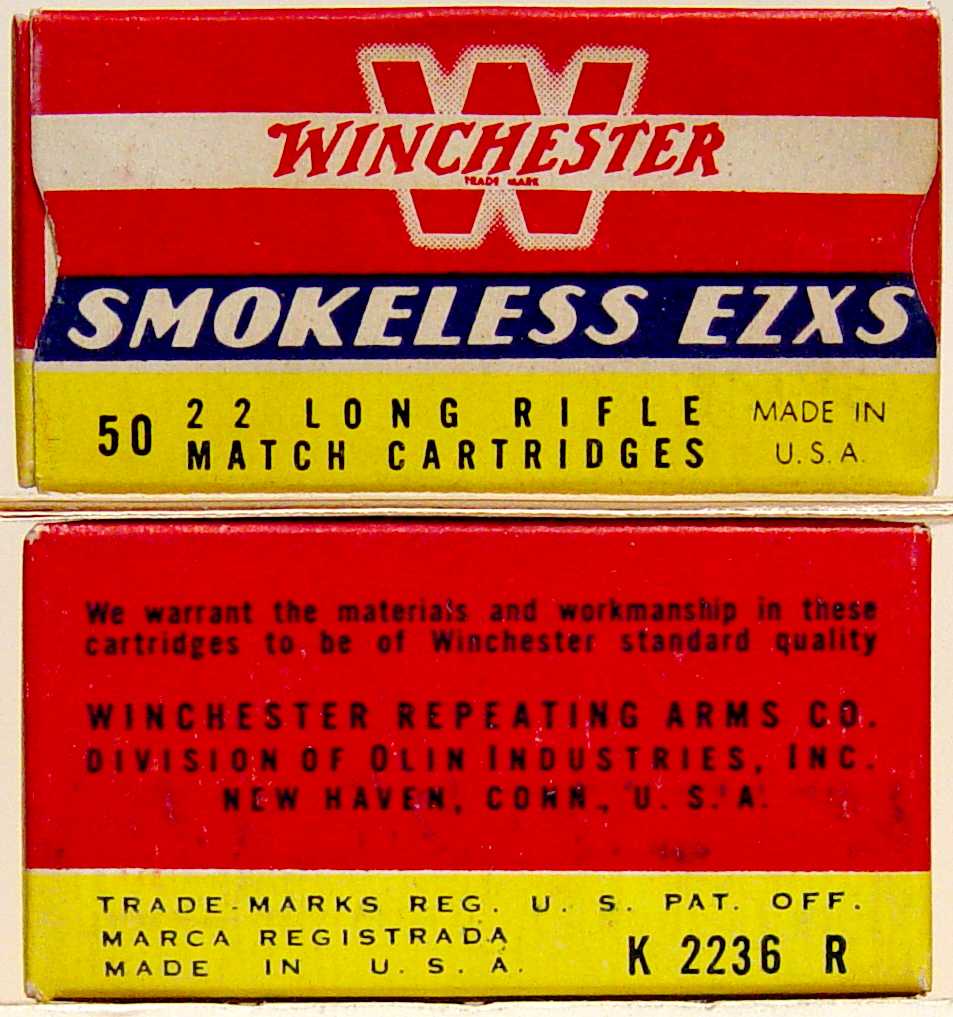 These boxes of Winchester smokeless EZXS .22 long rifle cartridges were still in the brick, so they are in excellent condition. They were made between 1944 and 1954. I have several of these at $30 each.
.
.
.
.
.
.
.Full box of Peters Rustless .22 Long Rifle......

This box format was introduced by Peters in 1928, prior to their acquisition by Remington in 1934, and continued in the product line with various small changes intil about 1948. This particular box, with the DuPont logo on the front and its Peters Cartridge Division, Remington Arms Company, Inc address, was made from about 1941 to 1946. This box is full and in excellent condition. $20
.
.
.
.
.
.
.
.
.
.
.
.
.
.
Full 'Target' box of Western Super Match .22 Long Rifle.....

Western introduced this Super Match box format in 1933; the cartridges were loaded with smokeless powder and non-corrosive priming, with a 40 grain Lubaloy coated (copper plated) lead bullet. The Lubaloy coating was dropped soon after introduction, replaced by an unplated greased lead bullet. This box format remained in their product line until the early 1940s. This box is full and in excellent condition. $25
.
.
.
.
.
.
.
.
.
.
.
.
Winchester Wildcat .22 Long Rifle.......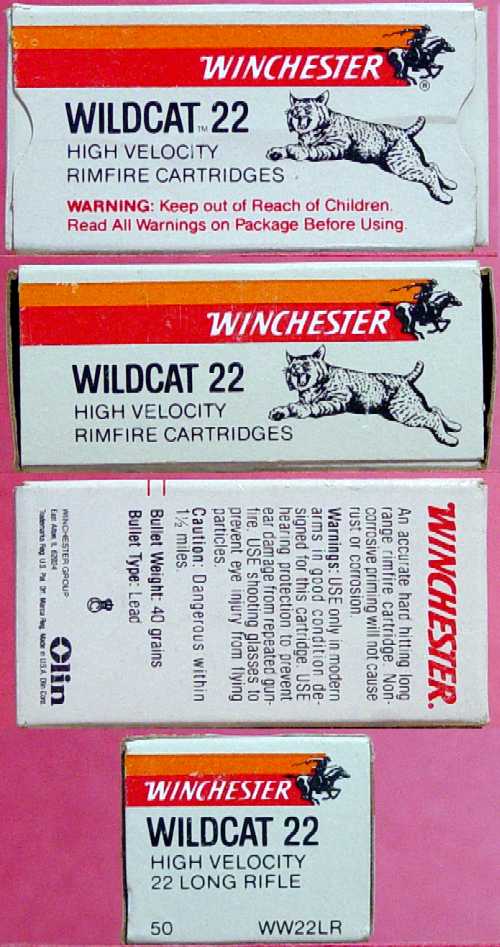 The Wildcat line of .22 long rifle cartridges was designed to be a promotional brand for sale through discount stores. This box format was introduced about 1980 when Olin Corporation combined the Winchester and Western brands to the single name Winchester-Western. In 1981, after the sale of the firearms part of Winchester-Western to the US Repeating Arms Company, they reintroduced the Winchester brand. This box was made after the 1981 change, and is full and in excellent condition. $5
.
.
.
.
.
.
Remington High Velocity .22 Long Rifle.......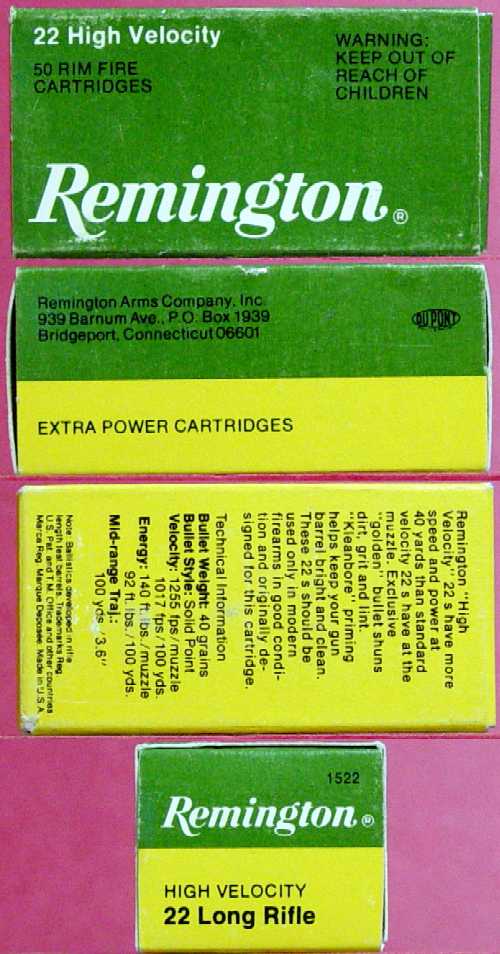 This box was probably made in the 1970s to 1980s. It is full and in excellent condition. $5
.
.
.
.
.
.
.
.
.
Center Fire Boxes:
.
.
USAC .38 Special plastic shell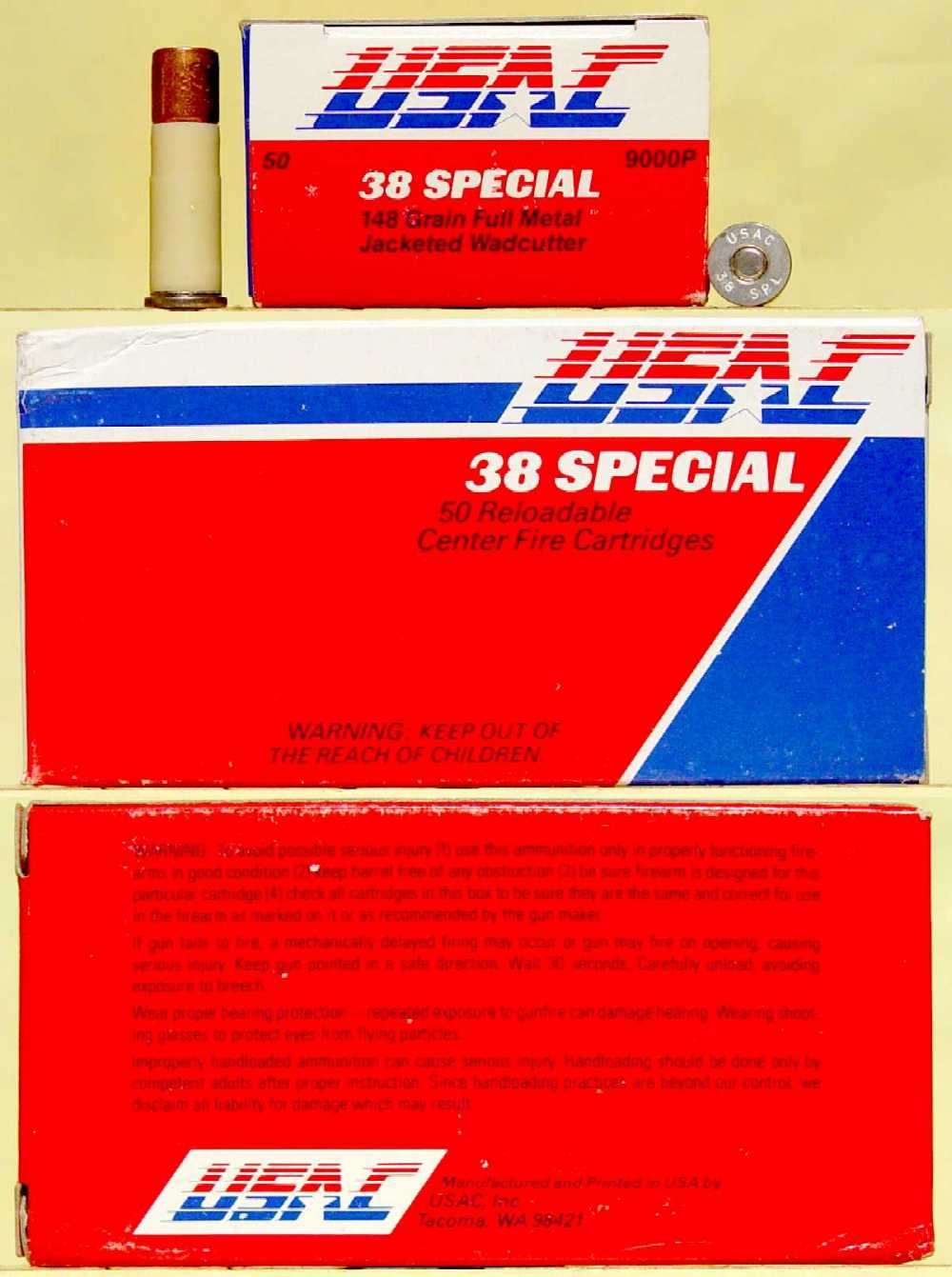 This is a full box of 50 USAC 148 grain wadcutters. These were made for a few years in the mid-1980s, and are one example of many recent 'developments' in ammunition that did not catch on with shooters. With the exception of a slightly damaged corner (top left corner in picture), it in excellent condition. $30
.
.
.
.
.
.
.
.
.
.
Full boxes of German WW2 9mm Luger.....
Perfect for displaying with a Luger or P38, these are sealed boxes of World War 2 German-made 9mm Parabellum cartridges. The box was apparently recycled, with the old label left in place and sealed with a new label. The cartridges have copper plated steel bullets and lacquered steel cases, and are headstamped ak St+ 9 44. Made at the what had been the Sellier & Bellot factory at Vlasim, Czechoslovakia, which

was placed under German control in 1939. I have several of these, unopened and in excellent condition, at $35each
.
.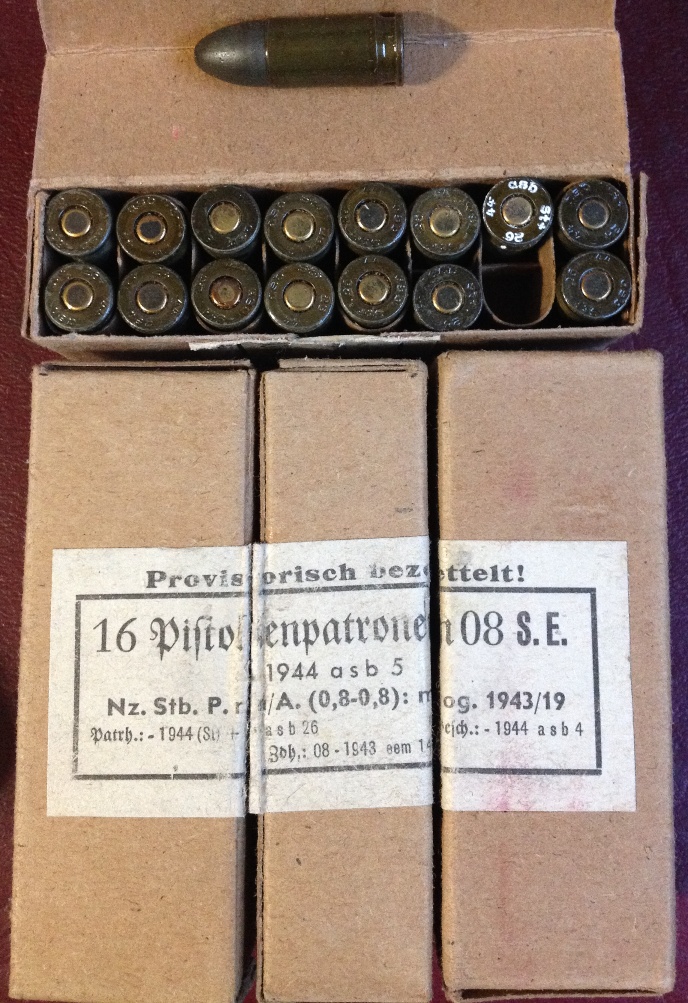 I have quite a few of these boxes, most of which are still sealed. Those that are not have had their seals broken where they pass across the edge of the top flap due to mishandling. The cartridges are headstamped asb St+ 26 44, indicating that they have steel cases and were made at Deutsche Waffen und Munitionsfabriken AG (DWM) in Berlin-Borsigwalde, Germany as part of the 26th lot of 1944. The 'Provisorisch bezettelt' at the top of the label indicates that it is a provisional label, used because they were out of the blue label paper when this lot of ammunition was packaged. These boxes and cartridges are in excellent condition; I will sell the sealed boxes first. $55 each
.
.
.
.
.
.
.
.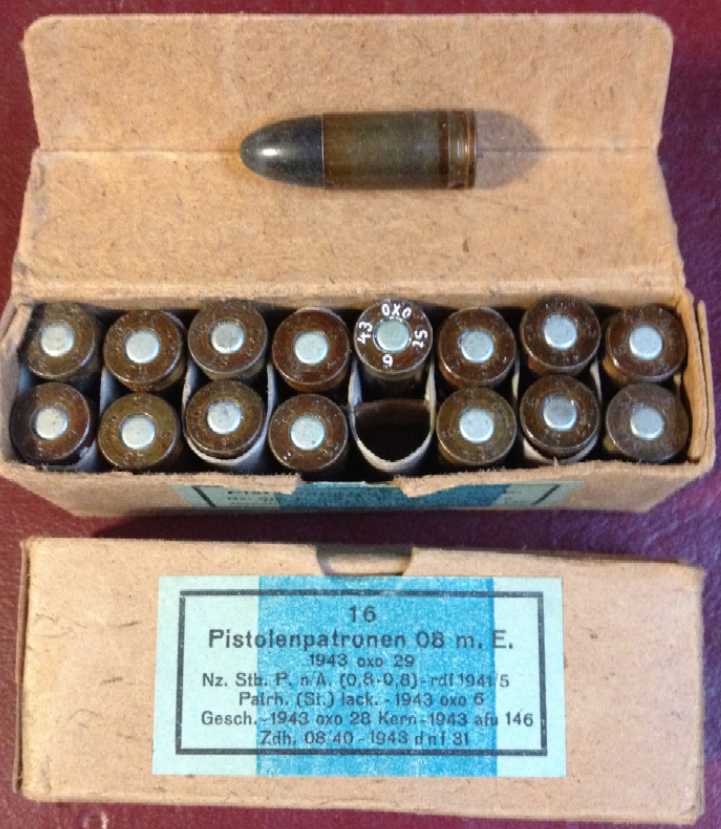 The cartridges in these boxes are headstamped oxo St 6 43, indicating they have steel cases and were made Teuto Metallwerke G.m.b.H. in Osnabruk, Germany as part of the 6th lot of 1944. The labels on these boxes are positioned entirely on the fronts, so they were never actually sealed. I have several of these ranging from excellent condition to good (worn label). The cartridges and boxes themselves are in excellent condition. The better boxes will be sold first. $35 each
.
.
.
..
.
A Full Box of .17-223 New Primed Empties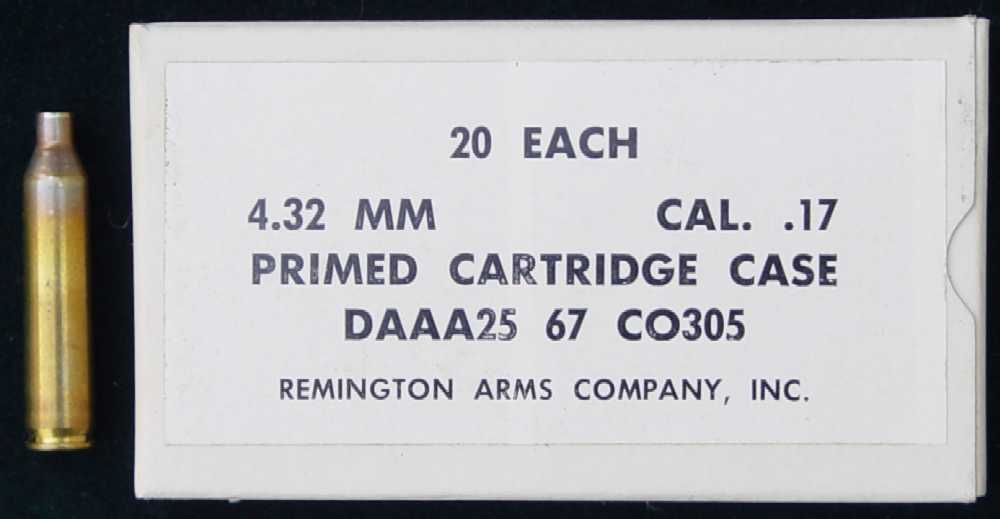 This is a full box of.17-223 (4.32 x 45mm) new primed empty cases, with brass primer and headstamped R A 6 6, indicating production by Remington Arms in 1966. This cartridge was developed and used in the US Army's unsuccessful SPIW program during the early 1960s. $50
.
..
A Clip of.30-06 Gallery Cartridges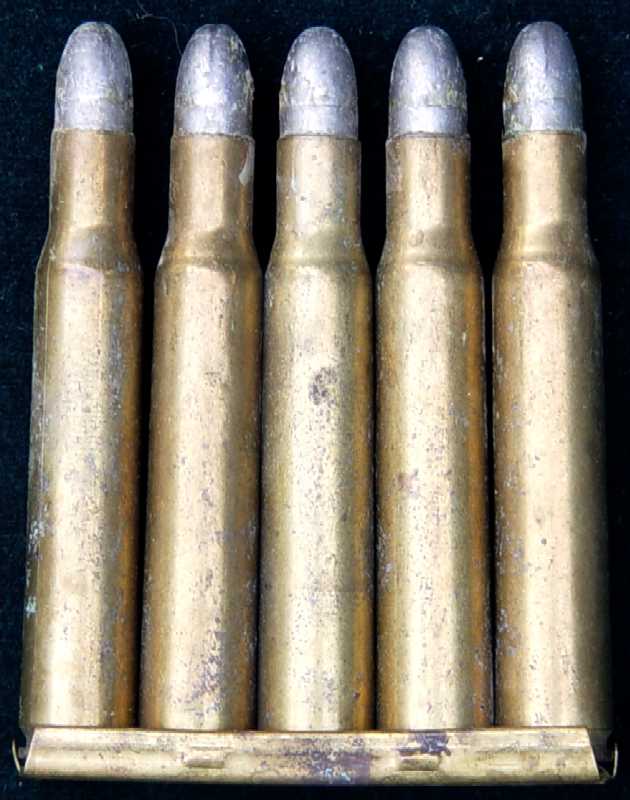 A 5 round clip for the Model 1903 Springfield rifle, filled with .30-06 Model 1919 gallery practice cartridges. The 140 grain lead bullets make these pretty easy to identify. Like most I have seen, these are headstamped RA H 18, indicating they were made by Remington Arms at their Hoboken, New Jersey plant in 1918. The fact that the headstamp seems to pre-date the model number of the cartridge is explained by the fact that unfired rejected cases were used in the production of these cartridges. I have several of these full clips, all in very good condition. $12.00
.
.
.
.
.
.
Full Box of Kynoch .450/400 3" Nitro Express
.
This is a full box of .450-400 Nitro Express with 3" cases and 400 grain soft point bullets. These were likely made in the 1950s to early 1960s, as the fronts of the boxes were stamped with a 'keep out of reach of children' warning beginning around 1962. I have several of these; the boxes and cartridges are in excellent condition. $50
.
.
..
.
.
Sealed boxes of 7.5 x 54 French MAS cartridges......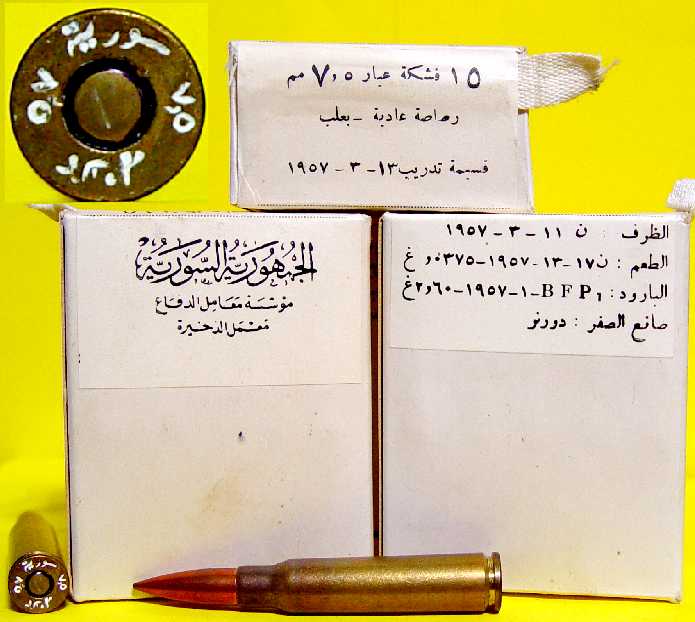 These are sealed 15 round boxes of 7.5 x 54mm French MAS cartridges manufactured in Syria in 1957 and intended probably for use in French Model 1949 MAS rifles that the Syrians imported in the early-to-mid-1950s. $10 per box
.
.
.
.
.
..
Full sealed boxes of British WW2 production 7.92 x 57 Cartridges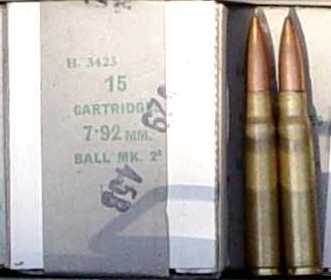 These sealed boxes of 7.92 x 57mm cartridges were made for use in the Besa tank machine gun. They are headstamped K5 45 IIZ, indicating production at the Imperial Chemical Industries Kidderminster ammunition plant in 1945. The 'IIZ' indicates they are Mark II cartridges loaded with nitrocellulose powder. I have several of these. $15 each
.
.
.
.
Full boxes of 8 x 56R Austrian and Hungarian.......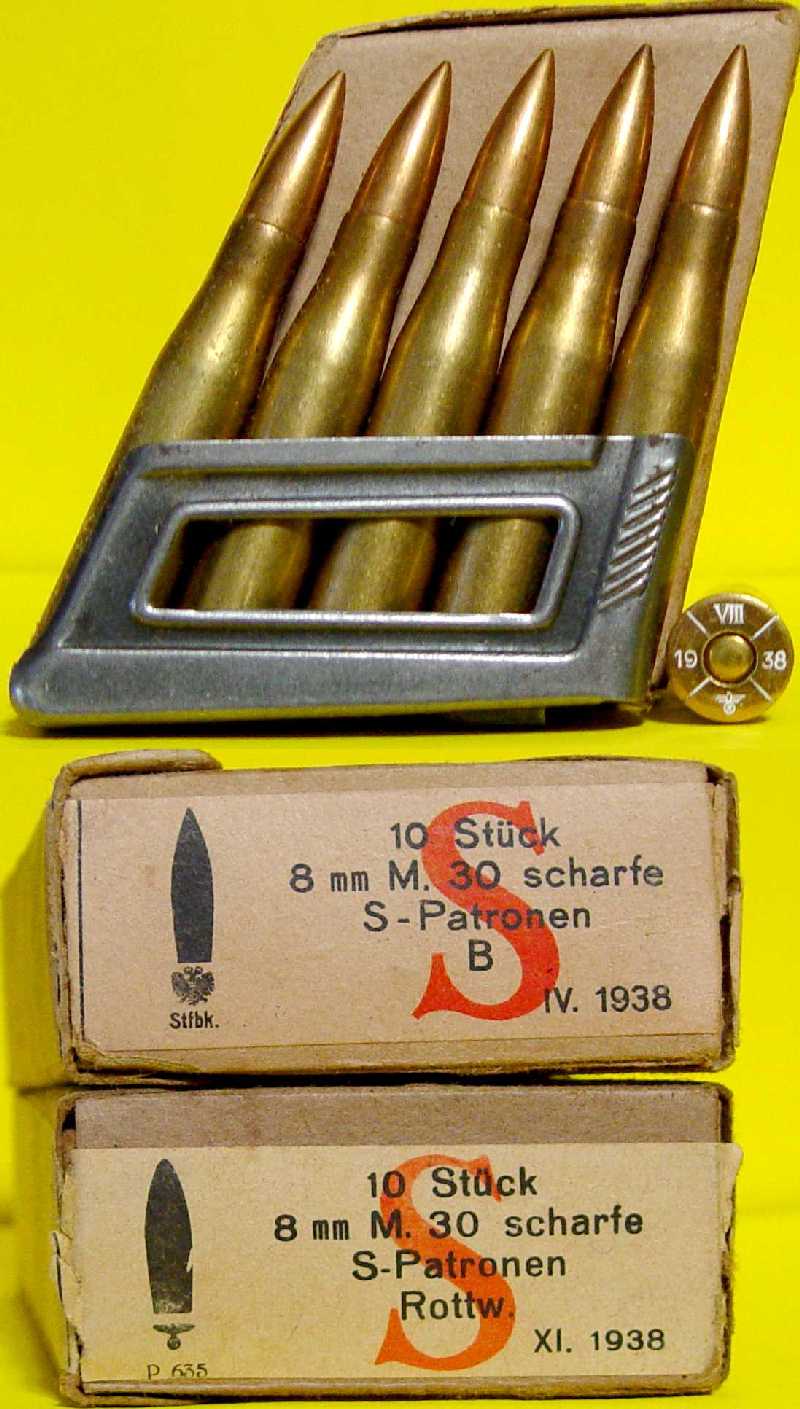 These are full 10 round boxes of 8 x 56mm rimmed cartridges intended for use in the Austrian and Hungariand Model 1895 rifles converted to this caliber in the early 1930s. They were produced in 1938, shortly after the Germans took over production of ammunition in Austria, as evidenced by the Nazi eagle grasping a swastika in the headstamp and on the box label. The boxes are opened; the cartridges are in 5 round clips. The large red 'S' on the labels indicates that they are loaded with pointed (spitzer) bullets. $40 per box
.
.
.
.
.
.
.
.
.
Shotgun Shells:.
..
American Buckle & Cartridge Co Special No 12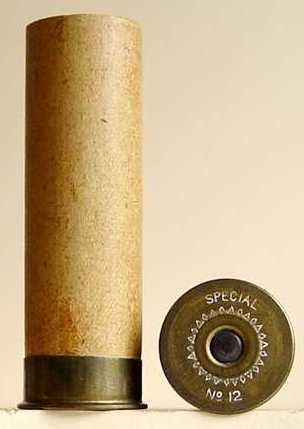 This 12 gauge SPECIAL new primed empty shotgun shell was made by the American Buckle & Cartridge Company of West Haven, Conn sometime between about 1885 and 1889, when the Ammunition Manufacturers Association (AMA) bought the company out. The AMA was a monopolistic organization made up of the Winchester Repeating Arms Co, the Union Metallic Cartridge Co, the United States Cartridge Co, and the Phoenix Metallic Cartridge Co. This shell is in excellent, unused condition. $75
.
.
.
Other items:
Smith & Wesson 1883 advertising sheet......
This is a copy of a small single page two-sided advertising sheet issued by M. W. Robinson, one of Smith & Wesson's largest distributors, on March 1, 1883. Measures just 8.5" x 5.5", printed on both sides, and folded in thirds. The picture below shows both sides of the sheet. $1.50
For other advertising, click here.
.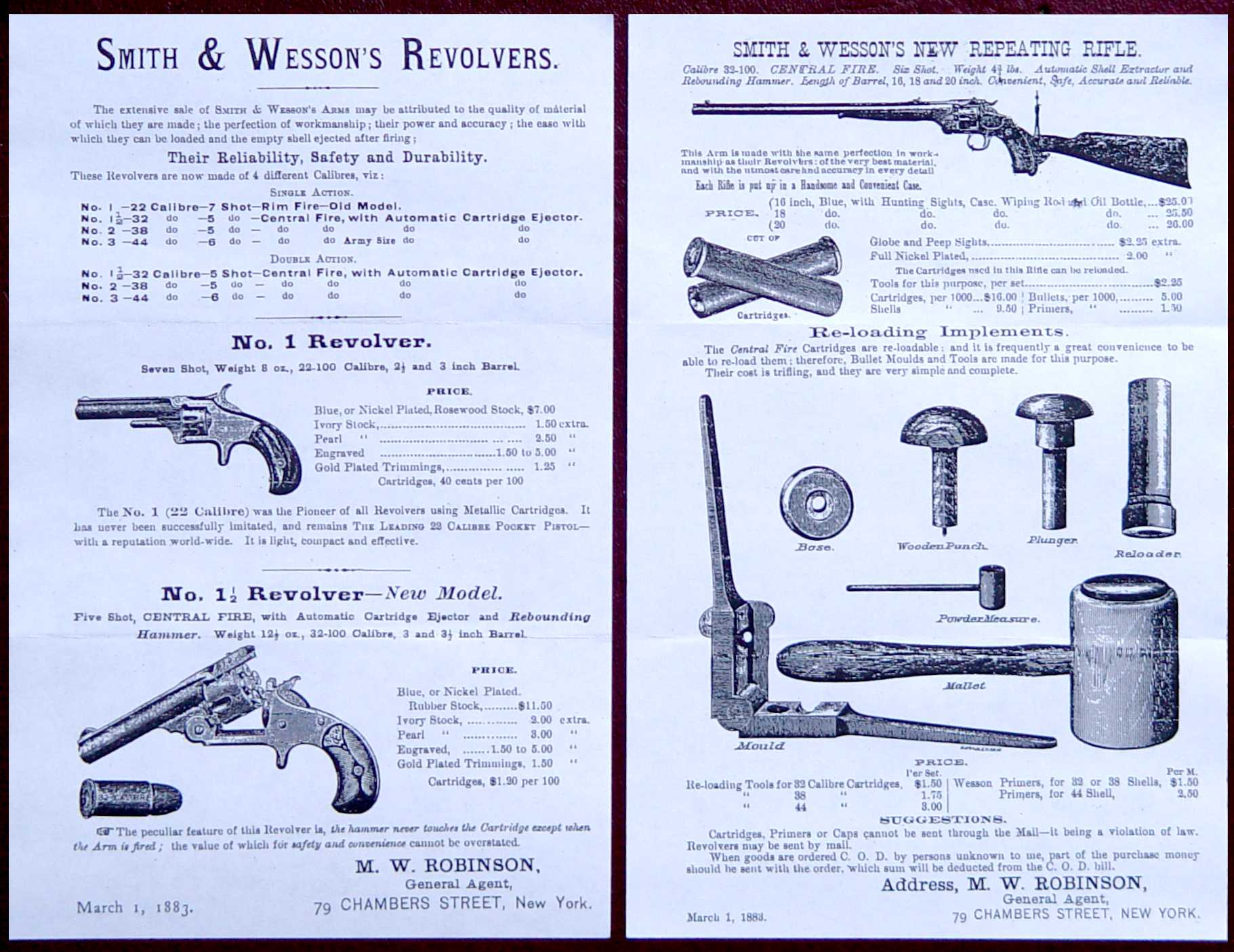 .
.
.
.
.
.
.
.
.
.
..
.
.
.Set of grips for Hi-Standard Model B .22 semi-auto pistol.......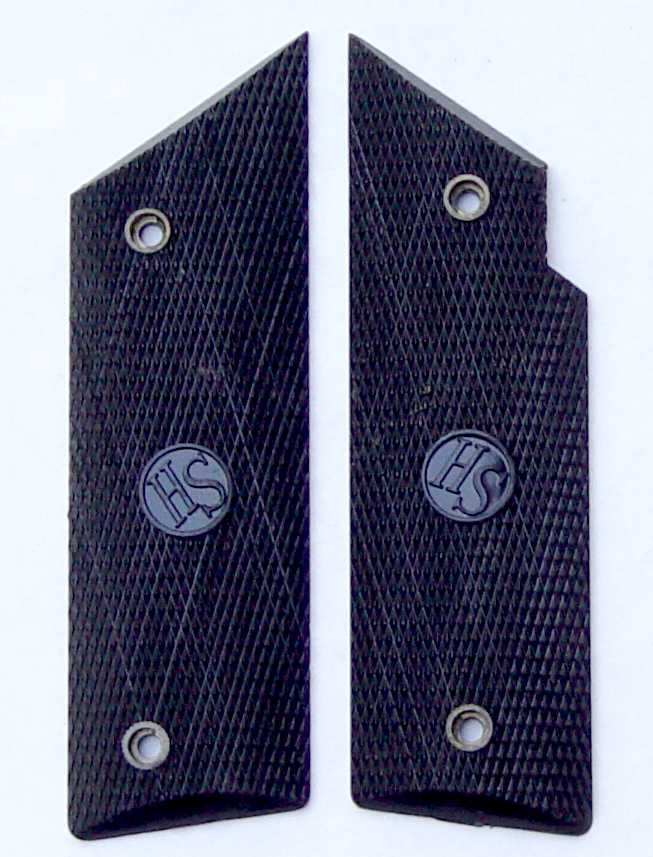 In excellent condition (no screws) $50
.
.
.
.
.
.
.
.
.
.
.
Parker Brothers powder and shot measure.......
Excellent condition $125

.
.
.
.
.
.
.
Unmarked antique .31 bullet mold.......
Good condition with surface rust $75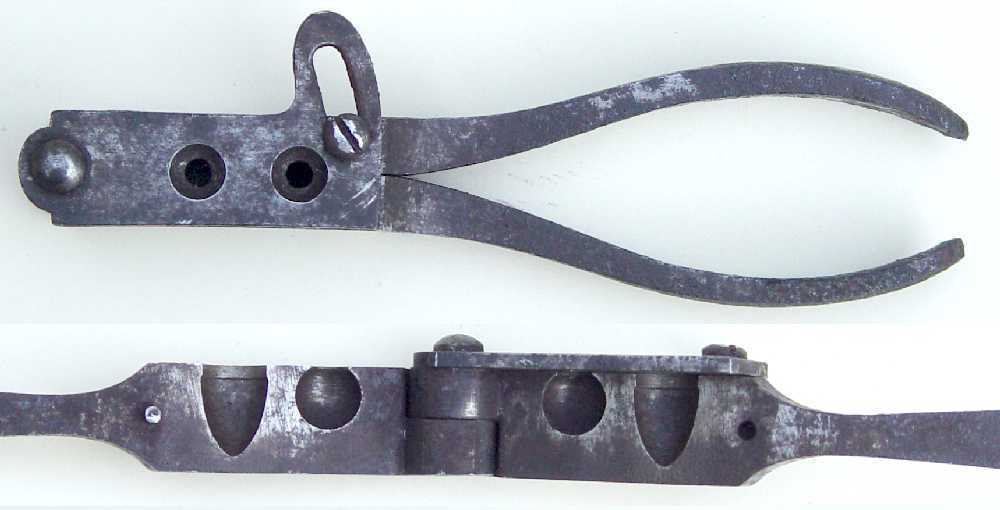 .
.
.
.
.
.
.
..
.
.
.
BOOKS
.Ammunition Its History, Development and Use -1600 to 1943-.22 BB Cap to 20 mm Shell, by Melvin M. Johnson and Charles T. Haven, published byWilliam Morrow & Co, 1943, first edition, no dust jacket, good condition $35.00
Cartridge Headstam Guide - Henry P. White and Burton D. Munhall, published by H. P. White Laboratory, 1963, first edition, no dust jacket, very good condition $100
Cartridges, a Pictorial Digest of Small Arms Ammunition, by Herschel C. Logan, Bonanza Books, 1959, dust jacket has a few chips and tears, very good condition $35
The American Cartridge, An Illustrated Study of the Rimfire Cartridge in the United States - Charles R. Suydam, Borden Publishing Co, 1960, revised edition, dust jacket has a few worn and faded areas and edge splits, very good condition, this is the first book I refer to when looking for information on a rim fire cartridge $40
Pistol and Revolver Cartridges, Volume 1 (centerfire metric pistol and revolver cartridges) and Volume II (centerfire American and British pistol and evolver cartridges) in a single edition - Henry P. White and Burton D. Munhall, published by A.S. Barnes & Co, 1967, dust jackket has tatered edges and taped repairs, good condition $30
Manual of Pistol and Revolver Cartridges (Handbuch der Pistolen-und Revolver-Patronen, Volume I Centerfire, Metric Calibers - Hans A. Erlmeier and Jacob H. Brandt, Journal - Verlag Schwend GMBH, 1967, a couple of chips and tears to dustcover edges, very good condition $40
Jane's Directory of Miitary Small Arms Ammunition - Ian V. Hogg, Jane's Publishing Inc, 1985, dustcover and book in excellent condition $20
Annual Report of the Chief Of Ordnance to the Secretary of War for the Fiscal Year Ended June 30, 1878, Government Printing Office, Washington, 1878, includes reports of development and trials of small arms, artillery, and related equipment, among the reports are:
Manufacture and classification of leather
European rifled siege howitzers and cannons
Penetrating power of projectiles
Recoil dynamometers
Tests of cartridge metals
Life saving apparatus (100 or so pages plus 50+ fold out plates of illustrations and charts
Reports on various large bore guns and cannons
Trials of the .45 Lowell and .43 Taylor Battery Guns
Report of the 1877 trials to select a magazine (repeating) gun with fold out plates illustrating 19 of the 27 rifles tested; among the guns tested were 5 entries by Winchester (Hotchkiss and Model 1876), 2 by the Sharps Rifle Co, 3 by the Whitney Arms Co, 1 by Remington, and several submitted by Ordnance officers
In fair to good condition with flaking and miissing portions of he cover material, binding splits and separated pages; great reading and I believe it is all there $100