Home of the Old Ammo Guy's Virtual Cartridge Trading Table
---
Picture Page
December 2016
---
Please note: Unless otherwise indicated, the pictures on this web site are my property, and should not be used by anyone without my permission.
---
Strong Saluting Cannons and Their Shells.........
The Strong Cartridge Company was organized in 1878 in New Haven, Connecticut and began producing 10 gauge and 12 gauge shotgun shells; they marked their shells with a S.C.Co headstamp. In 1884, the Ammunition Manufacturers Association, a monopolistic organization that was set up by the Winchester Repeating Arms Company, the Union Metallic Cartridge Company, the United States Cartridge Company, and the Phoenix Cartridge Company, purchased the cartridge making machinery of the Strong Cartridge Company. It is likely that the Strong Cartridge Company was already manufacturing breech-loading cannons and other firearms at the time of the sale, and they reorganized at that time as the Strong Firearms Company to continue manufacturing these products.
Their cannons were made essentially in two styles, these being yacht cannons on mahogany carriages with 2 or 4 wheels, and field cannons on wood or steel artillery carriages having two spoked wheels. The field cannons were not a big seller and tend to be quite rare today. According to a company catalog (circa 1885), ten barrel lengths were produced, with the carriages scaled in size as appropriate to conform to the barrel lengths. As the lengths of the barrels increased, so did the bore sizes and, consequently, the size of the shell the barrel was chambered for. In addition, the catalog provided guidance for choosing the appropriate length barrel based on the size of one's yacht, as follows:
Barrel (inches) Shell Size Suitable for
13 10 Ga 12 to 30 foot yacht
15 8 Ga 20 to 40 foot yacht
18 8 Ga 25 to 40 foot yacht
20 4 Ga 35 to 60 foot yacht
25 3 Ga 16 to 85 foot yacht
28 1 1/2" 65 to 100 foot yacht
32 2 Ga 90 to 150 foot yacht
36 1 Ga 150 foot and longer
42 0 175 foot and longer
54 00 200 foot and longer
.
A note on these shell sizes: 0 and 00 shell sizes are not actually gauges, per se, but were used by the company to designate two lengths (6" & 7") used for their 42" and 54" barrels, respectively, which were chambered for a 2 1/2" diameter Hotchkiss shell. The 6" length shell (0 ga) used a 3/4 pound black powder charge; the 7" shell (00 ga) used a one pound charge. All of the other barrel lengths used standard gauge shells (10, 8, 4, 3, 2, and 1 gauge) except the 28" barrel, which use a 1 1/2" diameter shell. This shell could essentially be considered a 2 1/2 gauge, as it's diameter was midway between the 3 gauge (1 1/4" diameter) and the 2 gauge (1 3/4" diameter).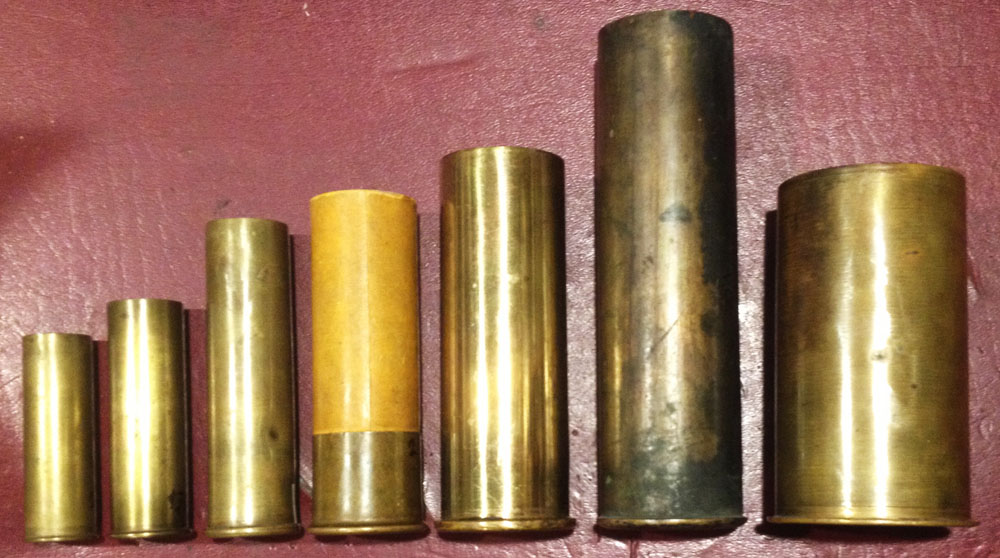 Shown above are all of the gauges that were offered for the Strong cannons up through the 1 gauge. From the left these are 10ga, 8ga, 4ga, 3ga, 2.5ga (1 1/2"), 2ga, and 1ga. The 10ga through 2 gauge were available in either all brass or with paper hulls. Brass shells were more durable than the paper-hulled shells and they were the recommended shells for use in the cannons due to the tendency of paper hulls to swell in humid conditions and cause loading issues.
.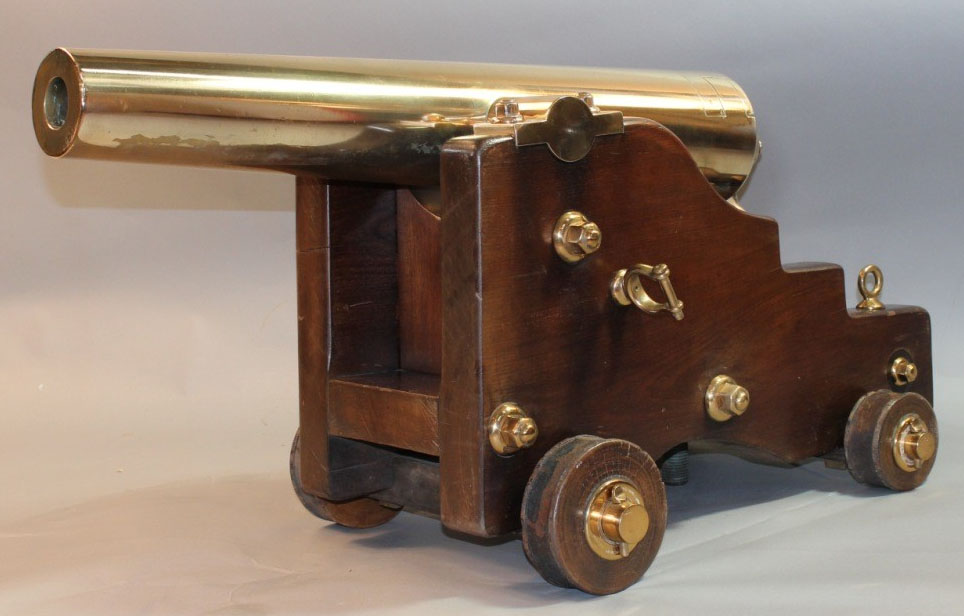 Pictured here is one of the breech-loading saluting or yacht cannons made by the Strong Firearms Company around the turn of the 20th century. It has a 32 inch barrel, and. as the table above indicates, is chambered for a 2 gauge shell. It's overall measurements, including the carriage, are 37" long by 19" wide by 19" tall.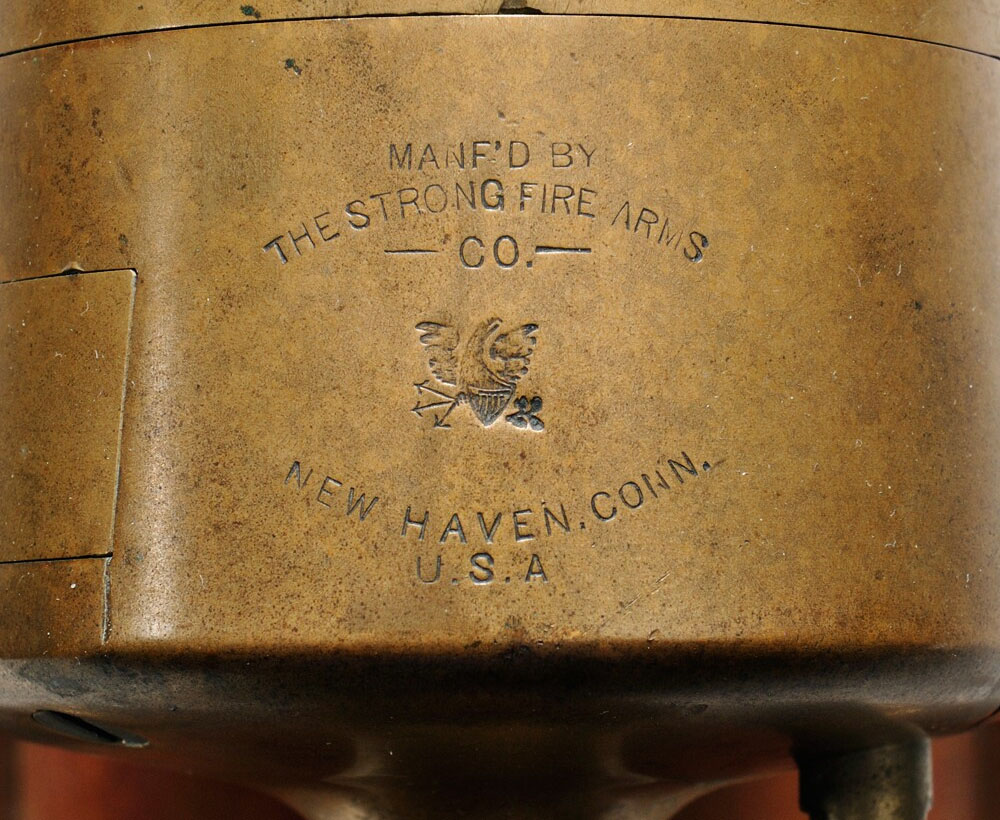 The breech is engraved "Manuf'd by the Strong Firearms Co. New Haven, CONN. U.S.A." with an eagle clutching arrows, olive branches, and a shield. These markings are often worn away due to years of polishing, which was necessary to keep the cannons shining and "shipshape".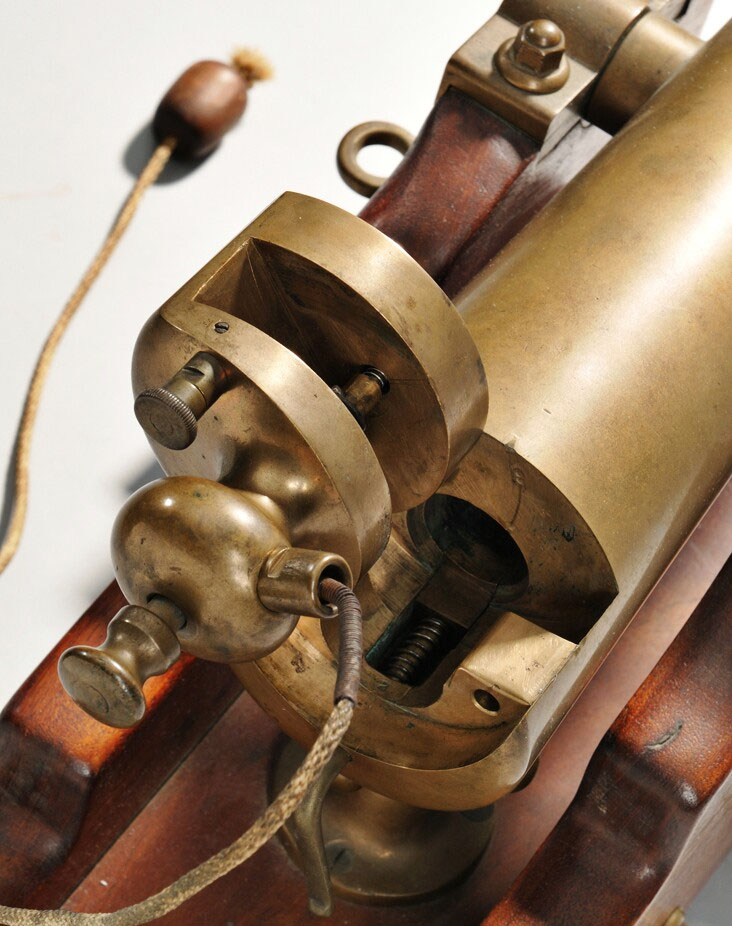 The breech is shown opened for loading in this picture; once the breech has been locked in the closed position and the firing pin pulled back to engage the sear, the cannon is fired by a pull on the firing cord.
.
.
.
.
.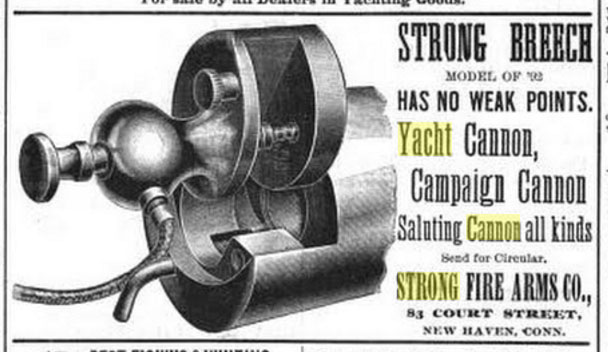 This advertisement with the illustration of the opened 'Strong' breech was taken from the June 30, 1892 Forest & Stream magazine.
.
.
.
The shell shown directly below and the two that follow were manufactured by the Strong Firearms Company.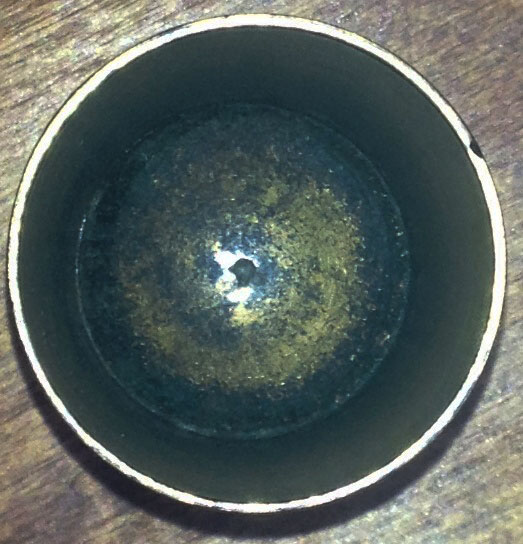 These shells invariably are of two-piece construction with a very heavy head having a rounded face to the inside surface which is quite evident when viewed down the mouth of the shell. All shells are shown approximately full size.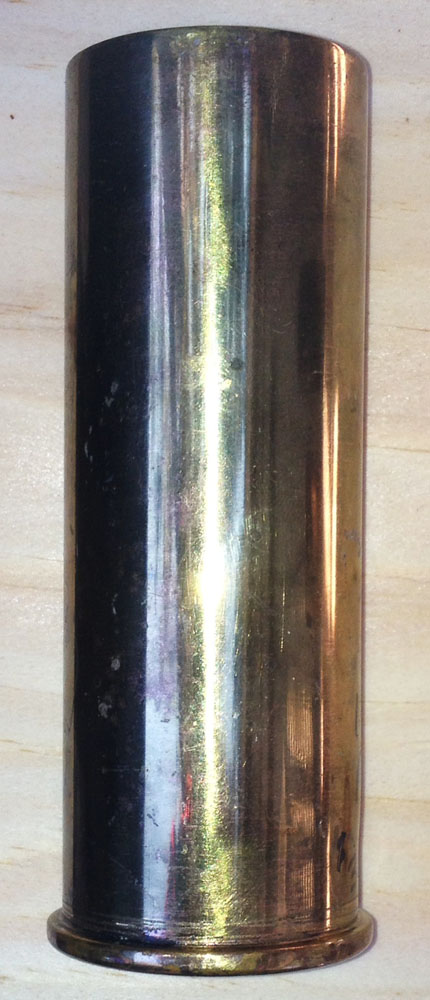 This is a 1 1/2" shell, or as the Strong Firearms Company listed it, a 2 1/2 gauge; the 1 1/2" is the measurement taken inside the mouth. The head is lathe-turned brass and the case tube is drawn brass. The recommended powder charge for this shell was 2.6 ounces of black powder with a paper top wad.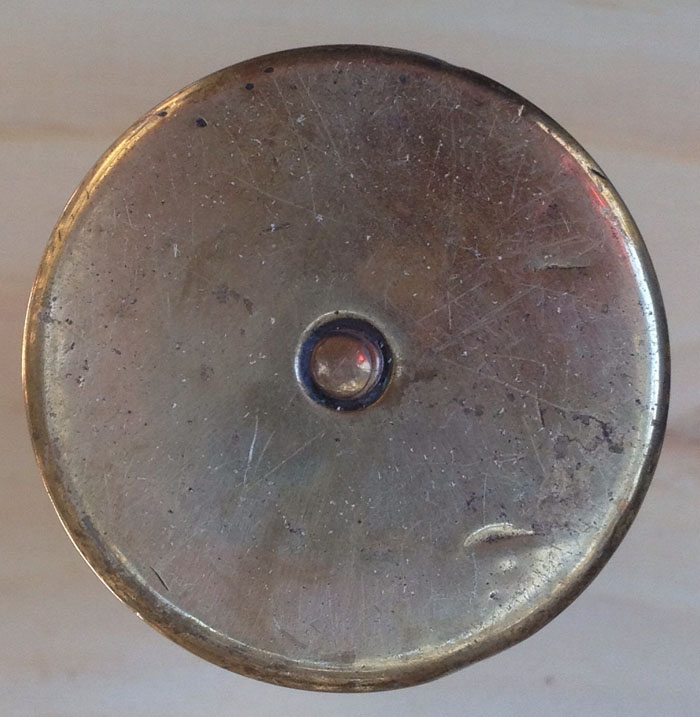 Measurements of this shell are:
Case mouth (outside) - 1.59"
Head (against rim) - 1.60"
Rim - 1.77"
Overall length - 4.64"
.
.

This next shell is a 2 gauge is a 2 gauge, intended to take a charge of 1/4 pound of black powder. It has a turned brass head joined to a drawn brass case tube.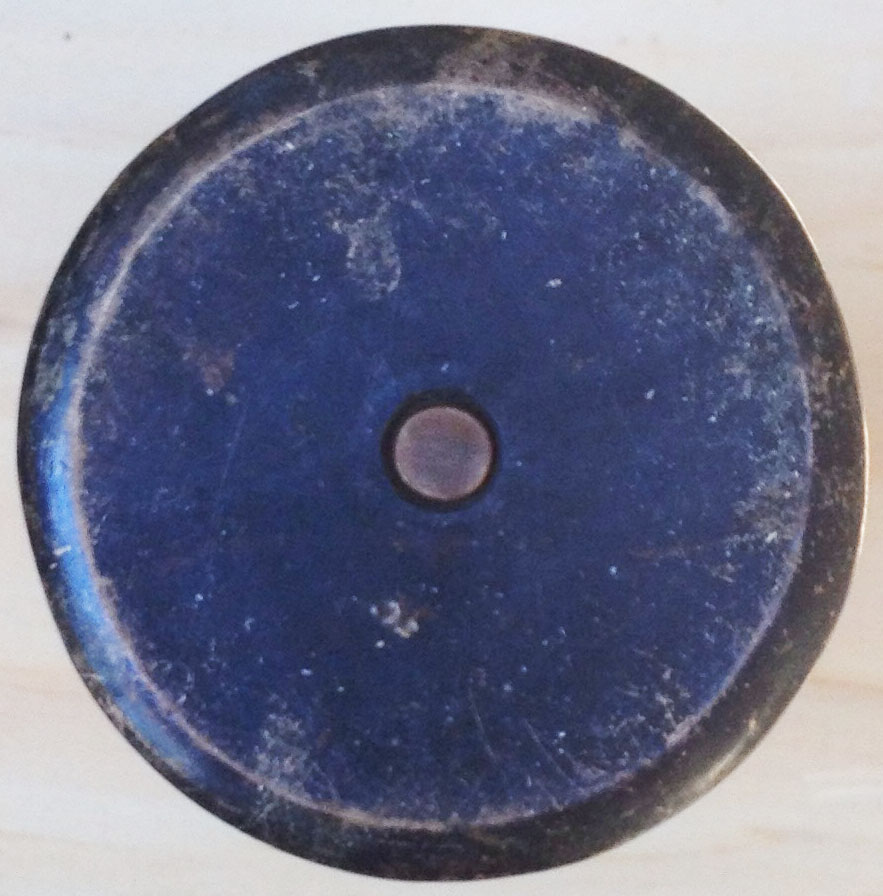 It's measurements are:
Case mouth (outside) - 1.70"
Head (against rim) - 1.77"
Rim - 1.86"
Overall length - 6.17"
.
.
.
.
.
.
.
.
.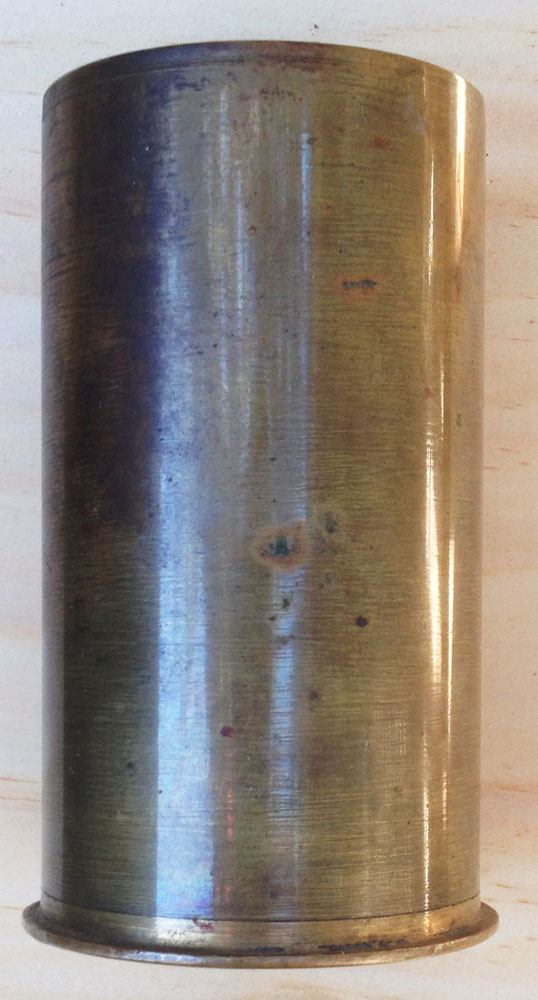 This last shell is a 1 gauge, for which the company recommended a 1/2 pound charge of black powder. The two piece construction, consisting of a turned brass head and a turned brass case tube, is quite evident on this shell due to the lighter color of the brass that makes up the head, which has resulted in a very distinct juncture between the head and the case tube.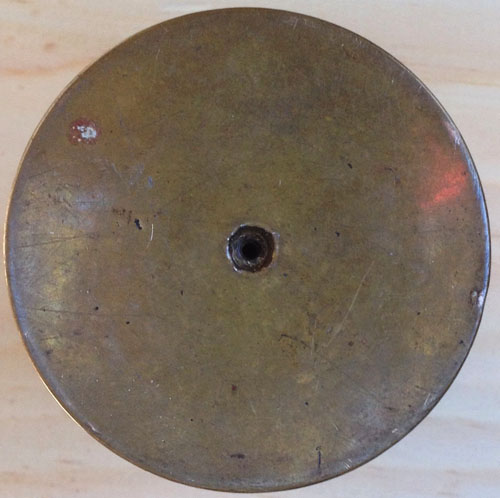 The measurements of this shell are:
Case mouth (outside) = 2.23"
Head (against rim) - 2.28"
Rim - 2.44"
Overall - 4.10"
Sources:
Strong cannon photos:
Boston Harbor Auctions, Spring Maritime & Americana Sale, April 15, 2012, Lot # 0150
https://new.liveauctioneers.com/item/11148433
Skinner Auctioneers and Appraisers, Auctions 2908T, April 21, 2016, Lot 1006
https://www.skinnerinc.com/auctions/2908T/lots/1006
Strong cannon ad:
Forest and Stream, June 30, 1892, Volume 38, Number 26, page 894,
https://books.google.com/books?id=yUkhAQAAMAAJ&pg=RA1-PA894&lpg=RA1-PA894&dq=strong+yacht+cannon&source=bl&ots=iGhgm1hMav&sig=87P4a48HrpBUv9BYnug3VRkLx_0&hl=en&sa=X&ved=0ahUKEwis-OONwrjQAhVKwFQKHf3lBWUQ6AEIVTAM#v=onepage&q=strong%20yacht%20cannon&f=false
.
.
---