Home of the Old Ammo Guy's Virtual Cartridge Trading Table
---
Picture Page
December 2017
---
Please note: Unless otherwise indicated, the pictures on this web site are my property, and should not be used by anyone without crediting the source.
---
Union Cap & Chemical Co Centerfire Cartridges.....
Note: I would appreciate hearing from anyone having any Union Cap & Chemical Company headstamped centerfire cartridges or one of their elusive boxes, regardless of the condition.
Franklin W. Olin established the Western Cartridge Company in 1898 for the production of gun powder and shotgun shells. Aside from gun powder, the components used for making shotgun shells were initially supplied by other ammunition makers: primers came from the Waterbury Brass Company, shot from the United Lead Company, and empty shotgun shells and wads from the Ammunition Manufacturers Association (AMA), a monopolistic organization consisting at that time of the Winchester Repeating Arms Company, the Union Metallic Cartridge Company, and the United States Cartridge Company. In 1899. the AMA purchased the primer division of the Waterbury Brass Company, requiring Western to begin buying it's primers from them. In 1900, the AMA notified Western that they would no longer be providing it with components, their intent being to force Western out of business.
They were nearly successful in this endeavor, but the resourceful Franklin Olin immediately set about securing other sources for the components he needed. Between 1900 and 1905, he made arrangements with Eley Brothers of England to supply primers, constructed a shot tower for the production of lead shot, and began producing his own paper and felt, as well as the machinery necessary to transform these raw materials into shotshell hulls and felt wads. In 1905, he formed the Union Cap & Chemical Company to handle the production of primers. These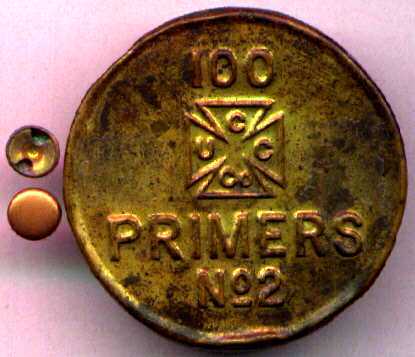 primers were packaged in round brass containers with a Maltese cross logo on the top with 'U', 'C', 'C', and 'Co.' in the four arms of the cross.
With Olin now in the comfortable position of no longer being reliant on others for the components required for the production of his shotgun shells, and apparently game for another go at his competitors, he began producing metallic cartridges at the Union Cap & Chemical Company. Initially, these were limited to rimfire cartridges (.22 BB, .22 CB, .22short, .22 long, .22 long rifle, and .32 short). These rimfire cartridges are found in boxes marked with the same Maltese cross logo on the labels as was used on the primer tins. At some point between 1905, when rimfire cartridge production began at the Union Cap & Chemical Company, and 1908, when cartridge production was shifted over to the Western Cartridge Company, a limited line of centerfire cartridges were also produced, having a U.C.C.Co. headstamp. As cartridges with this headstamp are rarely encountered, it has to be assumed that very few were produced. Boxes of these cartridges seem to be non-existent, as I have not seen a picture of one or even a mention of one in my 40+ years of collecting cartridges. It is possible that these cartridges were produced just prior to Western taking over cartridge production, and they were packaged in Western Cartridge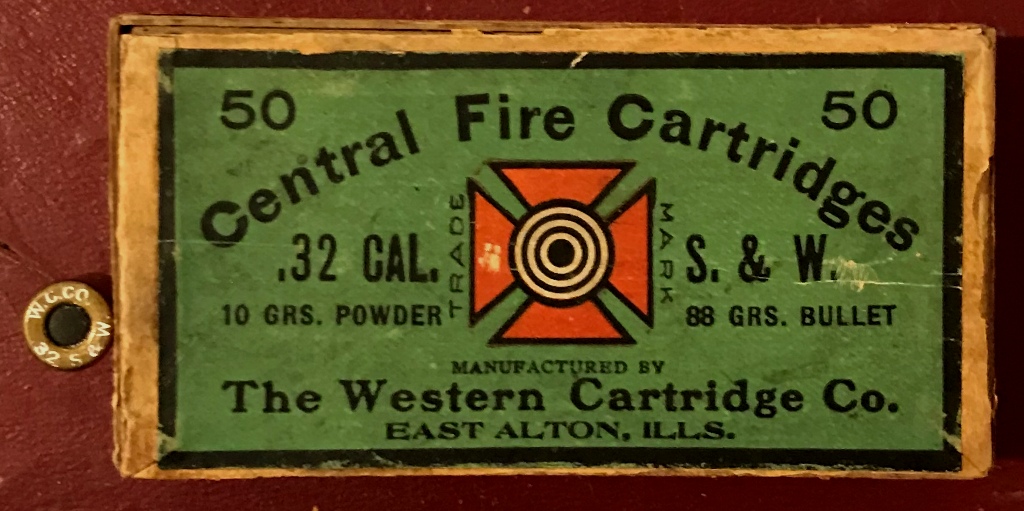 Company labeled boxes. The earliest of the Western metallic cartridge boxes also had the Maltese cross logo but without the letters in the arms of the cross.
I have never owned or even touched a U.C.C.Co. headstamped cartridge in my 40+ years of digging through old ammo. I have seen pictures of them, the first of these being a .32 Smith & Wesson sold as item 786 in Robert Buttweiler's Volume IX, No 1 (Feb 1993) Collector's Ammunition auction catalog. Four other .32 S&W cartridges came to light, including one blank, during my search for information on the Union Cap & Chemical Company. In addition a .44-40 Winchester was pictured on the International Ammunition Association's cartridge forum by an association member.
Recently, small number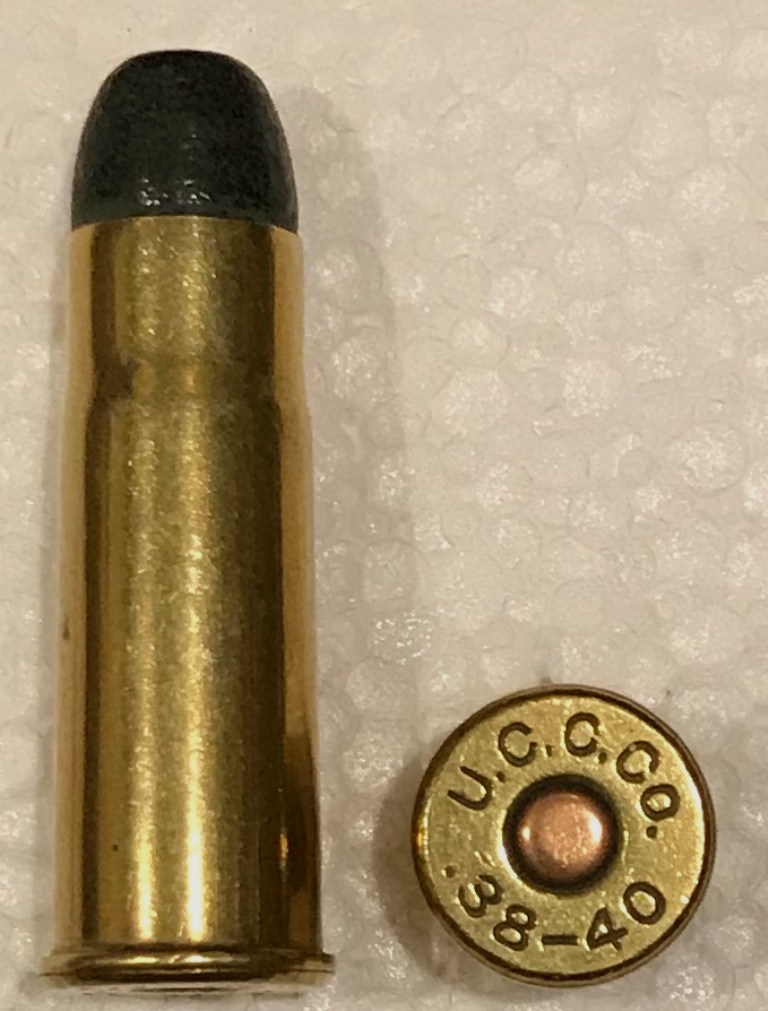 of U.C.C.Co. .38-40 headstamped cartridges were offered to me by Pennsylvania gun collector, one of which I have pictured here. They are in excellent condition, and appear to have not been out of their box for very long. I have also included a photo of the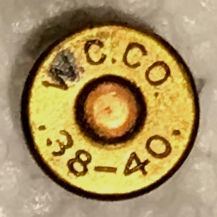 head of a .38-40 produced by the Western Cartridge Company with their early W.C.CO. headstamp. Note the similarities in the headstamps.
In a cartridge collecting column titled Cartridges - Quips, Quotes & Queries in a 1955 issue of Guns Magazine, the author mentions his pleasure at adding the .32 S&W, .38 S&W, .38-40, and .44-40 U.C.C.Co. headstamped cartridges to his collection. He also questions whether any other cartridges were made by them. My guess is that the company made them for such a short period that they did not have an opportunity to get more than these four very popular at the time cartridges into production. Another explanation suggested by the owner of the U.C.C.Co. .44-40 cartridge pictured on the IAA cartridge forum was that some unheadamped ammunition could have been produced and sold by the company. This makes sense, as the development of headstamp bunters was a time consuming and costly part of cartridge production, which may have lagged behind the development and introduction of new cartridges to the company's ammunition line. Considering this, the four cartridges that have been found with the company headstamp may have been the only ones for which headstamp bunters were completed and incorporated into their production line.
I have included a picture of another of the early Western Maltese cross boxes below, this one in .38 S&W Special.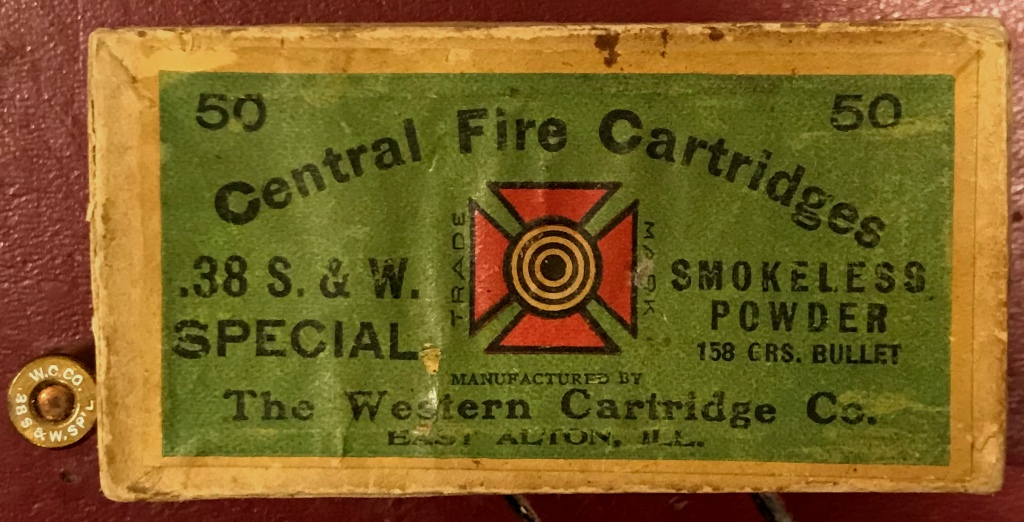 .
.
.
Again, I would appreciate hearing from anyone having any Union Cap & Chemical Company headstamped centerfire cartridges or one of their elusive boxes, regardless of the condition.
.
Sources:
Winchester, The Gun That Won The West, Harold F. Williamson, A.S. Barnes & Co, 1952
The Rimfire Cartridge in the United States & Canada, John L. Barber, Armory Publications, 1987
Guns Magazine, March 1955, Volume 1, No 3-3, pg 29, Publishers Development Corp
Bobert T. Buttweiler, LTD Collector's Ammuniition, Volume IX, No 1, Lot 786
International Ammunition Association cartridge forum, Union Cap & Chemical Co centerfire cartridges, https://forum.cartridgecollectors.org/t/union-cap-chemical-co-centerfire-cartridges/26206
.
.
---