Home of the Old Ammo Guy's Virtual Cartridge Trading Table
---
Picture Page
June 2017
---
Please note: Unless otherwise indicated, the pictures on this web site are my property, and should not be used without crediting the source.
---
Holland & Holland's Paradox Guns and Shells...
In an effort to produce the optimal all-round big-game weapon, the London gun manufacturer Holland & Holland Ltd improved on an 1885 patent issued to G. V. Fosbery (and assigned to H&H) and marketed a double gun with smooth choke-bored barrels that were rifled the last few inches at the muzzle, and the "Paradox" was born. The Cambridge Dictionary (appropriately British) defines a paradox as a situation or statement that seems impossible or is difficult to understand because it contains two opposite facts or characteristics".
As applied to Holland & Holland's gun, the paradox is the fact that both of it's barrels were very accurate with both shot and ball loads. With the short section of rifling at the muzzle, it still fired a shot load more effectively than a cylinder bore shotgun, but slightly less so than a fully choked gun, and was quite accurate to 100 yards with a conical ball because the rifling was adequate to impart the necessary spin to the projectile. Holland & Holland referred to their Paradox gun as "a perfect shotgun, and at the same time an accurate and powerful rifle".
.
.
.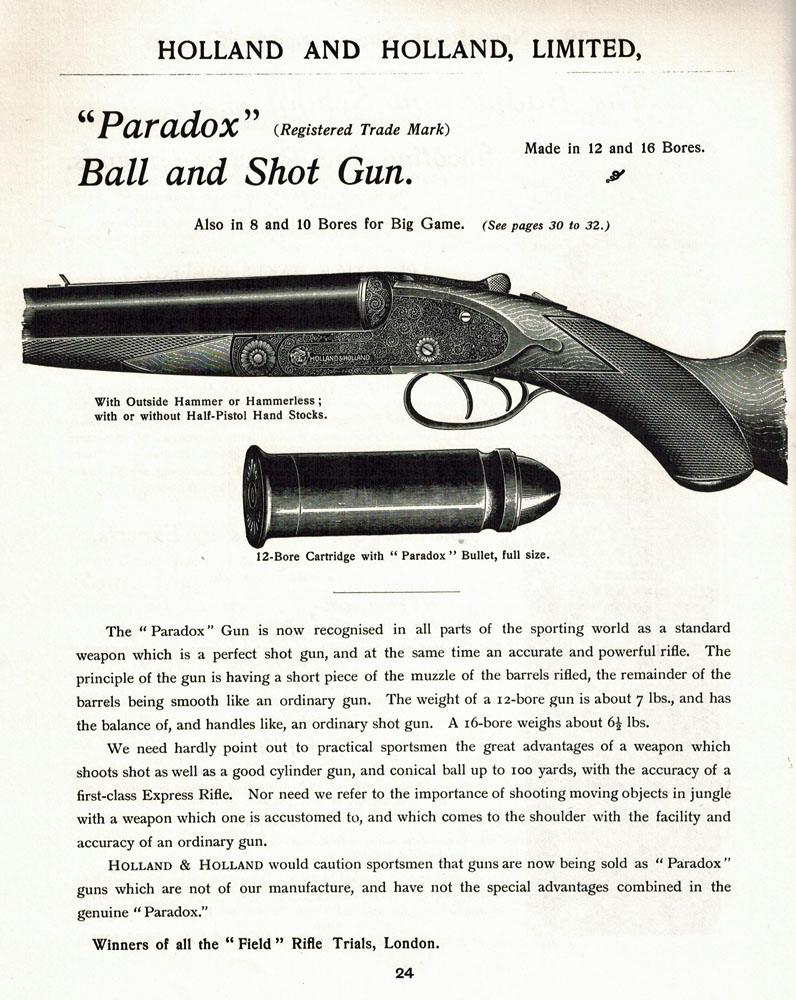 .
.
.
.
.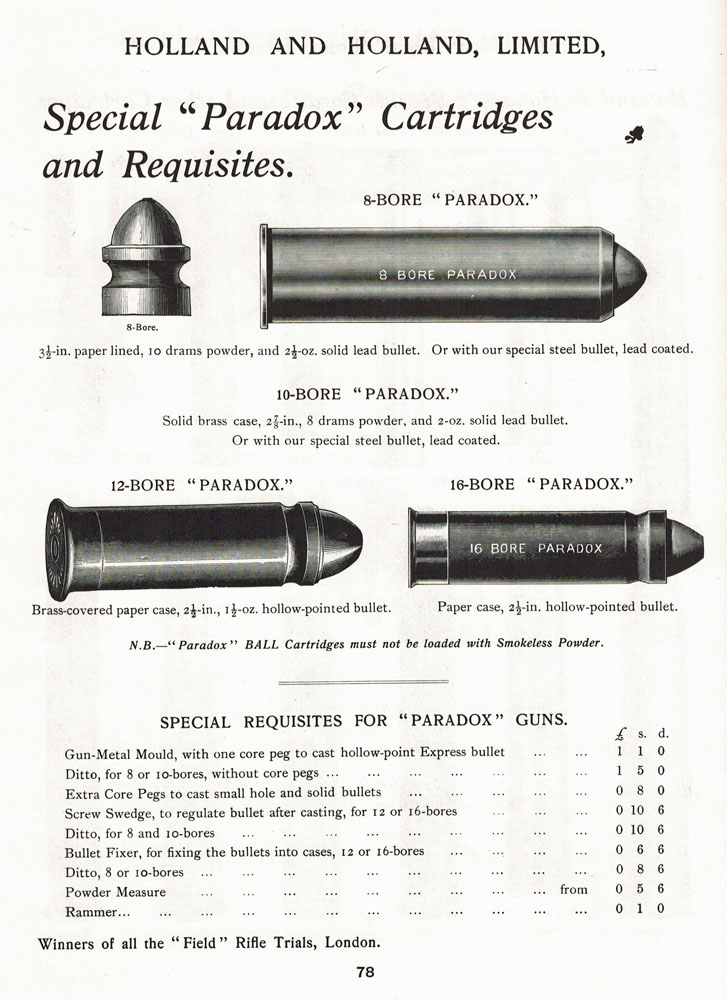 .
.
.
.
Shown above and below are pages from a beautifully illustrated Circa 1904 Holland & Holland catalog with illustrations of one of their Paradox guns and the ball cartridges that were used in them. Based on the note on the page below stating that ""Paradox" BALL cartridges must not be loaded with Smokeless Powder", it would appear the Paradox guns made by Holland & Holland were intended for use only with black powder cartridges as late as 1904. They produced their Paradox guns in 8, 10, 12, 16, and 20 bore; I have examples of 8 bore and 12 bore Holland & Holland/Paradox head stamped cartridges and will include pictures of them along with pages from the H&H catalog below.
.
.
.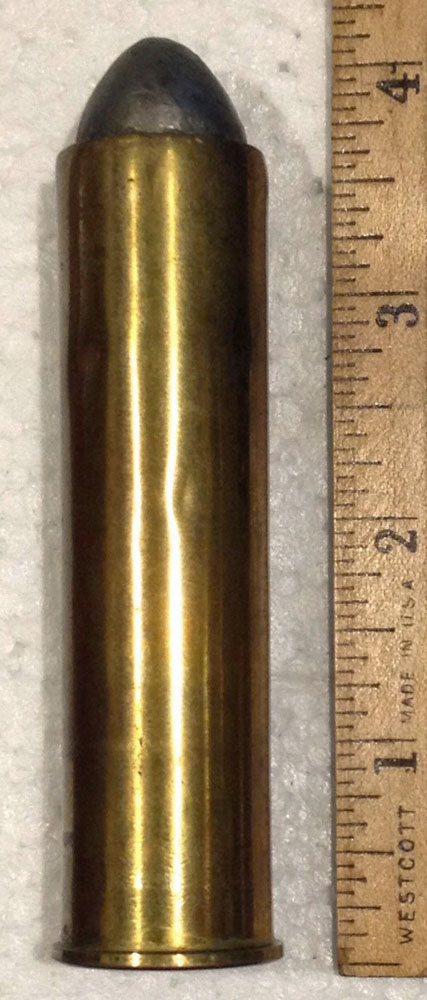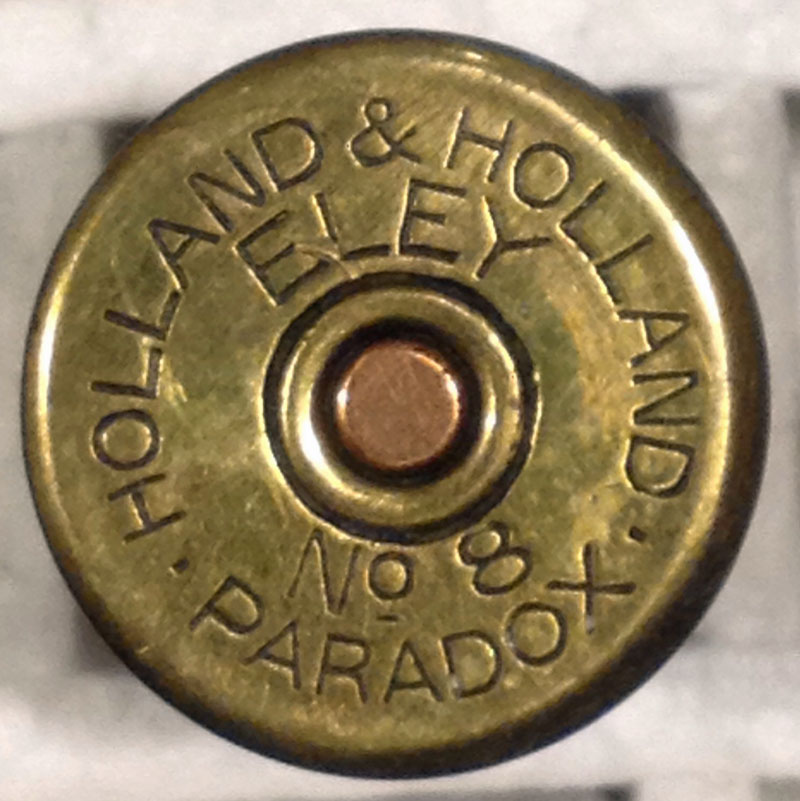 Shown here is an 8 bore Paradox shell that was produced for Holland & Holland by Eley. It has a solid lead belted, conical bullet weighing between 1,050 and 1,250 grains loaded in a 3 1/2" paper lined solid drawn brass case. These cartridges were also available with a lead coated steel bullet.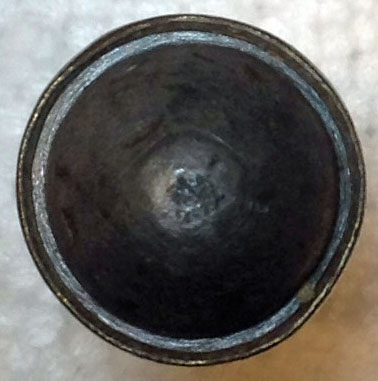 This 8 bore shell would have been suitable for hunting elephants. The Holland & Holland catalog has an entry from an elephant hunter's diary noting his elephant were taken with an 8 bore gun using both barrels at 90 paces.
.
.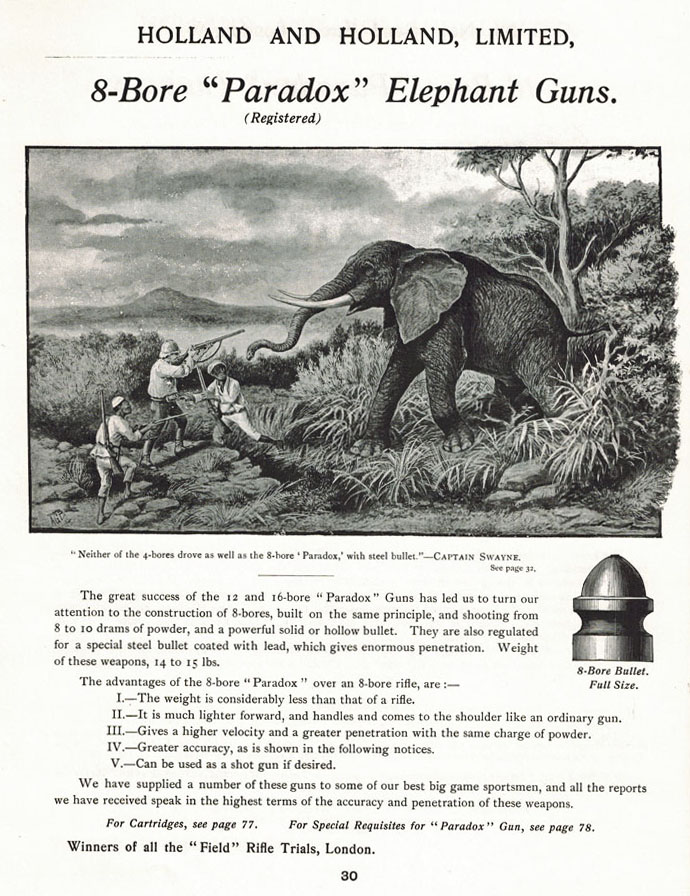 .
.
.
.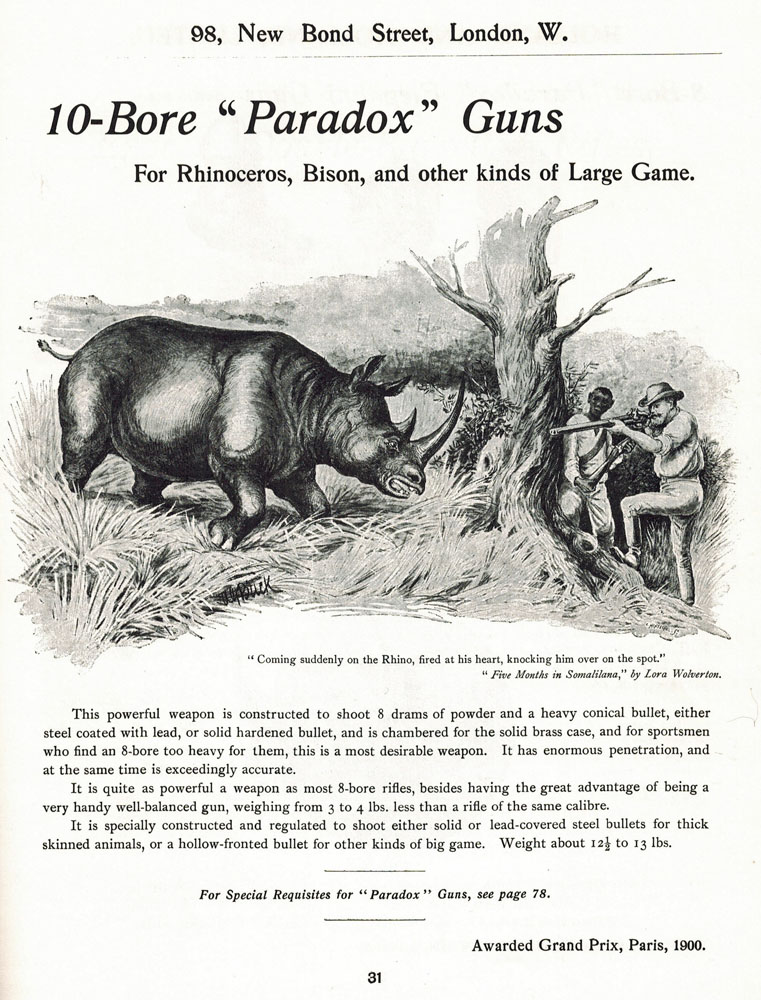 ..
.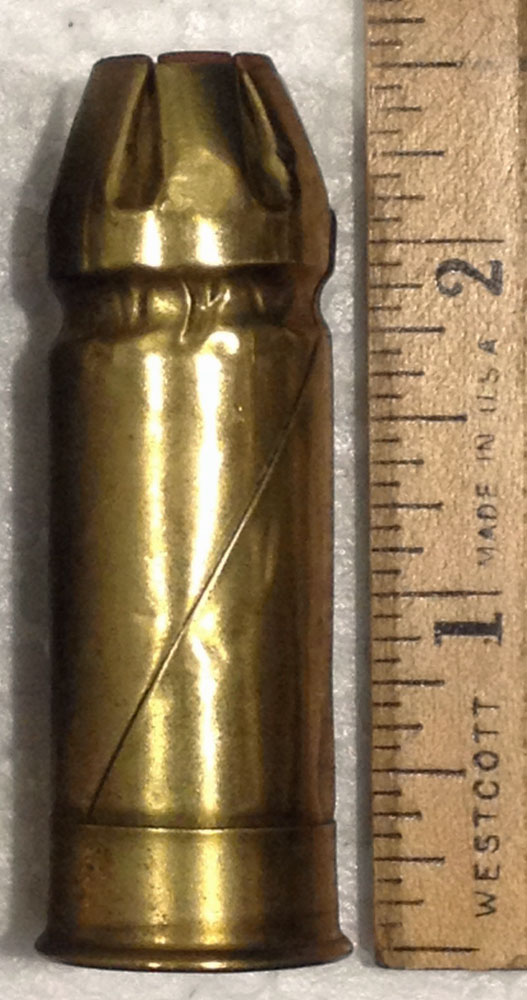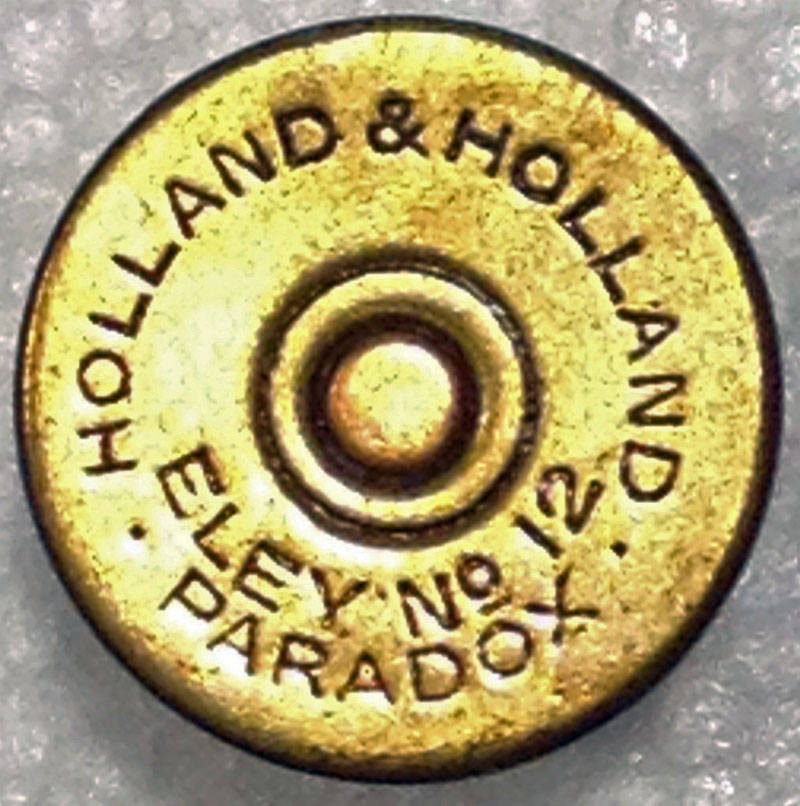 This next cartridge is a Holland & Holland 12 bore Paradox, also made by Eley. It has a hollow nose, belted, conical lead bullet, rose-crimped into a 2 1/2" coiled paper-lined brass hull with a separate brass base cup. The hull has been crimped into the deep bullet groove. The hollow nose of the bullet appears to be filled with hardened grease or possibly a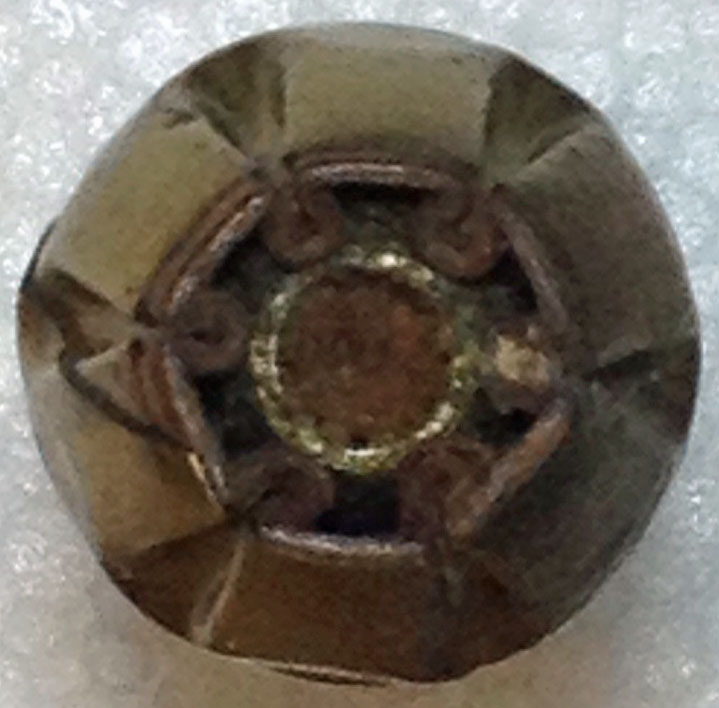 wood plug.
.
.
.

These next three cartridges are also 12 bore, all made by Kynoch and head stamped Paradox. The two longer shells are 2 3/4" and the middle one is 2 1/2". All three of these are late production and are likely loaded with ground Cordite, a relatively slow-burning smokeless replacement for black powder.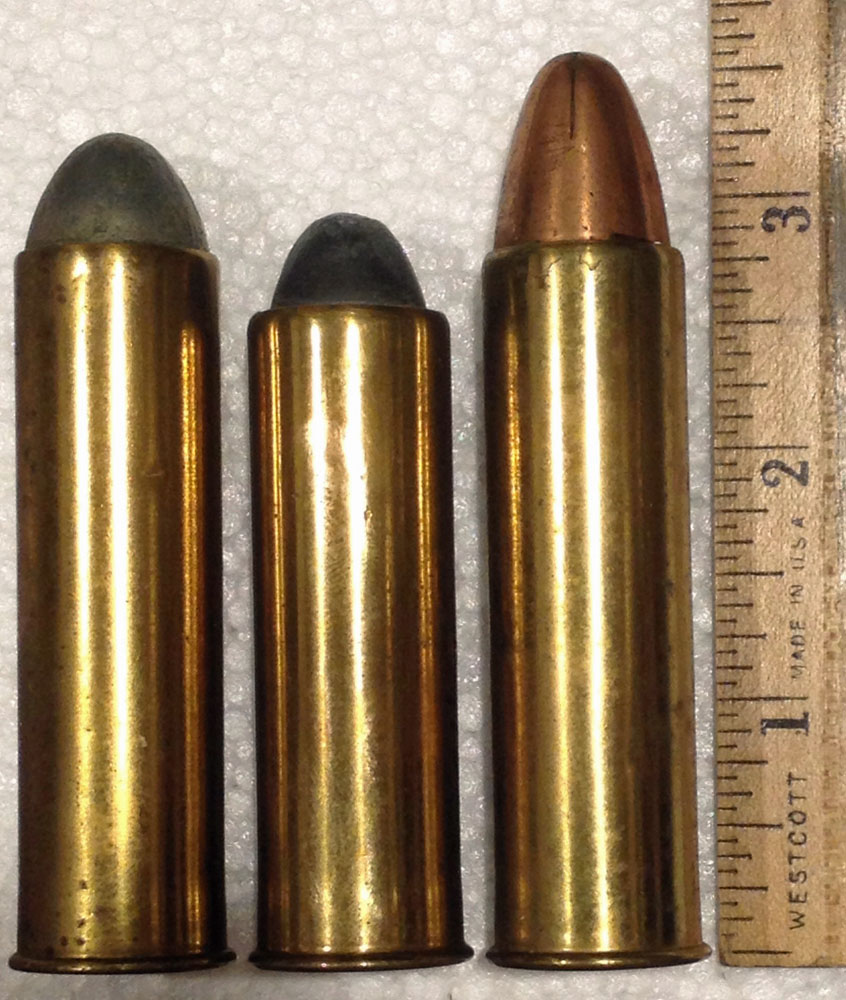 .
.
.
.
.
.
.
.
.
.
From the left they are loaded with a solid lead Paradox bullet, a copper tubed lead Paradox bullet and a copper capped split nose bullet.
.

.
.
.
.
.
.
.
.
.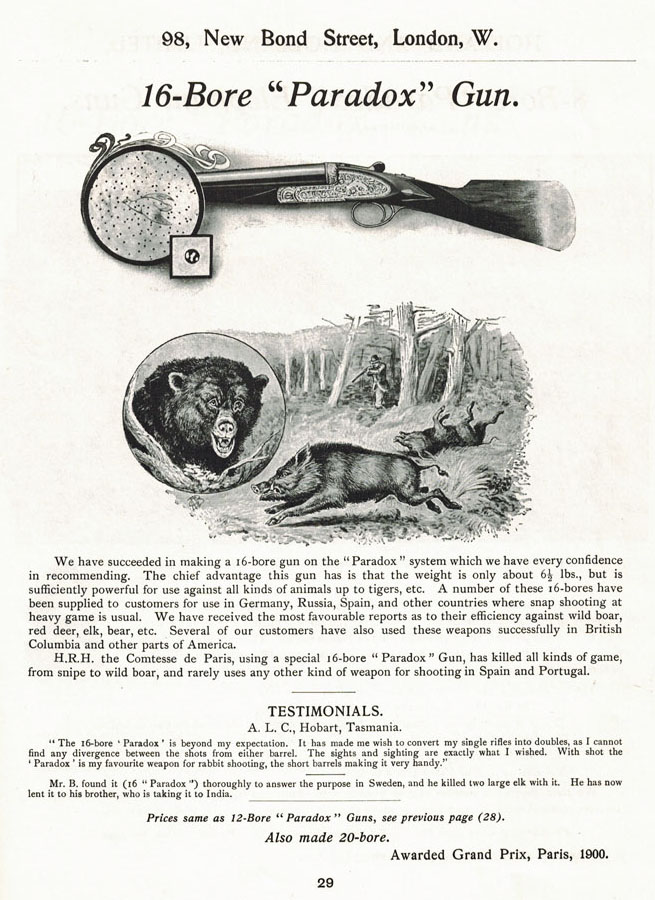 .
..
.
I will continue next month with additional Paradox style shells from my collection that were not made specifically for Holland & Holland and do not bear the Paradox headstamp.
.
.
.
Sources:
The Gun and It's Development, W.W. Greener, 9th Edition (facsimile), Bonanza Books, 1967
Holland & Holland Ltd Gun and Rifle Manufacturers Catalog, Ca 1904, Armory Publications reprint 1990, www.armorypublications.com
Illustration of muzzle rifling from G. V. Fosbery British patent #7568; Firearms History, Technology, and Development blog archive, December 27, 2013:
http://firearmshistory.blogspot.com/2013/12/is-it-shotgun-or-rifle-paradox-gun.html
.
---