Home of the Old Ammo Guy's Virtual Cartridge Trading Table
---
Picture Page
November 2016
---
Please note: Unless otherwise indicated, the pictures on this web site are my property, and should not be used by anyone without my permission.
---
The Cartridges of the 19th Century European Big-Bore Revolvers
PART 6: 10.4m/m Swiss Ordnance Revolvers: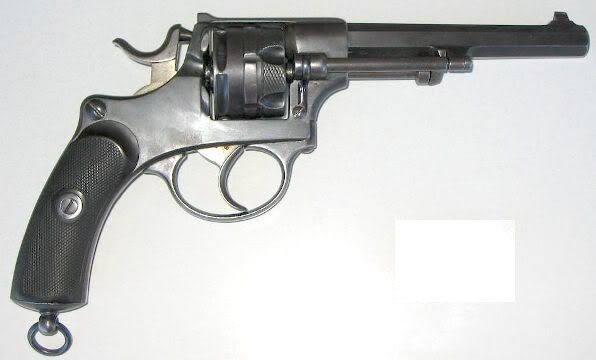 In 1872, the Swiss Army adopted an Ordnance revolver that was similar in design to the French MAS 1873 Chamelot-Delvigne revolver. It's design allowed both single action and double action operation, and it used a 10.4mm rim fire cartridge. A limited number (less than 1000) were issued before being replaced by the Model 1878 revolver which used a 10.4mm center fire cartridge (photo shown above). The existing Model 1872 revolvers were modified to use this center fire cartridge and were designated the Model 1872/78 revolver.
The mechanism of the Model 1878 revolver utilizes a rebounding hammer for improved safety over the earlier rim fire revolver. Like the Model 1872 revolver, it allows for both a single action and double action operation, lacks a loading gate, and employs an ejector rod to remove the spent cartridge cases. The Model 1872 and 1878 revolvers were replaced by the Model 1882 Schmidt-Rubin Ordnance revolver, which was chambered for the Swiss 7.5mm cartridge.
The following 10.4mm Swiss cartridges are from my collection; I have included one loaded with a paper-patched lead bullet, one with a full metal-patched bullet, a shot load and two blank variations. All lack headstamps.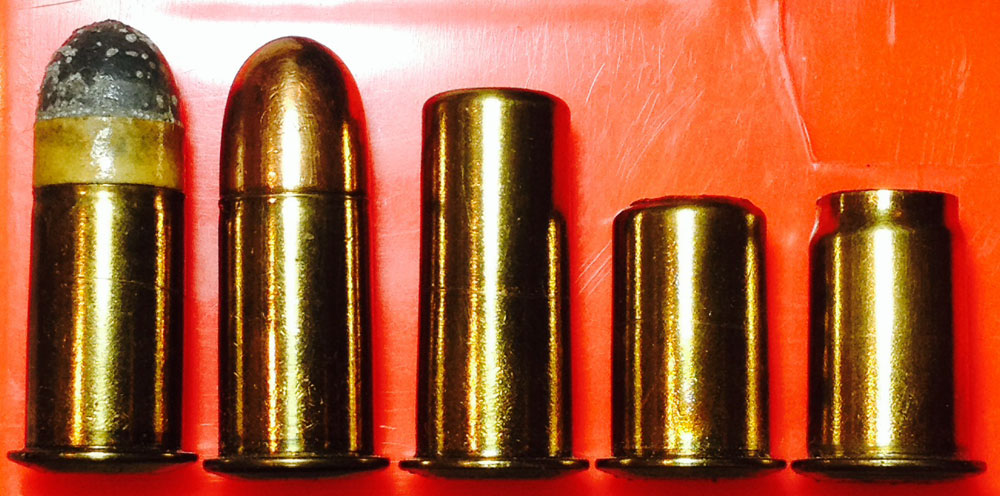 .
.421" .422" n/a n/a n/a Bullet
.423" .427" .417" .429" .382" Neck
n/a n/a n/a n/a .425" Shoulder
.435" .437" .439" .440" .439" Head
.524" .520" .527" .526" .526" Rim
.780" .780" 1.073" .757" .802" Case length
1.262" 1.242" 1.073" .757" .802" Overall length
.
.
.
..
Sources:
Swiss Model 1878 revolver: The Swiss Rifles Message Board, http://theswissriflesdotcommessageboard.yuku.com/topic/1601/The-104-mm-Waffenfabrik-Bern-Revolver-78#.VxtrGfkrKM8
General information on the Swiss 1872 and 1878 ordnance revolvers:
Wikipedia - https://en.wikipedia.org/wiki/1872_Swiss_revolver
SwissRifles.Com - http://swissrifles.com/pistols/index.html
.
.
---