Home of the Old Ammo Guy's Virtual Cartridge Trading Table
---
Picture Page
September 2016
---
Please note: Unless otherwise indicated, the pictures on this web site are my property, and should not be used by anyone without my permission.
---
The Cartridges of the 19th Century European Big-Bore Revolvers
PART 4: The 10.4mm Italian Ordnance Cartridge
Italian Model 1874 Glisenti Ordnance Revolver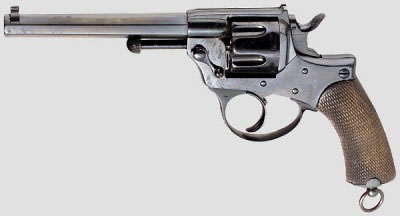 The Italian Glisenti Model 1874 (Pistola a rotazione modello 1874) was a double action revolver that was based on the French Chamelot-Delvign Model 1873 ordnance revolver. (Click here for information on the French Model 1873 Ordnance revolver.) The Italian revolver utilized the Italian designed 10.4 x 20.2mmR cartridge, and was produced at the Glisenti factory between 1874 and 1889, when it was replaced by the Bodeo revolver.
.
Italian Model 1889 Bodeo Ordnance Revolver: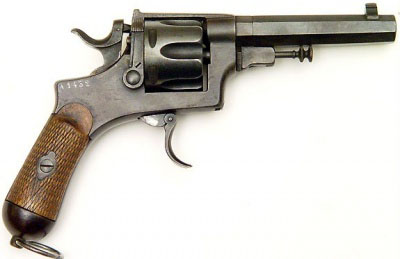 The Bodeo Model 1889 revolver was produced between 18889 and 1931 by a number of Italian and Spanish makers. It gets it's name from Carl Bodeo, the head of the Italian firearm commission that reccomended it's use by the Italian Army. Adopted by the Italian Army in 1891, it was their principle sidearm until the introduction of the Glisenti Model 1910 automatic pistol, but continued in use as a reserve weapon through World War 2. The Bodeo was chambered for six 10.4 x 20.2mmR cartridges. It was produced in two versions, one with a folding trigger (shown above) that was issued to enlisted troops, and the other with an integral trigger guard that was issued to the officers.
The 10.4 x 20.2mmR cartridge was originally loaded with a lead projectile; the early lead bulleted versions are usually longer than the later full metal jacketed ones, but exceptions will be seen. Production by most makers ended after the 1930s. The cases of the later production metal jacketed rounds typically have a gradual taper, but Fiocchi, which was loading the cartridge as late as the 1960's, produced a version with an obvious shoulder.
Shown below are three different case lengths of the cartridge, suggesting that the 20.2mm designation was applicable in name only. I believe all three of these are non-military production. The first is an inside-primed example with a round nose lead bullet and the raised headstamp LEON BEAUX & CI MILANO. A late production Fiocchi version with it's shouldered case and brass full metal jacketed bullet is next, followed by an unheadstamped example with a long case and a flat nose lead bullet.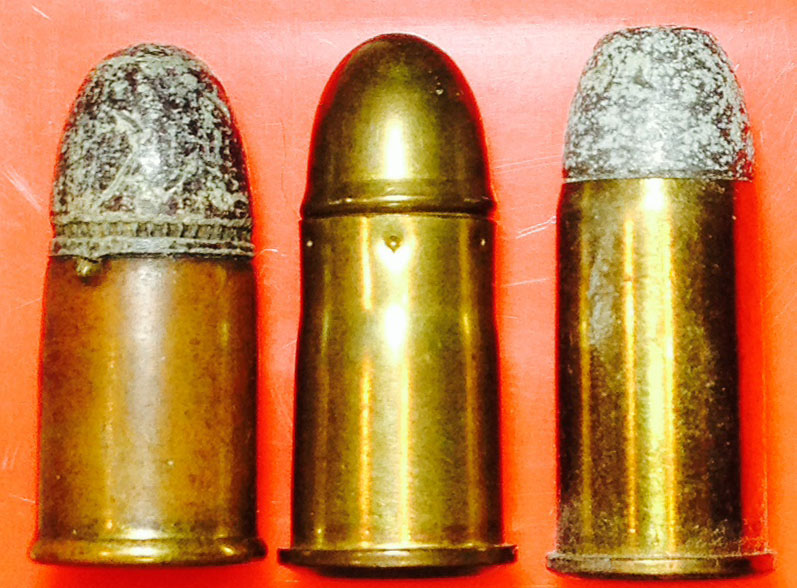 .
.
.441" .428" .419" Bullet
.452" .422" .425" Neck
n/a .438" n/a Shoulder
.472" .458" .452" Case Head
.508" .515" .497" Rim
.644" .766" .844" Case length
1.121" 1.173" 1.181" Overall length
.
The next three cartridges were all produced at the Italian military ammunition plant at Capua, and the headstamps reflect the initials of the chief inspector's and the year of production in their headstamps. The inspectors represented here are:
LN - Nicola Leggiadore (1916 - 1935)
TR - not known (1911-1913)
ZG - Gaetano Zangari (1935 - 1938)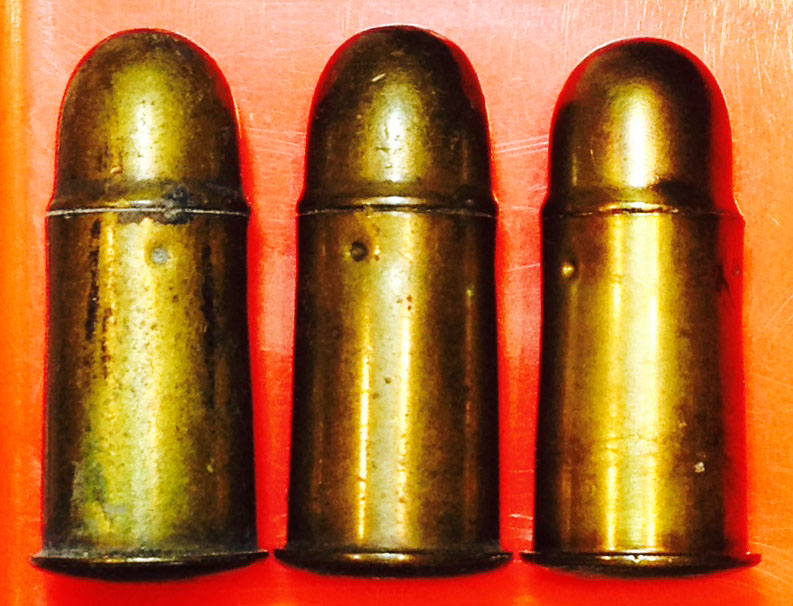 .
.
.
.
.438" .436" .438" Bullet
.432" .430" .437" Neck
.458" .457" .459" Case Head
.512" .514" .516" Rim
.788" .778" .780" Case length
1.185" 1.192" 1.164" Overall length
.
.
.
.
.
.
.
.
.
.
.
.
.
.
.
.Sources:
Photo of Italian Glisenti Model 1874 revolver from Internet Movie Firearms Database: http://www.imfdb.org/wiki/Glisenti_M1874
Photo of Italian Model 1889 Bodeo: Collector's Firearms, revolver:
http://archives.collectorsfirearms.com/?category=903&subcategory=994&category=&product=AH3216
https://en.wikipedia.org/wiki/Bodeo_Model_1889
.
.
.
---