Home of the Old Ammo Guy's Virtual Cartridge Trading Table

Offering a wide range of antique, obsolete, and modern ammunition and related items for collectors
---
Please email me if you have questions.
---
Please note: Unless otherwise indicated, the pictures on this web site are my property, and should not be used by anyone without my permission.
---
Note: Beginning January 1st, 2018 California law requires that all ammunition sales be conducted face-to-face, meaning no internet sales directly to California residents. Therefore, if you are a California resident ordering cartridges from my lists, I will need the address of a Federal Firearms Licensed dealer to ship it to, either your address if you are a licensed dealer, or the address of the licensed dealer you want to handle the required face-to-face transaction.
---
Ordering Information
To view the lists of cartridges I have to sell or trade, click on the links for the collecting categories that interest you under the 'Cartridges for Sale' heading on my Home Page. For ease of maintenance, these lists are set up in a text format. Unfortunately, text files leave a bit to be desired in the area of ease of viewing, so please let me know if you have questions.
The cartridges on my lists are original loads, as best I can tell, unless indicated otherwise in the descriptions. I do not recommend that they be fired, I make no claims regarding their safety, and I sell and trade them as collector cartridges for research and display purposes only.
When ordering, please include the catalog number, a brief description, and my list price to help me avoid mix ups. In the interest of fairness to all concerned, I do not hold or reserve cartridges for anyone based on an e-mail order. At the time payment is received, I pull the cartridges ordered. If any of the cartridges in an order are no longer available, I will refund the price, or make substitutions if the you prefer. If you would prefer substitutions, please indicate this in your order.
Buyers must be 21 years old or older, and must comply with applicable local and state laws pertaining to the purchase and possession of ammunition, and will have to include a signed statement to this effect with their orders. Payment can be made by check or money order.
Again, these cartridges are sold as collectors items only, and are not intended to be used as shooting ammunition. No warranty is made or implied by me regarding the suitability or safety of this ammunition for shooting purposes. Liability for any damage or injury caused in any way from any ammunition purchased from this web site is the responsibility of the purchaser.
Shipping is by UPS ground only, and is available only to the lower 48 states; I cannot ship to Hawaii or Alaska as delivery to these states requires air transportation. Shipping by UPS ground is $15; this amount will apply regardless of the size of your order. Please provide a UPS deliverable street or rural route address. UPS will not deliver to a post office box. Also, please note that I cannot send live ammunition out of the country. In addition, due to the lack of clarity in US regulations, I cannot ship inert ammunition or inert ammunition components out of the United States.
My address:
Guy Hildebrand, 809 Kenilworth Road, Tallahassee, Florida 32312
I am retired and occasionally spend some of the warmer months away from home. If you are sending an order by regular (US Postal) mail, please email me at 4440cfw@gmail.com prior to mailing your order to ensure you send it to the correct address. Thanks.
If you send me an e-mail that requires a response, I will respond. However, if you use some form of spam filter, please be sure to add me to your list of approved senders prior to sending your e-mail or you probably won't hear back from me. I usually disregard the automatic replies that advise that my e-mail has not been delivered due to the recipient's spam controls.
Payments can be made by personal check or money order.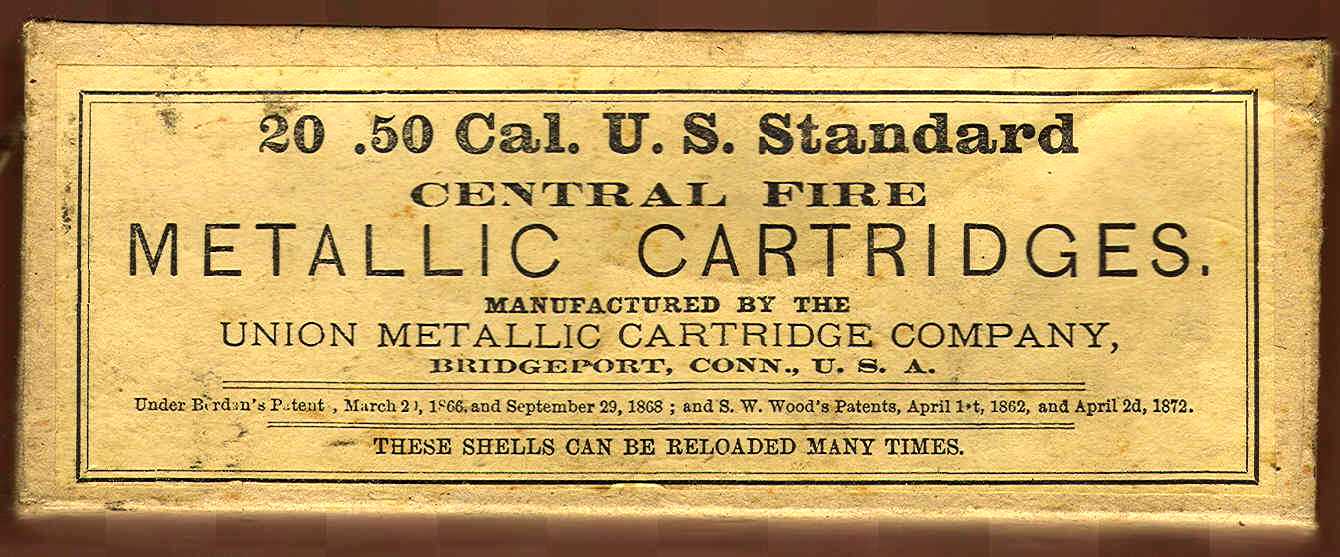 Sealed box of UMC .50-70 cartridges from 1873 dated wood shipping crate (View)