Contents
Cartridge Lists
Patent & Miscellaneous
Rim Fire
Center Fire Pistol
Center Fire Rifle
Metric Rimfire, Pistol&Rifle
British Pistol and Rifle
Shotgun Shells
Prior Picture Pages:
* September 2003
* October 2003
* November 2003
* December 2003 * January 2004
* February 2004
* March 2004
* April 2004
* May 2004
* June 2004
* July 2004
* August 2004
* September 2004
* October 2004
* November 2004
* December 2004
* January 2005
* February 2005
* March 2005
* April 2005
* May 2005
* June 2005
* July 2005
* August 2005
* September 2005
* October 2005
* November 2005
* December 2005
Links to Other Sites
Cartridge Collectors Organizations:
IAA
ECRA
SAAACA
Auctions:
Auction Arms
E-Bay
Ward's Collectibles
Sold USA
Books:
Armory Publications
WCF Publications
Other Collector's Sites:
Curtis Steinhauer
Home of the Old Ammo Guy's Virtual Cartridge Trading Table

Featuring a wide range of antique, obsolete, and modern ammunition for collectors
---
Picture Page
January 2006
---
A box of UMC bullets revisited......
Here's a box of 25 UMC two groove hollow point lead bullets that may be familiar to those who have been following my picture pages for a while. I included a picture of this box sometime in 2002, I think, perhaps a little earlier. Unfortunately, I didn't keep copies of my first picture pages, so I can't say for sure just when it was. At the time, I asked if anyone had ever seen a .44-40 WCF loaded with a hollow point lead bullet. I didn't get a response; I think they are pretty unusual, as I have never seen one. I have only recently run across something close, however, which suggests I may have been looking for the wrong cartridge all along. I've included a picture of a .44-40

black powder cartridge that is sporting an uncommon REM-UMC 44 REM headstamp and what appears to be one of these same hollow point lead bullets. This headstamp, applied by Remington-UMC to what was otherwise the standard .44-40 WCF black powder load, was intended to provide owners of the old Remington Model 1875 and 1890 Single Action Army revolvers with a recognizable cartridge that was safe to use in their black powder revolvers after the introduction of smokeless powder. It shows no evidence of having been reloaded, so I believe it is an original factory load.
.
.
.
.
.
.
.
---
A seldom seen view of the .45 Brown Standard......

Here's a cartridge that you just don't see in every cigar box of mixed cartridges. This is the .45-100 Brown Standard, made for use in the J. H. Brown Standard Military Rifle. A total of twenty of the Brown rifles were handmade for the 1883 international rifle team. It was a full-stocked single shot rifle based on a modified Sharps action. The cartridge used an unheadstamped, Berdan primed, flat base 2.6" Sharps case and a special 550 grain paper patched bullet with an unusual profile made by H. F. Clark of Pohkeepsie, N.Y. Unlike most patched bullets, the patch on Mr. Clark's bullet does not cover the base, perhaps for the purpose of leaving the raised H.F. CLARK PO'KEEPSIE, N.Y. mark that he put on each one exposed. While the cartridge is quite rare, pictures of it are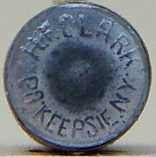 fairly common in the collecting journals and reference books. What I have never seen pictured is the base of the bullet, an omission that I have corrected here.
An original box of these cartridges is pictured on page 26 in the January 1969 issue of The Gun Report. It is a poor quality picture which will not reproduce well; the label reads:
10 CARTRIDGES / PRODUCED EXPRESSLY FOR / Brown's Standard Military Rifle / MANUFACTURED BY THE / BROWN STANDARD FIRE ARMS CO / NEW-YORK
A similar cartridge, the .450-2 6/10" match, was produced by Eley for use in a falling block, single shot target rifle made by Fraser of Edinburgh, Scotland. This cartridge, like the Brown Standard, used the 2.6" Sharps case and a patched bullet that closely resembled the profile of the Clark bullet. I don't know which came first, but the two cartridges look so much alike it is fairly certain that one copied the other. Anyone with a collection of Robert Buttweilers cartridge auction catalogs can find the Fraser cartridge as lot 148 in volume II, no 3.
>
>
>
And speaking of the 1883 International Match Rifle Team, here's a copy of an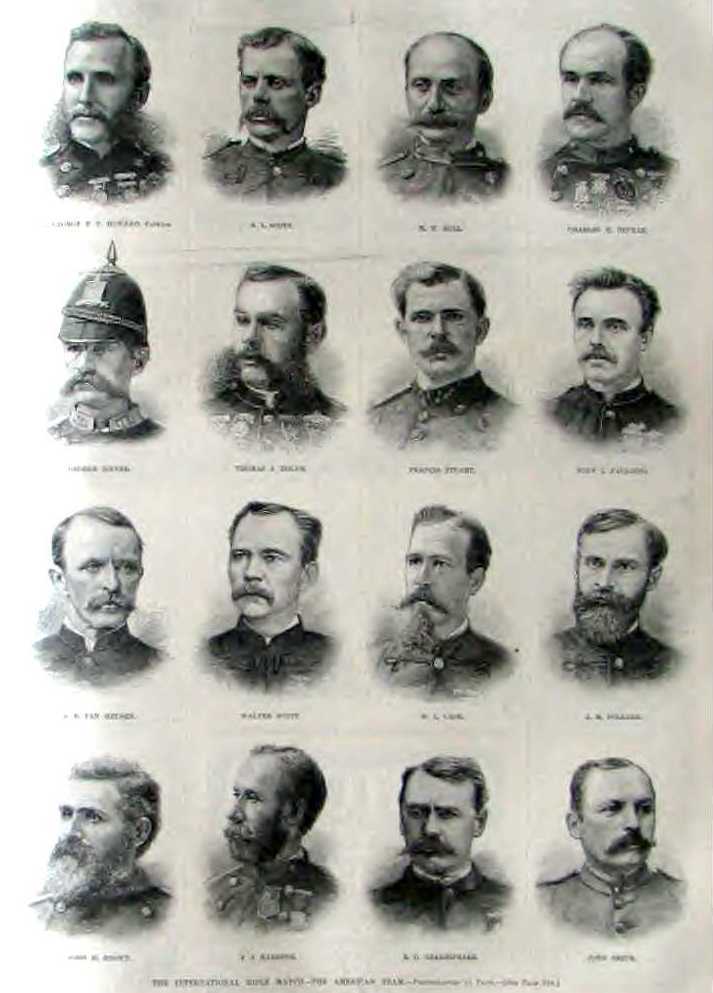 engraving of the 16 dapper members of the team that appeared in Harper's Weekly in June of 1883. In addition to being skilled with a rifle, it would appear that one prerequisite for consideration for a coveted spot on the team was the ability to sport an abundance of facial hair, perhaps a chauvinist ploy to minimize to some degree the possibility of having to deal with female competitors.
>
>
>
>
>
>
>
---
Three early cartridges for the trapdoor carbine....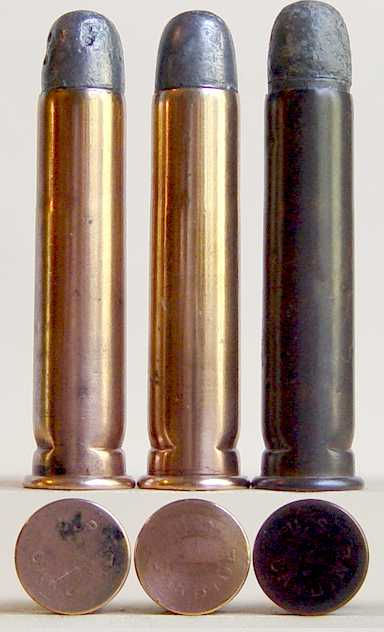 In January of 1874, production of the Benet-primed cartridge for the 1873 Springfield rifle and carbine commenced at Frankford Arsenal. The rifle cartridge was loaded with 70 grains of black powder and a 405 grain three groove lead bullet. In order to reduce recoil, the carbine cartridge was loaded with 55 grains of powder. The same 405 grain bullet was used, seated at the same depth as for the rifle cartridge, with seven pasteboard wads to fill the empty space in the cartridge case between the powder and the base of the bullet. Because the rifle and carbine cartridges looked the same externally, it soon became apparent that some means of identification might be helpful to distinguish between them once they were removed from their boxes. In late July of 1874, on a trial basis, the arsenal began applying a raised US CARBINE headstamp to the carbine cartridges. Three of these headstamped cartridges are shown in the picture to the right. The headstamp was applied using the case heading machine, but due perhaps to the added cost and/or the complexity of the process, the trial lasted only one week. As a result, a very limited number of these headstamped carbine cartridges were produced. I suspect they were enough of a novelty at the time that not many were fired, yet they still don't show up very often for sale. The headstamps on these tend to be lightly stamped and are often almost illegible; I have included below an enlarged view of the heads of the three cartridges to make it a little easier to see the

markings. I realize that a single cartridge would have have been sufficient to illustrate this headstamp, but I had never seen more than one of these at any one time, so I couldn't resist sharing this picture of three that managed to find themselves on my desk at the same time. Condition on these cartridges tends also to be lacking. The bullets of every one that I have seen have been a little dinged up; the one on the cartridge on the right in the picture has been pushed out of the case about 1/8". This probably resulted from the excess pressure exerted on the base of the bullet due to the seven wads; in September of 1876, the number of wads used in the carbine cartridges was reduced to five, specifically to reduce the pressure and prevent the bullets from being dislodged. It should also be noted that it wasn't until March of 1877 that the identification problem between rifle and carbine cartridges was finally resolved, at which time all cartridges were given headstamps, R F 3 77 for the rifle cartridges and C F 3 77 for the carbine cartridges.
.
.
.