Contents
Cartridge Lists
Patent & Miscellaneous
Rim Fire
Center Fire Pistol
Center Fire Rifle
Metric Rimfire, Pistol&Rifle
British Pistol and Rifle
Shotgun Shells
Prior Picture Pages:
* September 2003
* October 2003
* November 2003
* December 2003 * January 2004
* February 2004
* March 2004
* April 2004
* May 2004
* June 2004
* July 2004
* August 2004
* September 2004
* October 2004
* November 2004
* December 2004
* January 2005
* February 2005
* March 2005
* April 2005
* May 2005
* June 2005
Links to Other Sites
Cartridge Collectors Organizations:
IAA
ECRA
SAAACA
Auctions:
Auction Arms
E-Bay
Ward's Collectibles
Sold USA
Books:
Armory Publications
WCF Publications
Other Collector's Sites:
Curtis Steinhauer
Home of the Old Ammo Guy's Virtual Cartridge Trading Table

Featuring a wide range of antique, obsolete, and modern ammunition for collectors
---
Picture Page
July 2005
---
Several unusual .450 Marlin cartridge cases.....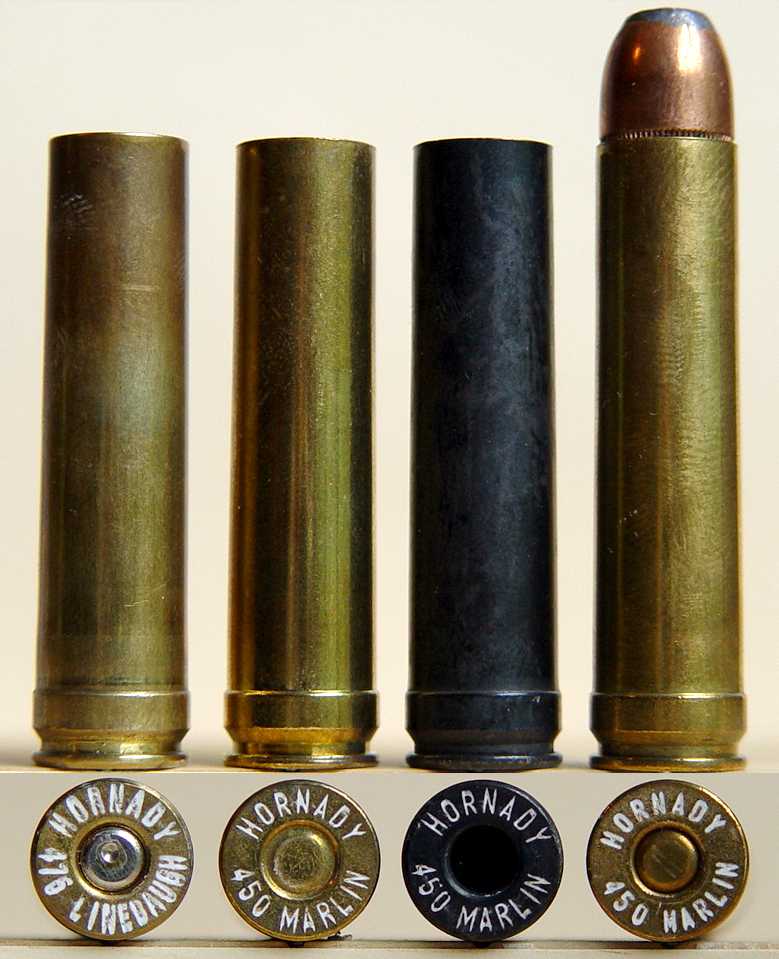 I received the three .450 Marlin cartridge cases in this picture from an Engineer at Hornady's Case Division a couple of years ago, in partial trade for a several examples of an obsolete automatic pistol cartridge the company was considering putting into production. The first is a prototype fired case, produced sometime prior to the .450 Marlin headstamp bunter having been made. Next is a prototype dummy case; though the primer appears to be real, it is actually a part of the case, having been formed in place. The blackened case with its blind primer pocket is another prototype dummy case, made especially for the Marlin Firearms Company, and intended for their use in function testing their early production rifles in this caliber. The last is a production Hornady .450 Marlin cartridge.
>
>
---
An assortment of 6.5 Japanese Arisaka cartridges.....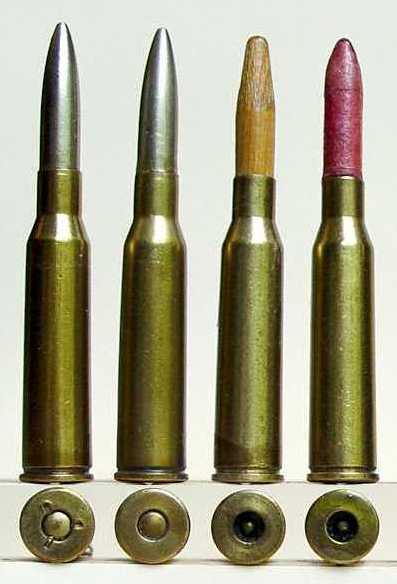 The cartridges pictured here are examples of the semi-rimmed 6.5 x 51mm Arisaka cartridge, developed in 1897 for use in the Japanese Type 30 service rifle, and one of the primary rifle cartridges used by Japan until their defeat in World War 2. The standard ball load of this cartridge typically has a pointed copper or nickel jacketed bullet, and three deep stake marks on the head to hold the primer securely in place against the recoil of the rifle. The first cartridge in this picture is an example of this most common variation. These are also found without the stake marks on the head, as seen on the second cartridge. The next two in the picture are blanks, the one on the left having a wood bullet, and the other having a paper bullet. These two were either made as dummies, or their primers have been removed for the purpose of making them inert for display purposes. The first two cartridges in the second picture are both dummies, and are easily identified by the two knurled cannelures on their cases. Note the the differences in the bullets on these, the first appearing to be a standard ball, and the second having been apparently turned from steel rod on a lathe. The workmanship on this bullet is of very poor quality, with deep turning marks still quite evident from forming the point. The next two cartridges appear to be grenade launching blanks, the first with a flat nose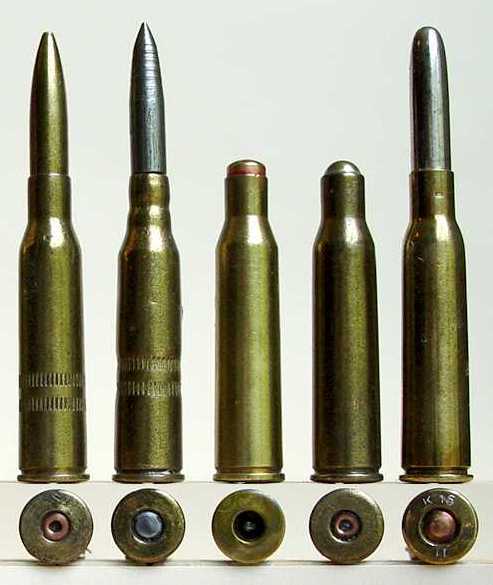 copper jacketed projectile and the second with a nickeled round nose projectile. The last cartridge was made by Kynoch in 1916, intended for use in a number of Arisaka rifles purchased by the British Government and used by their home guard during World War 1. Headstamped K 16 II, it is the only cartridge in the group with a headstamp.
.
.
.
.
.
..
---