Contents
Cartridge Lists
Patent & Miscellaneous
Rim Fire
Center Fire Pistol
Center Fire Rifle
Metric Rimfire, Pistol&Rifle
British Pistol and Rifle
Shotgun Shells
Cartridge Boxes & Related
Prior Picture Pages:
* September 2003
* October 2003
* November 2003
* December 2003 * January 2004
* February 2004
* March 2004
* April 2004
* May 2004
* June 2004
* July 2004
* August 2004
* September 2004
* October 2004
* November 2004
* December 2004
* January 2005
* February 2005
* March 2005
* April 2005
* May 2005
* June 2005
* July 2005
* August 2005
* September 2005
* October 2005
* November 2005
* December 2005
* January 2006
* February 2006
* March 2006
* April 2006
*May 2006
*June 2006
*July 2006
*August 2006
*September 2006
*October 2006
*November 2006
*December 2006
*January 2007
*February 2007
*March 2007
*April 2007
*May 2007
*June 2007
*July 2007
*August 2007
*September 2007
*October 2007
*November 2007
*December 2007
*January 2008
*February 2008
*March 2008
*April 2008
*May 2008
*June 2008
*July 2008
*August 2008
*September 2008
*October 2008
*November 2008
*December 2008
*January 2009
*February 2009
*March 2009
*April 2009
*May 2009
Links to Other Sites
Cartridge Collectors Organizations:
IAA
ECRA
SAAACA
Auctions:
Auction Arms
E-Bay
Ward's Collectibles
Sold USA
Books:
Armory Publications
WCF Publications
Other Collector's Sites:
Curtis Steinhauer
Home of the Old Ammo Guy's Virtual Cartridge Trading Table

Featuring a wide range of antique, obsolete, and modern ammunition for collectors
---
Picture Page
June 2009
---
The .36 Marston cartridge......

U.S. patent 8956 was granted to William W. Marston & Frederick Goodell on May 18, 1852 for this cartridge, which was intended to be used in a breech-loading single shot firearms of Marston's design, for which he received U.S. Patent 7443 on June 18, 1850. These firearms used a lever to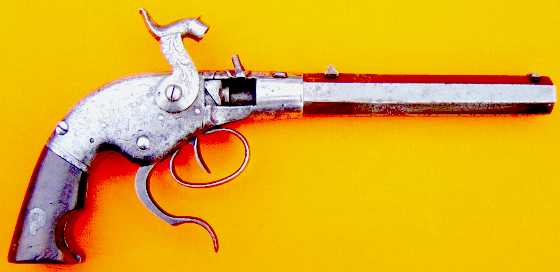 draw back a breech block which allowed loading a cartridge into the right side of the frame. This is a separately primed cartridge, meaning it incorporates a pre-measured powder charge and ball but depends on an external source, in this case a percussion cap, to ignite the powder. The case is constructed of a blue paper tube with a leather base. The base not only provided a pathway for ignition of the powder charge, but, according to the patent, also sealed the breech, and served to swab out the bore when it was pushed through the barrel ahead of the succeeding shot. Examples of Marston's cartridges are quite uncommon, and will also be found in calibers .31, .54, .58, and .70 with cases of various lengths intended for use in long guns as well as handguns.
.
.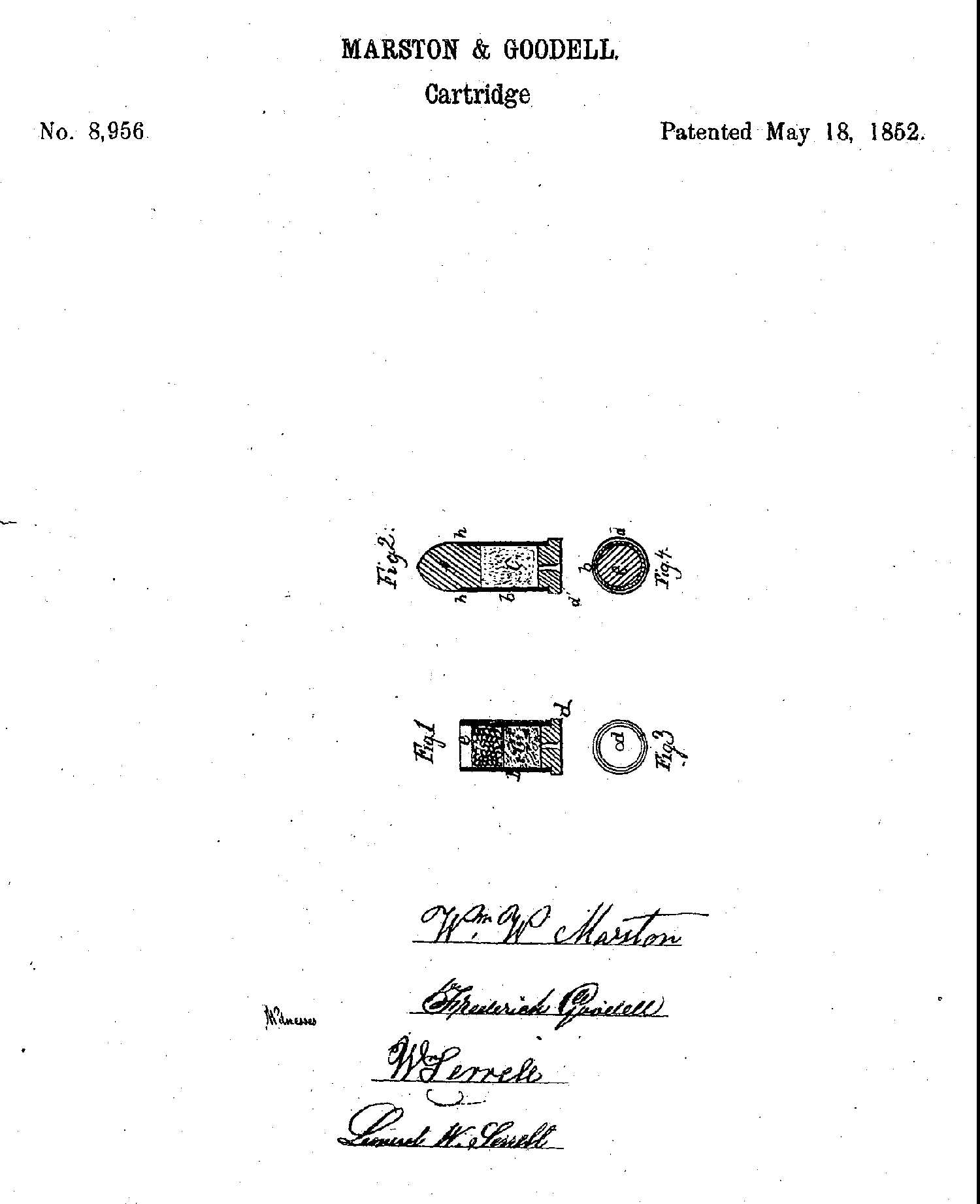 .
.
.
.
.
.
.
.
.
.
.
.
.
.
.
.
.
.
.
.
---
A box of French wartime 7.65 Browning cartridges...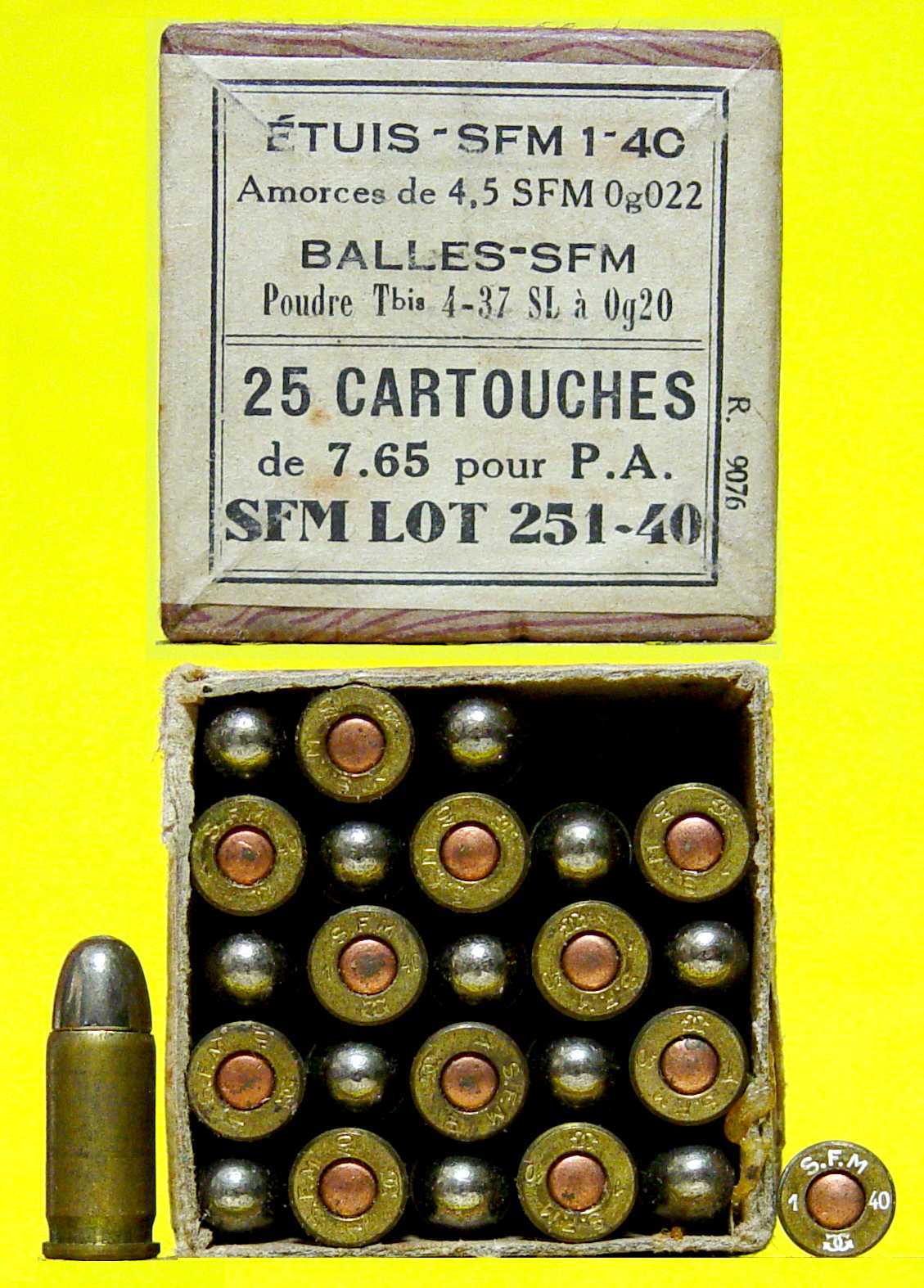 Here's a box of not-too-uncommon 7.65 Browning, made by Societe Francaise des Municions in 1940, most likely for use in a number of small frame pistols in this caliber that were utilized by many of the police organizations in that country. The headstamp is S.F.M 1 40 with the back-to-back GG logo. It is interesting to note that these cartridges were produced in the same year that the French signed a truce with the Germans which officially took them out of World War 2 and most likely required them to cease ammunition production for civilian use.
.
.
.
---
A closer look at the maker's marks on 8 x 56R clips .....
I recently picked up quite a few boxes of Nazi headstamped 8x56Rmm M30 ammo for the Steyr-Mannlicher M95/30 short rifle. The Steyr M1895 rifle, also known as Steyr-Mannlicher M95 straight pull rifle, was developed by the Austrian arms designer Ferdinand Ritter Von Mannlicher. Based on his earlier M1890 design, this rifle was manufactured in Austro-Hungarian Empire state arms factories in Steyr (Austria) and Budapest (Hungary). Over 3 million of M95 rifles were made from 1895 to 1918. These rifles were issued to Austro-Hungarian troops and after the demise of the Austro-Hungarian Empire and thereafter to Austrian and Hungarian armies. Around 1930 Austria converted most of the M95 rifles to the more powerful 8x56R M30 cartridge, using the same Mannlicher en bloc 5 round clips. These rifles were designated as M95/30. Many of the M95/30 rifles were used during the Word War II by the Hungarian, Bulgarian and Italian armies, as well as by some German police forces. The 8x56Rmm was developed to replace the older 8x50Rmm Austrian cartridge. The "Rimmed" 8x56Rmm was introduced in 1930 for the Steyr-Mannlicher M95 and was also used in the Solothurn machinegun and Hungarian Model 35 Mannlicher bolt action rifle. The Austrians called the cartridge the M30 and the Hungarians called it the M31.
The boxes are marked 10 Stück = 10 Piece, 8mm M.30 Scharfe = Sharp, S-Patronen = S (Spitzgeschoss or Pointed Bullet)-Cartridges, Rottw. (not able to translate, may equate to Rottweil, Germany ) and XI 1938 = November? – 1938. Note the Nazi emblem on the package and the brass. Undoubtedly berdan primed and corrosive.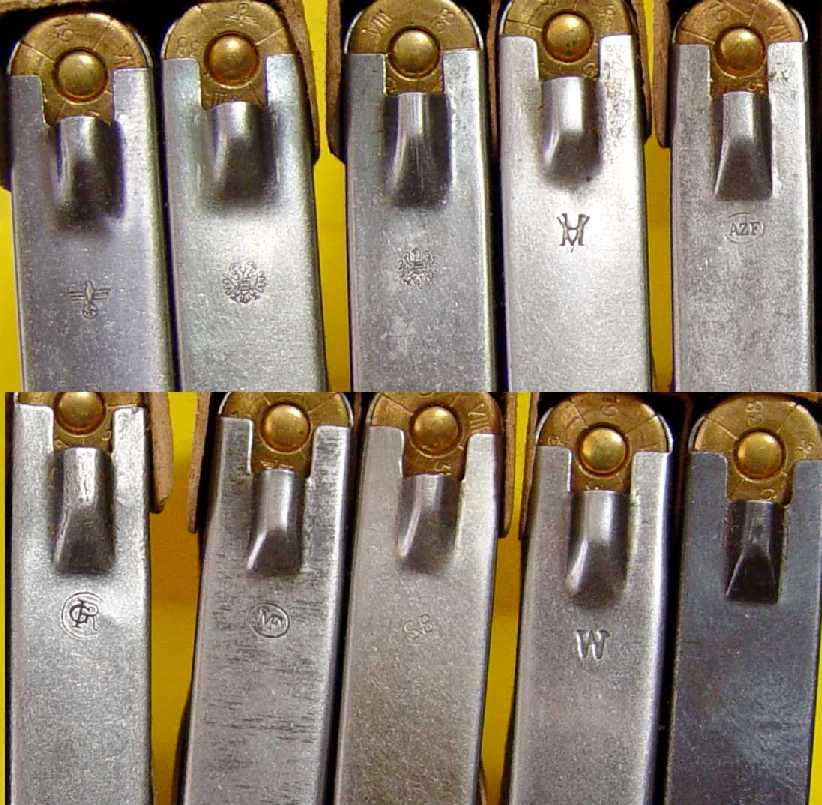 I have 9 variations of maker's marks on 8 x 56R Hungarian clips, plus an unmarked one, as shown in this picture. They include from the top left the Nazi eagle, a double headed eagle, a single headed eagle, an upside down super-imposed AH , AZF in an oval, GR in a circle (also found without the circle), MF in a circle, SB, W, and unmarked.

The following from Josef Mötz's Österreichische Militärpatronen, the primary source of information on Austrian ammunition, was provided in a discussion on these clips on the International Ammunition Association's (http://www.cartridgcollectors.org)cartridge forum.

Both AZF and Wöllersdorf used the Hapsburg (crowned) Eagle as a headstamp, but used their initials on clips. After WW1 military production was undertaken by a series of designated "State Factories"; the single headed Republican Eagle and the double headed Corporate State Eagle were used as the symbol of the State Factory on both military cartridge headstamps and clips:

AZF: Artilleriezeugsfabrik (Artillery Ordance Factory), Vienna, from 1885 to 1902.

MF: Munitionsfabrik Wöllersdorf, near Wiener Neustadt, about 40km south of Vienna (1902-1918). Small arms ammunition production was moved there from AZF in 1902. After WW1 the Wöllersdorf ammunition plant was privatized and ceased military production; it closed in 1925.

Single-headed (Republican) Eagle used by: (a) Georg Roth's Lichtenwörth plant as a State Factory (1926-1928) and on military production beginning in 1926.
(b) Patronenfabrik Lichtenwörth AG (1928-1933), formed when the Roth empire collapsed in 1928 and continued as a State Factory .
(c) Hirtenberger Patronenfabrik (1933-1934), bought Patronenfabrik Lichtenworth in 1933 and took over as a State factory.

Double-headed (Corporate) Eagle: Patronenfabrik Hirtenberger (1934-1938).

Nazi Eagle: Gustloff-Werke-Patronenfabrik (1938-1939) Took over Hirtenberger following the Anschluss in March 1938; changed to German codes "P635" in 1939, and "am" from 1941-1945.

"GR" monogram: Used by Georg Roth plants at Vienna, Bratislava and Lichtenwörth on commercial ammunition and clips, and perhaps military production during WW1.

W: Manfred Weiss, Czepel, Budapest (1882-1930)

"AH" monogram: Allami Hadianaggayar (Hungarian for "State Factory"), Budapest, took over from Weiss in 1930.

SB: Sellier & Bellot, Prague, Vlasim and Schoenebeck/Elbe.

Unmarked -- ?
.
.
.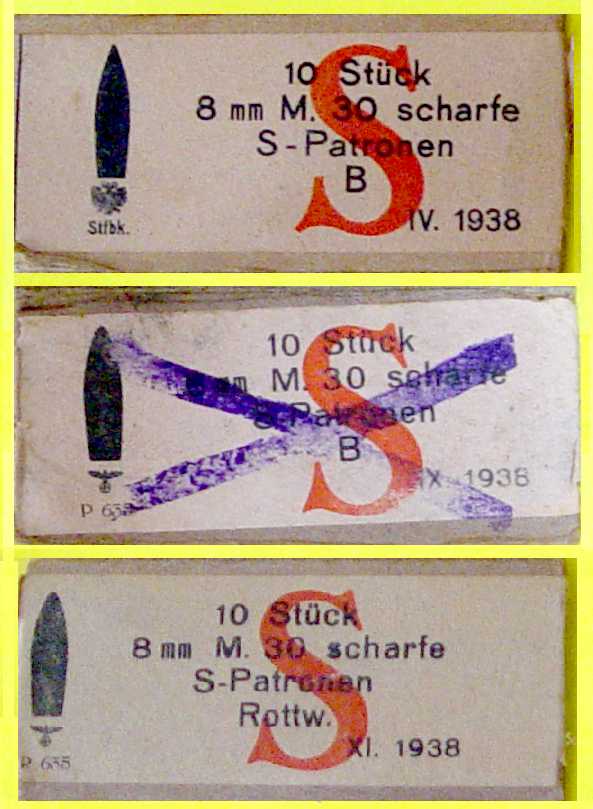 .
.
.
.
.
.
.
.
.
.
.
.
.
---