Home of the Old Ammo Guy's Virtual Cartridge Trading Table
---
Picture Page
March 2010
---
A recycled 9mm Parabellum box......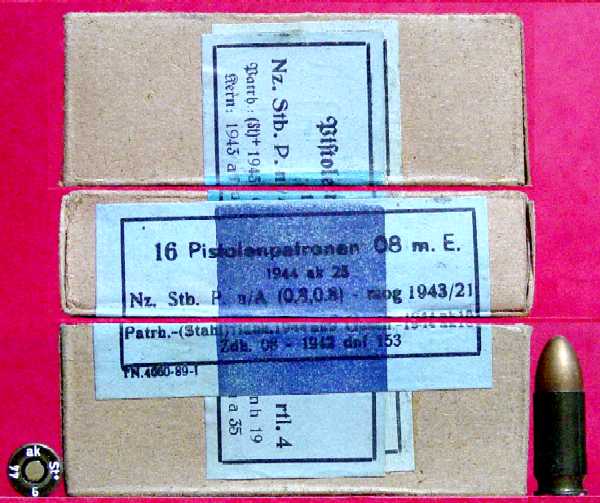 I got this rather unspectacular 9mm Parabellum box with a large number of matching boxes in an auction recently. Most of the boxes were sealed, but two that were not were found to hold standard steel jacketed and cased cartridges all with the headstamp ak St+ 9 44, indicating production at Munitionsfabrik Vlasim in Czechoslovakia. This ammunition factory was being operated by Sellier & Bellot when the Germans took over in 1939. What I found most interesting about the boxes was that all of them had been recycled, with the new label pasted over the original label. A couple of the boxes, including the one pictured here, were on their third use, each having two old labels under the new one. With all of the negative attention the Axis powers got throughout the war, you'd think they might have played up the fact that they were making an effort to save trees. Who knew!!
.
---
The intriguing copper-brass cartridge case.....
In January, there was an interesting, if not somewhat limited, discussion on the International Ammunition Association's cartridge forum regarding cartridge cases made from two layered copper and brass sheet metal and cups produced by the Coe Brass Manufacturing Company of Wolcotville, Connecticut. These cartridge cases had the copper surface on the inside to minimize the possibility of corrosion resulting from contact with the black powder charge, and the brass surface on the outside to minimize the possibility of the cases jamming in the gun chamber after being fired, as solid copper cases had a tendency to do. This bi-metal case construction was something I had not heard of before, and I was a bit skeptical until I began searching for more information. The following extract, which was posted on the IAA forum by the gentleman who started the discussion there, provides background and discusses the testing of cartridge cases made from this copper-brass stock. It is from a book with the lengthy title American Inventions and Improvements in Breechloading Small Arms, Heavy Ordnance, Machine Guns, Magazine Arms, Fixed Ammunition, Pistols, Projectiles, Explosives, and Other Munitions of War, compiled by Charles B. Norton and published in 1880. The book has been digitized by Google and is available on the internet.

.
.
.
.
.
.
.
.
.
.
.
.
.
.
.
.
.
.
.
.
.
.
.
.
.
.
.
.
.
.
.
.
.
.
.
.
.
.
.
.
.
.
.
.
.
.
.
.
.
.
.
.
.
.
.
.
.
.
.
.
.
.
.
.
.
.
.
.
.
.
.
.
.
.
.
.
.
.
.
.
.
.
.
.
.
.
.
.
.
.
I was also able to locate Leet and Chapin's 1878 patent for this 'improvement in metallic cartridges':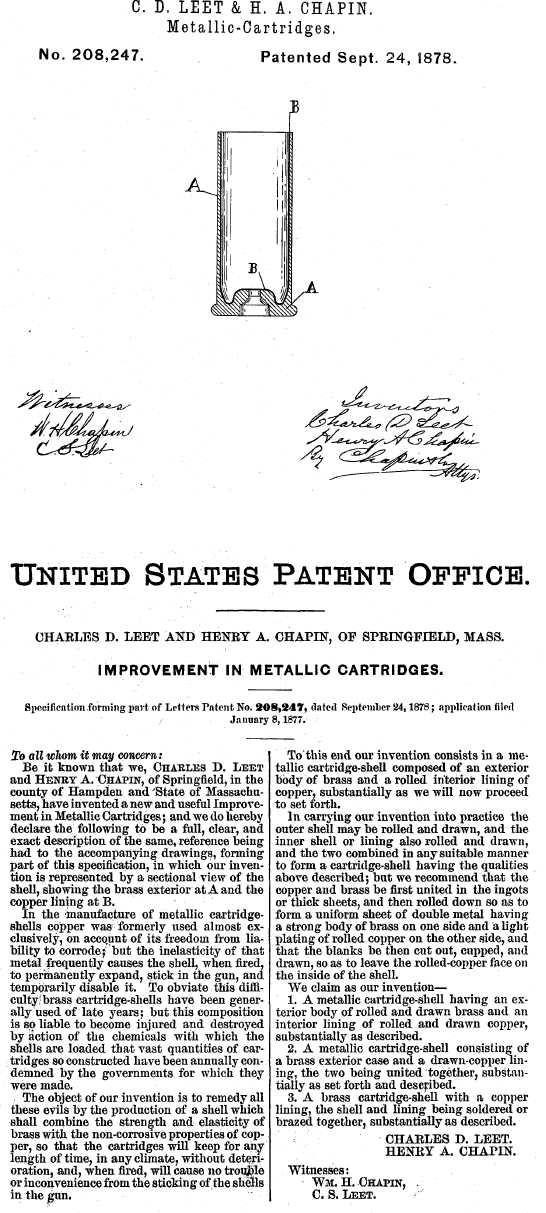 .
I am not aware of any of these bi-metal cartridge cases turning up, but it is not surprising, as there would probably not to be any outward indication that the cartridge was anything other than a brass cased cartridge. According to the extract from the book, this metal was tested by ordnance officers in the United States and other countries. Russia would likely have been one of these countries, considering that they were already using brass from the Coe Brass Manufacturing Company in the production of their 10.66 x 57R Berdan cartridges.
As stated in the extract, the US Ordnance department produced a quantity of cartridges using the copper-brass sheet or cups in April of 1877. Some of these cartridges were tested that year with satisfactory results, and the remainder were stored in humid conditions and again tested in January of 1880, also with satisfactory results. There is no mention of specifically what cartridge was produced, but there is the mention of the weight of the powder charge as being 68 grains, which indicates that they were .45-70 cartridges.
The Frankford Arsenal was busy with all sorts of experimental work in the late 1870s aimed at making improvements to their cartridge cases. They produced an experimental Berdan-primed copper-cased .45-70 cartridge, also in April of 1877; these are headstamped R F 4 77. There were no headstamped brass-cased cartridges made at the Frankford Arsenal in the 1870s that I am aware of, so it is likely that the copper-brass cased cartridges were unheadstamped. It is also possible that they were Berdan-primed, which would make them easily mistaken for the standard unheadstamped brass-cased Berdan-primed 405 grain .45-70 cartridges that UMC and Winchester produced commercially in their initial deliveries for their 1878 contracts with the U.S. government.
Further details of these 1877 and 1880 tests by the Ordnance Department should be available in the Report of the Chief of Ordnance for those years, neither of which I have access to. I would be interested in hearing from anyone who has additional information on these cartridge case tests, or who has or knows of one of these copper-brass cartridge cases.
.
---
An early tin of pinfire cartridges.....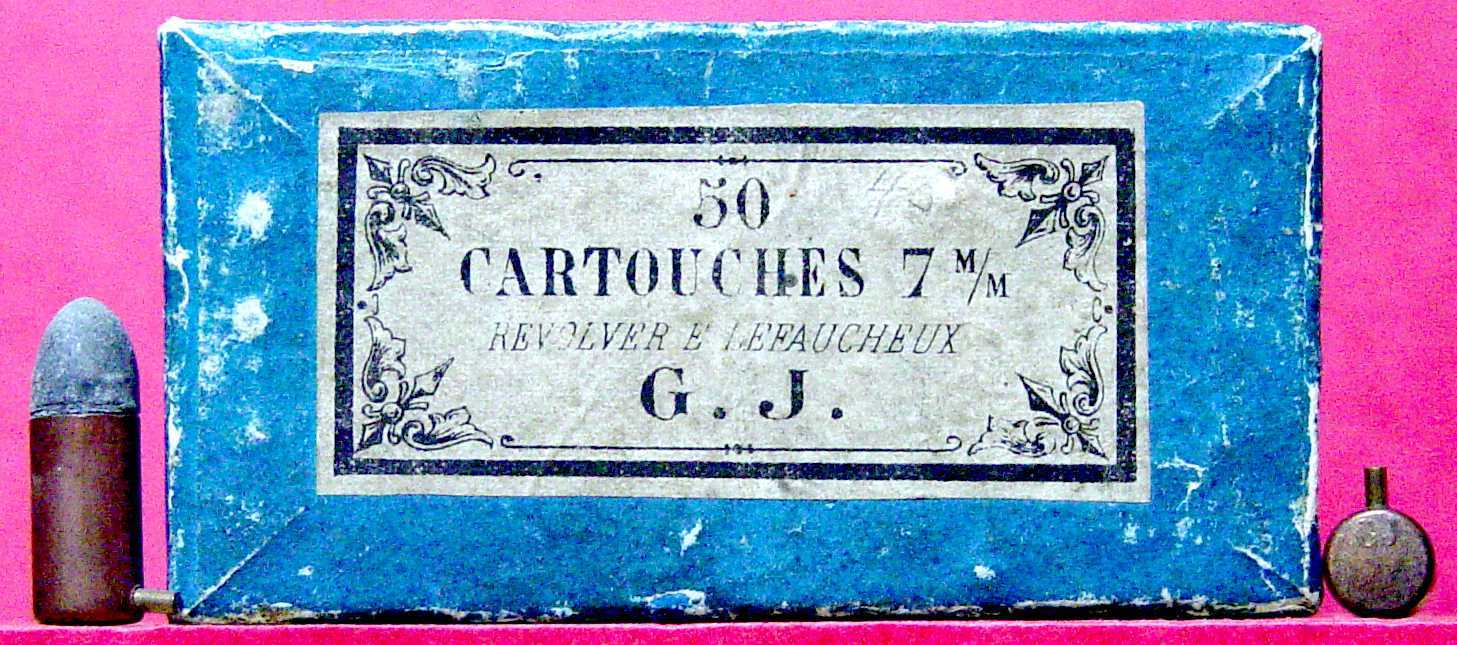 Here's a really nice 7mm pinfire cartridge box. Everything about the label indicates it is an early one, including its hand-lettered look and its uneven edges, and the 'G.J.' maker's trade mark. This box was probably made between 1845 and 1885.
The GJ trademark was owned by the French ammunition company Fabrique Gevelot. This company had its start as Gevelot, which was founded by Marin Gevelot around 1820, and commenced production of primers and ammunition in 1827. In 1832, Gevelot began using a raised 'G' headstamp on its ammunition. In 1844, Jules Gevelot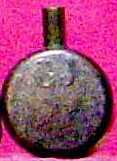 took over the company from his father, and changed the name to Fabrique Gevelot. In 1845 the new company began using the raised 'GJ' headstamp; it is believed that the 'J' stood for Jules. They continued using the old raised 'G' headstamp also. In 1885, Fabrique Gevelot merged with Gaupillat & Co, another French ammunition company that was formed in 1835, and a new back-to-back 'GG' headstamp was adopted. A year later, the company was reorganized as Societe Francaise des Munitions de Chasse, de Tie et de Guerre (SFM). They used the back-to-back 'GG' headstamp on their rimfire, pinfire and inside primed centerfire ammunition, but retained the G.J. trademark, which will be found on some of their percussion cap box labels, one of which is shown here, along with a picture of a similar percussion cap box from the company catalog. The primers in this box also have the raised 'GJ' headstamp.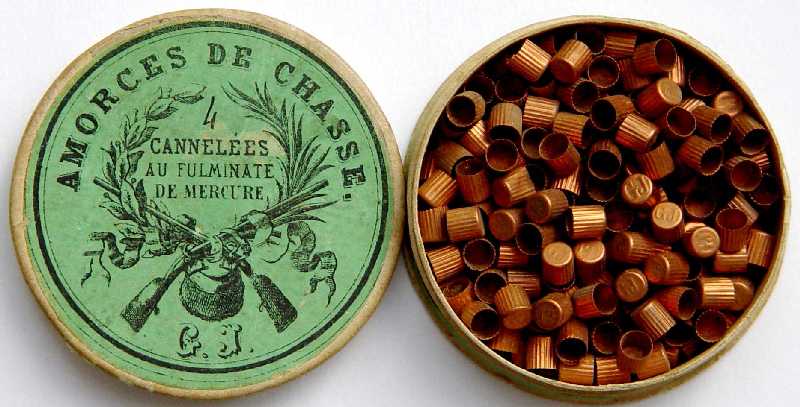 .

.
.
---