Home of the Old Ammo Guy's Virtual Cartridge Trading Table
---
Picture Page
May 2006
---
Here's something I hadn't seen before....

.I got this .30-06 cartridge in a collection I recently bought, and thought it interesting enough to share. As the case has a neck cannelure, it appears to have been made from a fired Frankford Arsenal blank cartridge made in January of 1917, which has had a bullet seated in place. The primer pocket has been drilled through and threaded, possibly to allow it to be attached to a key chain. Neatly engraved on the side is CAPT. FRANK ATTANASIO CO.A 110 INF. DIED 1927. I suspect Captain Attanasio was buried with military honors, and this cartridge was made from one of the blanks that was fired in his honor during the service. Perhaps someone can shed some light on who Captain Attanasio was, and the facts surrounding his death. It strikes me as odd that only the year of his death would be included, and not the day and month.
.
.

.
.
---
Variations of the Remington's Hi-Way Master....
Remington's Hi-Way Master cartridge was intended as a .45 ACP cartridge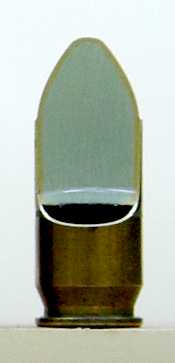 with increased metal penetration capability for law enforcement use in Colt automatic pistols and Thompson sub-machine guns. It was loaded with a 173 grain copper jacketed bullet with a semi-pointed profile. The core of the bullet is a white metal alloy rather than the usual lead; what it is made of I haven't a clue, but it is very similar to aluminum. The improved metal penetration is supposed to result from the shape of the bullet and a thicker nose portion of the bullet jacket. I've included a picture here of one of the sectioned cartridges.
I was not aware that there were variations of this cartridge until I picked up a partial box at our local gun show. The most obvious thing I noticed about them was that the cases were nickeled, which I didn't recall having seen before. A comparison with the one Hi-Way Master cartridge that was in my singles collection revealed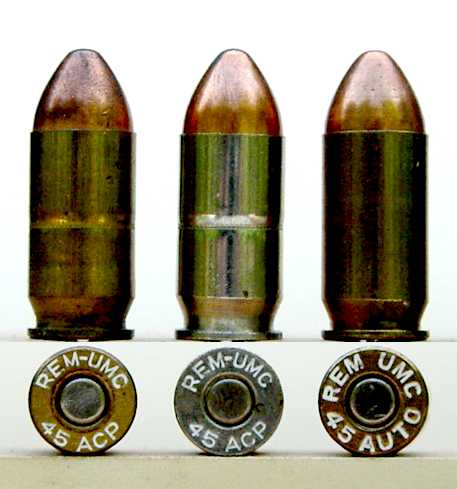 that my memory was correct, as its case was brass. In all other aspects, it is exactly the same as the newly acquired cartridge. A check of two Hi-Way Master boxes in my collection yielded yet another variation, this one having a brass case with a larger headstamp than the other two examples, with 45 AUTO rather than 45 ACP, and lacking the case cannelure that the other two have. In addition, the headstamp lacks the usual dash between REM and UMC, which I believe is typically seen on ammunition the company has produced for military use. The picture here shows the three variations.
The boxes that the first and second cartridges in the picture came from are like the rather tattered box shown in the first picture below. The third cartridge came from the box in the lower picture; which has no markings that might indicate it was made for the military. I believe these Kleanbore Hi-Speed boxes were produced between the late 1940s and late 1950s, and that the box in the lower picture was made after the other box.
.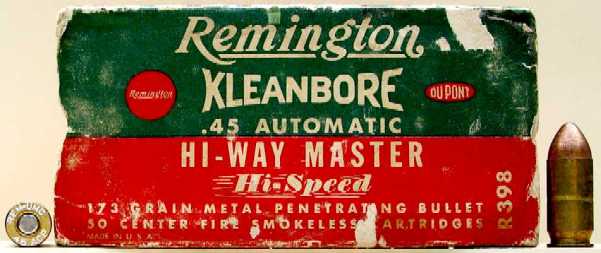 .
.
.
.
.
.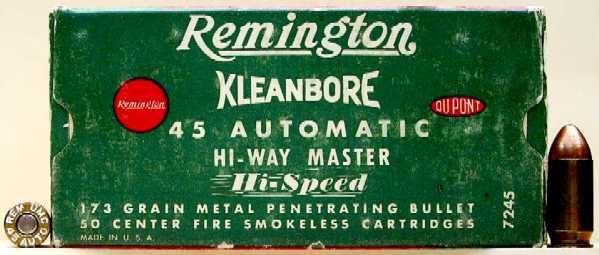 .
.
.
.
.
.

Update (5/27/06): I've added another variation of this cartridge to the collection, with a nickel plated case and no cannelure, which seems to round out the group of three in the picture above.
.
.
.
.
.
.
.
---
An assortment of .44-40 cartridges......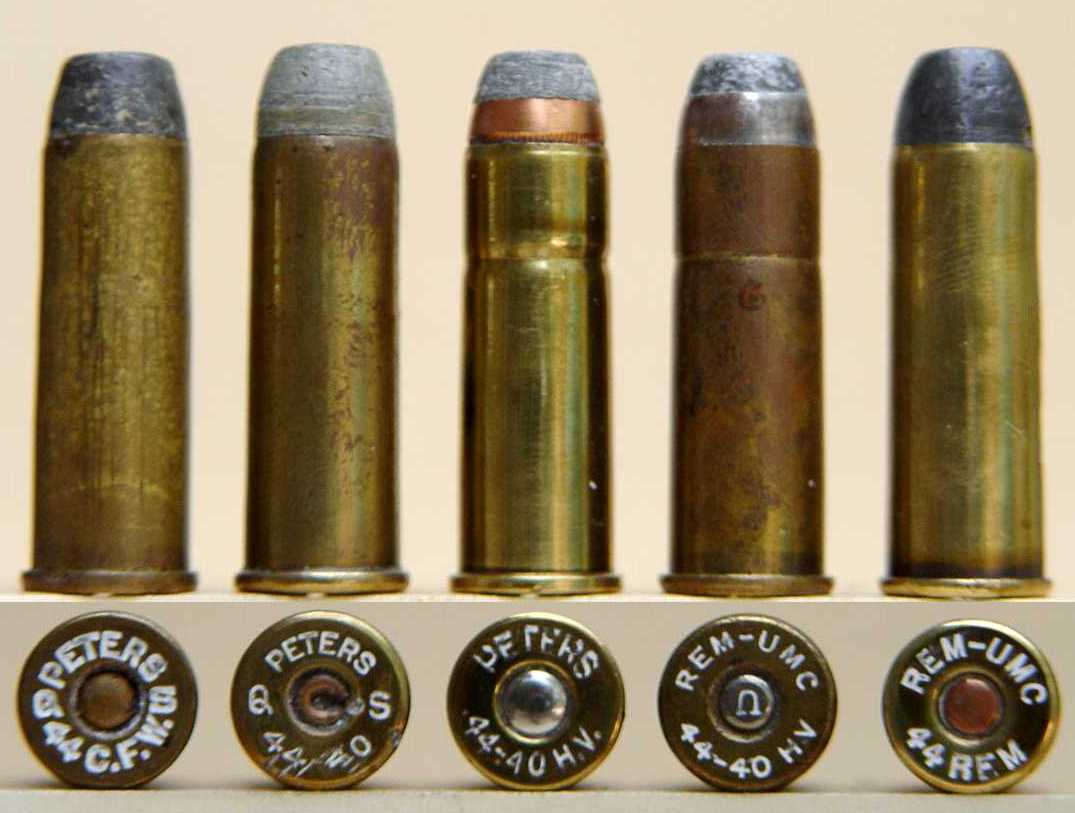 .A regular visitor to this page with an inclination towards the venerable old .44-40 Winchester centerfire asked me several months ago to include some of the variations of this cartridge from my collection on the picture page. I'm finally getting around to it, and apologize for my tardiness. I had these pictures ready some time ago, but they got pre-empted as a result of several exciting (at least to me at the time) additions to the collection that occurred over a short span of time. Not many of the cartridges that are shown here are overly rare - some are actually pretty common, but sometimes it doesn't take much to attract my interest. That said, I'll get down to the business of describing the items I decided to include. The first two cartridges in the picture above are fairly tough ones to find; these are examples of the Peters 'Quick Shot' loads which bear the distinctive 'QS' headstamp. This 'QS' can also be found on other calibers, including .38-40 W.C.F, 32 and 38 Smith & Wesson, and .44 S&W Russian (I think), as well as some of the early Peters shotgun shells. Cartridges and shells so marked are loaded with Kings Powder Company's Quick Shot brand of semi-smokeless powder. The third Peters headstamp is for a high velocity loading of the cartridge, as is the fourth cartridge by Remington-UMC. The last cartridge in the top picture doesn't appear to be a .44-40 WCF (obviously), but is actually the same black powder load that would have been produced for the many Winchester and Colt firearms that used this cartridge, but with a unique headstamp intended as a marketing ploy aimed at the relatively limited number of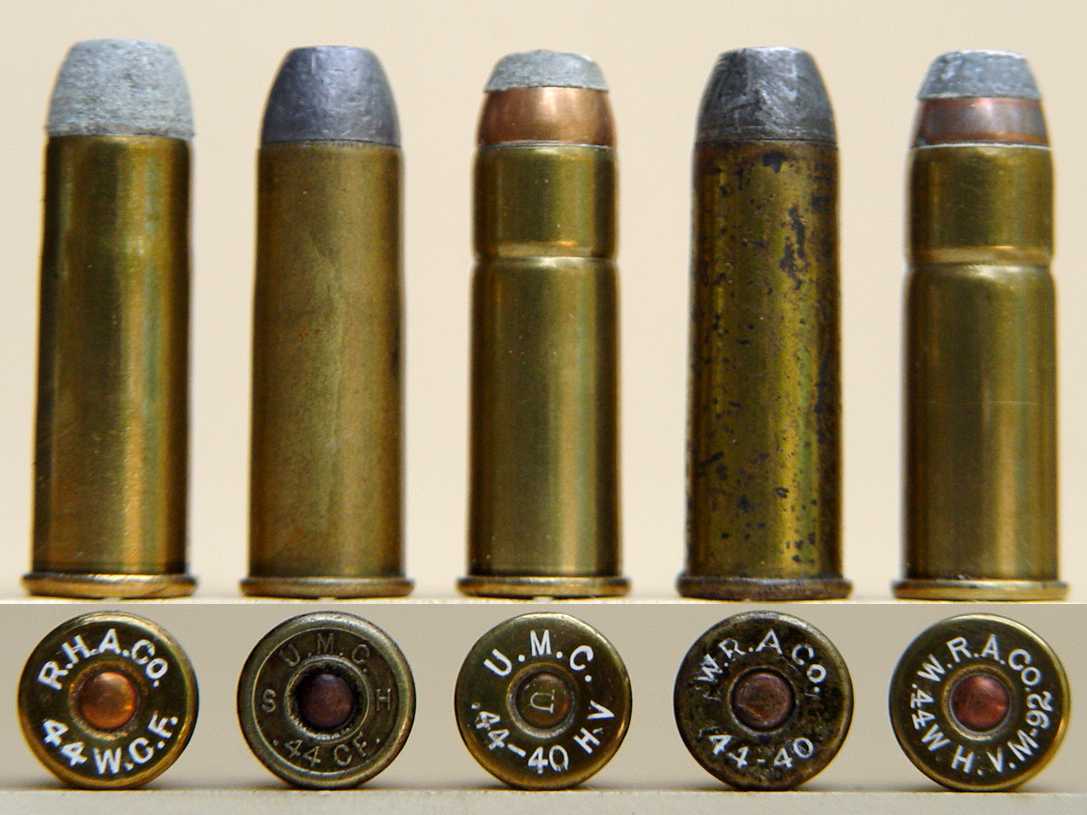 owners of Remington Model 1875, 1888, and 1890 single action revolvers (estimated at just a few thousand), ensuring them that they were buying ammunition made specifically for their revolvers.
It seems like about 99% of the ammunition made by the Robin Hood Ammunition Company that I run across are .38 S&W shot cartridges, so it is nice to occasionally find one in another caliber, like the first cartridge in this second picture. The next two are by UMC, including an early one with a raised headstamp and a high velocity load. The UMC raised headstamps show up on only eleven non-metric cartridges that I am aware of. In addition to .44 C.F. shown here, these include the following headstamps:
U.M.C. S .32-40. H (.32-40 WCF)
U.M.C. S .38 C.F. H (.38-40 WCF)
U.M.C. S .38-55. H (.38-55 WCF)
U.M.C. S .40-60. H (used for both .40-60 WCF and .40-60 Marlin)
U.M.C. S .45-60. H (.45-60 WCF)
U.M.C. S .45-70. H (.45-70 Government)
U.M.C. S .45-82. H (.45-82 WCF)
U.M.C. S .45-85. H (.45-85 WCF and .45-85 Marlin)
Winchester also produced several different raised headstamp cartridges, including the .44-40 (headstamped W.R.A.Co. 44 W.C.F.), .40-60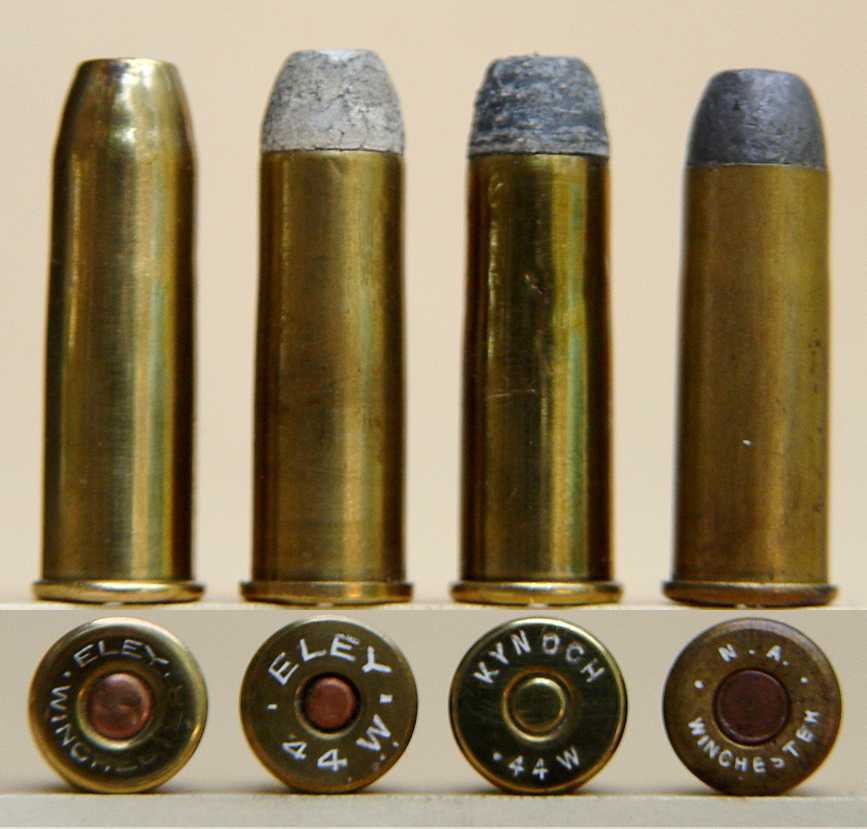 Marlin (W.R.A.Co. 40-60), and .40-90 Sharps Straight (W.R.A.Co. 40-90 S.S.), plus a couple of metrics, including 11mm Mauser and 11.4mm Comblain. The last two cartridges in the picture above are a couple of the less common W.R.A.Co. headstamps in .44-40, the first being for the various Marlin rifles in this caliber, and the second being a high velocity load for the Winchester Model 1892 rifle.
The remaining pictures are of .44-40 cartridges made in foreign countries. The third picture here includes four of British examples, the first two cartridges by Eley Brothers and the others by Kynoch and National Arms and Ammunition, a Birmingham company that was in business between 1872 and 1896.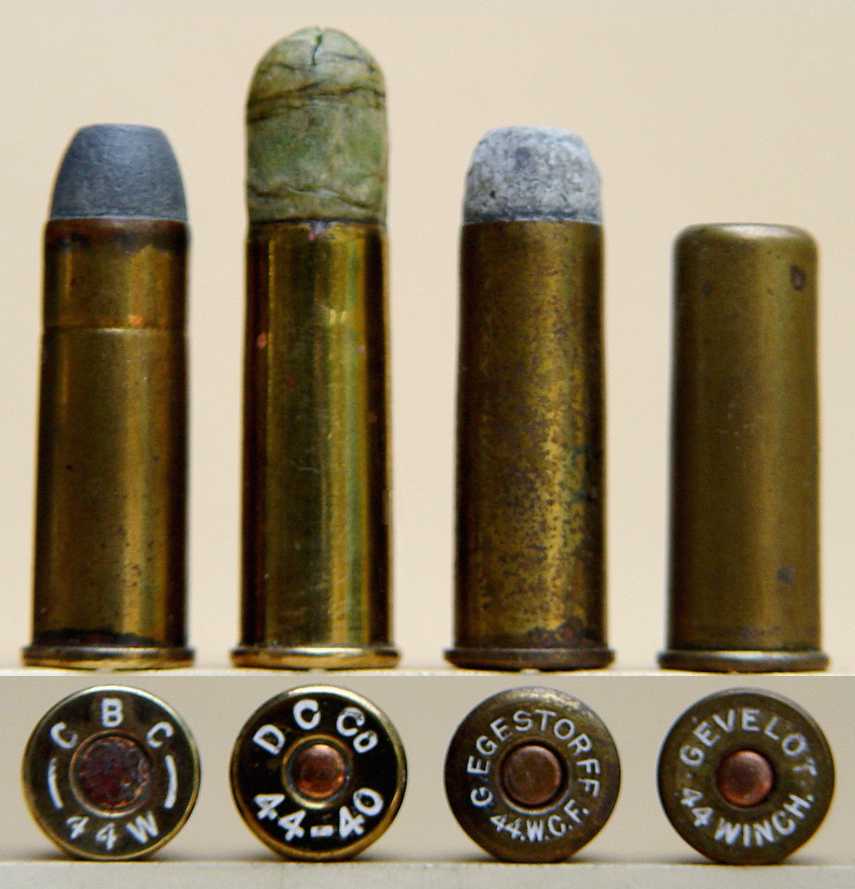 The first cartridge in the fourth picture is a Brazilian smokeless load by Compania Brasileria de Cartuchos S.A. of Sao Paulo, possibly intended for use in one of the El Tigre copies of the Winchester Model 1892 rifle. Next is a Canadian paper bullet shot load by the Dominion Cartridge Company, followed by a German black powder load made by Georg Egestorff of Linden, and a French shot load by Gevelot, S.A. of Paris.
The last picture includes a Czechoslovakian load with the metric designation 10.8 x 30mm in the headstamp made by Povazska Strojarne, a smokeless load made by the Dominion Cartridge Company for Eaton's, a department store chain in Canada, followed by a German black powder load by Rheinisch Westfalische Sprengstoff, and an early black powder load of unknown origin, but most likely European and possibly also German.
.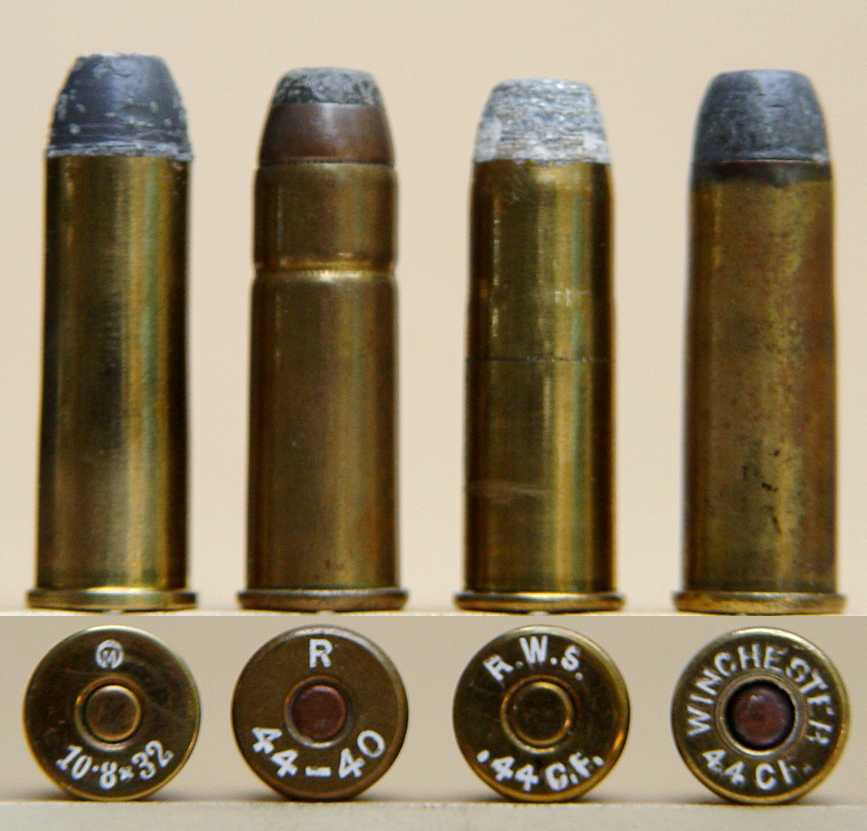 .
.
.
.
.
.
.
.
.
.
.
.