Contents
Cartridge Lists
Patent & Miscellaneous
Rim Fire
Center Fire Pistol
Center Fire Rifle
Metric Rimfire, Pistol&Rifle
British Pistol and Rifle
Shotgun Shells
Cartridge Boxes & Related
Prior Picture Pages:
* September 2003
* October 2003
* November 2003
* December 2003 * January 2004
* February 2004
* March 2004
* April 2004
* May 2004
* June 2004
* July 2004
* August 2004
* September 2004
* October 2004
* November 2004
* December 2004
* January 2005
* February 2005
* March 2005
* April 2005
* May 2005
* June 2005
* July 2005
* August 2005
* September 2005
* October 2005
* November 2005
* December 2005
* January 2006
* February 2006
* March 2006
* April 2006
*May 2006
*June 2006
*July 2006
*August 2006
*September 2006
*October 2006
*November 2006
*December 2006
*January 2007
*February 2007
*March 2007
*April 2007
*May 2007
*June 2007
*July 2007
*August 2007
*September 2007
*October 2007
*November 2007
*December 2007
*January 2008
*February 2008
*March 2008
*April 2008
*May 2008
*June 2008
*July 2008
*August 2008
*September 2008
Links to Other Sites
Cartridge Collectors Organizations:
IAA
ECRA
SAAACA
Auctions:
Auction Arms
E-Bay
Ward's Collectibles
Sold USA
Books:
Armory Publications
WCF Publications
Other Collector's Sites:
Curtis Steinhauer
Home of the Old Ammo Guy's Virtual Cartridge Trading Table
---
Picture Page
October 2008
---
An unusual box of Remington-UMC cartridges.....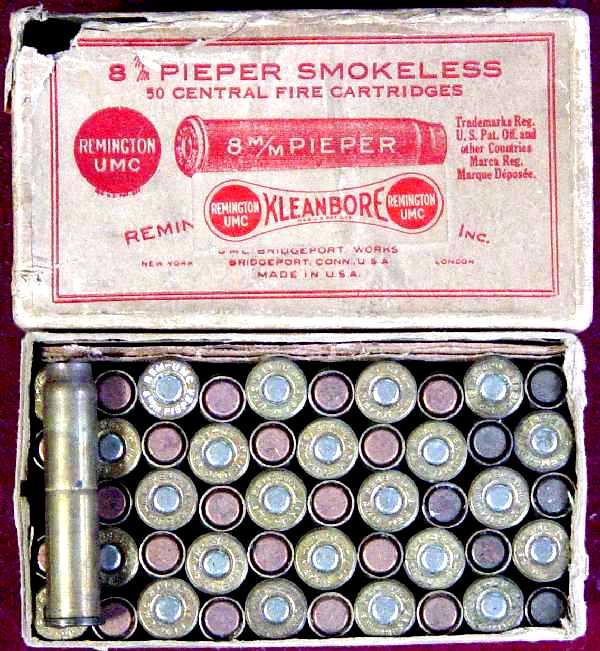 Here's a box of Remington made cartridges that seems a little out of place in this country, and appropriately so, as the Pieper revolvers and carbines that they were made for saw limited use in Mexico and did not make it to this country in adequate numbers to be recognizable to the general gun and cartridge collecting crowd. The Peiper firearms were made by H. Pieper in Belgium, and those adopted by Mexico were designated the Model 1893. The Union Metallic Cartridge Company produced this cartridge as early as 1901, and included it in their catalog. Remington-UMC included it in their catalog from 1911 until at least 1914, but no longer listed it after 1916. The box shown above is of the style used by Remington-UMC from about 1916 to 1921, based on the address shown on the label. This would indicate that at least one batch of this ammunition was produced during the period (1916 - 1921) that this box style was in use, but most likely following the conclusion of World War 1. However, note that a small dogbone Kleanbore label has been added, which would indicate that this particular box of ammunition was loaded in 1926 or later, as 1926 was the year Kleanbore priming was introduced.

Headstamps for American made ammunition in this caliber include U.M.C. PIEPER and REM-UMC 8mm PIEPER. The headstamp for the cartridges in this box is shown here. I am not aware of any other American ammunition maker that produced this cartridge. Foreign makers of the cartridge include G. Roth (GR | * | * | * | and a 1993 dated experimental), Societe Francais des Munitions (SFM * GG *), and possibly DWM.(probably unheadstamped if it exists at all).
Much of the information regarding the makers, headstamps, and production dates of this ammunition was obtained from a discussion of the 8mm Pieper cartridge on the IAA cartridge forum, which can be found at the following address: http://cartridgecollectors.org/forum/viewtopic.php?t=4467&postdays=0&postorder=asc&start=0
.
.
.
---
What a difference a name makes........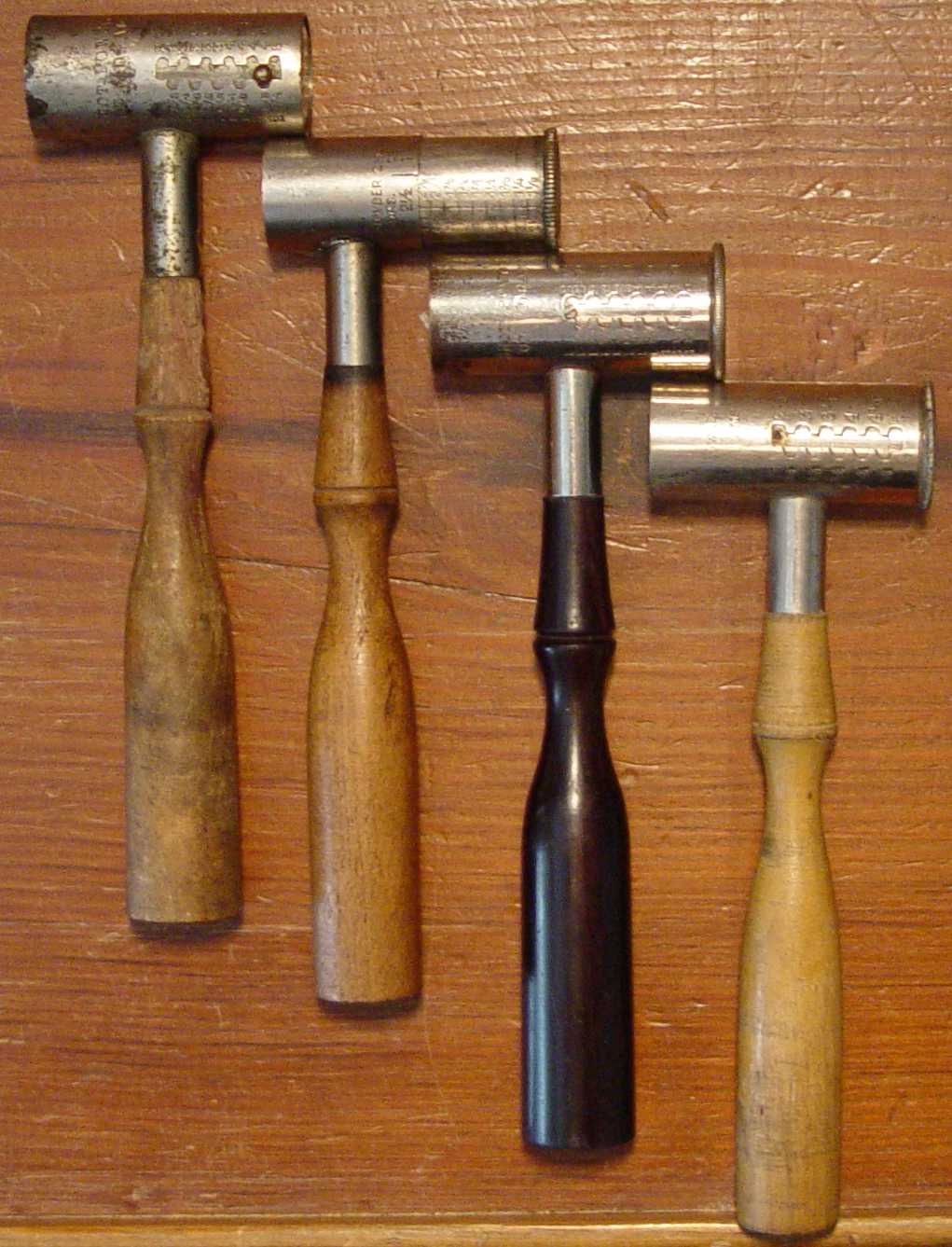 When checking out the offerings on those overcrowded gun show tables, don't be too quick to dismiss the often encountered powder and shot measures. There must have been lots of these things sold, because they seem to show up more often than any of the other vintage reloading tools. Consequently, they don't tend to sell for too much, in spite of some being of very high quality and in little used condition. These generally tend to be marked, 99% of which will be found to have been made by the Bridgeport Gun Implement Company, and marked either B.G.I.CO. or Bridgeport G. I. CO. Other markings on the Bridgeport items will include either a patent date or product number. Its the remaining 1% that should be watched for, as they will occasionally be found marked with the name the classic shotgun maker Parker Brothers. While the Parker Brothers examples are usually quite plain, they are highly sought after and generally sell for many times more than the B.G.I.CO. marked examples, even though the Parker marked ones were probably produced by B.G.I.
The markings on these four measures are shown below. The elusive Parker Brothers example is the one on the right. The first three are marked as being made by the Bridgeport Gun Implement Company. The first and second are marked B.G.I.CO. with the patent dates November 23rd, 1886 and February 25th, 1890, respectively. The third one with the rosewood handle is marked Bridgeport G. I. CO. No 21 (the product or catalog number). Sometimes, the Parkers Brothers examples will also have a product number included in the marking.

.
.
.
.
.
.
---
A couple of 'links' to the past.....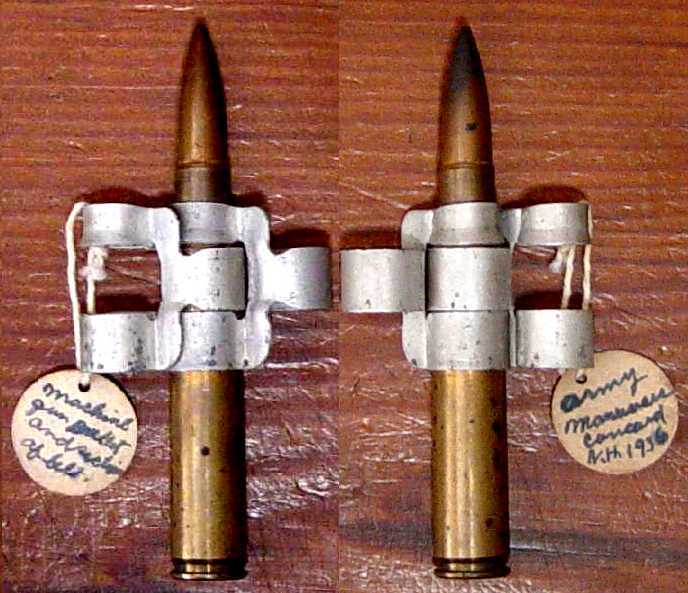 Shown here are a couple of machine gun links and a .30-06 cartridge that I picked up in a box of assorted cartridge related odds and ends at our last local gun show. Written on one side of the tag that is attached is 'machine gun cartridge and section of belt', and on the other side 'army maneuvers Concord N.H. 1936'. According to an article in the February 10, 1936 issue of Time Magazine, these were winter maneuvers conducted by the Army Air Force in February of 1936. 'Using Mitchell Field, N. Y., Concord, N. H. and Burlington, Vt. as bases, 62 pursuit, attack and bombing planes carrying 216 men, began chasing back & forth over snowy hills to test equipment and find out, among other things, if machine-gun oil will lubricate at sub-zero temperatures.' A February 2, 1936 article in the New York Times regarding the maneuvers indicated that the purpose was to test motors and guns in freezing temperatures.
'Disintegrating' machine gun belts made up of individual metal links first came into use in World War 1. The unusual (based on the black or dark blue examples typically found today) silver color of those above is the result of a tin finish intended to prevent the steel from rusting that was standard for these links in the 1920s and 1930s.
.
.
.
---