Contents
Cartridge Lists
Patent & Miscellaneous
Rim Fire
Center Fire Pistol
Center Fire Rifle
Metric Rimfire, Pistol&Rifle
British Pistol and Rifle
Shotgun Shells
Prior Picture Pages:
* September 2003
* October 2003
* November 2003
* December 2003 * January 2004
* February 2004
* March 2004
* April 2004
* May 2004
* June 2004
* July 2004
* August 2004
* September 2004
* October 2004
* November 2004
* December 2004
* January 2005
* February 2005
* March 2005
* April 2005
* May 2005
* June 2005
* July 2005
* August 2005
Links to Other Sites
Cartridge Collectors Organizations:
IAA
ECRA
SAAACA
Auctions:
Auction Arms
E-Bay
Ward's Collectibles
Sold USA
Books:
Armory Publications
WCF Publications
Other Collector's Sites:
Curtis Steinhauer
Home of the Old Ammo Guy's Virtual Cartridge Trading Table

Featuring a wide range of antique, obsolete, and modern ammunition for collectors
---
Picture Page
September 2005
---
A couple of Frankford Arsenal marked loading tools..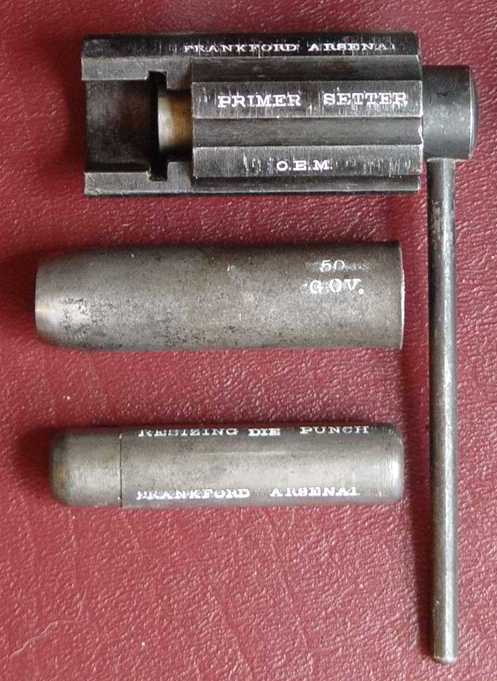 Here are several .50-70 reloading tools, including two that would have been included in a Frankford Arsenal boxed loading set. Eighty of these sets of .50-70 reloading tools were made at the arsenal in 1882. At the top is a primer seater (or setter in military parlance, I guess, based on the identification on its side), marked Frankford Arsenal and O.E.M., the inspection mark used by O. E. Michaelis. Next is a wad cutter, marked only 50 GOV.; the lack of any other markings would indicate that it is not likely to have been made at the arsenal, but it is possible that it was purchased from a civilian source for use by the military. At the bottom is a resizing die punch, intended for use with a shell resizing die, for the purpose of opening the case mouth to allow a bullet to be inserted, as well as to push the resized shell out of the die. This tool is marked FRANKFORD ARSENAL and was also inspected by Michaelis. I've included three more pictures of the primer setting tool below to show how it was used, details of its construction and its markings. The number 26 is marked on both parts of the primer setter, as shown in the picture. Apparently, this was an assembly or serial number. James Zupan, in his book Tools, Targets, and Troopers, reports that the numbers on those he has seen fell between the numbers 2 and 77.
.
.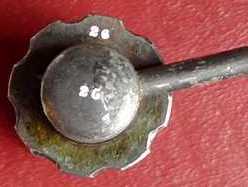 .
.
.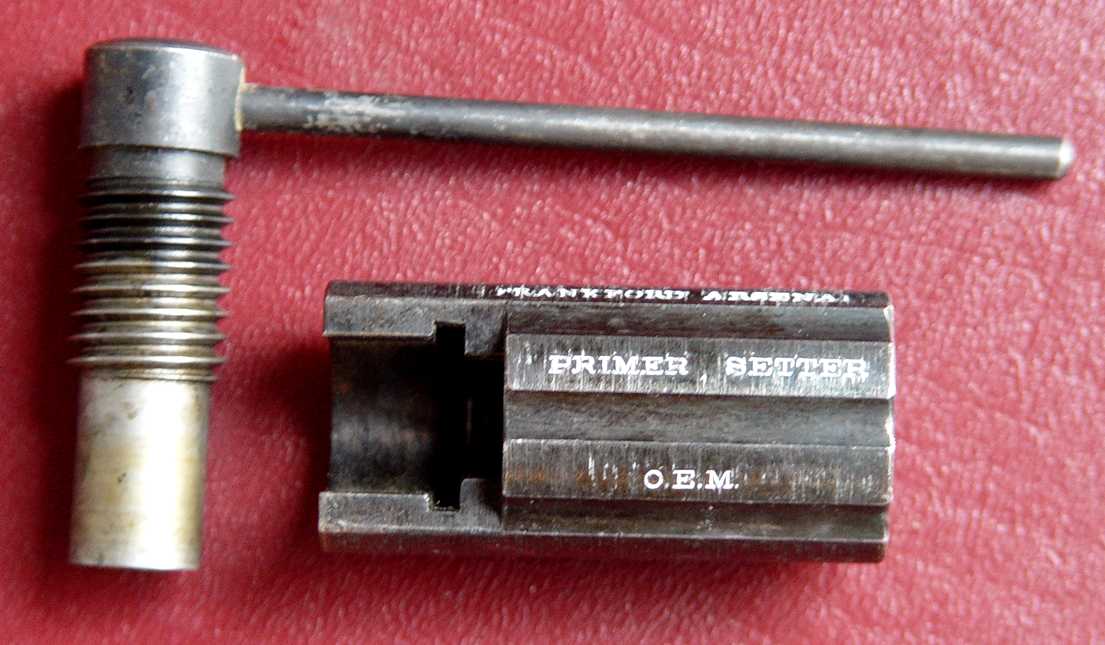 .
.
.
.
..
.
.
---
A tin of U.M.C. Orcutt Primers..........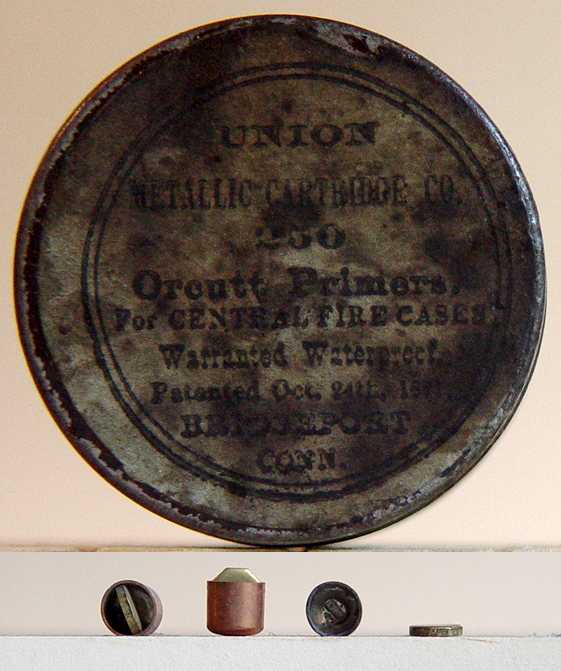 Here's something I had been looking for a long time, but just didn't seem to be in the right place at the right time to get one. These Orcutt primers aren't that rare; I just couldn't seem to get my hands on either the tin, or even one of the primers. I'm positive that I have plenty of cartridges in the collection that have these primers, but recognizing one without the use of an x-ray machine would be impossible. The diameter of these primers is .173", the standard for small primers used by all of the ammunition makers. However, the deep primer pocket needed for an Orcutt-primed cartridge case would be very obvious on an x-ray. The label on this tin reads 'UNION METALLIC CARTRIDGE CO. 250 Orcutt Primers For CENTRAL FIRE CASES Warranted Waterproof Patented Oct. 24th, 1871. BRIDGEPORT CONN." This 1871 patent was issued to Alfred C. Hobbs and Jerome Orcutt, and covered the disc-shaped anvil and the means of securing it on its edge in the cup. Originally, these discs were round, but they tended to tip to the side, resulting in misfires. The shape was soon changed to octagonal, the flat sides of which tended to hold the anvil more securely in place. An 1874 patent issued to A. C. Hobbs covered this change to the octagonal shape.
.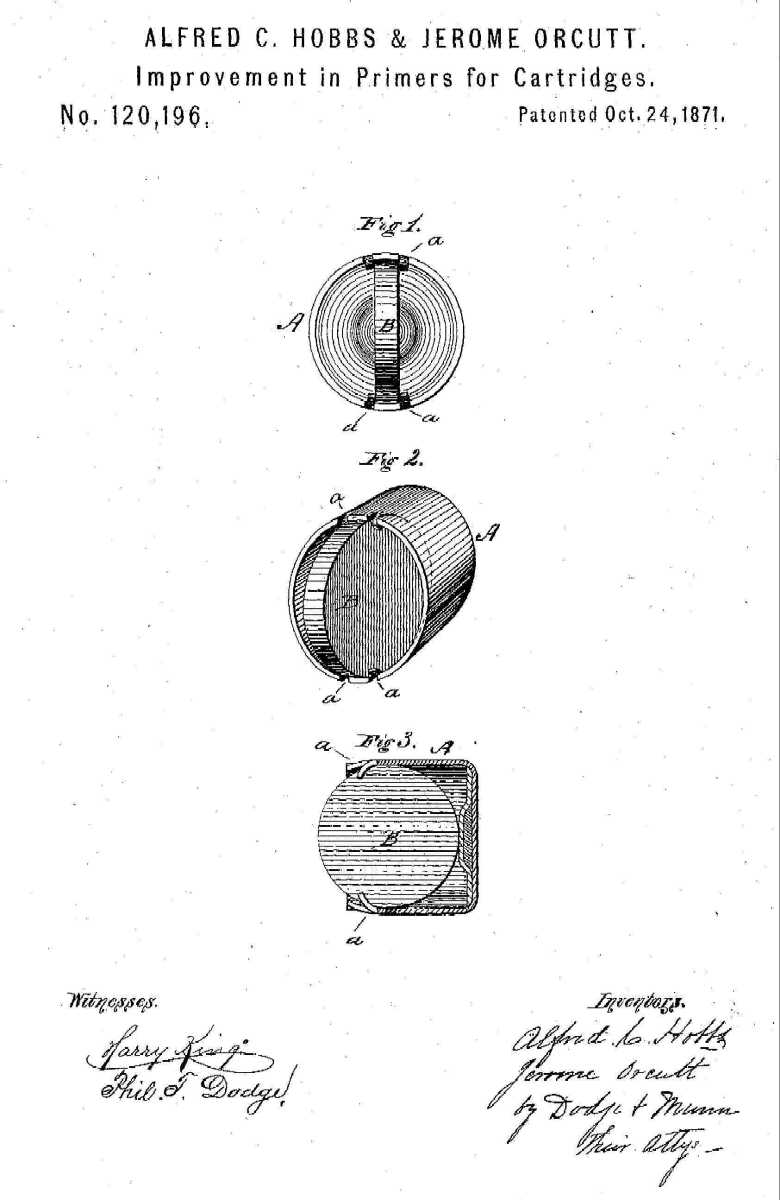 .
.
.
.
.
.
.
.
.
.
.
.
.
.
.
.
.
.
.
.
.
.
.
---
A 9mm Browning Short lineup..........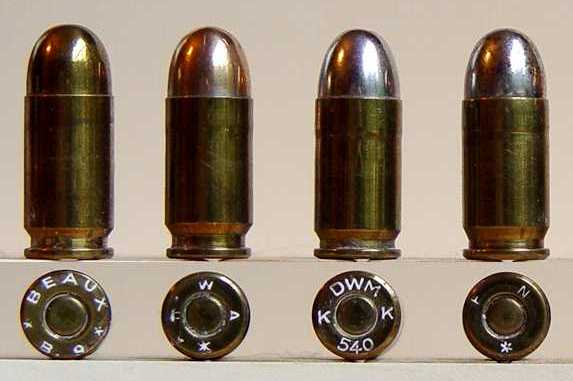 There is an impersonator amongst these two groups of 9mm Browning Short (aka .380 Automatic aka 9 x 17mm Kurz) cartridges. They are, from the left in the top picture:
(1) Beaux * B.S. * - made by Leon Beaux & Company of Milan, Italy; the 'B.S.' in the headstamp obviously indicates that this is not the impersonator;
(2) D W A * - made by Deutsche Werke A.G., a Berlin company formed at the end of World War I, and charged with directing the transition of the German government ammunition companies to peacetime production;
(3) DWM K 540 K - made by Deutsche Waffen u.Munitionsfabriken at Karlsruhe, Germany for commercial use; the pattern number 540 identifies the cartridge case as the 9mm Browning Short, which was introduced just prior to World War I, and proves this one not to be the impersonator;
(4) F N * - made by Fabrique Nationale d'Armes de Guerre of Herstal, Berlin, introduced the John M. Browning designed .380 Automatic cartridge in 1912;
(5) Geco 9m/mk - made by Gustav Genschow & Company of Durlach, Germany; the knurled case cannelure identifies this as a proof cartridge;
(6) REM-UMC 9 m/m BS - made by the Remington Arms - Union Metallic Cartridge Company sometime after 1912/13, when the two companies were merged; once again, the 'B.S.' in the headstamp gives this one away as a true blue 9mm Browning Short;
(7) R.M. * S * - made by Rheinisch Metallwaren u. Maschinenfabrik; that 'S' in the headstamp stands for Sommerda, the town in Germany where this factory was located, not Short, so this one is still a contender for the impersonator;
(8) T.C A F with a symbol at 6 o'clock quite similar to a British broadarrow proof mark - made by the government military factory in Turkey (Turkiye Cumhuriyet Askeri Fabrikalar).
The impersonator isn't too obvious, as all of its measurements except one match those of the 9mm Browning Short, the one exception being the rim. Look closely at the rims and note that the second cartridge in the top picture has a slightly rebated rim, which is the distinguishing characteristic of the 9mm Nickl. This cartridge was designed in 1916 by Joseph Nickl and used in the CZ Model 22 semi-automatic pistol. The cartridges are so much alike that the 9mm Nickl can be fired in any pistol intended for the 9mm Browning Short/.380 Auto, but because of the smaller rim on the Nickl, the opposite does not hold true. The 9mm Nickl is so uncommon, however, that anyone who tried to shoot one, except perhaps for self defense purposes, would be a bit foolish, as the collector value per cartridge is about the same as a full box of 50 of the Brownings. I'm a little embarrassed to say that I had the 9mm Nickl pictured above misidentified as a 9mm Browning Short until I read a discussion regarding the cartridge on the International Ammunition Association's cartridge forum. This link will get you there: http://www.cartridgecollectors.org/f/reply.php?id=5849,5849