Contents
Cartridge Lists
Patent & Miscellaneous
Rim Fire
Center Fire Pistol
Center Fire Rifle
Metric Rimfire, Pistol&Rifle
British Pistol and Rifle
Shotgun Shells
Cartridge Boxes & Related
Prior Picture Pages:
* September 2003
* October 2003
* November 2003
* December 2003 * January 2004
* February 2004
* March 2004
* April 2004
* May 2004
* June 2004
* July 2004
* August 2004
* September 2004
* October 2004
* November 2004
* December 2004
* January 2005
* February 2005
* March 2005
* April 2005
* May 2005
* June 2005
* July 2005
* August 2005
* September 2005
* October 2005
* November 2005
* December 2005
* January 2006
* February 2006
* March 2006
* April 2006
*May 2006
*June 2006
*July 2006
*August 2006
*September 2006
*October 2006
*November 2006
*December 2006
*January 2007
*February 2007
*March 2007
*April 2007
*May 2007
*June 2007
*July 2007
*August 2007
*September 2007
*October 2007
*November 2007
*December 2007
*January 2008
*February 2008
*March 2008
*April 2008
*May 2008
*June 2008
*July 2008
*August 2008
*September 2008
*October 2008
*November 2008
*December 2008
*January 2009
*February 2009
*March 2009
*April 2009
*May 2009
*June 2009
*July 2009
*August 2009
Links to Other Sites
Cartridge Collectors Organizations:
IAA
ECRA
SAAACA
Auctions:
Auction Arms
E-Bay
Ward's Collectibles
Sold USA
Books:
Armory Publications
WCF Publications
Other Collector's Sites:
Curtis Steinhauer
Home of the Old Ammo Guy's Virtual Cartridge Trading Table
---
Picture Page
September 2009
---
The Gardner machine gun and its cartridges.........
Gardner Patent Machine Gun Serial Number 2 was recently sold at auction by Cowan's Auctions; the catalog description provided the following:
50-70 caliber, 32" barrel, Gardner Patent Gun Serial Number 2 is a single barrel with single feed guide and operated by hand. William Gardner is believed to have had Serial No. 2 manufactured, based upon his patents of 1876 and 1879, by the Pratt & Whitney Company. The weapon offered here is the Patent Gun that William Gardner had tested by the U.S. Navy, tried by the British Admiralty and British War Office, and other European governments. This is the very gun that Alexander Gardner took with him to Paris in 1878 for an exhibition in Paris with similar inventorís machine guns in which Mr. Gardnerís gun took first place. This gun was used in competition against the Gatling gun. Mr. Gardner's gun won in Europe, but not in America. Overall length 45", height 38".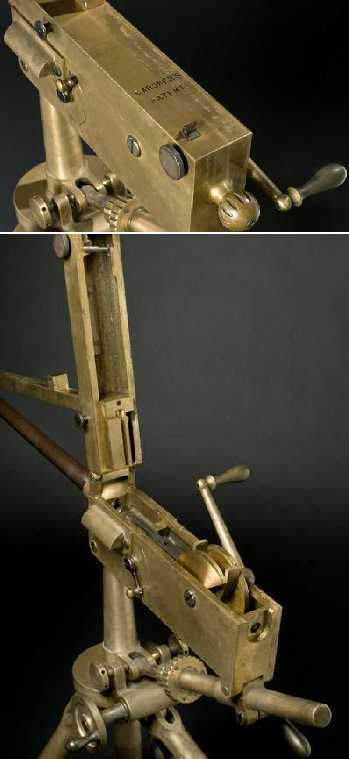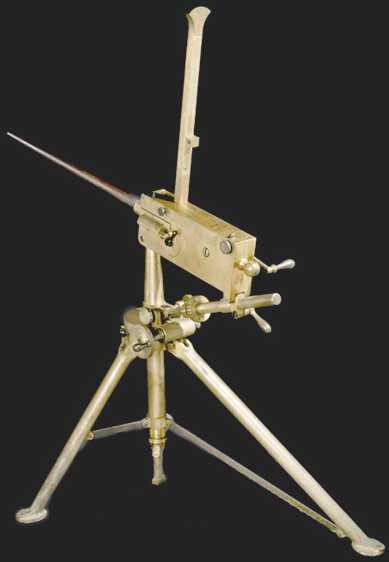 These three pictures of Gardner's patent model machine gun are from Cowans April 29-30, 2009 Spring Firearms Auction Catalog.
.
The Gardner machine guns used by the British were chambered for a .450 cartridge, three of which are shown in the picture below. As well as being used in the Gardner machine guns, these cartridges were also used in guns made by Gatling and Nordenfelt. The first two are headstamped GARDNER MACHINE GUN CO and G G (Gardner and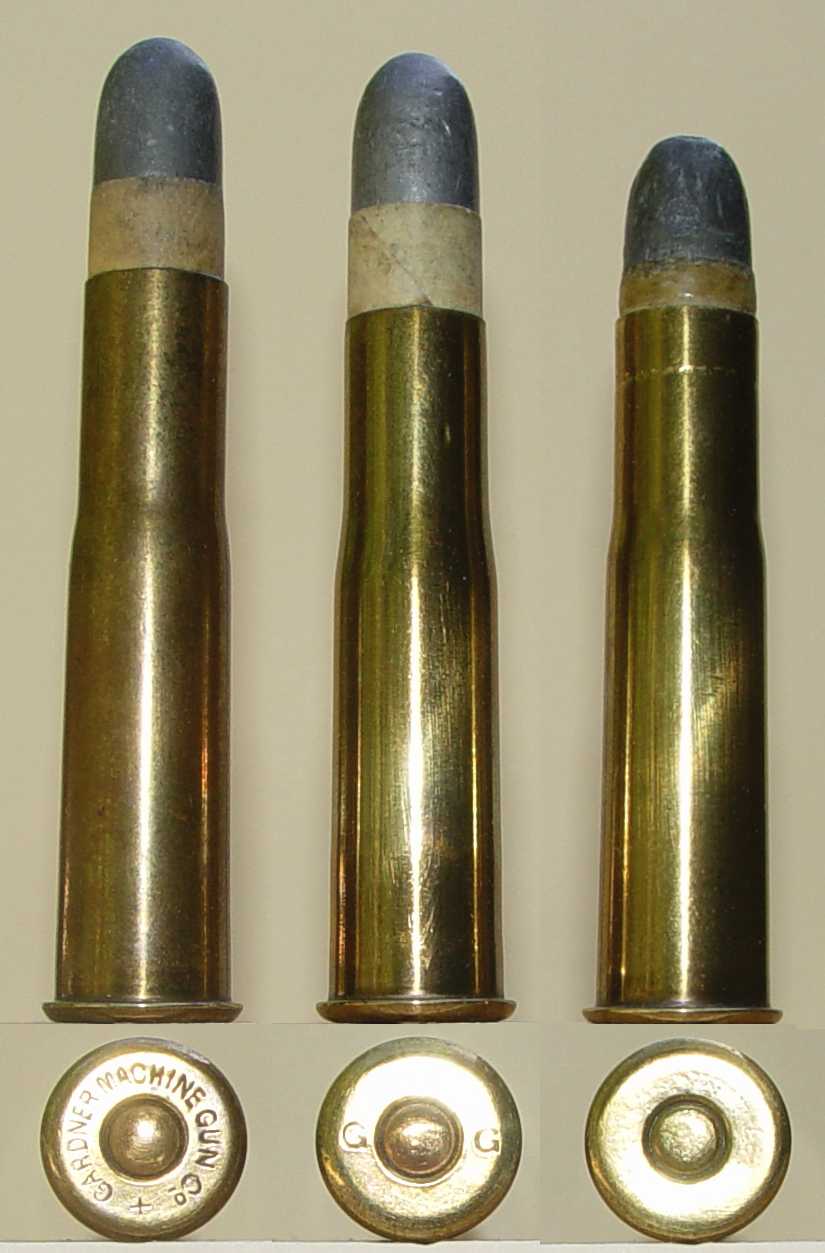 Gatling?), respectively; the third has no headstamp.
.
.
.
.
.
.
.
.
.
.
.
.
---
The .45 Turkish Peabody-Martini cartridge...
In 1872, Oliver Winchester secured a contract with the Turkish Government to produce 200,000 Peabody-Martini rifles. While he would have preferred the contract to have been for his Model 1866 rifle, Winchester made the best of a bad situation and immediately sold the contract that same year to the Providence Tool Company, which had purchased the 1862 patent of Henry L. Peabody and had produced the Peabody rifle since that date. As a result, they were in a better position to produce the Turkish rifles than Winchester, as they essentially already had the tooling. The Peabody-Martini was basically an improved Peabody action; the sidelock of the Peabody had been replaced with a coil spring to operate the firing pin by Frederick Martini, a Swiss inventor.
It should be noted that Winchester also secured contracts in 1874 and 1875 with the Turks for ammunition, producing a total of 200 million primed empty cartridge cases and bullets for them. These contracts were not for loaded cartridges because the Turks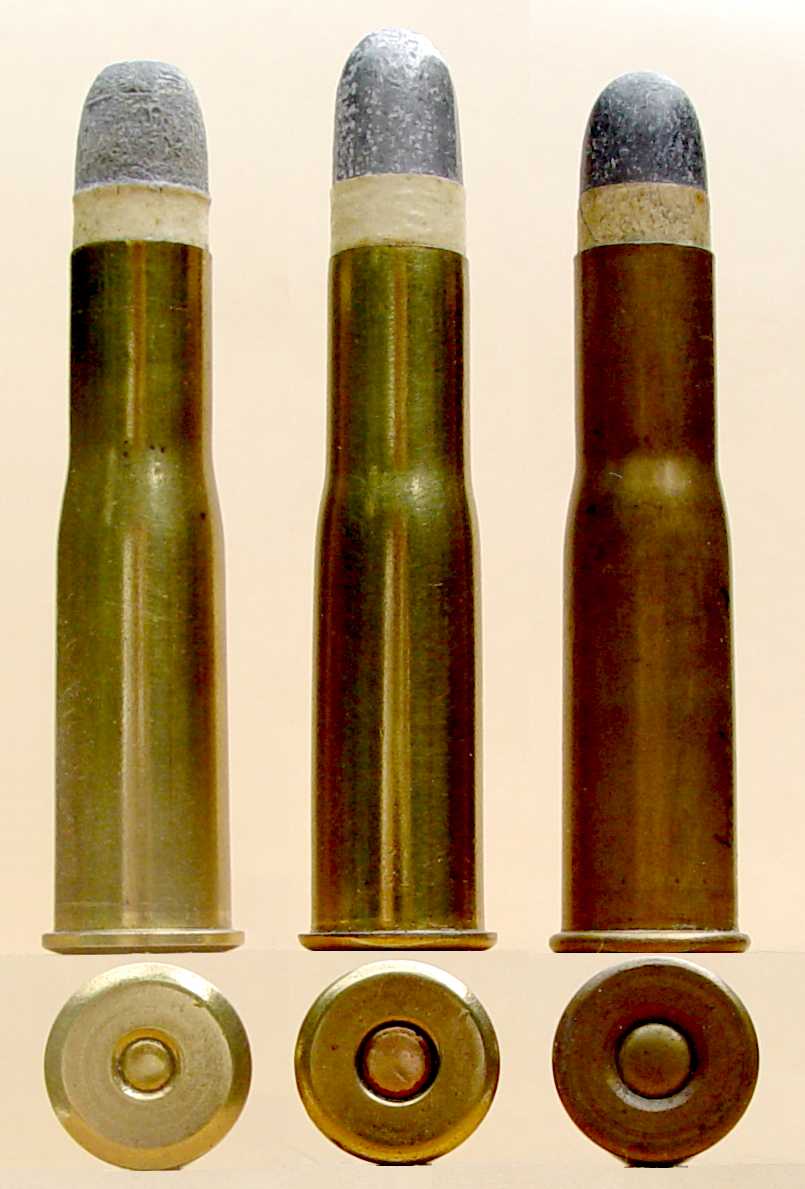 were short of funds for foreign purchases, and while they had sufficient powder making and cartridge loading capacity, they lacked machinery to make cartridge cases and had a limited supply of lead. It is reported that all of the Turkish contracts resulted in profits to Winchester of about 1.5 million dollars.
The two pictures here show six examples of the .45 Turkish Peabody-Martini cartridge. One of the Winchester cases (and bullets, I assume) is shown on the left in the first picture. Another American company, the Union Metallic Cartridge Company, also contracted with Turkey to supply ammunition, which I would expect also consisted of primed cases and bullets; the second cartridge is one of theirs. The third cartridge was attributed to H. Gielguid in a collection I bought some years ago, but I don't know if this is correct; I have no information on this individual or company, other than to guess that it might be French..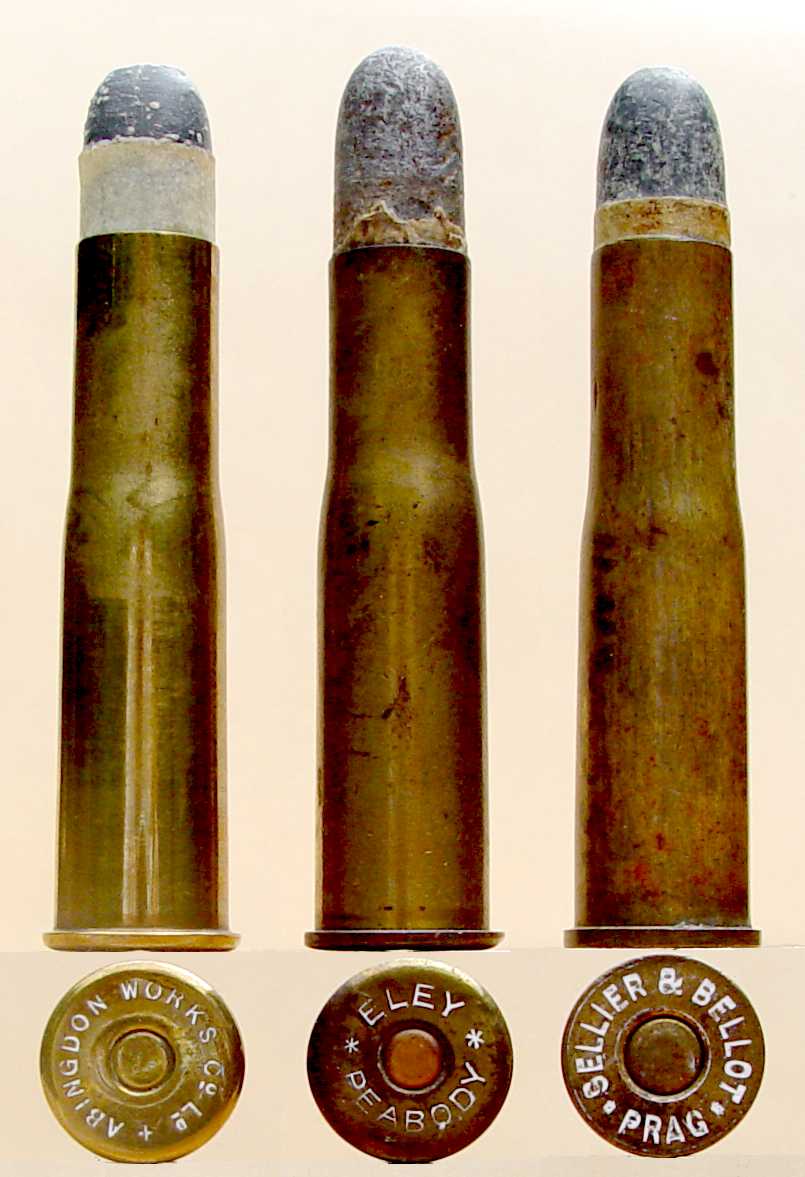 This second picture includes two British examples (Abingdon Works Co, Ld and Eley), and an Austro-Hungarian example (Sellier & Bellot . PRAG .) Abingdon Works actually started out as Coxeter & Sons, manufacturers of bicycles as well as other non-firearm related items. The name change to Abingdon Works Co, Limited occurred in 1874 or 1875, about the time of the Turkish contracts. Robert Buttweiler sold ten of the Abingdon headstamped cartridges in his auctions, and the descriptions of those in the later catalogs stated that Abingdon Works Co. Ltd was one of the primary contractors for the Turkish rifles, and that they ordered these cartridges made to possibly increase their sales or as a marketing ploy. Regardless of the their reason, this suggests that Buttweiler believed the company didn't actually produce the cartridges, so it is possible that Eley or Kynoch made them; the case does look very much like that of the Eley headstamped example beside it in the picture. I don't know if they were associated with any other ammunition besides the .45 Turkish Peabody-Martini, but Labbett & Mead in .303 Inch suggest the possibility of other cartridges as well as indicating that they were an ammunition manufacturer in their historical notes on British small arms ammunition producers (Appendix 4). They state that Abingdon Works Co. Ltd was 'situated in Birmingham, existed between 1874 and 1931, and, for a portion of this time, made military ammunition. As far as is known .303 inch caliber ammunition was not included in their range'. Whether they made the cartridges or not, it should be noted that the Abingdon Works Co, Ltd name is more recognizable among tool collectors than cartridge collectors; they are most notable for their Abingdon King Dick line of adjustable spanners (wrenches to us Yanks) that was introduced around 1906.
.
.
.
---
A trio of early Karcher inside-primed cartridges...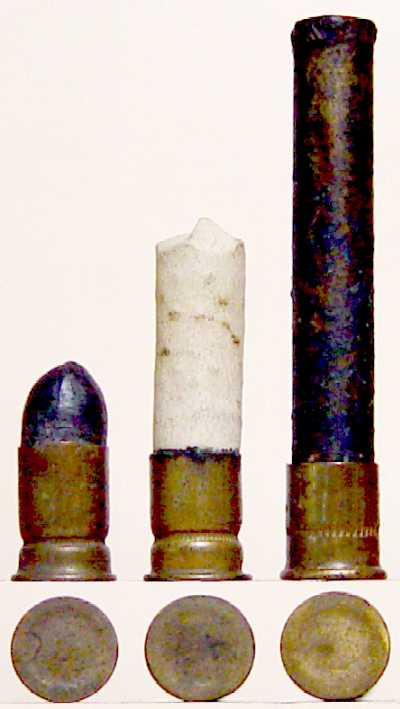 Examples of the 7mm Karcher inside-primed cartridge are usually pretty easy to identify, as they often have a distinctive raised headstamp, either KARCHER Bte S.G.D.G. (meaning 'Brevette without the government's guarantee') or E.L (for E. Lecompte). Check my archived pictures for some headstamped examples (Click here). They will also be found headstamped A,N. and B.N. French mechanic P. Karcher received an 1875 patent for his primer, but is not thought to have ever actually produced cartridges. Instead, it is believed that Gevelot, and later SFM, produced most of the cartridges as well as empty cases for these. The three cartridges shown here are thought to have been produced by Gevelot prior to the 1875 Karcher patent date, possibly explaining why they are without headstamps. From the left, these include one loaded with a lead bullet, a paper hulled shot load, and a flare, which has a brass tube containing some type of propelling/pyrotechnic mixture. All three of these show the Karcher style knurled case cannelure, which holds the primer anvil in place inside the head, making identifying them easier. It is interesting to note that this primer is quite similar to the earlier Benet primer which preceded it by a few years, leading one to speculate that Karcher's primer design may not have been entirely his own.
.
.
.
---