Home of the Old Ammo Guy's Virtual Cartridge Trading Table
---
Picture Page
November 2010
---
A pack of 1864 St Louis Arsenal paper cartridges......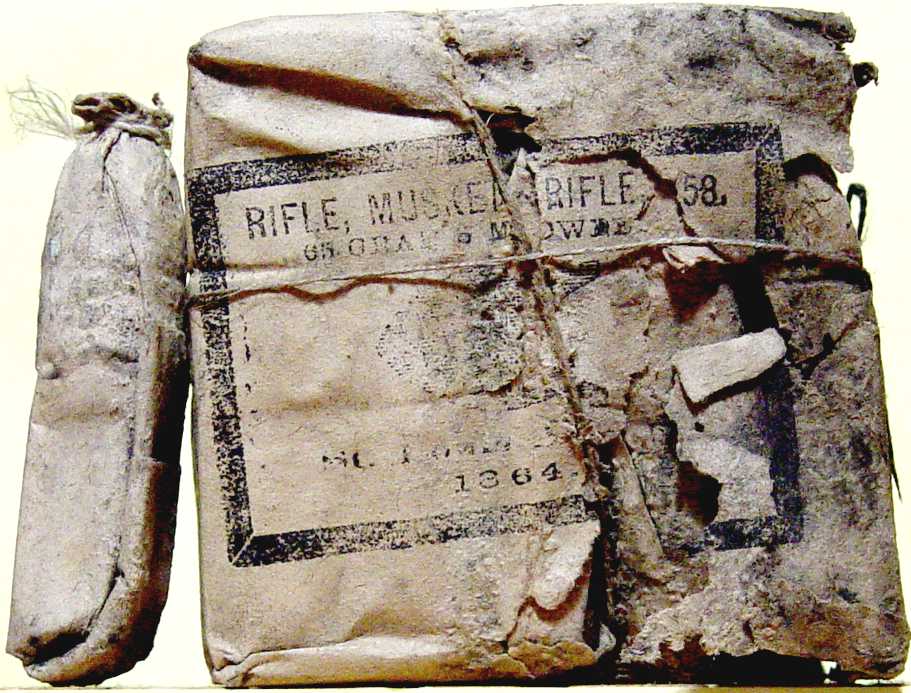 This is a full packet of ten .58 caliber paper cartridges made at the St. Louis Arsenal in 1864, and intended for use in the muzzle-loading .58 rifle-muskets and rifles with which the majority of the Union troops were armed.
The cartridges are in the packet in two rows of five, with one cartridge being oriented nose up and the one adjacent to it being nose down and so on. The label on the packet was applied to the wrapper prior to its being folded around the cartridges and tied. The label reads:
RIFLE, MUSKET & RIFLE 58.
65 GRAINS M. POWDER.
(profile of a Minie ball)
ST LOUIS ARSENAL
1864.
.Four of these St. Louis aRSENAL PACKETS were sold between April, 1986 and May, 1998 in Robert Buttweiler's cartridge auctions. According to Buttweiler, these were considered among the scarcest of the Civil War cartridge packets until around 1981, when a small number surfaced. I suspect all of those that were sold by Buttweiler in his auctions were from this group. The first of those that he sold included one that was in excellent condition, lot 3 in Vol 1 No 2 of his auction catalogs shown below on the left. The last one was in poor condition, lot 26 in Vol XII No 2, shown below on the right, which was described as having water damage to one end and appearing remarkably similar to the one shown above. The damage to the two packets is so much alike that I am convinced that mine probably came from the same group as his damaged one.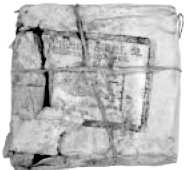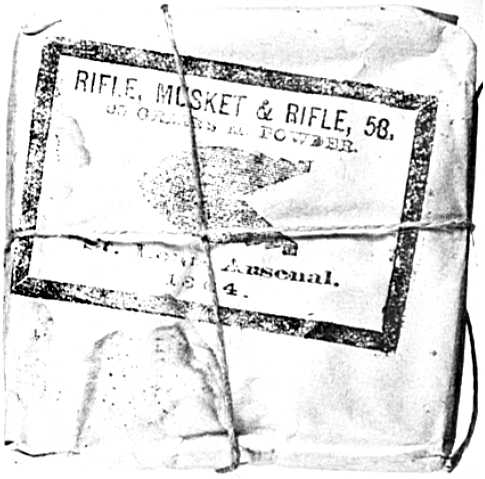 .
.
.
.
.
.
.
.
.
---
A box of Sport Ammo Corporation's Mini-Shells.......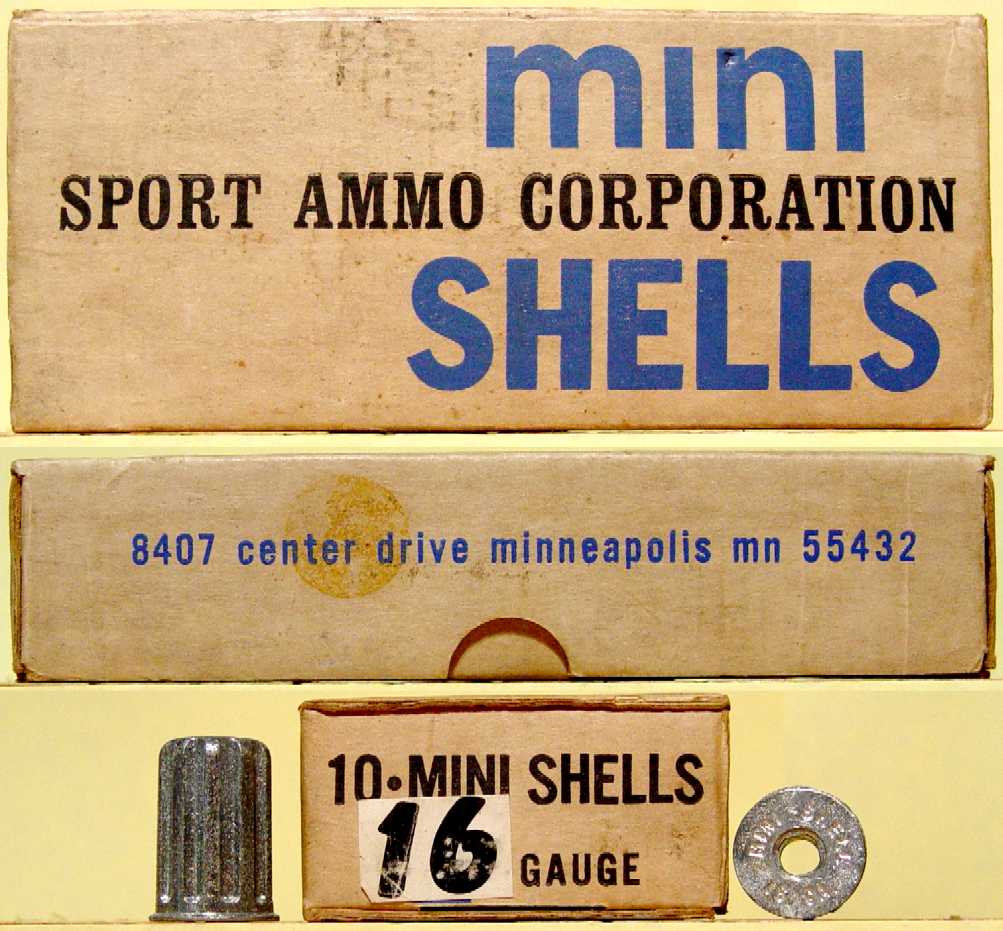 There are certain items you encounter that leave you wondering how they ever got beyond the 'bright idea' stage. The Sport Ammo Corporation Mini Shell is one of them. According to Richard Iverson (The Shotshell in the United States), these shells were intended to provide a low noise alternative to standard shells for use in practice shooting. They were made of a lead-zinc alloy and used a standard shotshell primer, with or without a small charge of powder, and a small amount of shot held in place with a .410 wad. They were available in 12, 16,
and 20 gauge, and according to Iverson, were marketed in 1968.
That they were marketed for only a year is understandable, as I can't see what real use there was for them. There would be little point in practicing with a load that didn't duplicate what you would be using in the field or on the trap or skeet range. In addition, these short shells wouldn't be practical for use in a repeating shotgun, as they would have to be loaded singly into the chamber. Lastly, since the alloy they are made of is relatively soft, I suspect that the primer pocket would tend to wear with repeated use, resulting in the primer falling out.
My guess is that whoever owned this set of 16 gauge mini shells asked himself what he was thinking about when he bought them every time he had to move them out of the way of something he was looking for in his gun cabinet or on his loading bench. While the outside of the box shows that it has had a lot of handling, the shells themselves are like new, having never been used.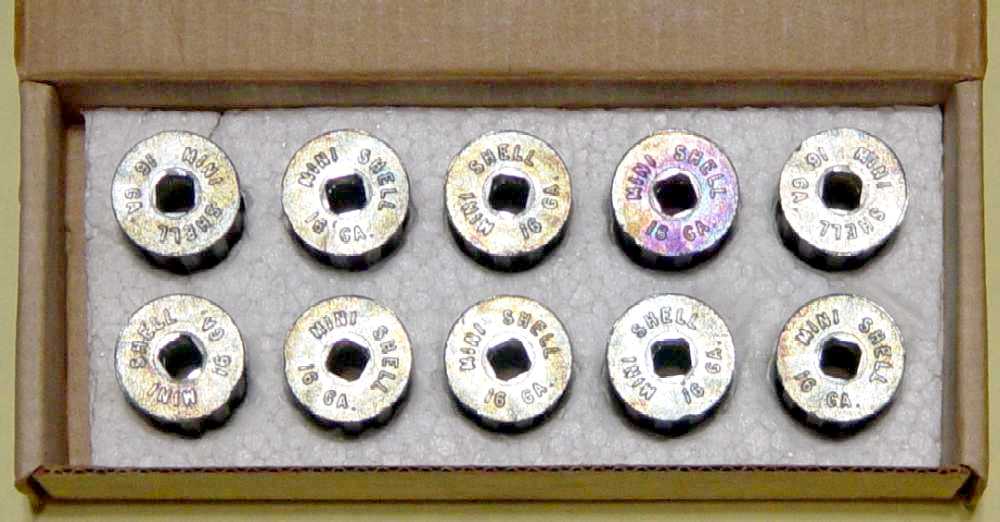 .
.
.
.
.
.
---