Contents
Cartridge Lists
Patent & Miscellaneous
Rim Fire
Center Fire Pistol
Center Fire Rifle
Metric Rimfire, Pistol&Rifle
British Pistol and Rifle
Shotgun Shells
Cartridge Boxes & Related
Prior Picture Pages:
* September 2003
* October 2003
* November 2003
* December 2003 * January 2004
* February 2004
* March 2004
* April 2004
* May 2004
* June 2004
* July 2004
* August 2004
* September 2004
* October 2004
* November 2004
* December 2004
* January 2005
* February 2005
* March 2005
* April 2005
* May 2005
* June 2005
* July 2005
* August 2005
* September 2005
* October 2005
* November 2005
* December 2005
* January 2006
* February 2006
* March 2006
* April 2006
*May 2006
*June 2006
*July 2006
*August 2006
*September 2006
*October 2006
*November 2006
*December 2006
*January 2007
*February 2007
*March 2007
*April 2007
*May 2007
*June 2007
*July 2007
*August 2007
*September 2007
*October 2007
*November 2007
*December 2007
*January 2008
*February 2008
*March 2008
*April 2008
*May 2008
*June 2008
*July 2008
*August 2008
*September 2008
*October 2008
*November 2008
*December 2008
*January 2009
*February 2009
*March 2009
*April 2009
*May 2009
*June 2009
*July 2009
*August 2009
*September 2009
*October 2009
*November 2009
*December 2009
*January 2010
*February 2010
*March 2010
*April 2010
*May 2010
*June 2010
*July 2010
*August 2010
*September 2010
*October 2010
*November 2010
*December 2010
*January 2011
*February 2011
*March 2011
There are no picture pages
for April thru June 2011
*July 2011
*August 2011
*September 2011
*October 2011
*November 2011
Links to Other Sites
Cartridge Collectors Organizations:
IAA
ECRA
SAAACA
Auctions:
Auction Arms
E-Bay
Ward's Collectibles
Sold USA
Books:
Armory Publications
WCF Publications
Other Collector's Sites:
Curtis Steinhauer
Home of the Old Ammo Guy's Virtual Cartridge Trading Table
---
Picture Page
December 2011
---
I'm in the process of getting my house ready to sell, which can hopefully be accomplished before this crazy economy reduces it's value below what I bought it for 25 years ago. Who'd have ever imagined that renting would become more preferable than owning. I'm doing a lot of the work myself, so I have a lot less time to give much attention to these old cartridges and boxes. As a result, I'm not running across any new items to write about on my picture pages, So, I will be taking another look at items that I've included on these pages over the years.
---
A box of early Peters shotgun shells.......
I included an article about this box on my July 2007 picture page; it is one of my favorite boxes that I no longer own, so I'm dusting it off and discussing it again this month.
Here's a great Peters 10 gauge shot shell box. It was produced around 1888 or 1889, and is possibly the earliest Peters shot shell box known to exist, and believed to be the only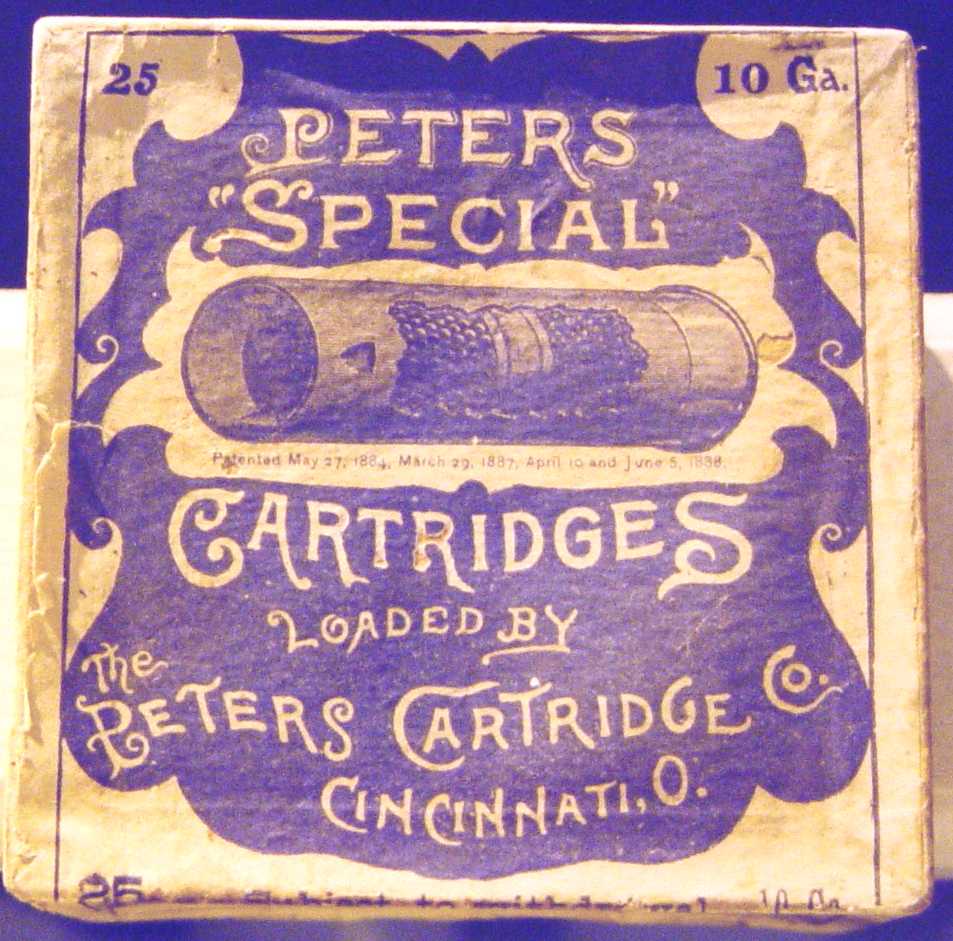 one like it in existence. The Peters Cartridge Company began the production of machine-loaded shells in 1887 after Gershom Moore Peters received a patent for his loading machine on March 19th, 1887. Notice that the label says 'loaded by' rather than 'manufactured by'; this points to the fact that the shells loaded by Peters during their first few years were not actually made by them. Instead, they were purchased from members of the Ammunition Manufacturers Association, a monopolistic organization formed in 1883 by the Union Metallic Cartridge Company, the Winchester Repeating Arms Company, the United States Cartridge Company, and the Phoenix Cartridge Company for the purpose of controlling ammunition prices and the supply of ammunition making components. These early Peters loaded shells will typically be found with W.R.A. Co. STAR and U.M.C. STAR headstamps, and can be readily identified based on the

unique two and three indent crimping method patented and used by Peters during their first couple of years of their shot shell production.
The two indent crimp was patented by G. M. Peters on May 27th, 1884 and the three indent crimp on April 10th, 1888. In producing these crimps, the shell is sliced at the base of the indent and forced inward over the top of the wad to hold it in place. This often caused tears in the hull at each crimp when the shell was fired, which most likely is the reason for the short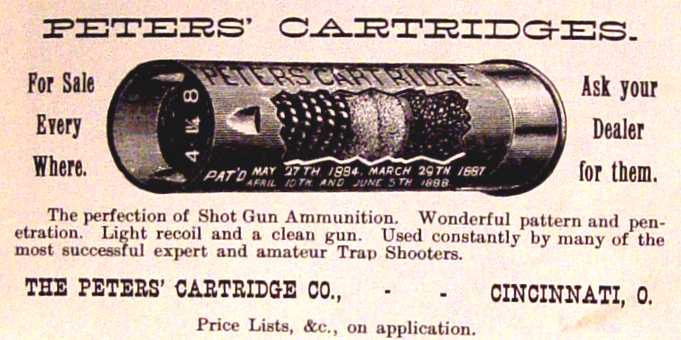 period of time the company used this form of crimp and the resulting rarity of examples of these shells. The shell on this box uses he three indent crimp. The four dates under the illustrated shell account for the indent crimp patents, as well as two patents Peters received for his improvements in loading machines.
I've included a couple of advertisements that included the early indent-crimped shells, the first of these from an 1888 Marlin Firearms Company catalog, and the second from the April 11th, 1889 issue of Forest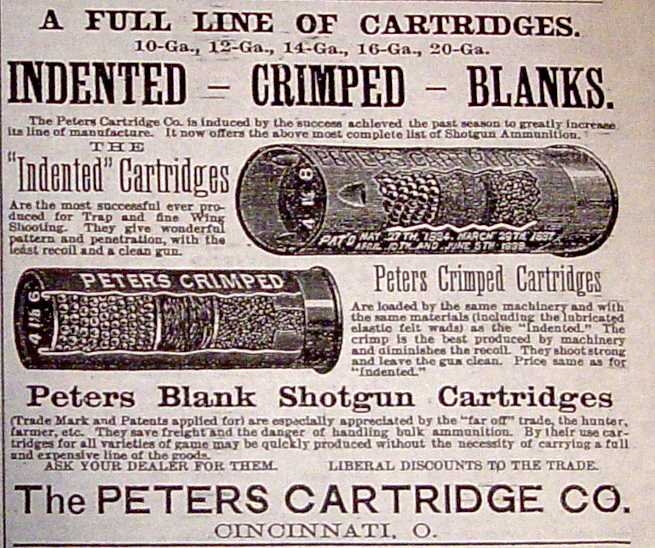 & Stream. As is obvious in the later advertisement, Peters had already introduced an improved "Peters-Crimped" roll-type crimp by this time, but was still offering their "indented" cartridges.
The box above is labeled PETERS "Special" Cartridges, the 'Special' probably being an early brand name that they used. This box was included in with a crate of shotshell loading supplies, including a variety of loaders, early black powder cans, primer tins, and an assortment of unused primed empty shotgun shells. with these items were 23 American Buckle & Cartridge Company shells headstamped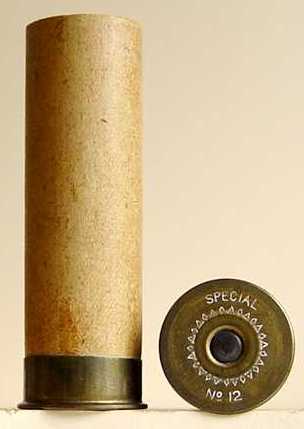 SPECIAL No 12. Both 12 gauge and 10 gauge SPECIAL headstamped shells were made by the company between 1885 and 1889, when they were bought by the American Ammunition Manufacturers Association. I have never seen any published information regarding the background of these shells, but it is interesting to note that this company's shells typically included A.B.C. in the headstamp. That these do not would indicate that they were probably intended for loading by another company. The Encyclopedia and Price Guide of American Paper Shotshells by Dick Iverson and Bob Strauss has an illustration of this same 'SPECIAL' headstamp in 10 gauge attributed to the Standard Cartridge Company of Pasadena, California. This 'Special' box certainly suggests that these Special headstamped shells might very well also have been used by the Peters Cartridge Company.
.
.
.
.
---