Home of the Old Ammo Guy's Virtual Cartridge Trading Table
---
Picture Page
April 2012
---
At last, a Concord .45 ACP box........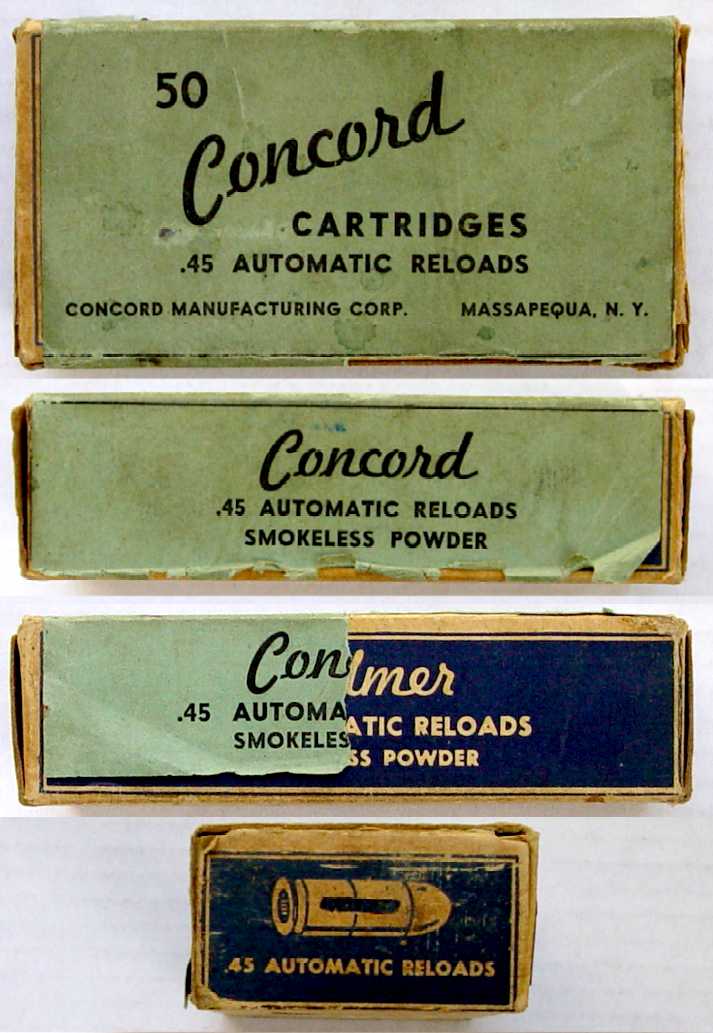 Last month, the subject of my picture page write-up was the ammunition produced by a related trio of Long Island, New York reloading companies, The Dairt Co., Palmer Hicksville Plant, and The Concord Manufacturing Co. I was able to include pictures of only the Dairt and Palmer boxes, but because I had never encountered a Concord box for sale in my many years of collecting, I didn't have one in the collection. Thanks to a reader of last months picture page, I have been able to complete my collection of these Long Island boxes, and I can include this picture of the elusive Concord box now.
What I found surprising was that the Concord Manufacturing Company box was a standard blue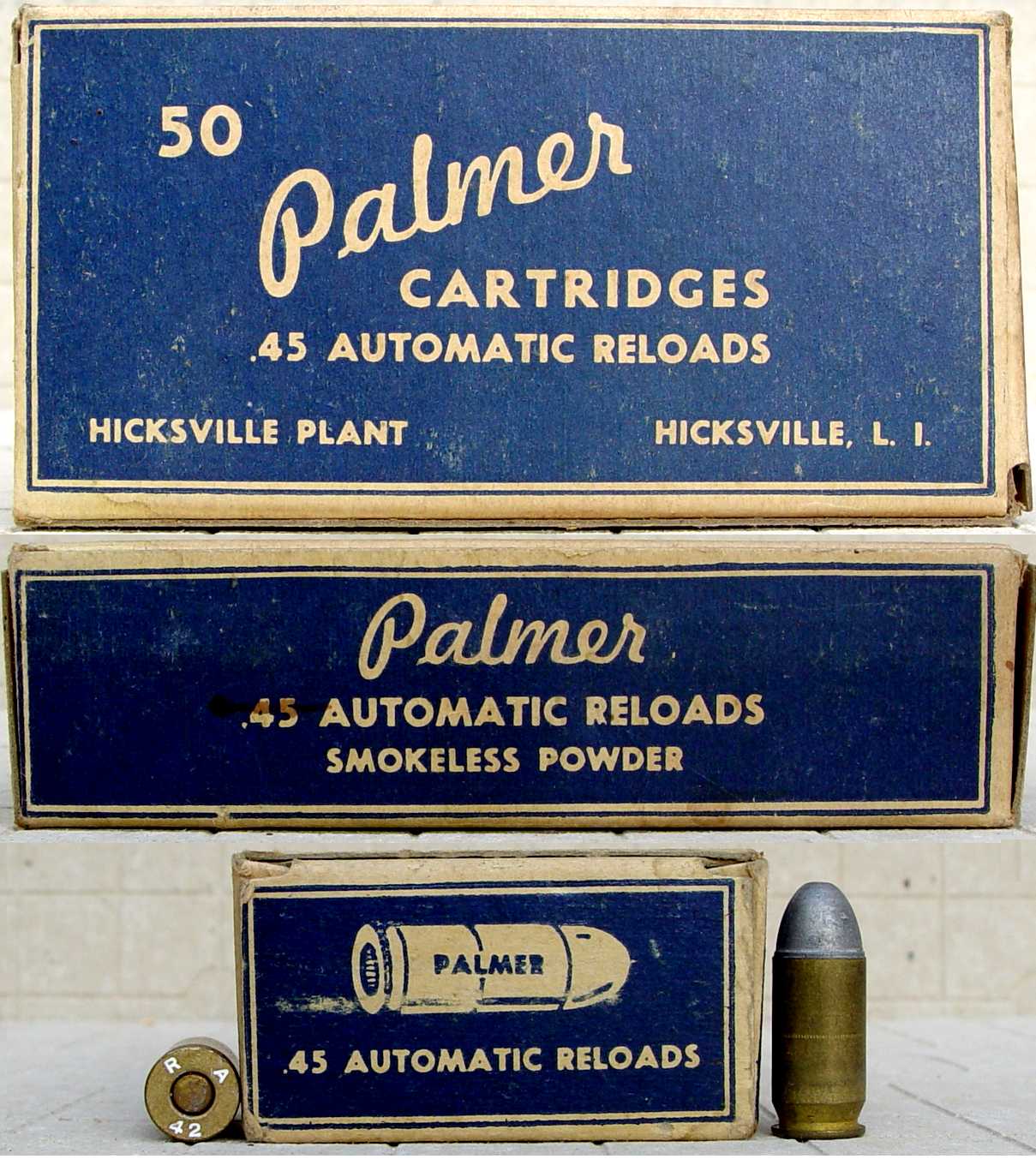 Palmer box that had been 'repurposed' by the addition of a green paste-on label and the marking out of the word 'Concord' on the cartridge illustration on the end flaps. This box provides graphic evidence regarding the progression of the companies and the relationship between them, with Concord having succeeded Palmer, and using the boxes on hand to package their cartridges prior to purchasing their own labeled boxes, assuming they remained in business long enough to use up the Palmer boxes. What I would like to determine now is whether or not any 'true' Concord boxes exist that are not relabeled Palmer boxes. Also, are there similarly relabeled Dairt boxes that were used by Palmer? I'd appreciate hearing from anyone with variations of the boxes for these three companies.
The cartridges in the Concord box include the usual mix of headstamps that were found in the Dairt and Palmer boxes: RA and WCC 41 and 42, and W.R.A.Co. .45 A.C.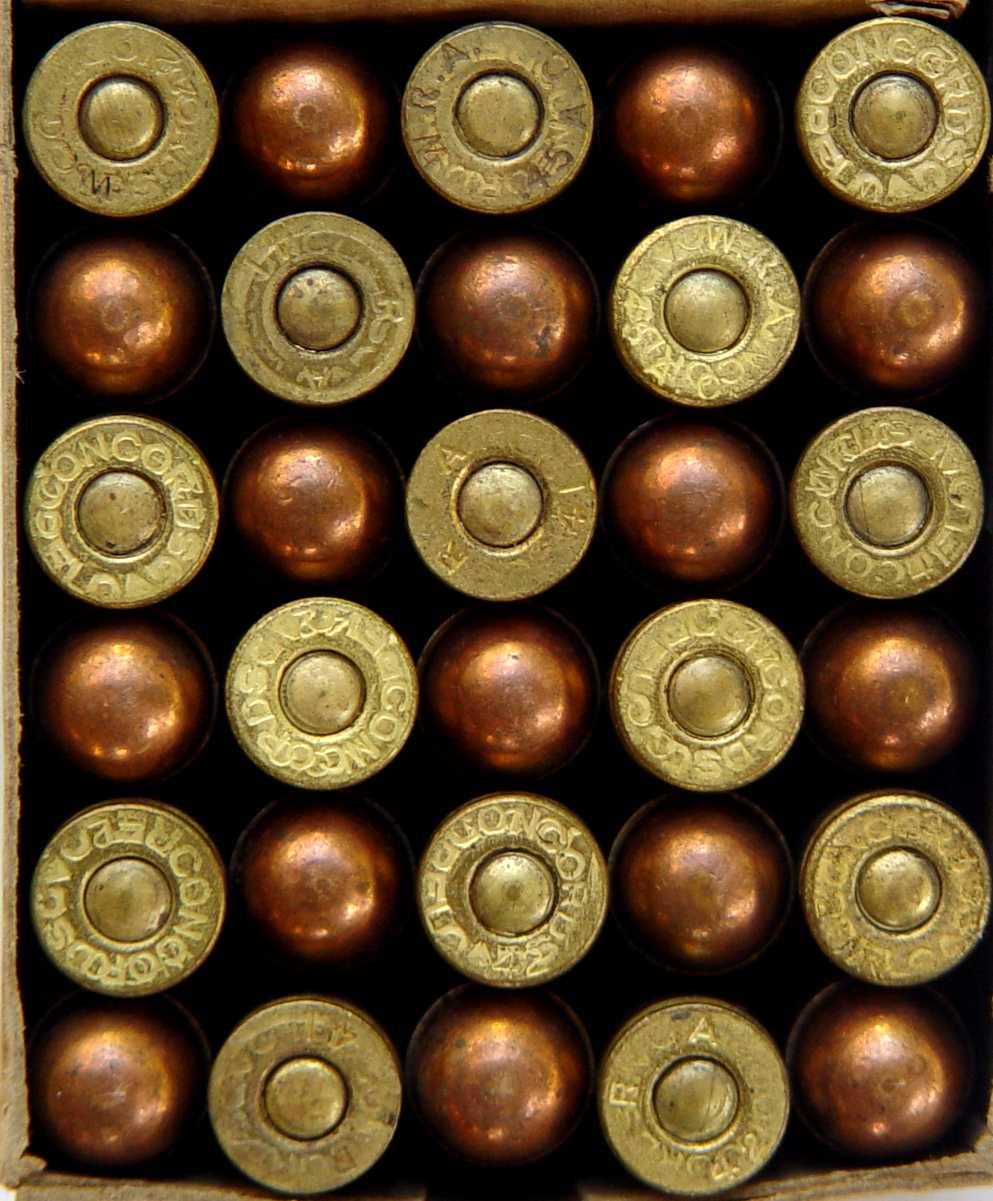 Most of these have been overstamped 'CONCORD RELOADS', and the resulting headstamps are quite difficult to read.
.
.
.
.
.
.
.
.
.
.
The bottom of this Concord box is marked with the lot number 119 8, in a similar format and numeral style as the lot numbers on the Dairt and Palmer boxes that were discussed last month.
.
.
---