Home of the Old Ammo Guy's Virtual Cartridge Trading Table
---
Picture Page
April 2013
---
A couple more boxes of Japanese 6.5mm Arisaka.......
Last month I discussed a box of 6.5mm Japanese Arisaka ammunition that I have in my collection, suggestring that they might not bee too common. This month I will take a look at a couple of unopened Japanese military cartridge boxes that were marked as 7.7mm Arisaka in an assortment of boxes I acquired years ago and added to the collection, but which I now realize are 6.5mm Arisaka based on my recently developed sketchy ability to translate small portions of these Japanese labels. So, it would seem that they are common enough that I've managed to acquire three of them over the years without really trying too hard. As my primary cartridge collecting interest is American black powder rifle and handgun ammunition, I don't have a lot of post-1900 boxes, other than items that have come my way in box lot purchases that I have made. These boxes of are two such examples, added to the collection because I found them to be interesting, but even more importantly, because I did not have a lot of money invested in them. Cheap - one of the primary considerations in my quest for cartridge boxes.
.
.
.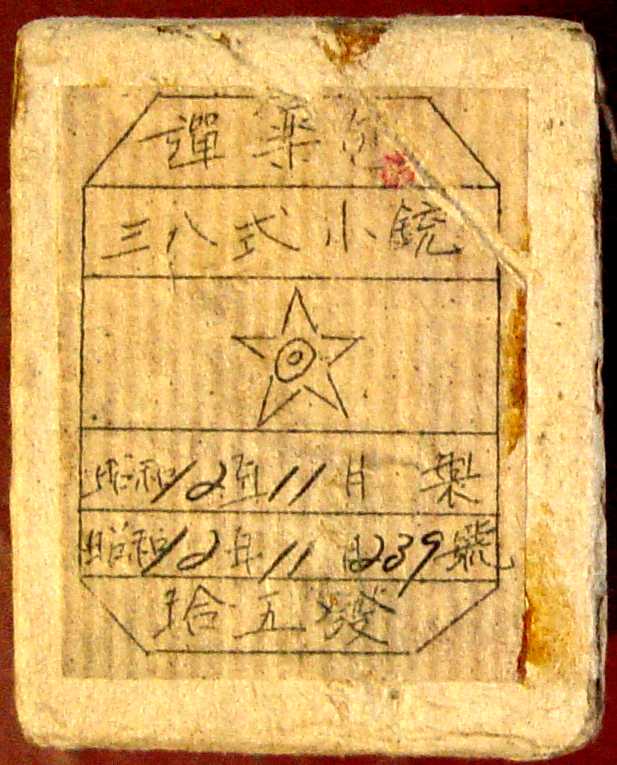 The first box::
.? ? ?
.38 (Type 38 rifle - which was chambered for 6.5mm)
The star indicates it was made at the Tokyo First Arsenal
Made in November of 1937
Not sure what the 239 indicates, perhaps a powder lot number.
.There's a 5 in there - perhaps referring to 5 round stripper clips?
.
.
.
.
.Second box: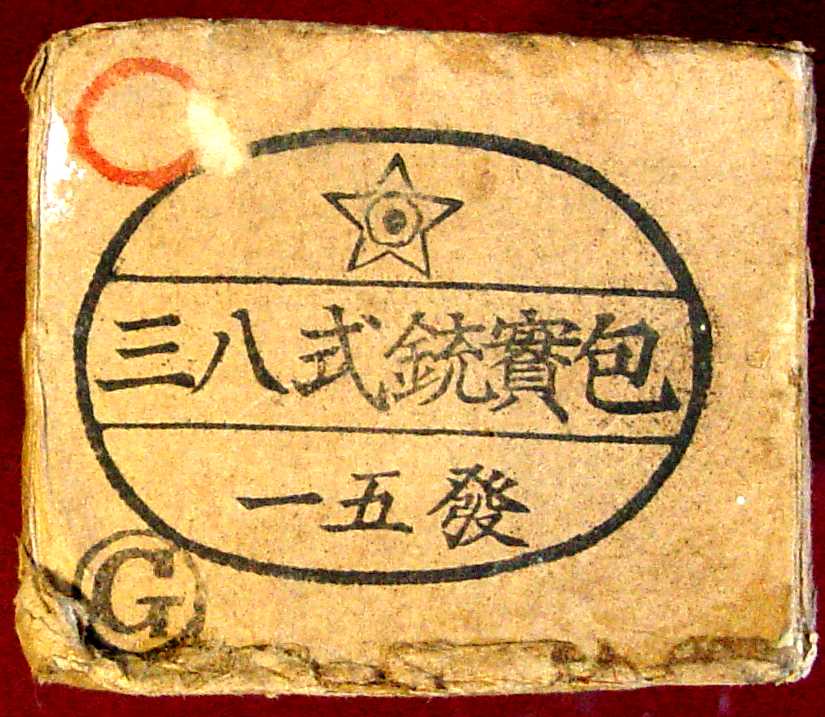 No clue about the meaning of the red C or circle with a missing segment
Tokyo First Arsenal
38 (Type 38 rifle) ? ? ? ?
15 cartridges?
G in Circle=genso (reduced charge) Possibly indicates this ammunition could be used in the Type 11 light machine gun or Type 97 sniper rifle which required a reduced charge
.
.
.
.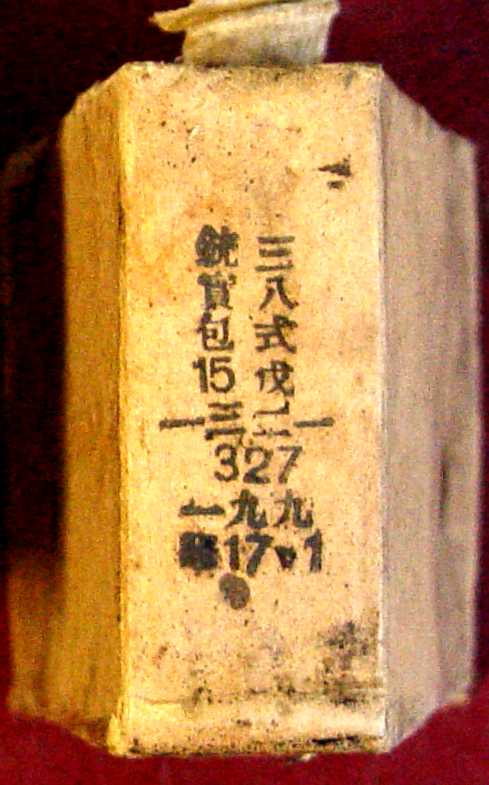 .
.
1st col, top 3 char = rifle ammunition
2nd col, top 2 char = 38 (Type 38)
15 cartridges?
1321
327 (a rather easy translation)
199
.Showa 17.1 (1942 January)
.
.
.
.
.
.
.
---