Contents
Cartridge Lists
Patent & Miscellaneous
Rim Fire
Center Fire Pistol
Center Fire Rifle
Metric Rimfire, Pistol&Rifle
British Pistol and Rifle
Shotgun Shells
Cartridge Boxes & Related
Prior Picture Pages:
* September 2003
* October 2003
* November 2003
* December 2003 * January 2004
* February 2004
* March 2004
* April 2004
* May 2004
* June 2004
* July 2004
* August 2004
* September 2004
* October 2004
* November 2004
* December 2004
* January 2005
* February 2005
* March 2005
* April 2005
* May 2005
* June 2005
* July 2005
* August 2005
* September 2005
* October 2005
* November 2005
* December 2005
* January 2006
* February 2006
* March 2006
* April 2006
*May 2006
*June 2006
*July 2006
*August 2006
*September 2006
*October 2006
*November 2006
*December 2006
*January 2007
*February 2007
*March 2007
*April 2007
*May 2007
*June 2007
*July 2007
*August 2007
*September 2007
*October 2007
*November 2007
*December 2007
*January 2008
*February 2008
*March 2008
*April 2008
*May 2008
*June 2008
*July 2008
*August 2008
*September 2008
*October 2008
*November 2008
*December 2008
*January 2009
*February 2009
*March 2009
*April 2009
*May 2009
*June 2009
*July 2009
*August 2009
*September 2009
*October 2009
*November 2009
*December 2009
*January 2010
*February 2010
*March 2010
*April 2010
*May 2010
*June 2010
*July 2010
*August 2010
*September 2010
*October 2010
*November 2010
*December 2010
*January 2011
*February 2011
*March 2011
There are no picture pages
for April thru June 2011
*July 2011
*August 2011
*September 2011
*October 2011
*November 2011
*December 2011
*January 2012
*February 2012
*March 2012
*April 2012
*May 2012
*June 2012
*July 2012
*August 2012
*September 2012
*October 2012
*November 2012
*December 2012
*January 2013
*February 2013
*March 2013
*April 2013
*May 2013
*June 2013
*July 2013
*August 2013
*September 2013
*October 2013
*November 2013
*December 2013
*January 2014
*February 2014
*March 2014
*April 2014
*May 2014
*June 2014
*July 2014



Links to Other Sites
Cartridge Collectors Organizations:
IAA
ECRA
SAAACA
Auctions:
Auction Arms
E-Bay
Ward's Collectibles
Sold USA
Books:
Armory Publications
WCF Publications
Other Collector's Sites:
Curtis Steinhauer
Home of the Old Ammo Guy's Virtual Cartridge Trading Table
---
Picture Page
August 2014
---
Two vintage shotshell related items.......

The first item shown here is a shotshell loading block made by the Union Hardware Company in Torrington, Connecticut. This company started business in 1854 and produced hardware and other goods, including fishing gear, roller skates, and of course hunting supplies. Essentially a shaped base of some unknown hardwood with five 5/16" grooves cut on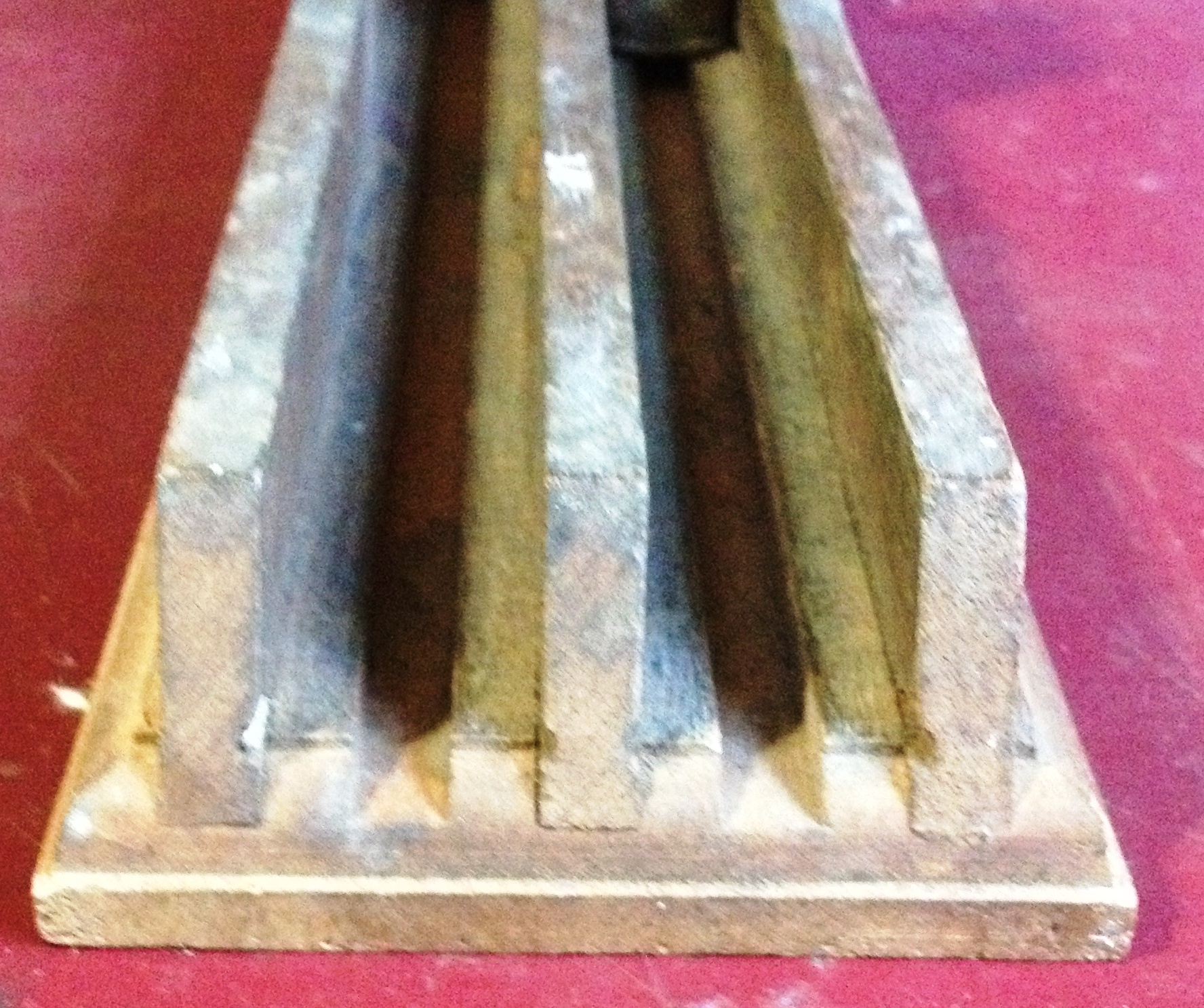 the top with three strips of wood fit into the outer two and the center grooves so as to form two 'troughs' into which the shells can be inserted, as can be seen in the picture to the right. Narrow grooves accommodate the shotshell rims and hold them in place. The remaining two 5/16" grooves in the base are centered in the two 'troughs', allowing a space for punched primers to fall. The shells would then be removed from the block, reprimed and then put back into the block, where powder, inner wads, shot and top wads would be added and pressed by hand

into place. This particular loading block is marked "PAT APPLIED FOR' and '10' on the center strip of wood to indicate the gauge. The label on the bottom indicates that it holds 24 shells; however, I find that 26 shells will fit. In addition the label states that it is 'a new and improved device for use in loading cartridge shells - simple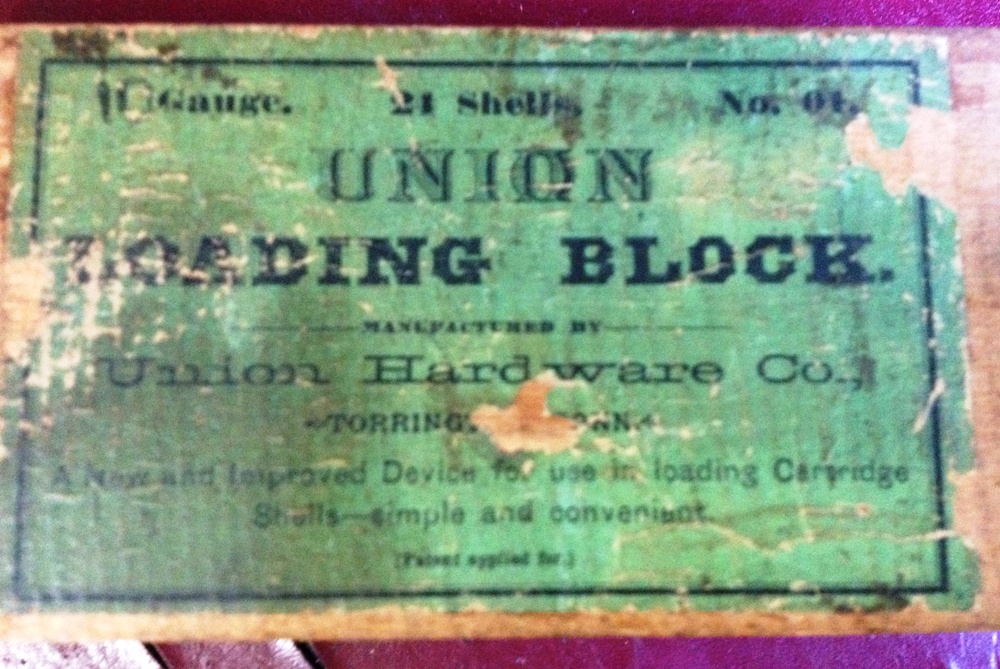 and convenient.' I believe the earlier shotshell loading blocks consisted of rows of holes drilled into a piece of wood, into which the shells were inserted; typically, they would have had no means of holding them secure should the loading block get tipped over.
.
.
This next item is an unmarked black leather box with a three-compartment tinned-steel liner, similar to Civil War musket cartridge boxes, but much larger. While pretty much of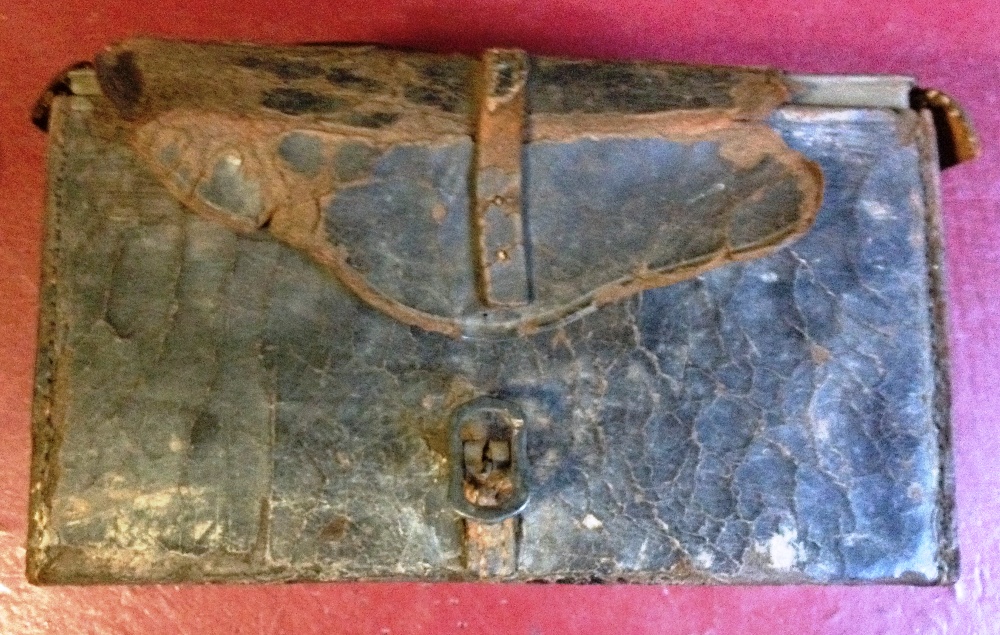 anything could have been carried in this box, I have made the assumption that it is intended for shotgun shells because it was found in a large wooden box that contained supplies for reloading shotgun shells. Included were empty shells, cans of powder, tins of primers, a crimping device for paper shells, powder and shot dippers/measurers, and assorted other items, none of which dated after the late 1880s. This box is made from five pieces of leather (not counting the straps), one folded to form the front, bottom, back, and top, two to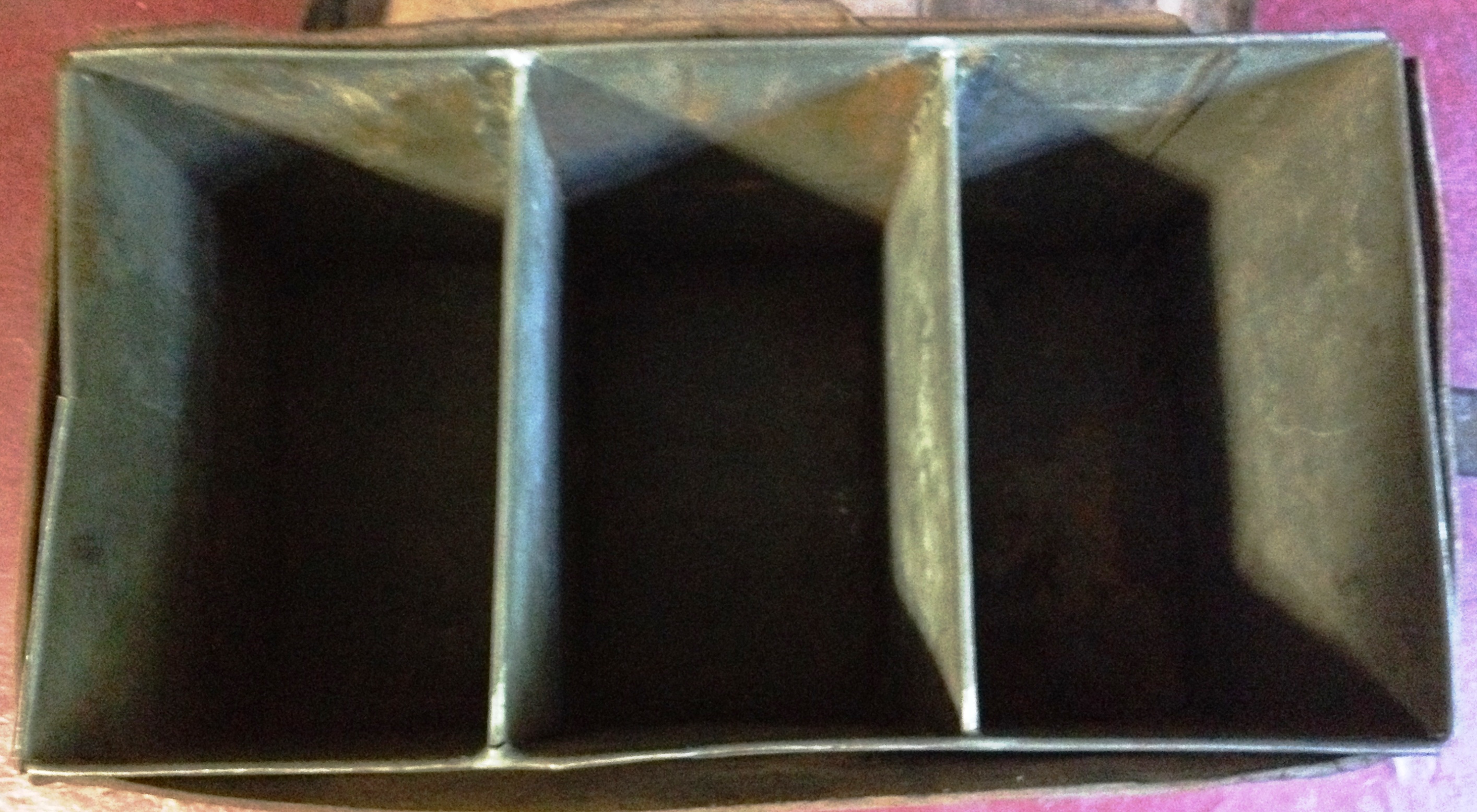 form the ends which were sewn in place, and two sewn to the ends of the top. A strap and buckle on the front were used to secure the box, and it has a carrying strap across the top with a spring-hook that attaches to a ring on the left side. While it appears to have been commercially made, the leather has shrunk, the tattered top has separated from the back at the fold, and the closure strap was reattached by hand and has lost the end portion that would have been secured with the buckle.
.
.
.
.
---