Home of the Old Ammo Guy's Virtual Cartridge Trading Table
---
Picture Page
December 2012
---
A couple of boxes of U. S. military tracers........
I only have a couple of boxes of military tracers in my box collection, not surprising as I have never focused too much (effort or $) on the post-1900s boxes.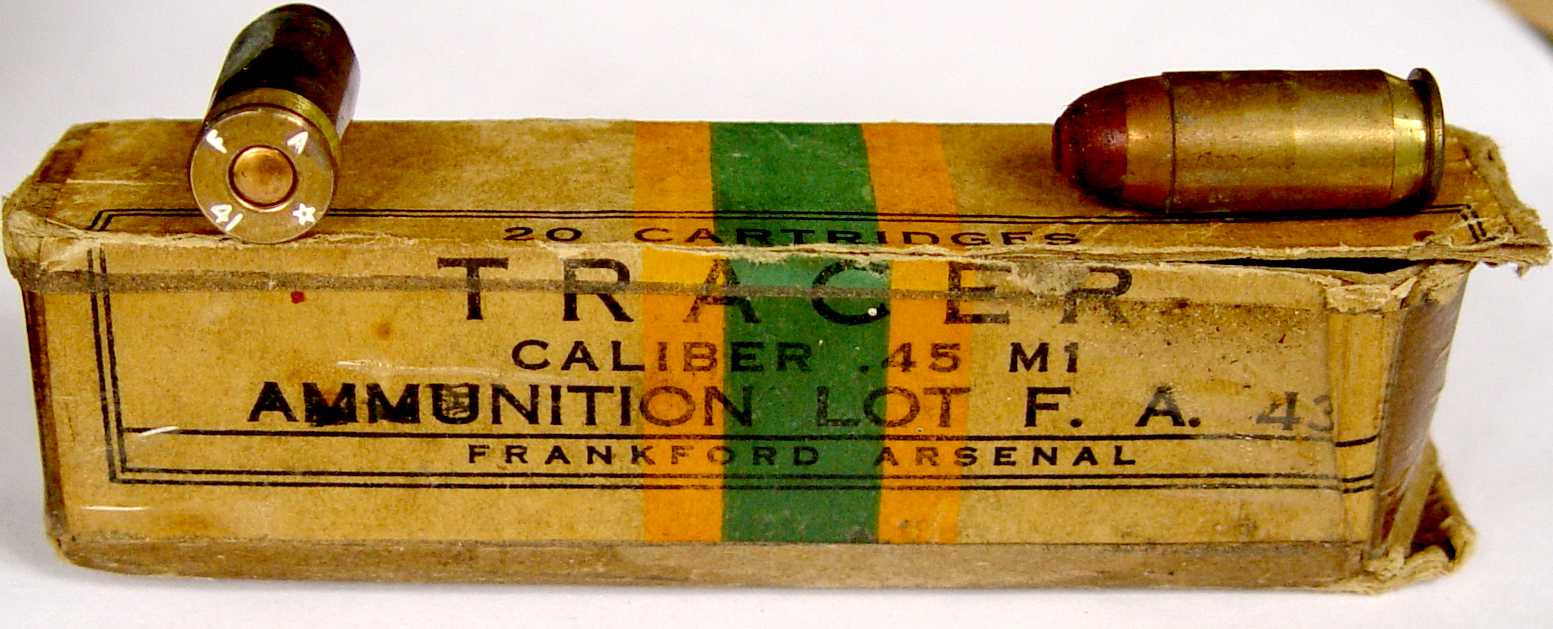 The first of these is this rather ratty 20 round box of M1 tracers made at the Frankford Arsenal in 1941. The M1 was adopted as the standard tracer in 1939. The bullet has the usual '+' stamped on the tip, and the nose is painted red. The headstamp is F A 41 with a 5 point star. The star indicates the neck have been annealed to prevent them from cracking as a result of the swelling of the tracer composition. By mid-1945, the M1 tracer was classified as obsolete. Later development and testing lead to a number of experimental tracer variations, resulting eventually in the adoption of the M26 Tracer.
The second is a 50 round box of M26 tracers made during the Vietnam War by Olin Mathieson; these have a 1965 Western Cartridge Company headstamp. The Olin name has always been associated with Western Cartridge Company, which was formed in1898 by Franklin Olin. In 1931 the company bought the bankrupt Winchester Repeating Arms Company, but production continued under the two company names. In 1944, the Western company name was changed to Western Cartridge Company, Division of Olin Industries, Inc. The Winchester and Western production facilities were combined in 1952. In 1954, Olin merged with the Mathieson Chemical Corporation, and the company name was changed to Winchester- Western Division of Olin-Mathieson Chemical Corporation. In 1969, shortly after this box of tracers was produced, the company was reorganized and became Winchester-Western Division, Olin Corporation.
.
---