Contents
Cartridge Lists
Patent & Miscellaneous
Rim Fire
Center Fire Pistol
Center Fire Rifle
Metric Rimfire, Pistol&Rifle
British Pistol and Rifle
Shotgun Shells
Cartridge Boxes & Related
Prior Picture Pages:
* September 2003
* October 2003
* November 2003
* December 2003 * January 2004
* February 2004
* March 2004
* April 2004
* May 2004
* June 2004
* July 2004
* August 2004
* September 2004
* October 2004
* November 2004
* December 2004
* January 2005
* February 2005
* March 2005
* April 2005
* May 2005
* June 2005
* July 2005
* August 2005
* September 2005
* October 2005
* November 2005
* December 2005
* January 2006
* February 2006
* March 2006
* April 2006
*May 2006
*June 2006
*July 2006
*August 2006
*September 2006
*October 2006
*November 2006
*December 2006
*January 2007
*February 2007
*March 2007
*April 2007
*May 2007
*June 2007
*July 2007
*August 2007
*September 2007
*October 2007
*November 2007
*December 2007
*January 2008
*February 2008
*March 2008
*April 2008
*May 2008
*June 2008
*July 2008
*August 2008
*September 2008
*October 2008
*November 2008
*December 2008
*January 2009
*February 2009
*March 2009
*April 2009
*May 2009
*June 2009
*July 2009
*August 2009
*September 2009
*October 2009
*November 2009
*December 2009
*January 2010
*February 2010
*March 2010
*April 2010
*May 2010
*June 2010
*July 2010
*August 2010
*September 2010
*October 2010
*November 2010
*December 2010
*January 2011
*February 2011
*March 2011
There are no picture pages
for April thru June 2011
*July 2011
*August 2011
*September 2011
*October 2011
*November 2011
*December 2011
*January 2012
*February 2012
*March 2012
*April 2012
*May 2012
*June 2012
*July 2012
*August 2012
*September 2012
*October 2012
*November 2012
*December 2012
*January 2013
*February 2013
*March 2013
*April 2013
*May 2013
*June 2013
*July 2013
*August 2013
*September 2013
*October 2013
*November 2013
*December 2013
*January 2014
*February 2014
*March 2014
*April 2014
*May 2014
*June 2014
*July 2014
*August 2014
*September 2014
*October 2014
*November 2014



Links to Other Sites
Cartridge Collectors Organizations:
IAA
ECRA
SAAACA
Auctions:
Auction Arms
E-Bay
Ward's Collectibles
Sold USA
Books:
Armory Publications
WCF Publications
Other Collector's Sites:
Curtis Steinhauer
Home of the Old Ammo Guy's Virtual Cartridge Trading Table
---
Picture Page
December 2014
---
Not your everyday 6.5 Carcano cartridge...........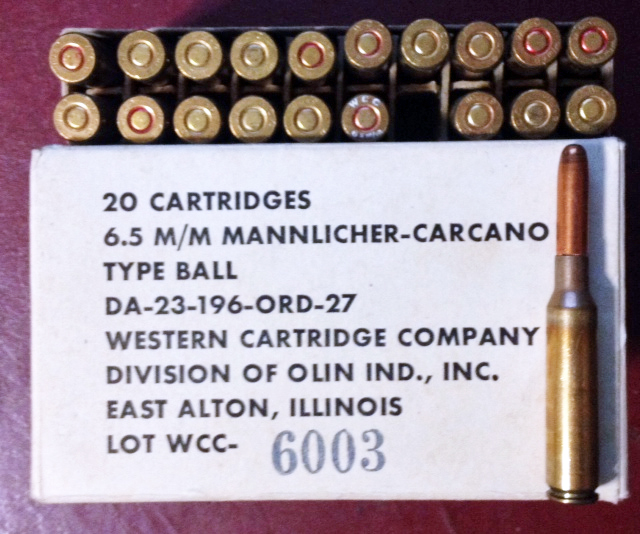 This box of 6.5 mm Mannlicher-Carcano ammunition was made under contract by the Western Cartridge Company for use in the Italian Carcano rifle. Various sources indicate production during WW2 to as late as 1954 for Italy, Greece and even the CIA. A spokesman for Western advised the Warren Commission investigating the assassination of President Kennedy that the ammunition was made for the Italian government during WW2, but this seems unlikely as we were at war with Italy at that time, so the 1954 production date seems more plausible. The ammunition was produced in four lots of one million rounds each; lot numbers 6000, 6001, 6002, and 6003 were assigned and these numbers will be found stamped on the boxes when they are encountered. Beginning about 1962, a large quantity of the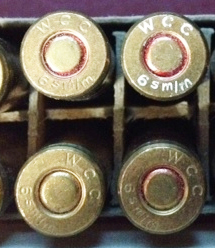 ammunition found its way back to the United States as military surplus, along with many of the Carcano Rifles for which it was made. Potomac Arms of Alexandria, Virginia and Klein's Sporting Goods of Chicago were two of the retailers who sold these guns and ammunition. It was determined during the Warren Commission proceedings that Lee Harvey Oswald purchased from Klein's Sporting Goods in March of 1963 the Carcano rifle that was found in the Texas school book depository building in Dallas. Along with the rifle were a number of these WCC headstamped 6.5mm cartridges and spent casings.
.
Unfortunately, the company name on the box isn't helpful in pinning the production date down any more accurately. It indicates that production occurred between 1944, when Olin Industries, Inc was added to the name and 1954, when the name was changed to reflect the acquisition of the Mathieson Chemical Corporation by Olin, at which time Western became a Division of Olin-Mathieson Chemical Coorporation..
.
..
.
---