Home of the Old Ammo Guy's Virtual Cartridge Trading Table
---
Picture Page
February 2012
---
The 2 hull colors of the U.S. NEW RAPID Shotshell.....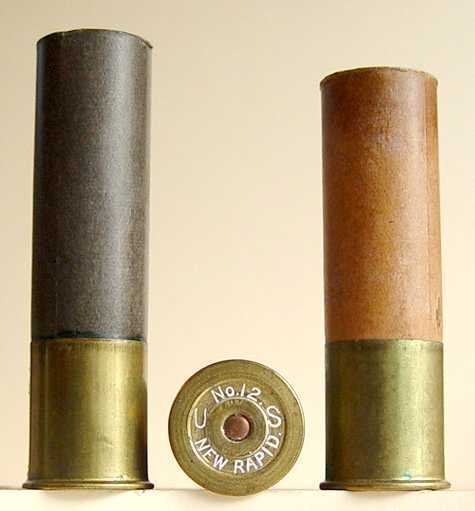 These two New Rapid new primed empty shotgun shells were made by the United States Cartridge Co of Lowell, Mass. The New Rapid were one of the company's top lines of shells; these have the recessed style head produced by that company between 1900 and 1910. The black shell is pretty uncommon, but the tan is quite rare. Prior to my finding a small number of these in 1998, only one tan shell was known to the shotgun shell collectoring fraternity, and it differed from this one, having a larger primer. Fewer than 10 collectors have one of these tan shells in their collections today.
I have examples of both of these shells listed among the items for sale in the Cartridge Boxes & Related link on the left side of this page. Both shells are in excellent, unused condition, with just a small buildup of verdigris at the junction of the paper and brass.
.
---
Full box of elusive Colt 9.8mm automatic cartridges.......
Shown here is a pretty uncommon box of 9.8mm automatic Colt cartridges. Colt Firearms produced a limited number (thought to be four) of a scaled down version of their Model 1910 automatic pistol in 1911 for submission to the handgun trials in handgun trials in Rumania, Bulgaria and Serbia in that year. The pistol was given the name '9.8 COLT AUTOMATIC PISTOL, MODEL 1910. Apparently, no sales of the pistol resulted from these trials, and further work was terminated on the project. Winchester worked with Colt on the development and manufacture of the cartridge and produced a single lot of several thousand rounds. Note the August 1911 date code on the lower right corner of the label, and the W.R.A.Co 9.8m/m A.C. headstamp on the cartridge illustration. The cartridge, which resembles a .38 ACP, is actually larger than that cartridge, and is one of three considered for this pistol, which included the .38 ACP, a semi-rimmed 9.8mm and a rimless 9.8mm; the rimless cartridge was the one selected for this pistol. Single specimens of the cartridge show up now and then, but this is only the second box of these that I have ever seen.
.
.
.
.
.
.
.
.
.
.
---