Home of the Old Ammo Guy's Virtual Cartridge Trading Table
---
Picture Page
February 2015
---
An tropical pack of 500/450 Magnum Express......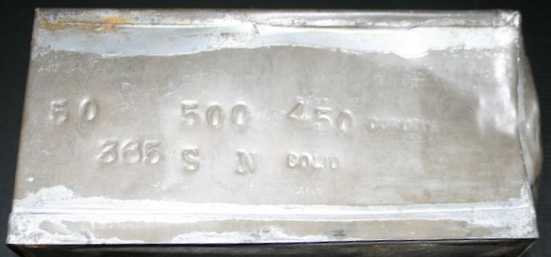 This soldered tin box is a tropical pack of 500-465 Magnum Express cartridges made by Kynoch. These tropical packs were intended to provide air-tight protection from humid conditions to the cartridges they contained. While the containers might occasionally be found in rusty battered condition, the boxes within are usually in as new condition. The stamped marking on the side included not only the type and number of cartridges in the pack, but a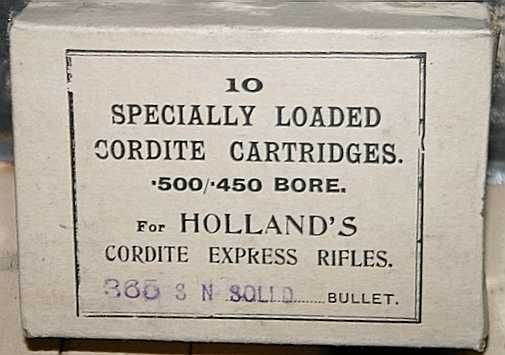 lso indicated the bullet weight (365 grains) and type (soft nose solid point),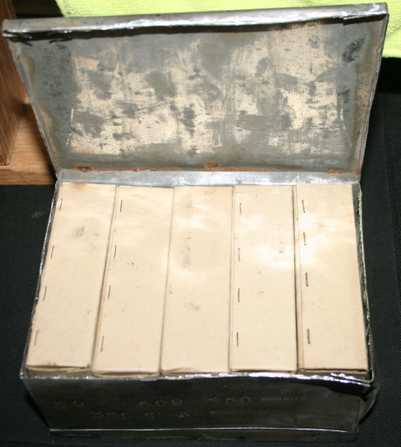 as well as the propellant (Cordite). That 365 grain bullet was a standard load for this cartridge.
Inside this tropical pack are five 10 round boxes, labeled as being specially loaded for Holland's Cordite express rifle. As expected, the boxes appear to be in pristine condition. The most interesting thing about these boxes is the advertisement for Holland & Holland's Paradox gun.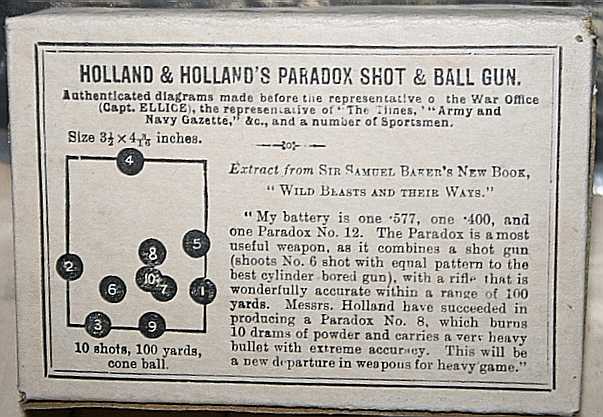 These guns were double barreled, and with the barrels typically smooth bored except for a couple of inches of rifling at the muzzle.While they could be used with shotshells, they were intended for use with Paradox shells, shotshell cases loaded with a single heavy projectile, often either hollow nose or copper tubed solid lead or lead coated steel.
The reference to Sir Samuel Baker's book Wild Beasts and Their Ways provides a good estimate of the age of these cartridges, as the book was published in 1890. I would guess this tropical pack would have been produced within ten or so years after that publication date.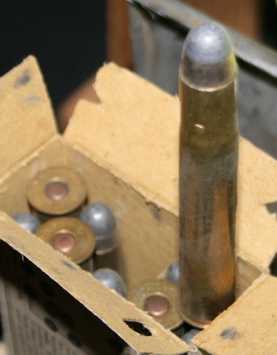 .

The cartridges in the boxes have the headstamp shown here. The 'C's in the headstamp identify them as being loaded with Cordite propellant.
.
I almost invariably include only items from my own collection on my picture pages, but this one is an exception. I received an email from the owner that included these and a number of other pictures, and an offer to purchase it if I was interested. Of course I was, and I made an offer. He made a counter offer which I accepted in a follow up email, and asked what payment method he preferred. He did not respond to that email, which gave me a feeling that something wasn't right.. The following day I sent another email, again asking what payment method he preferred. This one got the following response:

"Sorry, sometime last night, someone bought it on Gunbroker, so I am obligated to complete that transaction. Sorry about the timing on this one."
Almost sounds like someone sneaked in and took it. There's a simple lesson here - wait until the internet auction has ended before offering and agreeing to sell your item to someone. Otherwise, there's a good possibility you will end up in what was likely an embarrassing situation for this fellow.
.
---