Contents
Cartridge Lists
Patent & Miscellaneous
Rim Fire
Center Fire Pistol
Center Fire Rifle
Metric Rimfire, Pistol&Rifle
British Pistol and Rifle
Shotgun Shells
Cartridge Boxes & Related
Prior Picture Pages:
* September 2003
* October 2003
* November 2003
* December 2003 * January 2004
* February 2004
* March 2004
* April 2004
* May 2004
* June 2004
* July 2004
* August 2004
* September 2004
* October 2004
* November 2004
* December 2004
* January 2005
* February 2005
* March 2005
* April 2005
* May 2005
* June 2005
* July 2005
* August 2005
* September 2005
* October 2005
* November 2005
* December 2005
* January 2006
* February 2006
* March 2006
* April 2006
*May 2006
*June 2006
*July 2006
*August 2006
*September 2006
*October 2006
*November 2006
*December 2006
*January 2007
*February 2007
*March 2007
*April 2007
*May 2007
*June 2007
*July 2007
*August 2007
*September 2007
*October 2007
*November 2007
*December 2007
*January 2008
*February 2008
*March 2008
*April 2008
*May 2008
*June 2008
*July 2008
*August 2008
*September 2008
*October 2008
*November 2008
*December 2008
*January 2009
*February 2009
*March 2009
*April 2009
*May 2009
*June 2009
*July 2009
*August 2009
*September 2009
*October 2009
*November 2009
*December 2009
*January 2010
*February 2010
*March 2010
*April 2010
*May 2010
*June 2010
*July 2010
*August 2010
*September 2010
*October 2010
*November 2010
*December 2010
*January 2011
*February 2011
*March 2011
There are no picture pages
for April thru June 2011
*July 2011
*August 2011
*September 2011
*October 2011
*November 2011
*December 2011
*January 2012
*February 2012
*March 2012
*April 2012
*May 2012
*June 2012
*July 2012
*August 2012
*September 2012
*October 2012
*November 2012
*December 2012



Links to Other Sites
Cartridge Collectors Organizations:
IAA
ECRA
SAAACA
Auctions:
Auction Arms
E-Bay
Ward's Collectibles
Sold USA
Books:
Armory Publications
WCF Publications
Other Collector's Sites:
Curtis Steinhauer
Home of the Old Ammo Guy's Virtual Cartridge Trading Table

E-mail me at: ammoguy@centurylink.net
---
Picture Page
January 2013
---
Ethan Allen's lip fire cartridges........
On August 5, 1854, Horace Smith and Daniel B. Wesson were issued U S Patent # 11496 for an improvement in cartridges, which covered Wesson's refinements of the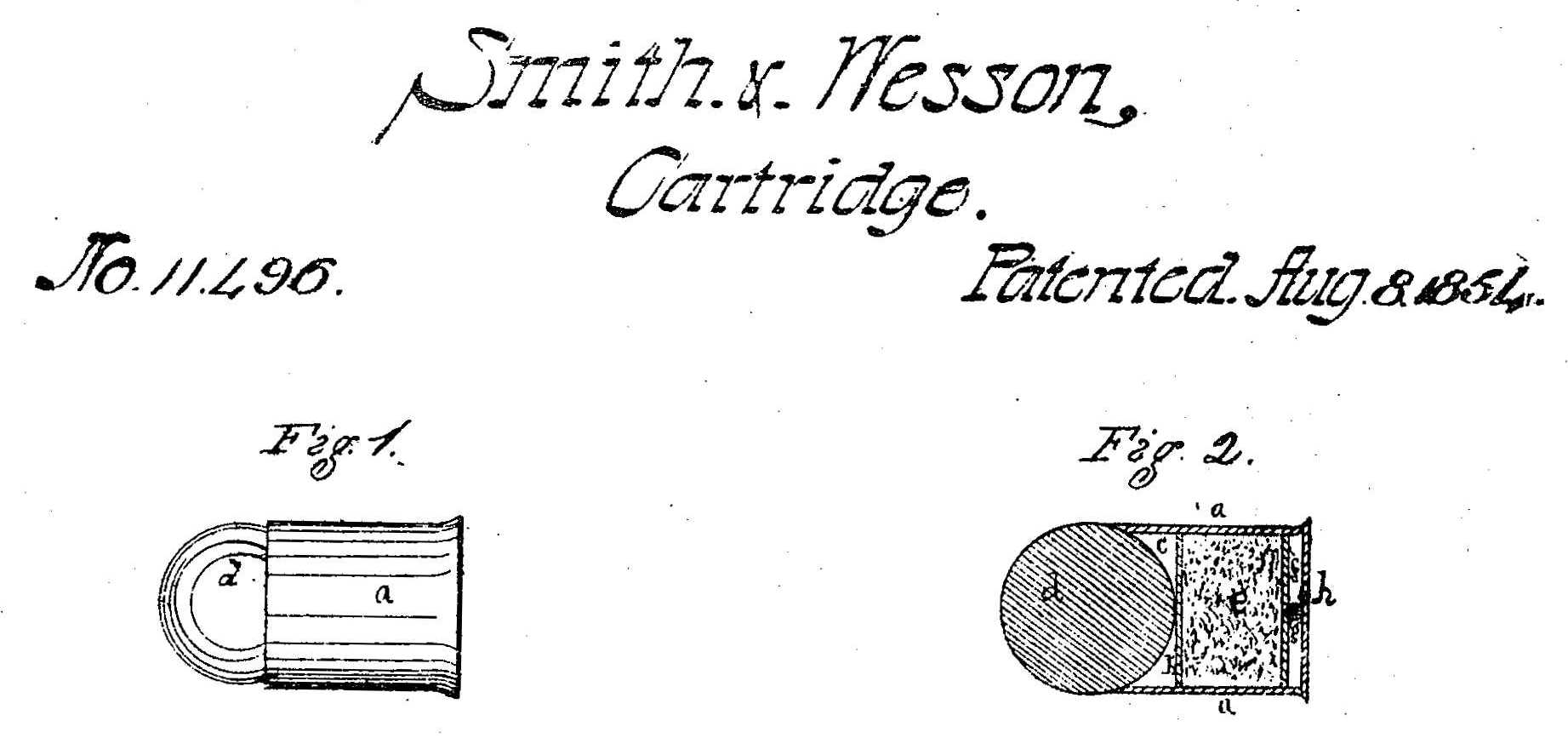 Flobert cartridge that would result in the development of the .22 rim fire cartridge that has continued in use with only a few changes up through today. At that time, the partners were involved with manufacturing their poor selling Volcanic firearm with its weak, undependable cartridges, and had no firearm design that could use this new cartridge. By August of 1856, Wesson had completed a model of a revolver that would use a rim fire cartridge which was loaded from the rear of the cylinder.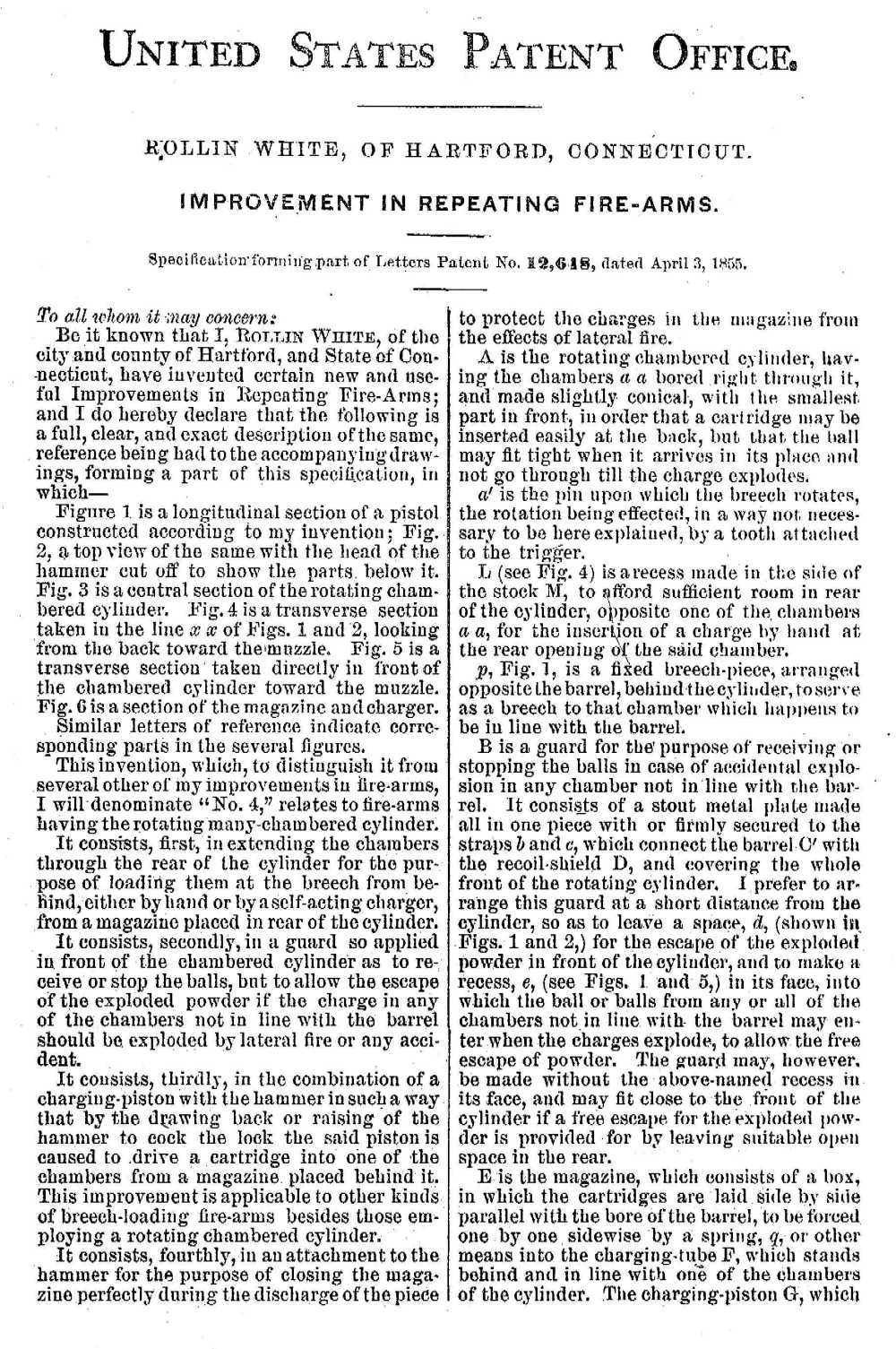 However, on April 3, 1855 Rollin White was issued a patent for a new revolver design. While the primary focus of White's patent dealt with a reloading mechanism, the specifications state: "extending the chambers of the rotating cylinder right through the rear of the said cylinder for the purpose of enabling the said chambers to be charged at the rear either by hand or by a self-acting charger", which meant that no revolvers with bored through cylinders could be made in the United States until White's patent expired on April 3, 1869. As their revolver required a bored through cylinder, Smith & Wesson would need to make some type of arrangement with White if they were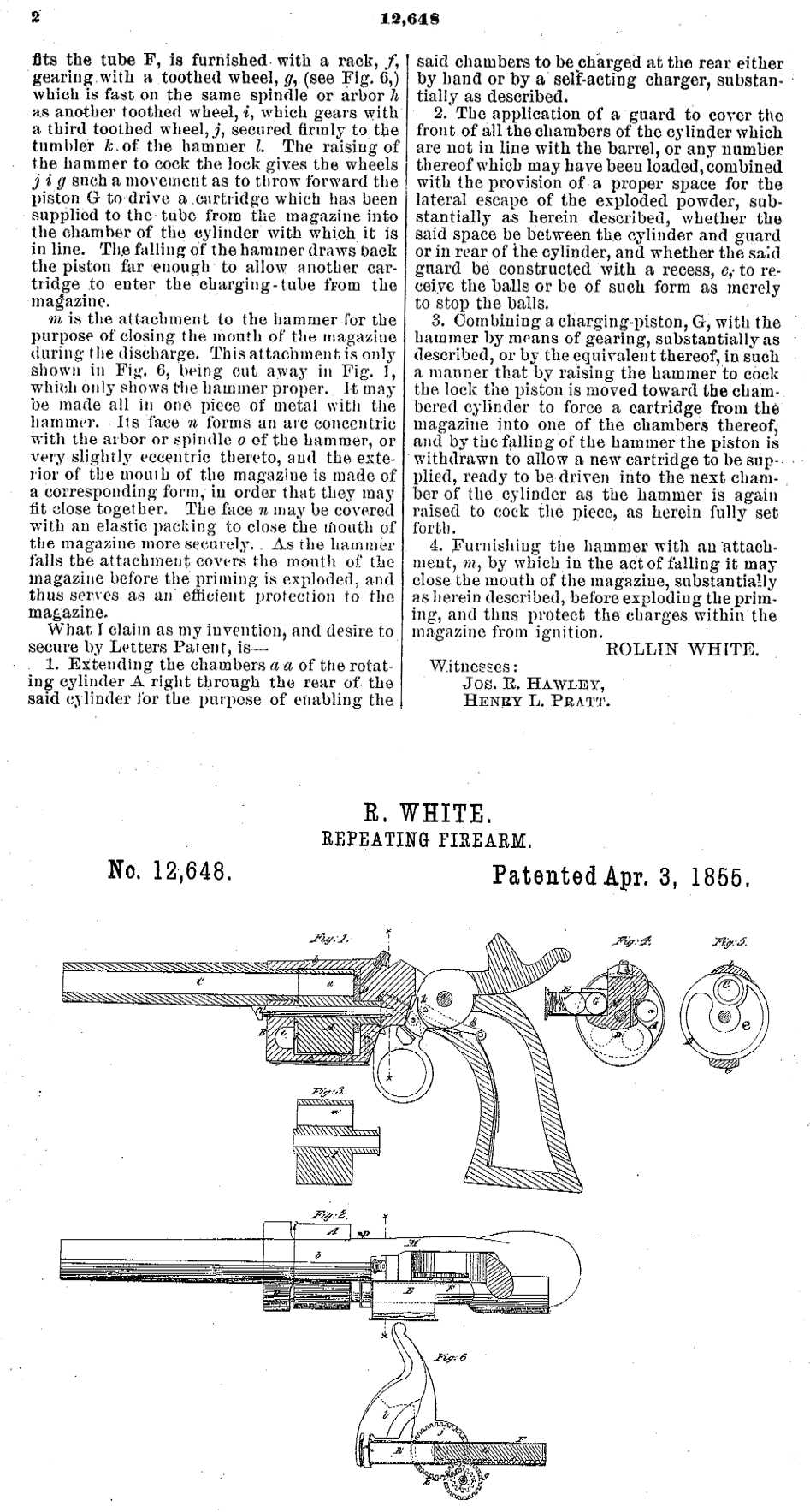 to begin production of their revolver. On November 17th, 1856, Smith and Wesson met with White and entered into an agreement to manufacture revolvers using his cylinder design. This agreement granted them exclusive manufacturing rights for revolvers having bored-through cylinders, essentially preventing any other American firearms manufacturer from producing a revolver using self contained metallic ammunition for the duration of the patent. For the use of White's patent design, Smith & Wesson would pay him 25 cents royalty for each revolver they produced while the patent was in force. The following day, Smith and Wesson made the initial entries in the cash book of their revolver-manufacturing partnership, recording their cash holdings ($3,703.55), a payment to Rollin White of $497.50, and the purchases of a lathe for $30. Over the next 12 months, White would receive just $1 in royalties, which must have given him cause to wonder if he had hitched his wagon to the right star. He had no need for concern, however, as it is estimated that he received royalty payments for over 271,000 revolvers
It wasn't until early in 1858 that Smith & Wesson began production of their first revolver, the No. 1 (appropriately), a 7 shot .22 rim fire with a swing up barrel that allowed the cylinder to be removed for reloading. This was a well-designed revolver, and by May of 1860, over 11,000 had been produced. With the start of the Civil War, the demand for their pistols was such that the company could not keep up with it. As a result, other gun manufacturers began producing revolvers that infringed on the Smith & Wesson controlled Rollin White bored-through cylinder patent. These patent infringing companies included Allen & Wheelock, Bacon Mfg Co, the Manhattan Fire Arms Mfg Co, Moore's Patent Firearms Co, Luicious Pond, E. A Prescott, James Reid, Springfield Arms Co, and James Warner , all anxious to cash in on this unmet demand for cartridge revolvers and willing to risk the expense of litigation with Smith & Wesson. These companies were sued by Smith & Wesson, and most were forced to cease production of the infringing revolvers. However, several including Bacon, Moore and Pond were allowed to continue production under a licensing agreement which required that the revolvers be marked as having been manufactured for Smith & Wesson, then sold to Smith & Wesson at wholesale, who retailed them to meet some of the demand that their own production facilities could not keep up with. however, as it is estimated that he received royalty payments for over 271,000 revolvers
.
Ethan Allen was the first to infringe on the Rollin White patent when he introduced the Allen & Wheelock side hammer revolver in 1858, which was chambered for the standard .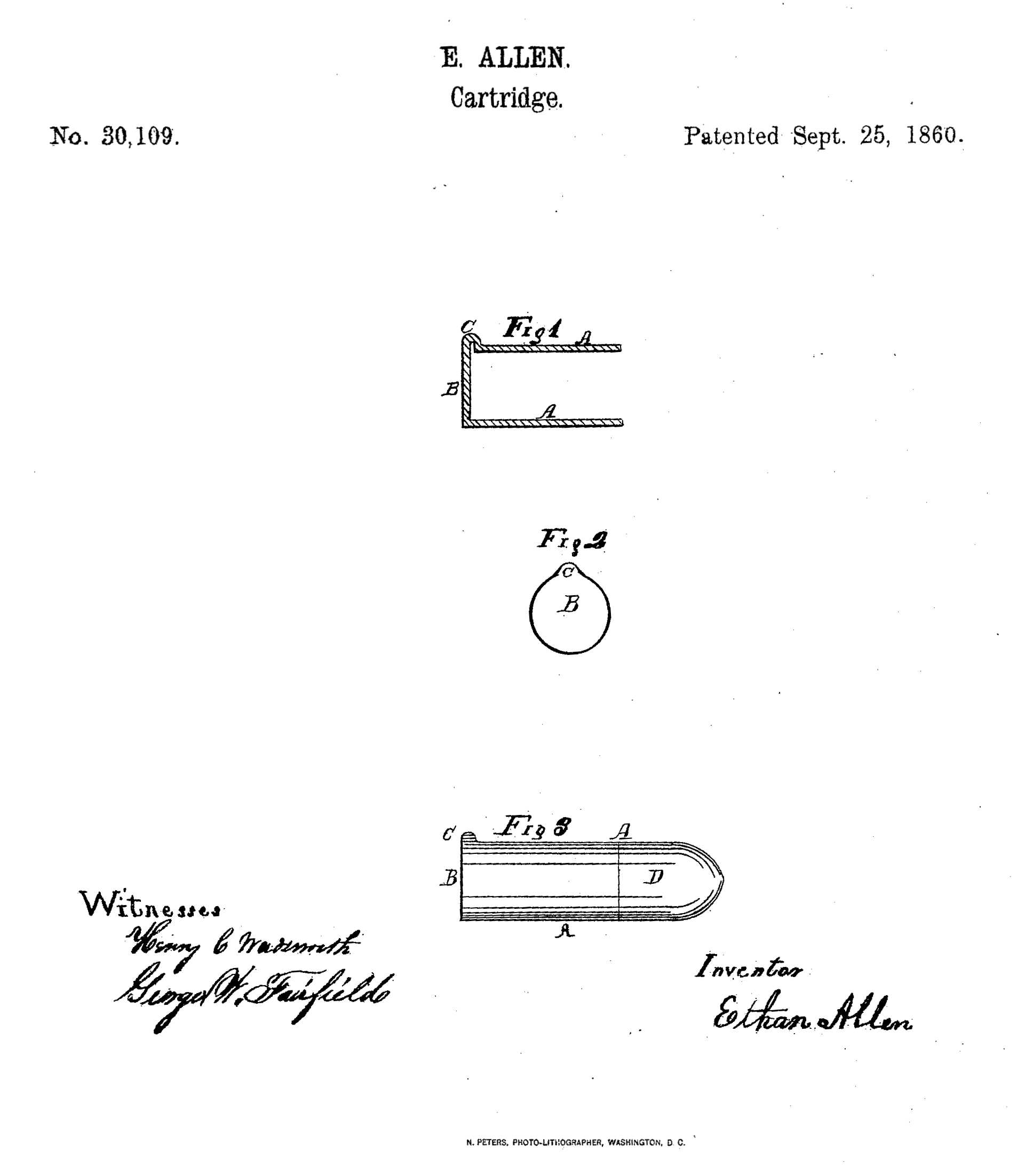 22 rim fire cartridge. Production was rather limited, with only about 1500 of these having been made through 1861. On September 25, 1860, Allen was issued a patent for an "improvement in metallic cartridges" for the lip fire cartridge. His improvements, as listed in the patent specifications (see below) included a reduction in the amount of priming required and a stronger cartridge head, which was less likely to bulge or rupture on firing. Production of lip fire revolvers commenced sometime in 1861, the first (pocket) model in .32 caliber, followed by a second (Army) model in .44 caliber, a third (Navy) model in .36 caliber, and a fourth model in .25 caliber. Total production of all models of the lip fire revolvers combined was less than 1,250.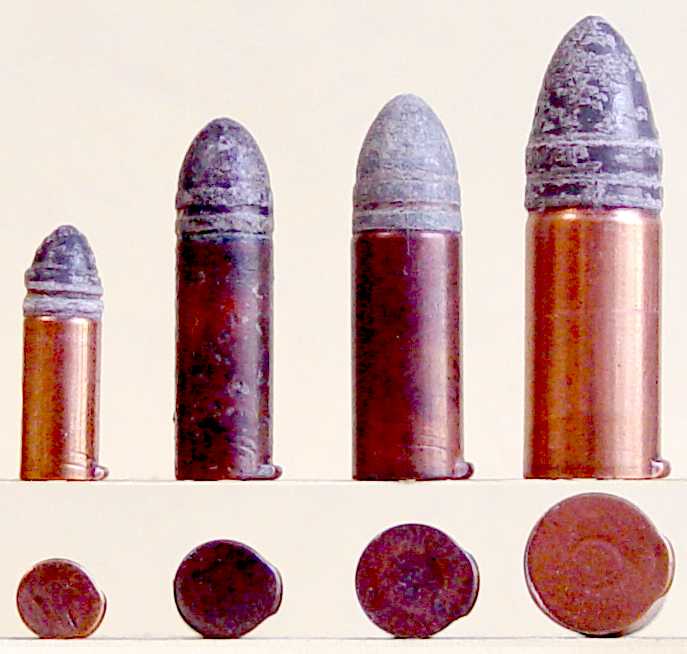 The lip fire cartridges shown in this picture include the four calibers made - .25, .32, .36, and .44. These were all made at Allen's cartridge factory in Worchester, Massachusetts, established in 1858 and one of the earliest in the United States. All sport the Allen-style pointed, heavy, 2-banded bullet. There is a .44 example with a shorter than standard case but there are no other variations of these cartridges that I am aware of. The little .25 caliber example shows three 'dashes' equally spaced around the head that are also a characteristic often seen on Allen cartridges.
..
.
.
.
.
.
.
.
.
.
.
.
.
.
.
.
.
.
.
.
.
.
.
.
.
.
.
.
.
.
.
.
.
.
.
.
.
---