Home of the Old Ammo Guy's Virtual Cartridge Trading Table
---
Picture Page
July 2014
---
An unusual 'shotshell'.......
Shown here is an example of a tear gas shell that was widely used by police and prisons in the early-to-mid 1900s. This tear gas shell and the 'Billy' club it was intended to be used in were both patented in 1925 by Reuben B. Lawrence. The patents were assigned to Federal Laboratories of Philadelphia, and later Saltzburg, Pa, which began producing the Billy club and shells in 1925. The Billy was made of leather covered brass, and used a percussion primed shell, although an electrically primed version of the club were produced initially. This particular shell utilizes a Winchester Mark V percussion primer, and is nearly 51 years beyond it's 'Use Before September 1963' expiration date. They produced versions of the shell that would discharge three small timed blasts or, more commonly, a single large blast. The Federal Laboratories Billy was discontinued in the 1960s due to concerns raised regarding the lethal capacity of the club. Federal Laboratories continue to produce tear gas and other law-enforcement products including helmets, gas masks, batons, and handcuffs.
.
Below is a picture of the Federal Laboratories No 303 Billy club which used this cartridge, with its original box and instruction sheet,.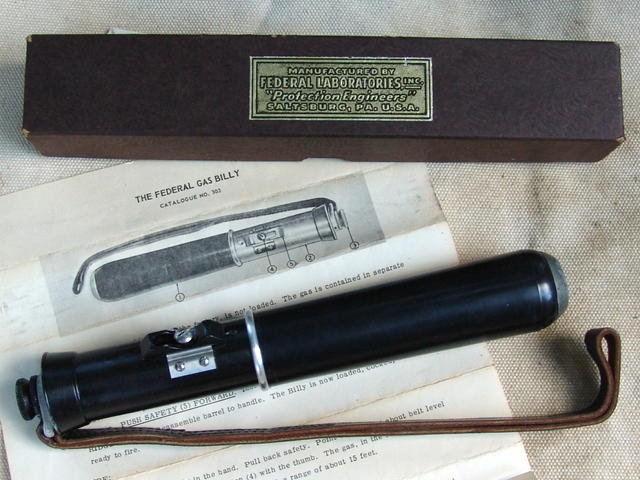 Courtesy of: www.fightingknives.info (this url appears to have gone inactive)
.
.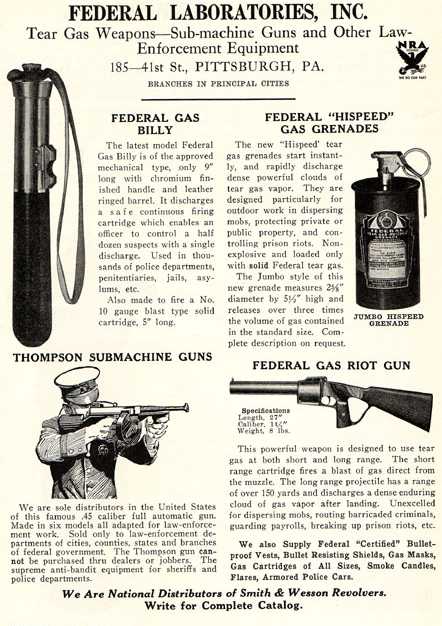 This 1930s Federal Laboratories advertisement includes the Federal gas billy, as well as other company products.
.
.
.
.
.
.
.
.
.
.
.
.
.
.
.
.
---