Home of the Old Ammo Guy's Virtual Cartridge Trading Table
---
Picture Page
May 2014
---
A Winchester Westley Richards #1 Musket Dummy...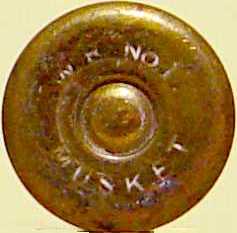 The .500/.450 No. 1 Musket cartridge was developed around 1873 by Westley Richards & Co. (Birmingham, England) for use in a rifle with a single shot action designed by Deeley & Edge. The version of the cartridge shown in the pictures here was made by Winchester. This cartridge is a board dummy; these were placed on Winchester cartridge boards for a number of years, but were never listed in any of the Winchester catalogs. It's rather worn headstamped is W.R. No.1. MUSKET. The bullet is paper-patched (missing the portion above the case mouth) and has a small brass primer. Harold F. Williamson, in his book Winchester The Gun That Won The West, indicates that the cartridge was first loaded in 1886; beyond that, very little is known about the cartridge.
.
I have a few other variations of the No 1 musket cartridges in my collection; these include from the left in the picture below: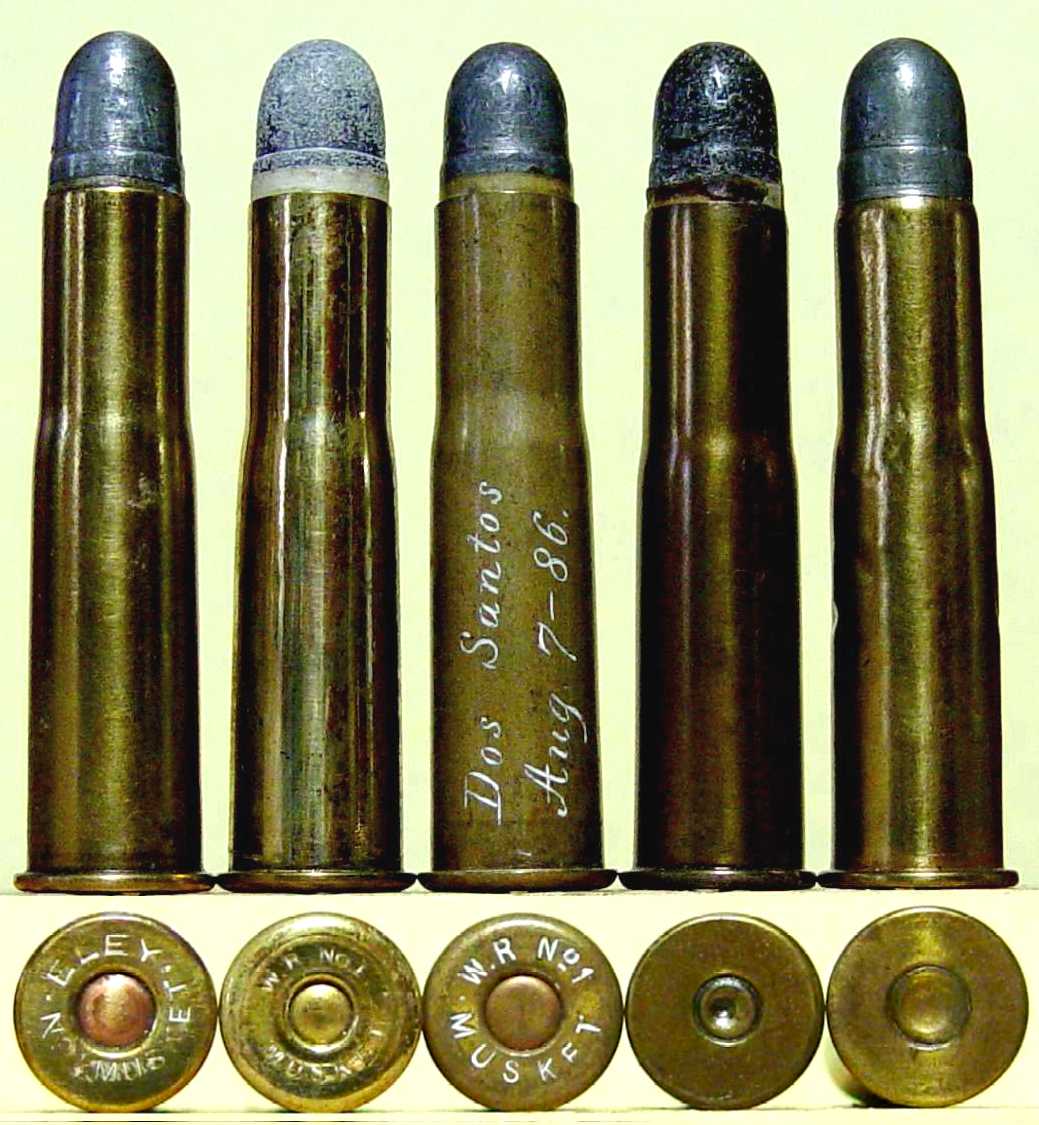 1. One by Eley (ELEY . No 1 MUSKET .) with a grooved bullet and large copper primer.
2 & 3. Two paper patched examples made for Westley Richards, one with a small headstamp (W.R.No.1 MUSKET) and small brass primer, and the other much larger headstamp (W.R No1 MUSKET). The one with the small headstamp is a live round (not a dummy), and appears to match the Winchester-made dummy in all respects. The engraving on the case of the second one is intriguing, but it's meaning is not known. A matching cartridge, if not this same one, sold as lot 438 in Buttweiler's Vol X, No 1 (March 26, 1994) Collector's Ammunition auction (see below).
4. An unheadstamped example by an unknown maker with a patched bullet, and a punched small brass primer with a hole in the case to render the cartridge inert.
5. Another unheadstamped example, this one with an unpatched bullet and a large dish-faced Westley Richards patented primer.

.
.
.
.
.
.
.
.
.
.
---