Home of the Old Ammo Guy's Virtual Cartridge Trading Table
---
Picture Page
September 2014
---
Probably my favorite box - revisited...............
The box shown in the pictures below, while empty, split-edged, dirty and faded, is probably my favorite from my collection. It has been pictured at the bottom of the 'Picture Archives' page of my web site since around 2003, and was included on one of my early (pre-2003) picture pages that was not archived. So, I have included it once again on this month's picture page, because I really do like this box.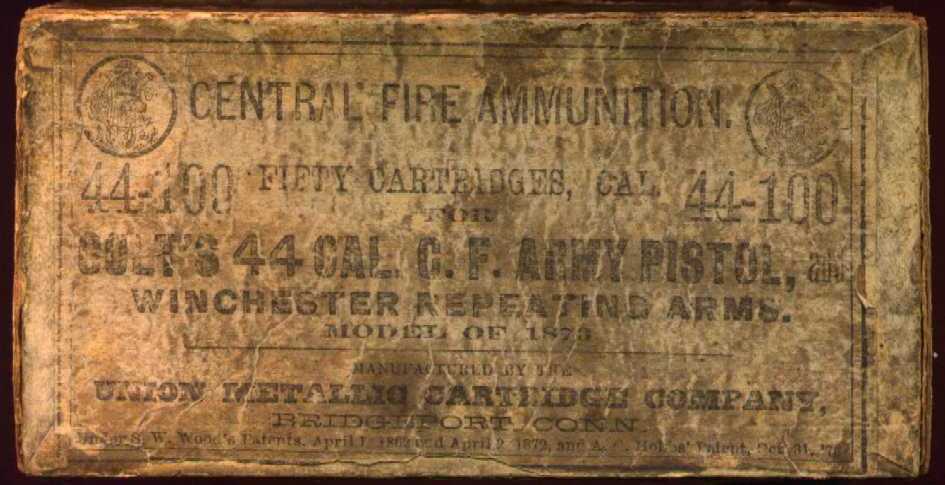 .
.
.
.
.
.
.
As can be made out with some difficulty from the label, it is a box of 44-100 central fire cartridges for for Colt's .44 caliber center fire Army pistol and for the Winchester Repeating Arms Model of 1873. As such, that would make the cartridge the .44-40 Winchester. Shown below is a fairly accurate copy of the label that I prepared some years ago, which makes reading the label a cinch: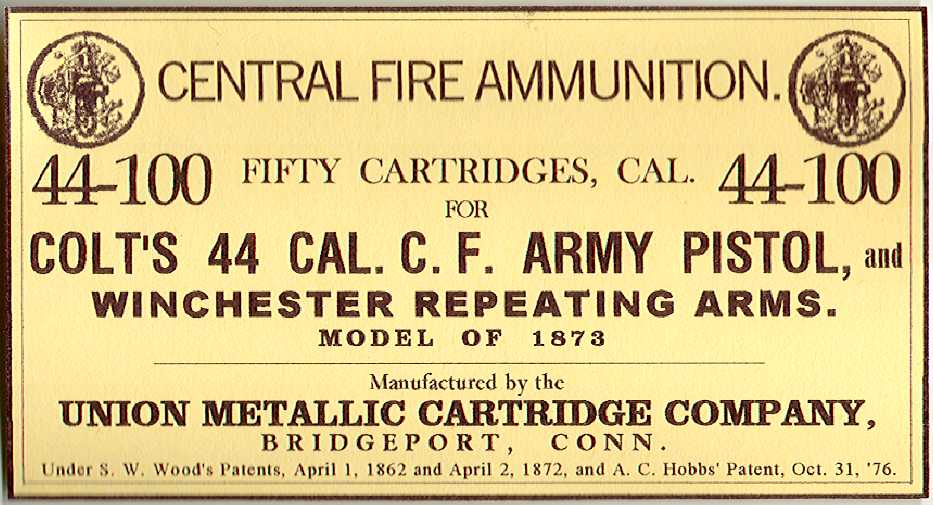 .
.
.
.
.
.
.
.
That this is an early box is suggested a number of characteristics. The square corners of the box indicate that it was probably made no later than 1883, as UMC converted to rounded corner boxes in that year. The 44-100 caliber designation is another; the '-100' was dropped and replaced with the familiar decimal preceding the caliber (.44) by around 1880 or so. The 'dogs head' UMC logo that is on the top corners of the label was dropped by UMC around 1880 as well. I believe this box is quite early, dating from perhaps November or December of 1876, based on the A. C. Hobbs October 1876 patent on the label, to sometime in 1878 or 1879 at the latest. Colt began production in quantity of their SAA revolver in caliber .44-40 in 1878, and designated this model as the 'Frontier' revolver; these had 'Colt Frontier Six Shooter' acid-etched on the left side of the barrel. Soon after introduction of the Frontier, the company would have insisted that any .44-40 ammunition labeled for use in their revolvers state on the label that it was for Colt's Frontier pistol rather than Colt's Army pistol.
The side and end labels of this box are shown below. While difficult to see, the 'Colt's Patent Firearms Co.' signature is on both sides of the label, along with a statement to the effect that the cartridges in the box are especially adapted to for use in Colt's revolver.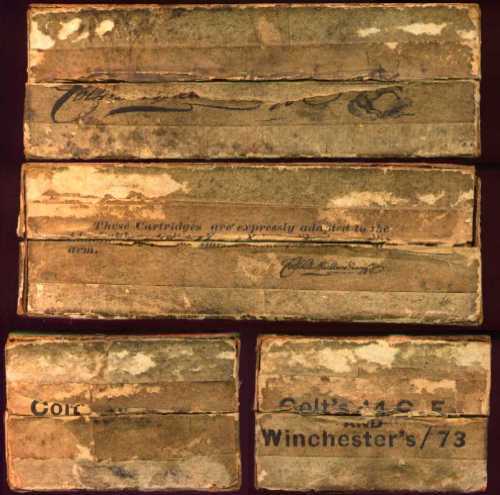 .
.
.
.
.
.
.
.
.
.
.
.
.
.
.
.
.
.
---