Home of the Old Ammo Guy's Virtual Cartridge Trading Table
---
Picture Page
April 2015
---
Bannerman's Military Goods Catalogs (cont'd).......
Last month I took a look at the cartridge listings in Francis Bannerman's 1927 military goods catalog, and I'm continuing with that this month. I'm not sure when Bannerman first began devoting space in his catalog for cartridges that he beleived were 'collectible', but it is obvious in his 1927 catalog that he considered many of the cartridges he had accumulated from the US and foreign sources as having historical significance that gave them value over and above ammunition that was intended just for shooting. Given his devotion of space with detailed descriptions of cartridges in the 1927 edition, I would venture to guess that his catalogs could possibly be the first publication that offered cartridges for collectors. In addition, his ability to recognize the value of tons of obsolete ammunition that no one else wanted, and his willingness to market it to collectors in his catalog over the years at affordable prices is the primary reason so much of this older collectible ammunition is available today.
The 1927 catalog has a couple of multi-cartridge sets, including the six Spanish War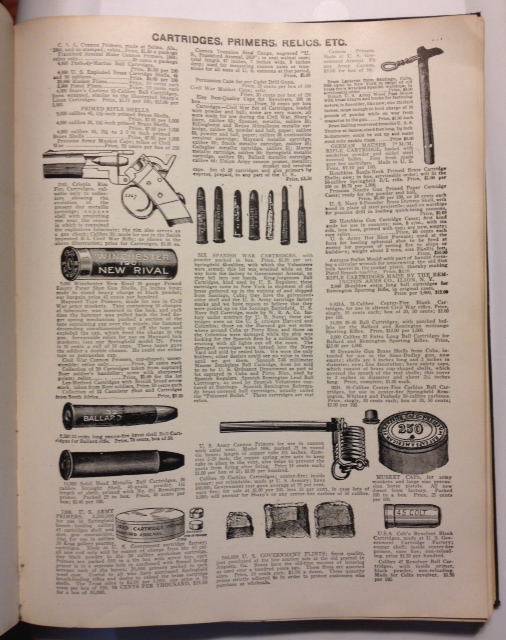 cartridges that I mentioned last month. The other set is a collection of 29 Civil War cartridge and gun primers for $3.50. Among the 29 were the following (including several that were definitely not Civil War Cartridges):
.52 Sharps Linen;
.56-56 Spencer;
.58 Billinghurst & Requa;
.58 Musket combustible;
.36 Revolver combustible;
.50 Maynard Carbine;
.50 Smith Carbine;
.51 (.52) Gallagher;
.50 (50-70?) Martin Primed;
.58 Springfield Metallic;
.44 Ballard Union Army cannon primer;
Musket and Revolver percussion caps
I have a reproduction of the Bannerman 1907 catalog, which includes listings for a 29 cartridge Civil War set and a seven cartridge Spanish War set. The Civil war set includes the same specific cartridges as listed above for 1927 catalog, but also includes a Navy quill cannon primer that the later catalog does not list. The Spanish War set includes all six of the cartridges listed in the 1927 catalog, as well as a 7mm Spanish cartridge. The illustration in both catalogs shows all seven cartridges. A significant difference between the 1907 and 1927 catalogs is the lack of single cartridge sales. The 1907 catalog includes pretty much all of the cartridges included in the 1927 catalog, plus a whole lot more, and most appear to be sold only in quantities of 100 or 1000. There are some exceptions, such as packets of 6 paper revolver cartridges, boxes of 20 or 25 of certain rifle cartridges, and a few pistol cartridges in boxes of 50. Missing is the single cartridge pricing. C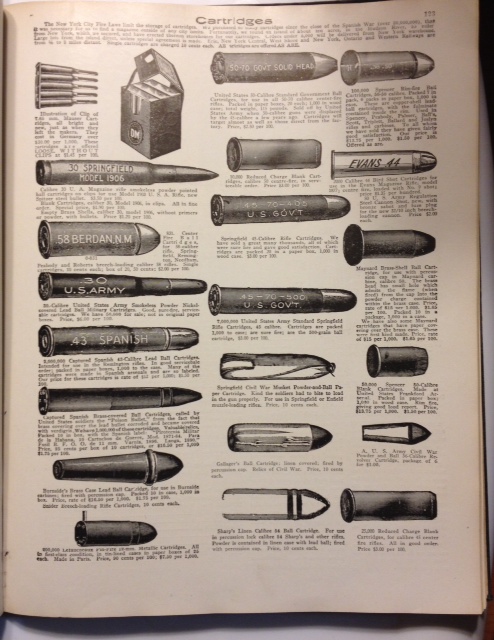 artridges illustrated in the 1927 catalog and available for purchase individually, typically at ten cents each, included:
.58 Berdan Rifle (could also be purchased in quantity at $2 for 100);
.52 Burnside (also $1.75 per 100, $16.50 per 1000);
.58 Springfield Musket;
.50 Gallager Carbine;
.54 Sharps Linen;
.50 Crispin (1.00 each);
.36 Combustible Revolver ($1 for the package of 6)
Cartridges in the 1927 catalog that continued to be sold by the 100 or 1000 and not just individually included:
.32 Ballard Extra Long CF (75 cents per 100);
.38-40 Remington Straight ($1.40 per 100);

12mm Lefaucheaux Pinfire (90 cents per 100, $7.50 per 1000) - the illustration shows what appears to be a 12mm pinfire carbine cartridge with the HB PARIS headstamp; the 12mm pinfire illustrated in the 1907 catalog appears to be the shorter revolver cartridge bearing the same HB headstamp;
.50-70 Government ($2.50 per 100);
.50 Carbine, inside primed ($1 per 100, $9 per 1000);
.45-70-405 and .45-70-500 ($3.00 per 100 and available in wood crates of 1000);
.56-50 Spencer ($1.50 per 100, $13.75 per 1000);
.44 Evans Paper Bullet Shot ($1.35 per 100);
.50 Maynard )$1.65 per 100, &15 per 1000) - these were also offered with a paper covered brass case at the same price; this was the uncommon Rodman & Crispin/ Poultney's patent variation, with the tube made from coiled paper covered brass foil;
.52 Starr Carbine ($1.75 per 100, $15 per 1000);
Peabody-Martini ($1.50 per 100);
.30 Army (.30-40 Krag - $6 per 100);
.43 Spanish ($1.50 per 100, $12 per 1000)
.43 Spanish Reformado 'Poison Bullet' (25 cents per box of 20, $1.75 per 100, $16.50 per 1000)
By 1940, Bannerman was still offering cartridges by the 100, but very few cartridges were listed with special pricing for lots of 1000. Among the few still sold by the 1000 were the .43 Spanish Remington and Reformado, .50 Spencer blanks, .38-40 Remington straight, and the 12mm pin fire carbine cartridges. Very few of the cartridges were priced by the 'each', but notes had been added on the cartridge pages indicating that single cartridges were 15 cents each, except were priced otherwise. The minimum order accepted for individual cartridges was $1.00.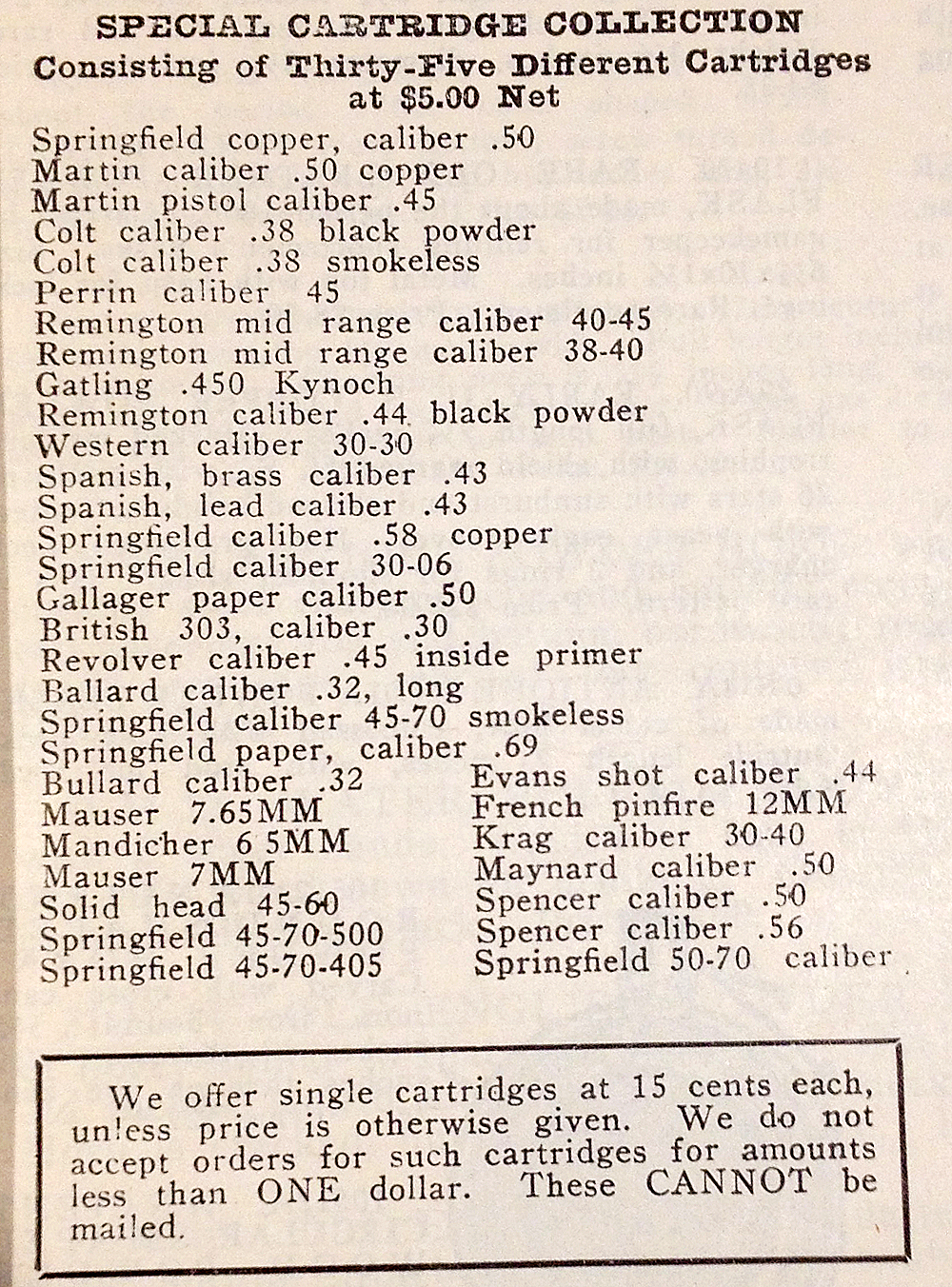 A 35 cartridge collection was now being offered, and all 35 cartridges were listed. These included a mix of a bit of everything from a .45 (12mm) Perrin to a Western .30-30. The 6 cartridge set of Spanish war cartridges was still being offered, but the Civil War set had been dropped. Individual cartridges were still being offered at 15 cents each.
By the 1945 edition, a number of cartridges that had been included in earlier editions were still illustrated and described but had no prices shown, indicating they were no longer available individually or in quantity. Among these were the .58 musket paper cartridge, .54 Sharps linen, .44 Evans shot, .56-50 Spencer, .50-70 Springfield, .45-70 Springfield rifle and carbine, and .50 Crispin. The six cartridge Spanish War set and the 35 cartridge collection were still being offered.
The 1949 catalog also still includes the six cartridge Spanish War set and the 35 cartridge collection, but no longer listed the cartridges in the collection, suggesting that many of the older cartridges were no longer available. While the two Spanish Remington and he Reformado were still available by the 100, the 12mm pin fire Carbine was priced only by the each. By this time, the Burnside, 69 paper musket, and all .50 rim fire and center fire cartridges were no longer available.
.
.
---