Contents
Cartridge Lists
Patent & Miscellaneous
Rim Fire
Center Fire Pistol
Center Fire Rifle
Metric Rimfire, Pistol&Rifle
British Pistol and Rifle
Shotgun Shells
Cartridge Boxes & Related
Prior Picture Pages:
* September 2003
* October 2003
* November 2003
* December 2003 * January 2004
* February 2004
* March 2004
* April 2004
* May 2004
* June 2004
* July 2004
* August 2004
* September 2004
* October 2004
* November 2004
* December 2004
* January 2005
* February 2005
* March 2005
* April 2005
* May 2005
* June 2005
* July 2005
* August 2005
* September 2005
* October 2005
* November 2005
* December 2005
* January 2006
* February 2006
* March 2006
* April 2006
*May 2006
*June 2006
*July 2006
*August 2006
*September 2006
*October 2006
*November 2006
*December 2006
*January 2007
*February 2007
*March 2007
*April 2007
*May 2007
*June 2007
*July 2007
*August 2007
*September 2007
*October 2007
*November 2007
*December 2007
*January 2008
*February 2008
*March 2008
*April 2008
*May 2008
*June 2008
*July 2008
*August 2008
*September 2008
*October 2008
*November 2008
*December 2008
*January 2009
*February 2009
*March 2009
*April 2009
*May 2009
*June 2009
*July 2009
*August 2009
*September 2009
*October 2009
*November 2009
*December 2009
*January 2010
*February 2010
*March 2010
*April 2010
*May 2010
*June 2010
*July 2010
*August 2010
*September 2010
*October 2010
*November 2010
*December 2010
*January 2011
*February 2011
*March 2011
There are no picture pages
for April thru June 2011
*July 2011
*August 2011
*September 2011
*October 2011
*November 2011
*December 2011
*January 2012
*February 2012
*March 2012
*April 2012
*May 2012
*June 2012
*July 2012
*August 2012
*September 2012
*October 2012
*November 2012
*December 2012
*January 2013
*February 2013
*March 2013
*April 2013
*May 2013
*June 2013
*July 2013
*August 2013
*September 2013
*October 2013
*November 2013
*December 2013
*January 2014
*February 2014
*March 2014
*April 2014
*May 2014
*June 2014
*July 2014
*August 2014
*September 2014
*October 2014
*November 2014
*December 2014
*January 2015
*February 2015
*March 2015
*April 2015
*May 2015
*June 2015
*July 2015




Links to Other Sites
Cartridge Collectors Organizations:
IAA
ECRA
SAAACA
Auctions:
Auction Arms
E-Bay
Ward's Collectibles
Sold USA
Books:
Armory Publications
WCF Publications
Other Collector's Sites:
Curtis Steinhauer
Home of the Old Ammo Guy's Virtual Cartridge Trading Table
---
Picture Page
August 2015
---
The shooting prints of Arthur B. Frost.........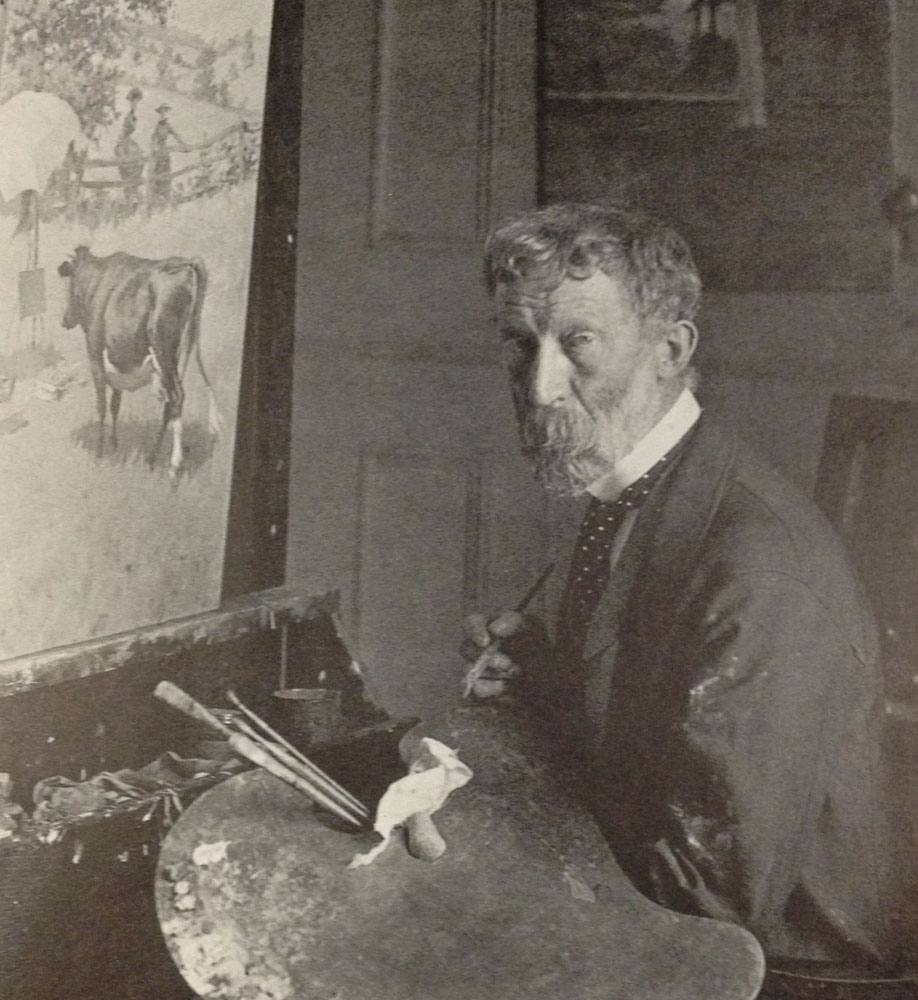 In 1895, Arthur Burdett Frost was a successful and highly popular illustrator of books and magazines, having illustrated several of his own books, as well as books by such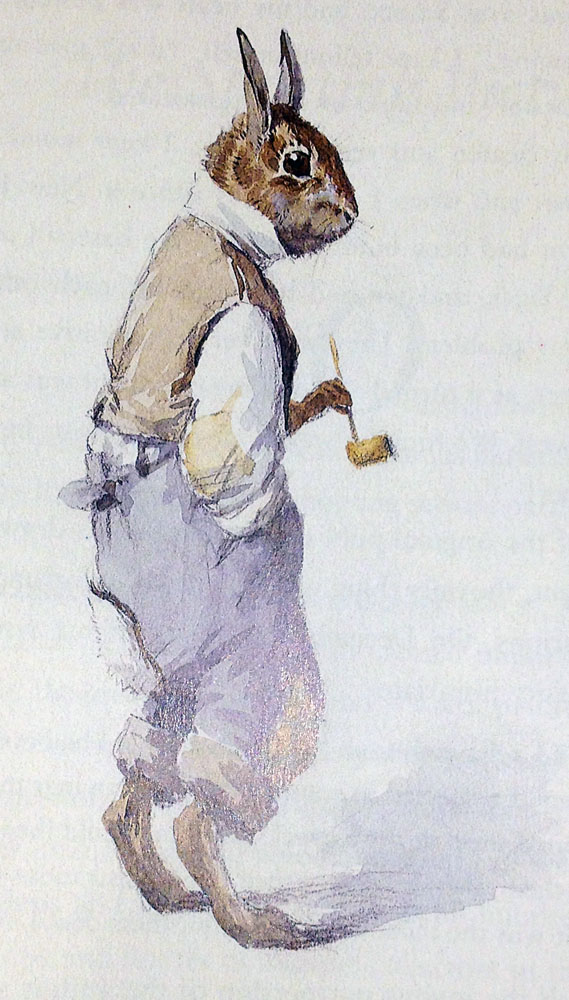 authors as Max Adeler, Charles Dickens, Theodore Roosevelt, and Joel Chandler Harris. That year, he was approached by F. N. Doubleday, a friend and the business manager for Scribner's Magazine, and asked to produce an assortment of watercolor paintings that depicted different forms of upland and shore bird hunting. The result was twelve paintings that were reproduced as a portfolio of color lithographs titled "Shooting Pictures" and sold by subscription for perhaps $20 per set beginning in late 1895. The success of the portfolio, which was limited to 2500 copies, immediately established Frost as the premier American sporting artist. In 1972, a set of the 'Shooting Pictures' portfolio was offered by the Winchester Press, which included the twelve prints in a smaller size to differentiate them from the 1895 originals; this edition was limited to 750 copies.
Two other sets of Frost's hunting prints were produced. The first, which included six color lithographs titled "A Day's Shooting', was published by Scribner's in 1903 and limited to something less than 2500 copies. Following Frost's death in 1928, a set of four hand-painted prints was produced and sold individually by Derrydale Press between 1933 and 1934 under the supervision of John Frost, the artist's youngest son. It is believed that 250 of each print were produced, with less than 200 of each colored. As a result of the limited production, these are the most desirable of all the Frost prints, and demand a premium whether colored or not.
I'll focus on the "Sporting Pictures" this month, which were my first exposure to Arthur B. Frost. Some time around 1981, Barnes Gardiner, an antiques dealer in McIntosh,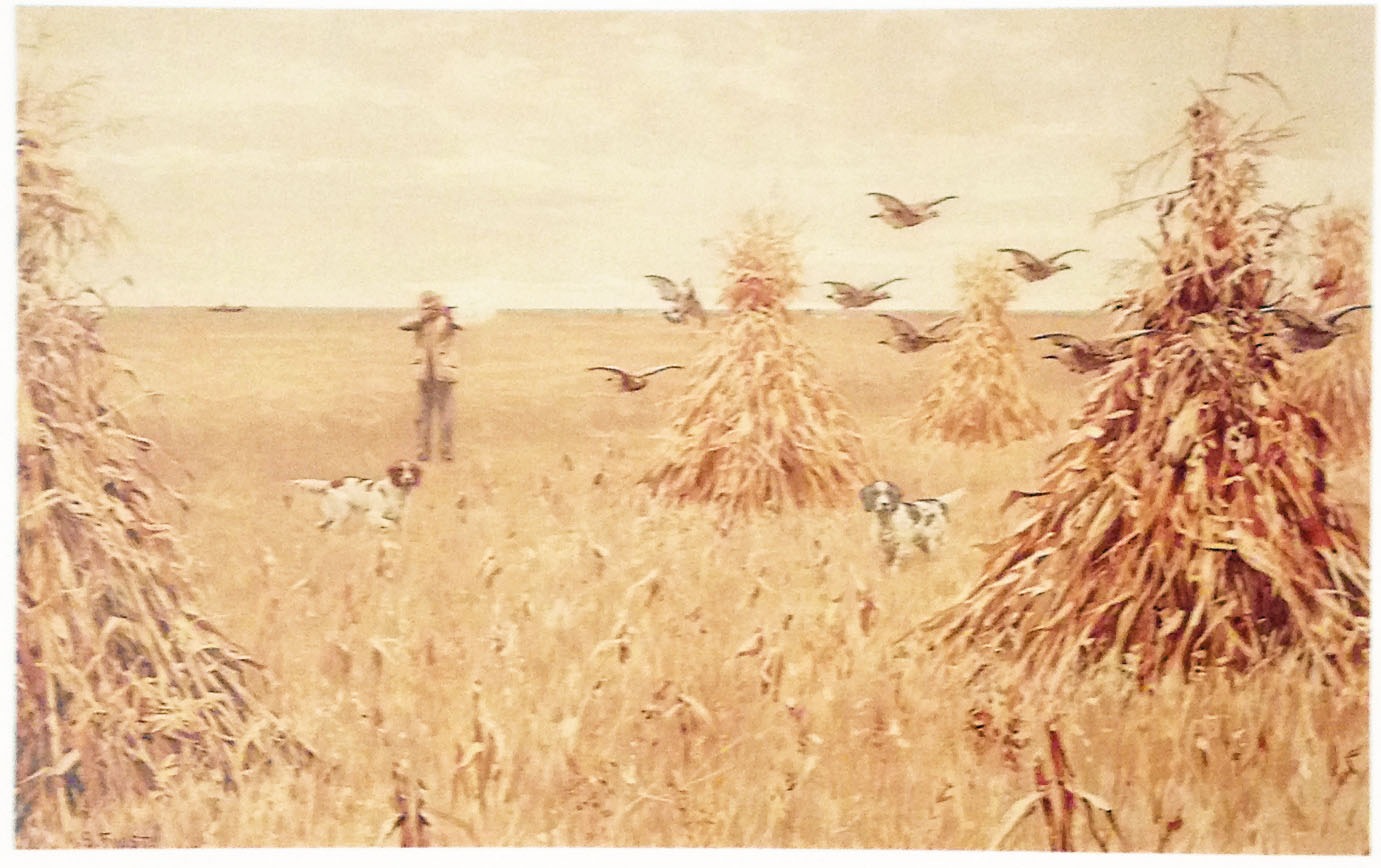 Florida, showed me the complete 'Shooting Pictures' portfolio that he had inherited from his Grandfather. I purchased one of the prints (Prairie Chickens, shown here) from him, and have had an interest in Frost ever since.
.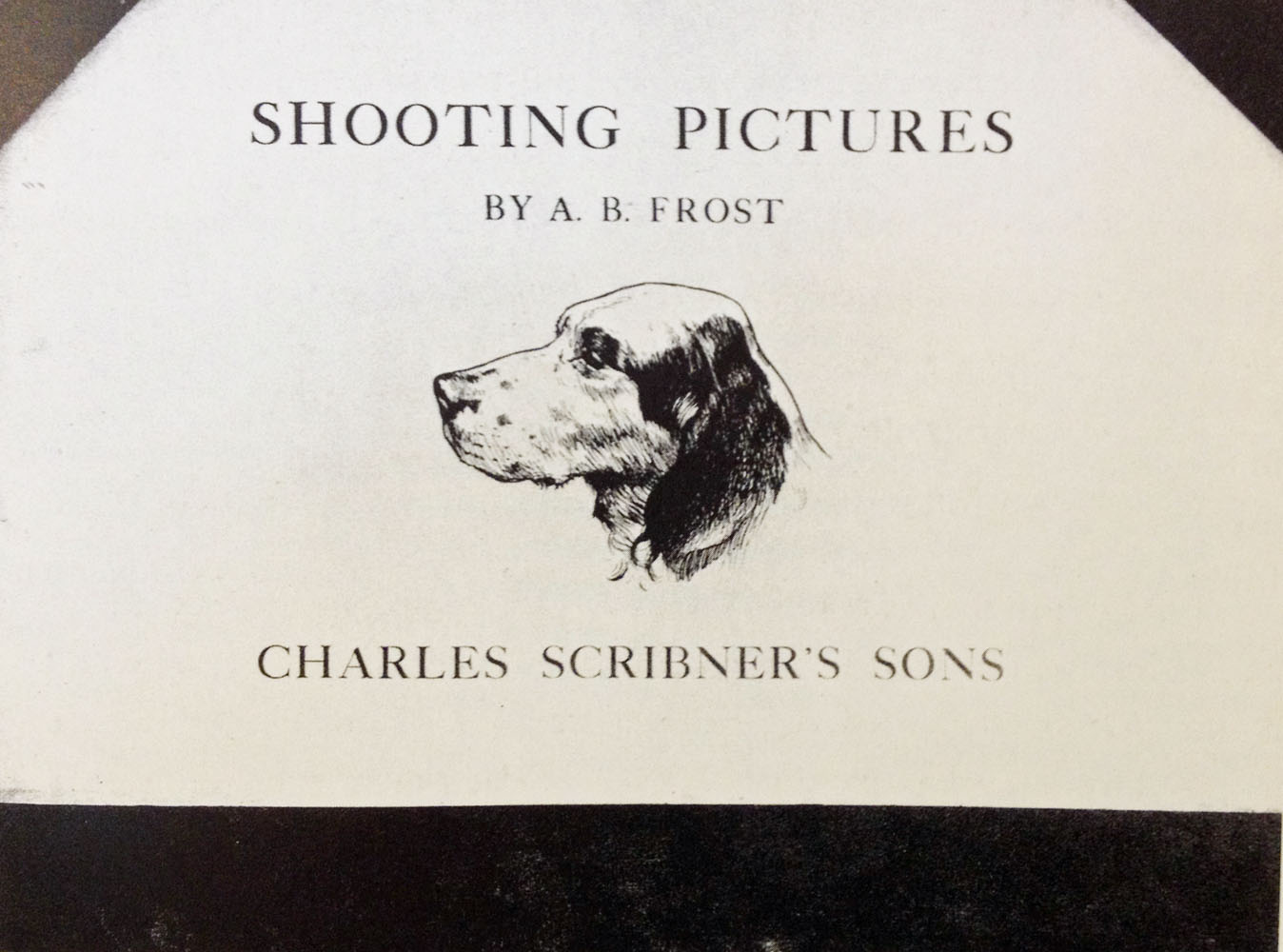 The prints were held in a large (19" x 26 1/2") pasteboard portfolio covered in red imitation leather with red ribbon ties and an English Setter's head (drawn by Frost) on the front. I have not been able to find a picture in color of the portfolio, so the black and white picture shown above will have to suffice. Inside were six gray wrappers (one for each subscription installment or 'part') each illustrated with a pen and ink drawing (also by the author) and labeled "Shooting Pictures by A. B. Frost" with the titles of the two prints each contained.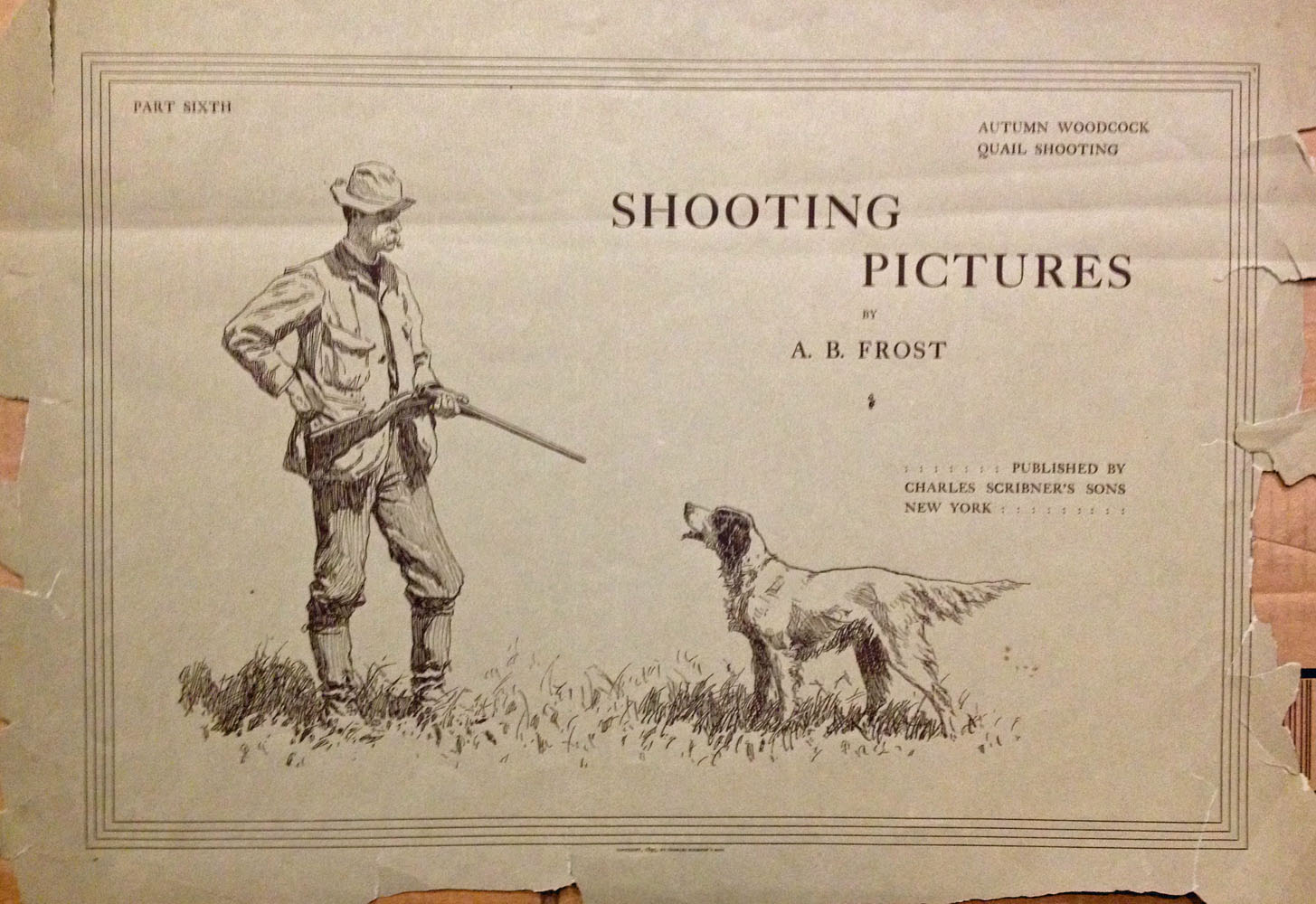 The only one of these original wrappers I have been able to find is shown here; in rather sad condition, it is labeled on the upper left 'PART SIXTH' and on the upper right with the titles of the two prints it once held. In addition to the two prints, which were attached at their upper edges to heavy paper backboards, each wrapper would have contained two tissue papers to protect the prints, and a large text page for each print written by Charles D. Lanier describing the type of bird shooting depicted. In all, there are 43 separate pieces including the red 'leather' portfolio.
To avoid the clumsiness of having to sort through all the pages to view the contents, the owners typically framed the prints that most interested them or that reflected the types of hunting that they participated in, and stored the remaining portfolio contents away or discarded them. As a result, it is quite difficult today to assemble all twelve prints, and nearly impossible to find a complete portfolio, with all of it's prints, wrappers, text sheets, and tissue papers. I have been able to find four additional original prints over the years, all showing the effects of poor framing. Because they were relatively inexpensive, little consideration was given to the long-term effects on the prints of the framing materials and environmental factors such as sunlight, air quality, or humidity. Consequently, most framed prints found today will show staining and brittleness caused by the acidity of the matting and backboards used, foxing caused by humidity and carelessness with glass cleaning products, fading caused by exposure to light, and soiling very often caused by tobacco smoke.
In addition to 'Prairie Chickens' which is shown above, the prints included the following:
Autumn Woodcock Shooting: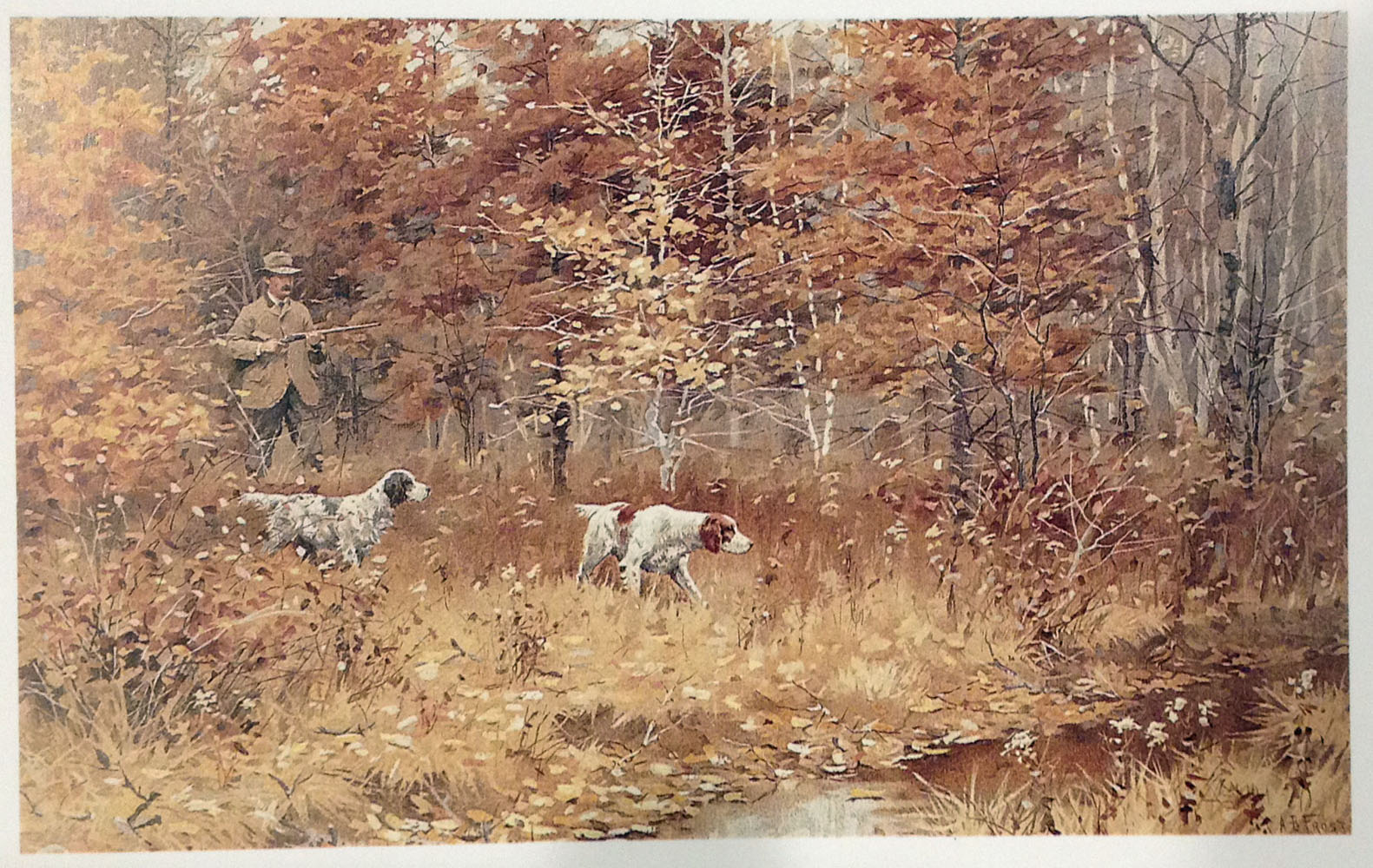 .
.
.
.
.
.
.
.
.
.
.
Autumn Grouse Shooting -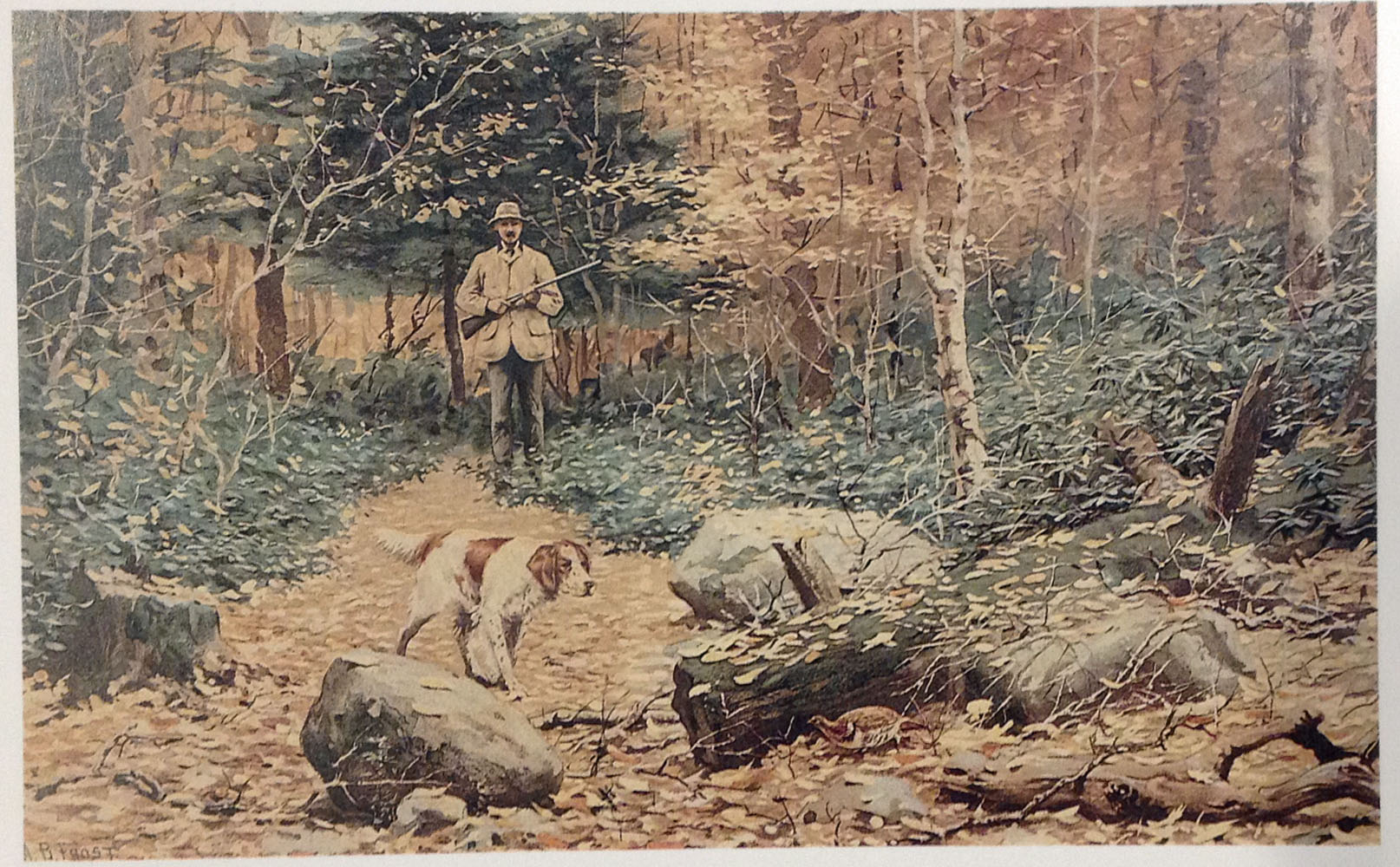 .
.
.
.
.
.
.
.
.
.
.
Quail - A Dead Stand -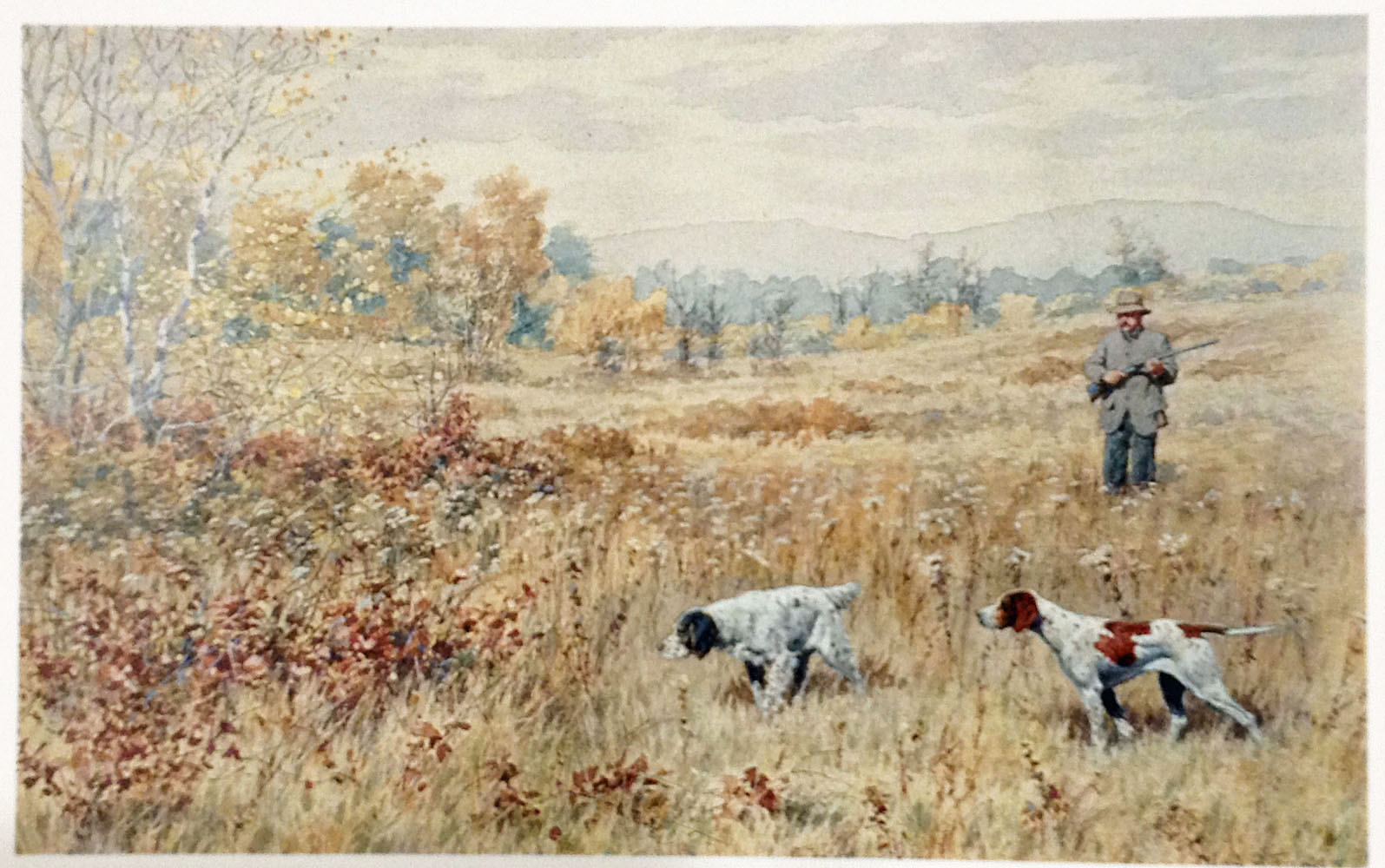 .
.
.
.
.
.
.
.
.
.
.
Quail - A Covey Rise -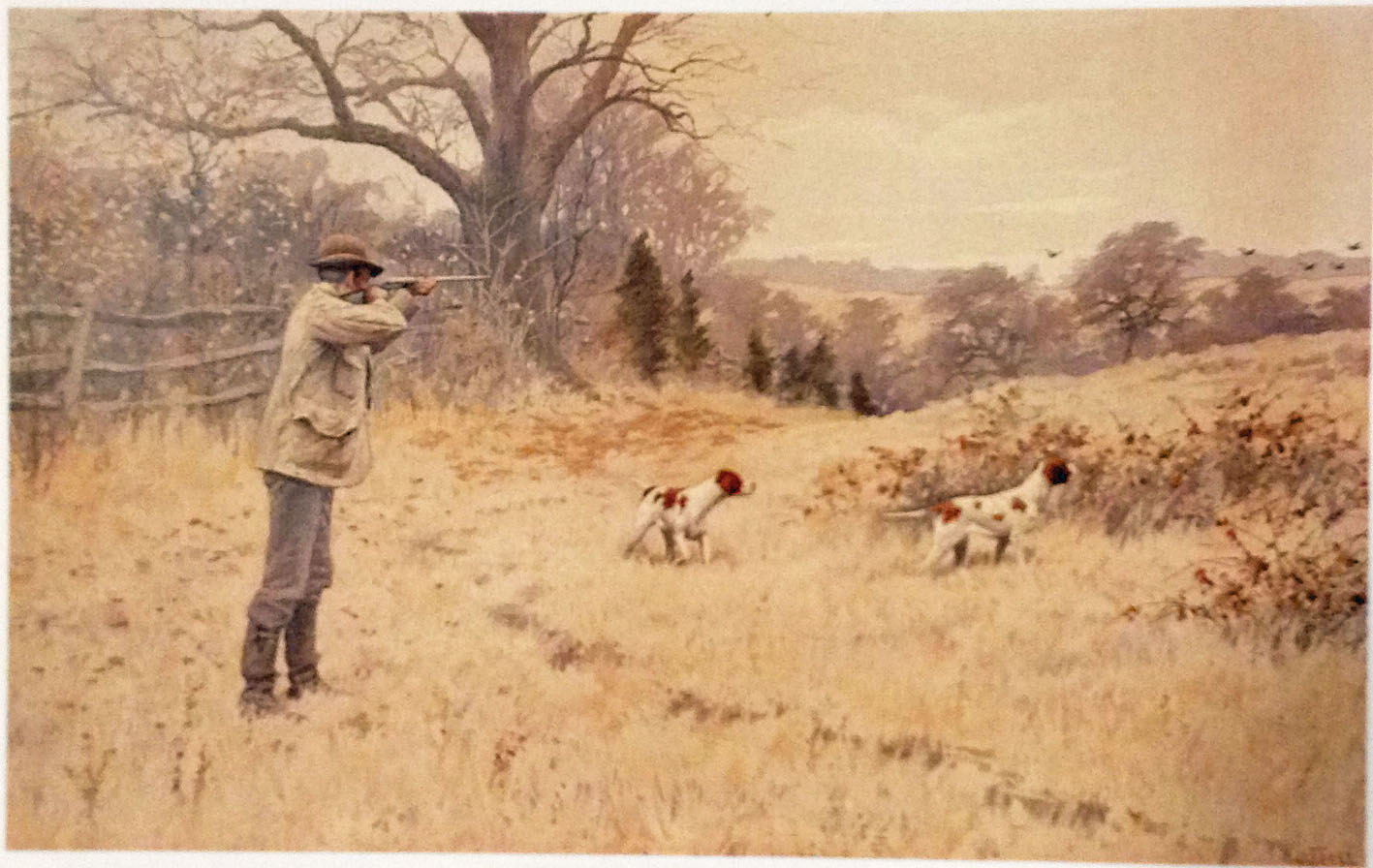 .
.
.
.
.
.
.
.
.
.
.
Rabbit Shooting -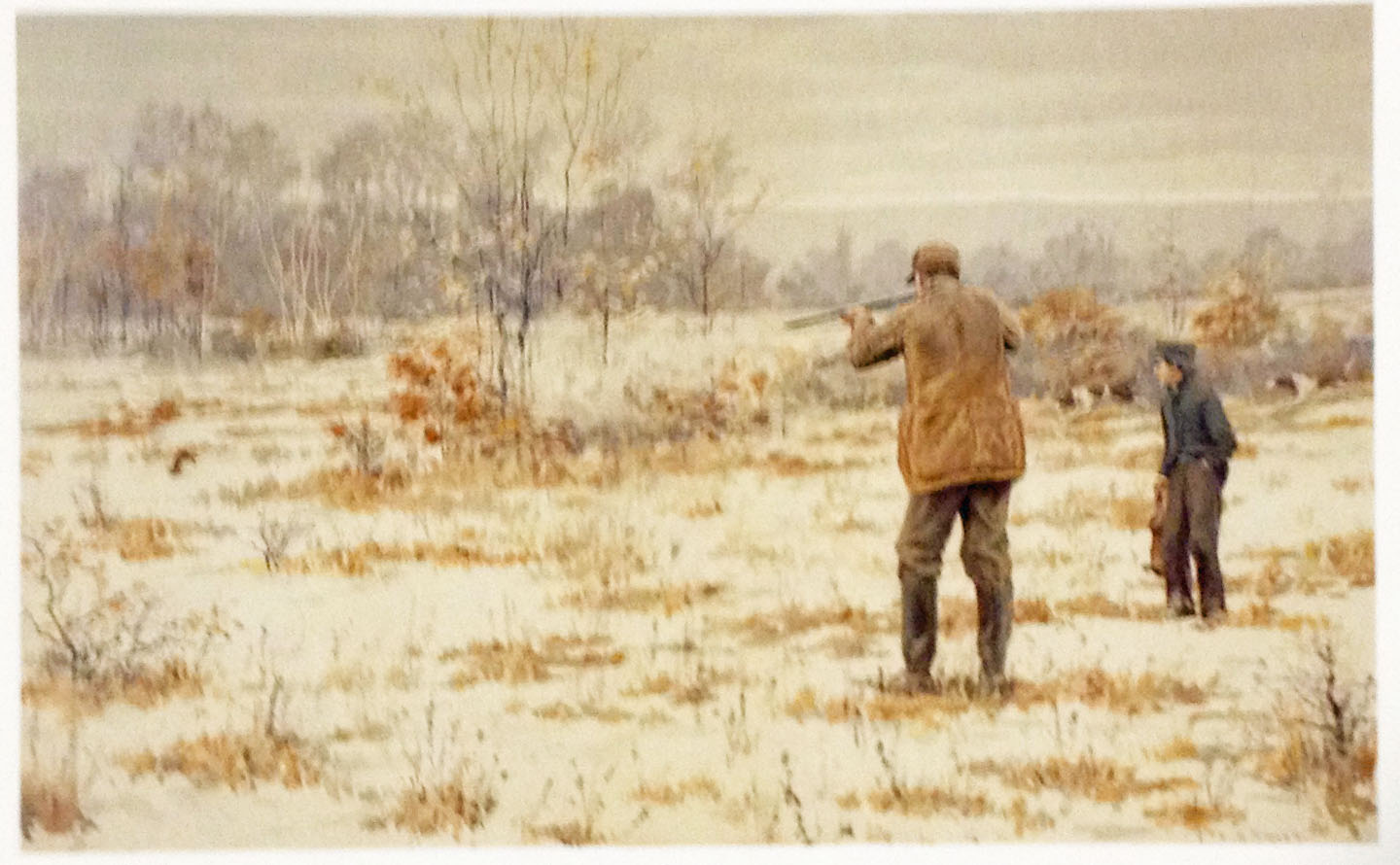 .
.
.
.
.
.
.
.
.
.
.
Summer Woodcock -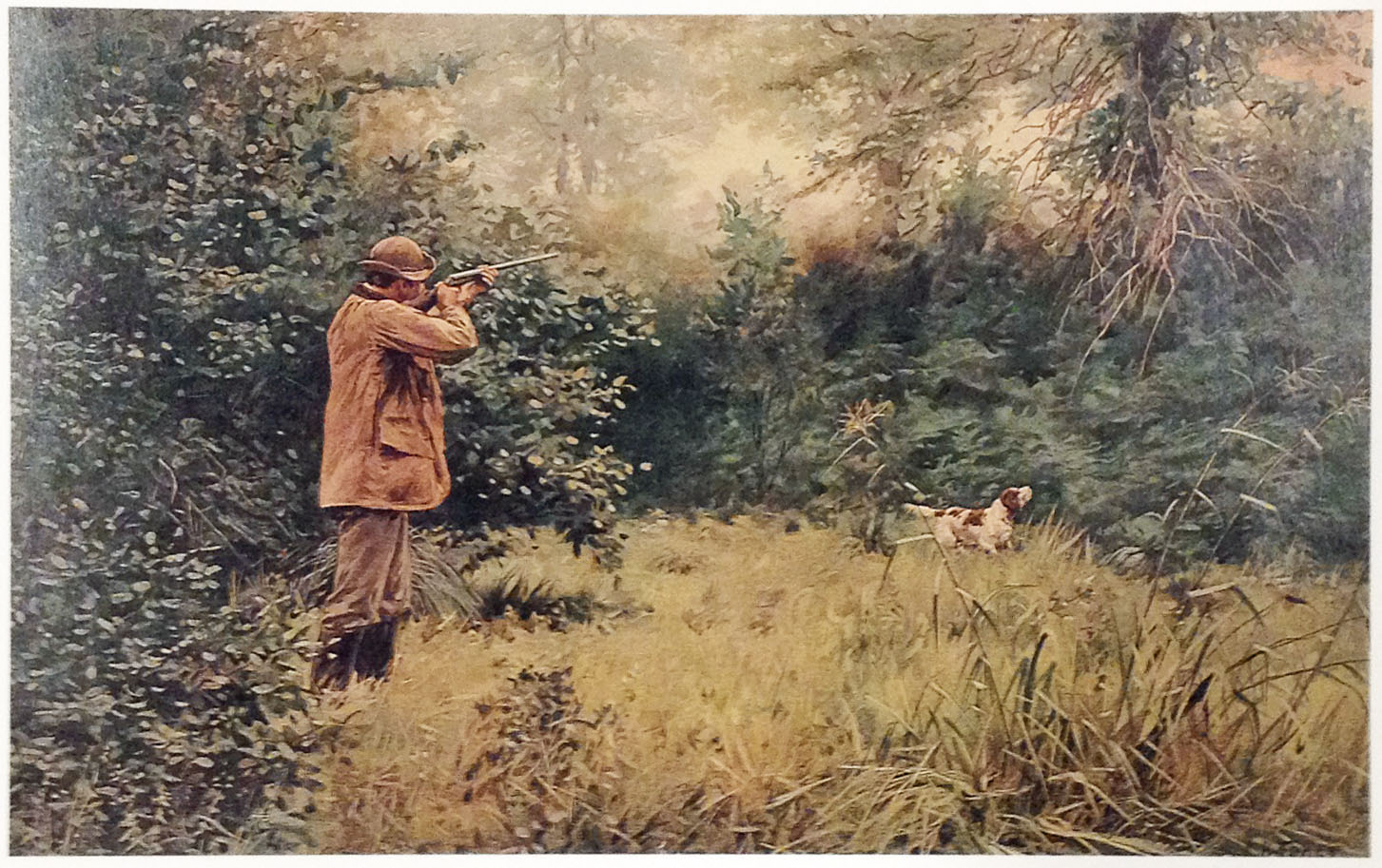 .
.
.
.
.
.
.
.
.
.
English Snipe Shooting -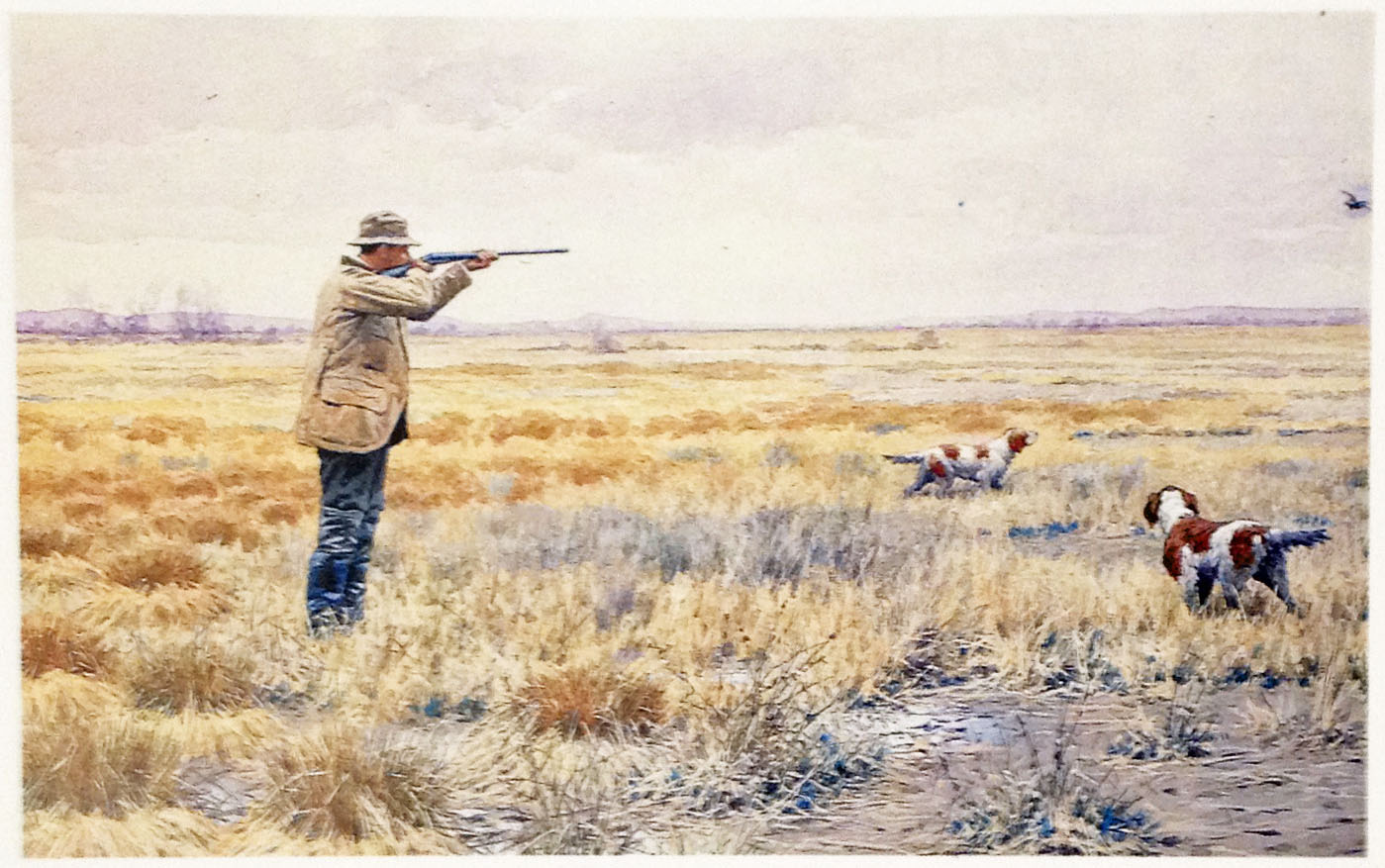 .
.
.
.
.
.
.
.
.
.
.
Bay Snipe Shooting -
.
.
.
.
.
.
.
.
.
.
.
Rail Shooting -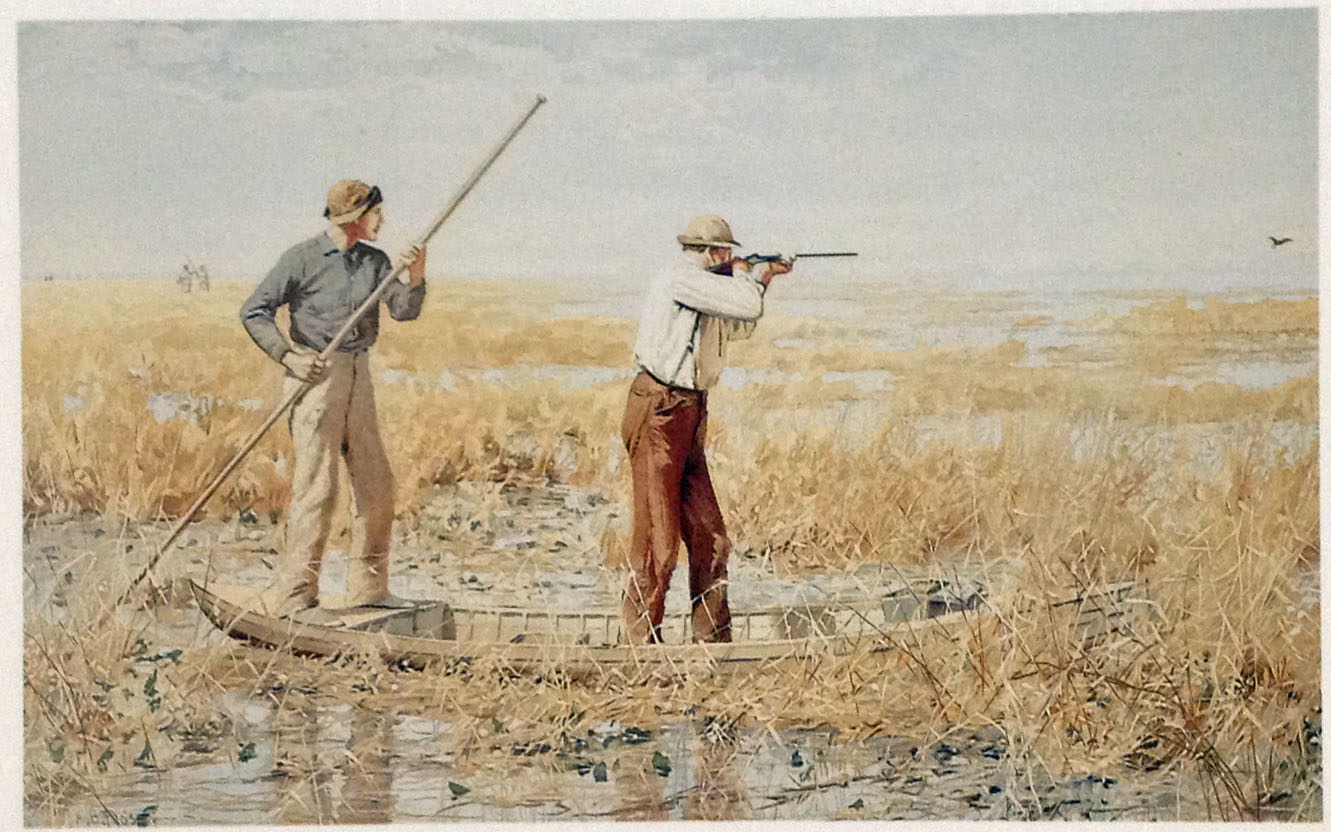 .
.
.
.
.
.
.
.
.
.
.
Ducks From a Blind -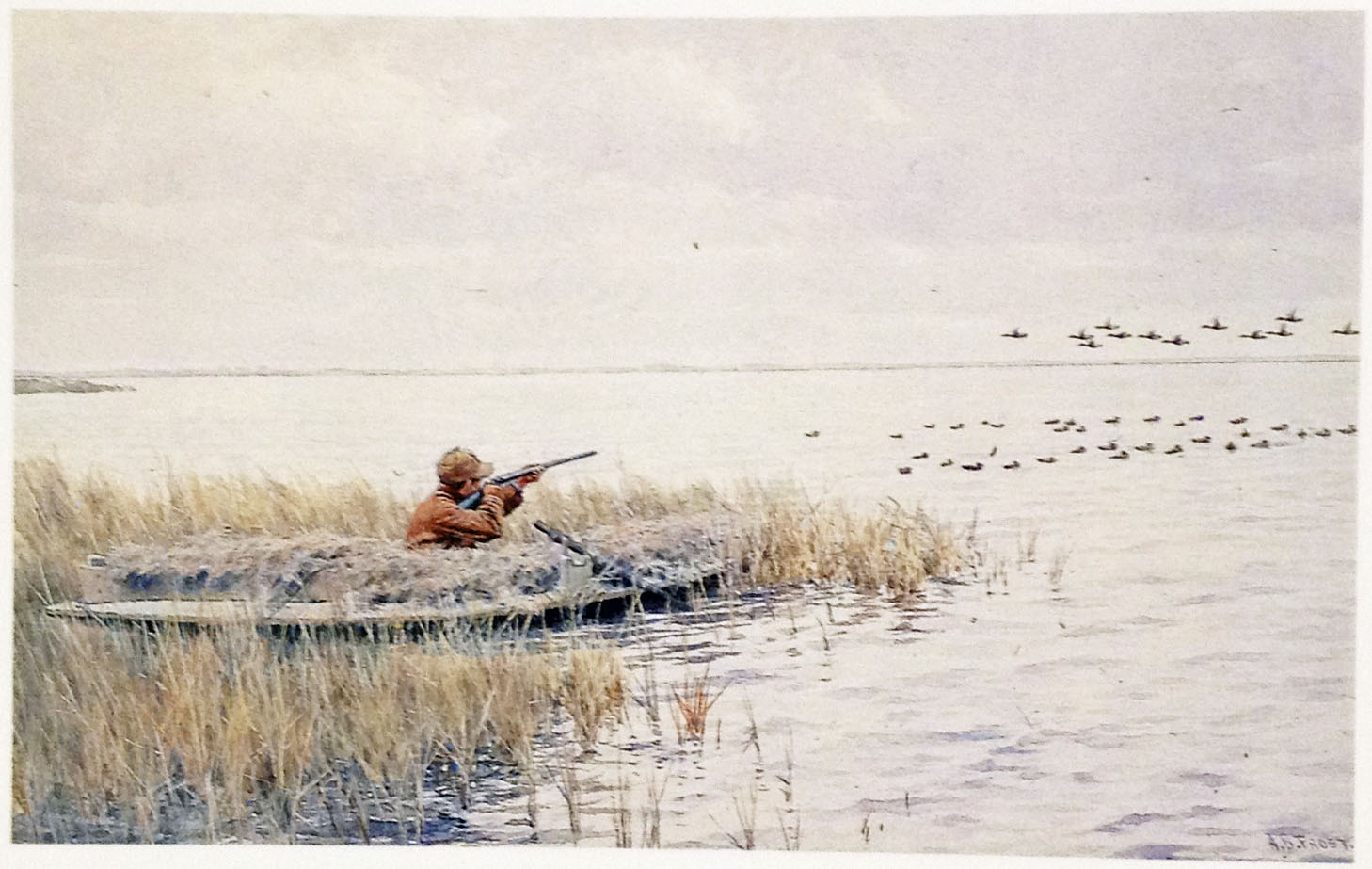 .
.
.
.
.
.
.
.
.
.
.
Ducks From a Battery -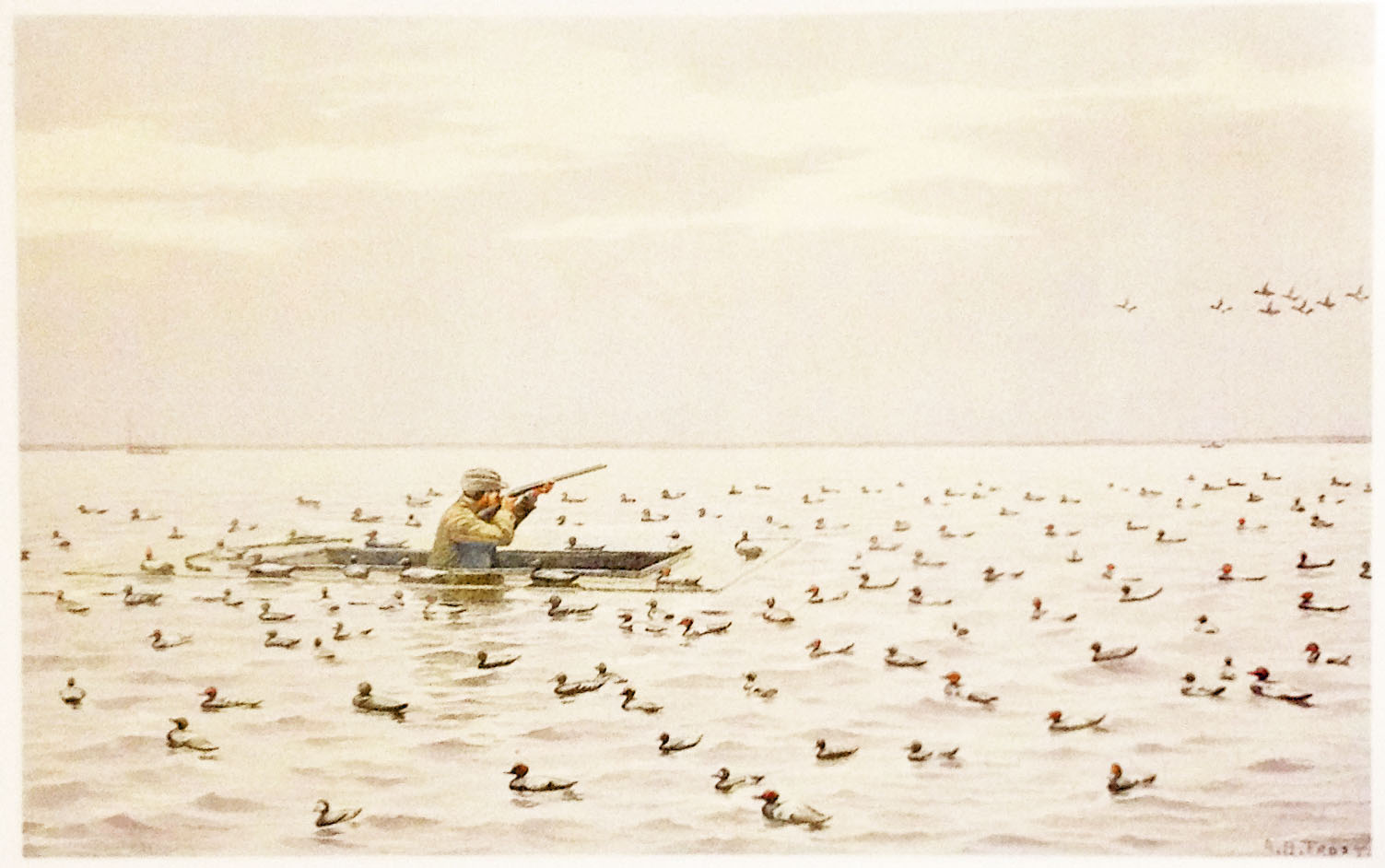 .
.
.
.
.
.
.
.
.
.
.
.
---