Home of the Old Ammo Guy's Virtual Cartridge Trading Table
---
Picture Page
February 2016
---
Please note: Unless otherwise indicated, the pictures on this web site are my property, and should not be used by anyone without my permission.
---
A couple of Vintage Advertising Items.....
Who was Arthur Hubalek?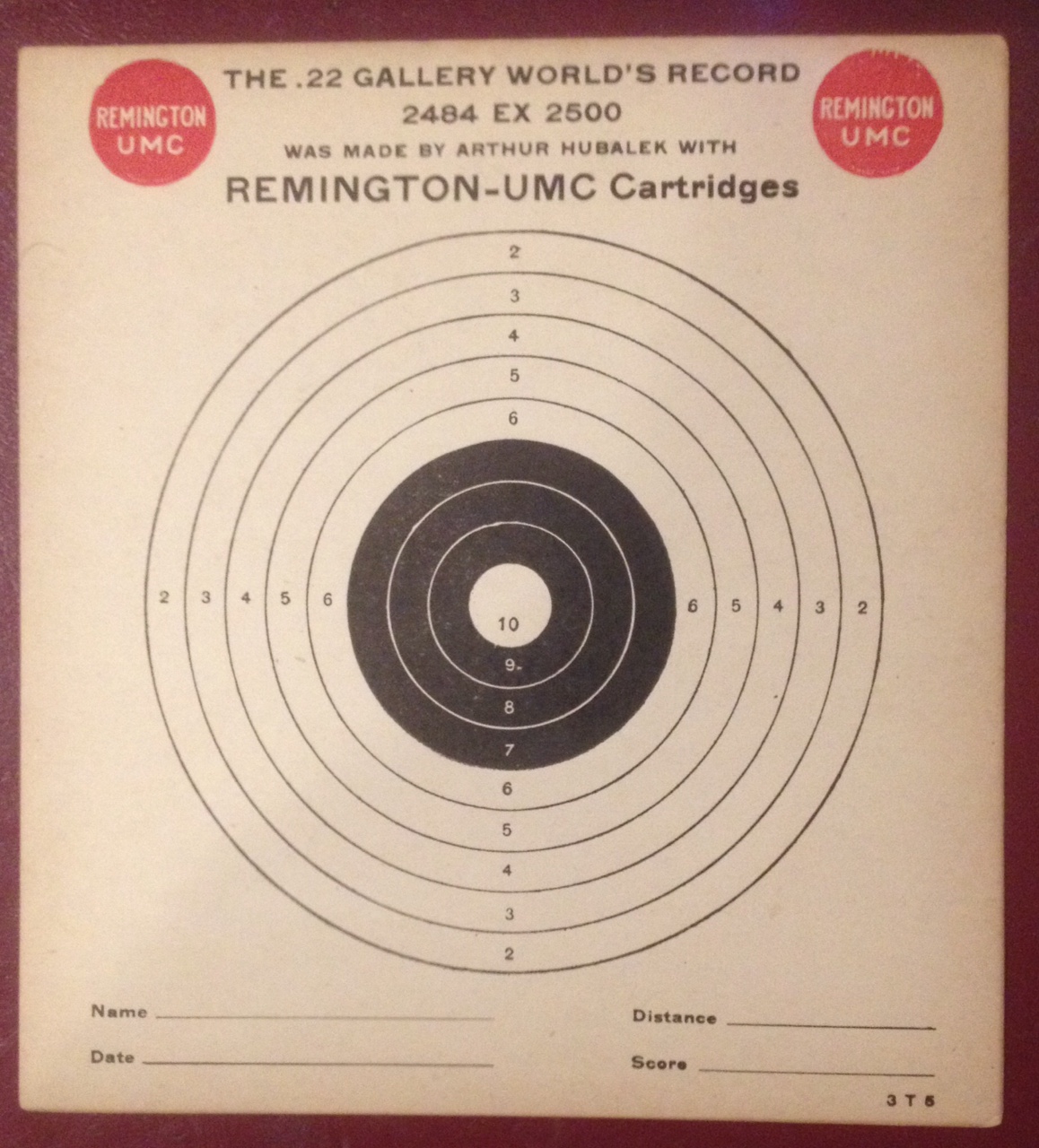 Some years ago, I bought a small stack Remington-UMC targets like the one shown to the right, and immediately filed them away and essentially forgot about them. I came across them again recently while emptying a file cabinet in preparation for a house move, and set them aside in what eventually evolved into my very large stack of need-to-do-something-with magazines, catalogs and other paper items. As I was further separating this large stack into more manageable smaller stacks (keep, sell, give away, and throw away), I decided that these targets were possibly a sell item, and made an effort to determine when they might have been produced. Seeing no obvious date on the target, I Googled 'Arthur Hubalek' and was rewarded for my effort with quite a few hits, most of which reference the record score noted on the target. Here's a summary of what I found:
Arthur Hubalek was a rifle barrel maker with a shop on Myrtle Avenue in Brooklyn, New York. In the early 1900s he began setting impressive shooting records with .22 rim fire Schutzen-style rifles fitted with barrels of his making that resulted in his becoming the darling of Remington-UMC .22 rimfire ammunition marketing from 1911 and well into the 1920s. Remington ammunition ads, as well as this target, refer to his 100 shot 75 foot off-hand score of 2484 that was set with Remington-UMC Lesmok ammunition. The record was set on March 14, 1911, and broke a Dr G. W. Hudson's record of 2482 set on January 31st of that same year also with Lesmok ammunition. Hubalek's score remained the record at least through 1928; I have not yet actually found any mention regarding when (or if) it was ever beaten.
.
What's the story behind these little 'toy' bullets?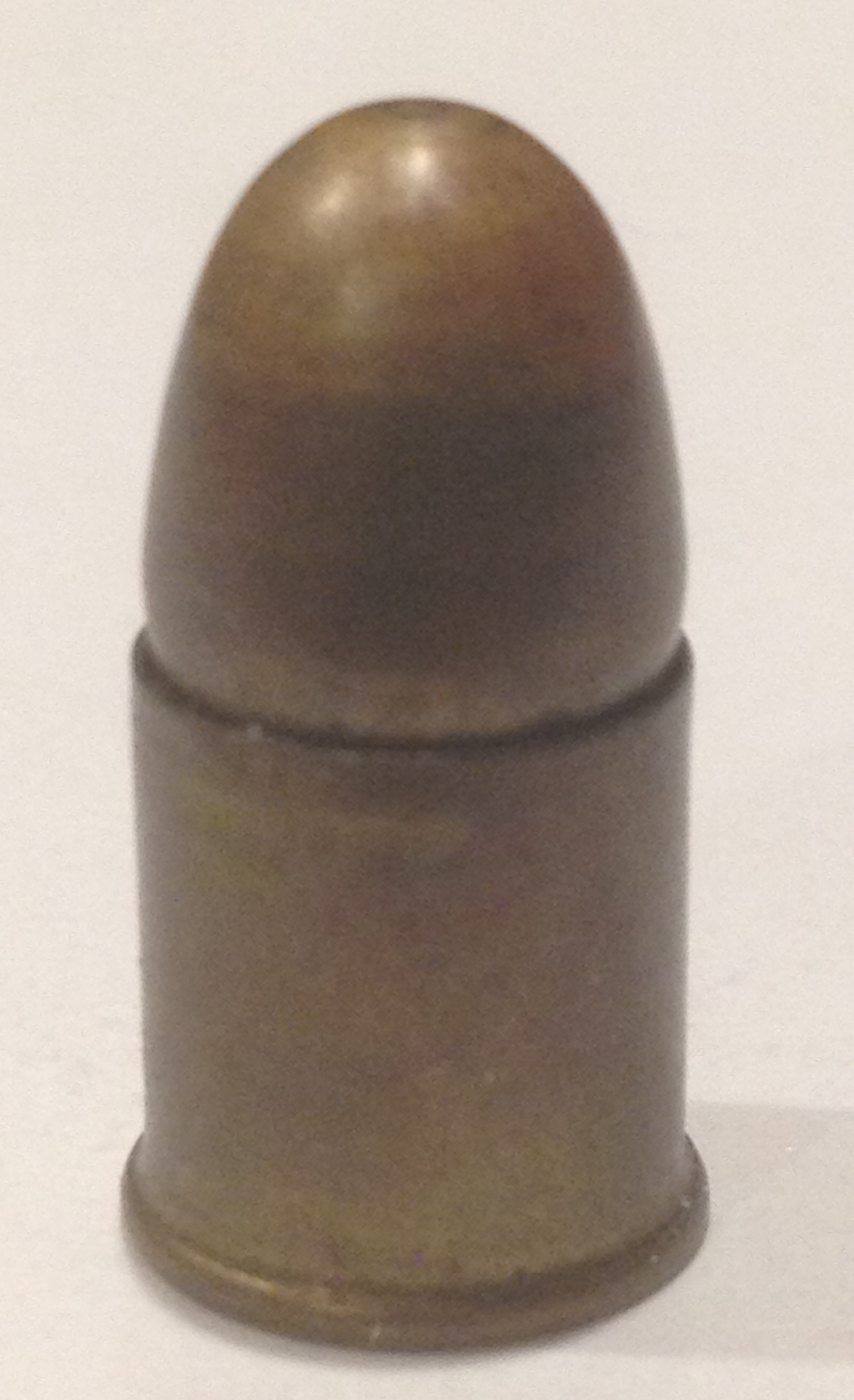 I received several of the 'cartridges' shown here a number of years ago from a collector in Pensylvania. They are made of brass and are of two piece, hollow construction, with the bullet appearing to be a friction fit in the case. The headstamp is 'WATERBURY FARREL FOUNDED 1851'. Apparently, the cartridge was made by or for this company, possibly as a souvenir in recognition of a significant anniversary of their founding, perhaps the hundredth anniversary that would have been
celebrated in 1951. The cartridge doesn't appear to be a copy of any existing cartridge, although it does look somewhat like a slightly oversize, inside-primed 8mm Galois.
A Google search of 'Waterbury Farrel' revealed several pictures of similar cartridges on the internet, but provided no background information regarding when or why they were made. I was able to find a copy of the company's 1893 catalog and price list; I have included the title page and the illustration from the catalog of their production plant below. Among the line of products shown in the catalog are a number of ammunition making machines, a couple of which are also shown below. The Waterbury Farrel company is still in existence, and apparently are now specializing in high tech equipment for producing ammunition.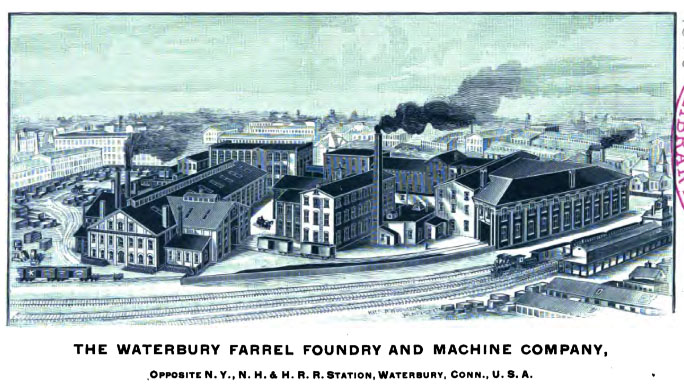 .
.
.
.
.
.
.
.
.
.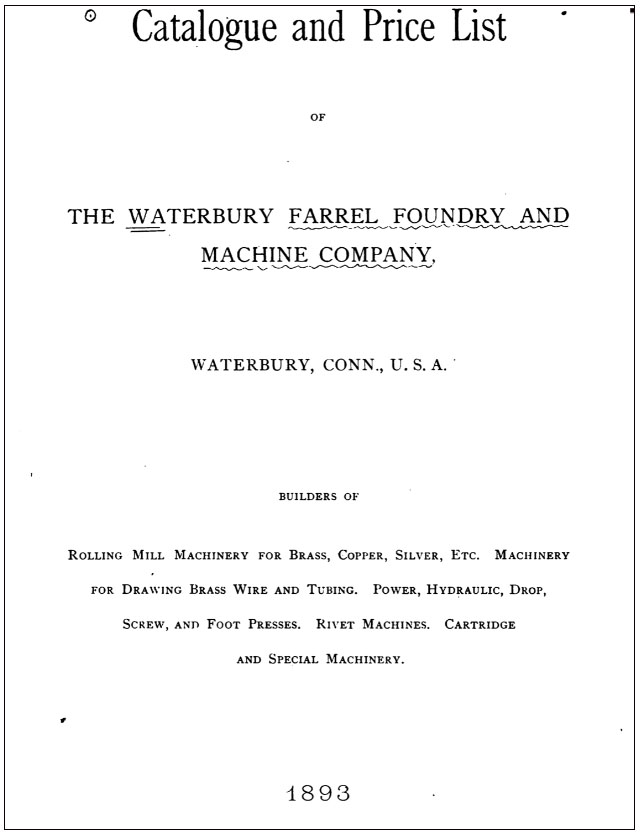 .
.
.
.
.
.
.
.
.
.
.
.
.
.
.
.
.
.
.
.
.
.
.
.
.
.
.
.
.
.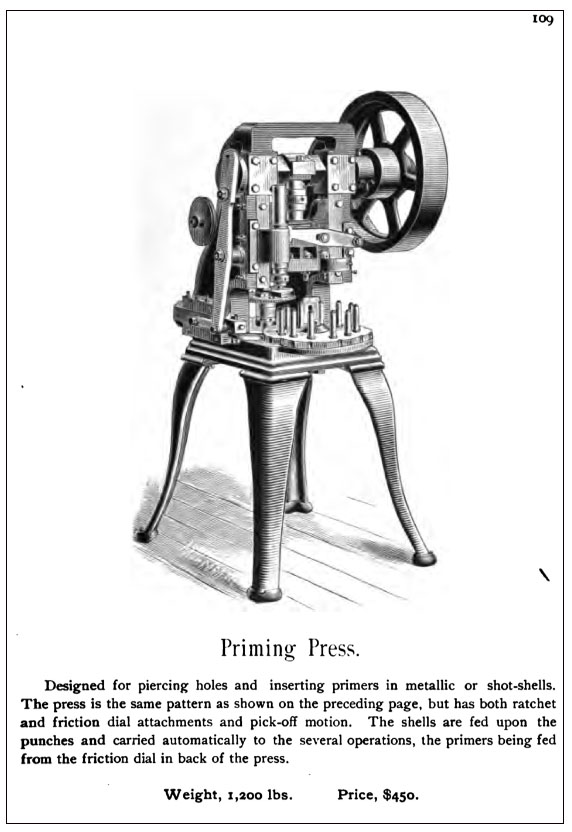 .
.
.
.
.
.
.
.
.
.
.
.
.
.
.
.
.
.
Sources:
Remington-UMC Repeating Rifle and Lesmok cartridges advertisemeent from the Lompok Journal, Santa Clara County, California, issue number 52, 13 May, 1911, page 7, which was founf on the California Digital Newspaper Collection Repository of Digitized California Newspapers from 1846 to the Present (http://cdnc.ucr.edu/cgi-bin/cdnc)
.
.
---