Home of the Old Ammo Guy's Virtual Cartridge Trading Table
---
Picture Page
January 2016
---
Please note: Unless otherwise indicated, the pictures on this web site are my property, and should not be used by anyone without my permission.
---
A look at the .22 Short Magnum rimfire cartridge.......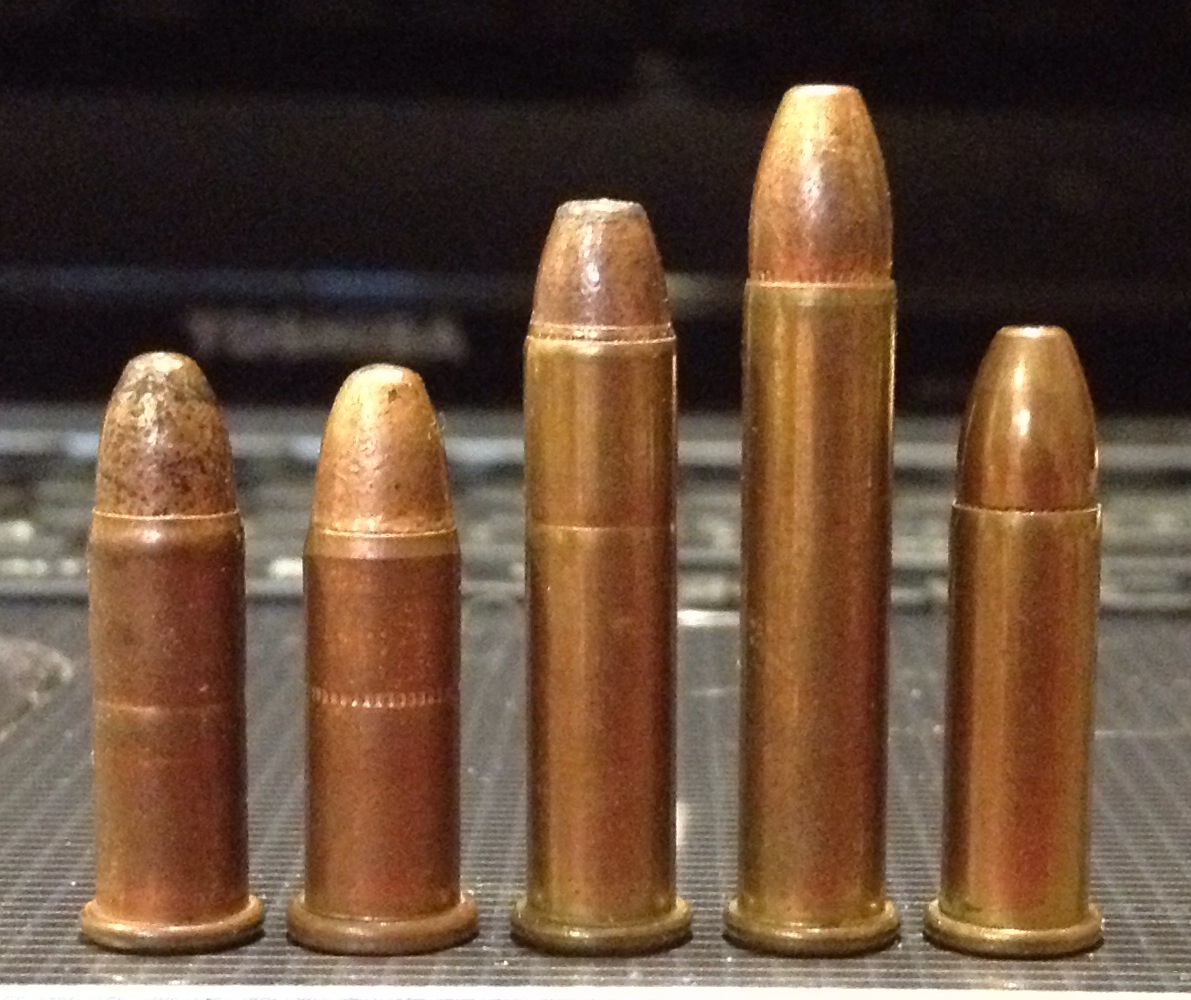 The .22 Short Magnum (aka .22 American/.22 ILARCO) cartridge was produced in a limited quantity by Winchester-Western for use in a short-lived sub-machine gun manufactured in the mid-1980s by the Illinois Arms Company, Inc. It is based on the .22 Magnum shortened to the overall length of the .22 long rifle. The picture here shows all five of the 'large diameter case' .22 rim fire cartridges, including from the left the .22 Remington Automatic, .22 Winchester Automatic, .22 Winchester Rim Fire (WRF) aka .22 Remington Special, .22 Magnum, and .22 Short Magnum.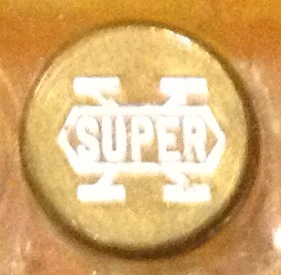 The .22 short magnum cartridges are marked with the Winchester-Western SUPER X headstamp. Cartridges typically will be found loaded with the same 40 grain flat nose copper full metal jacketed bullet that was used for the .22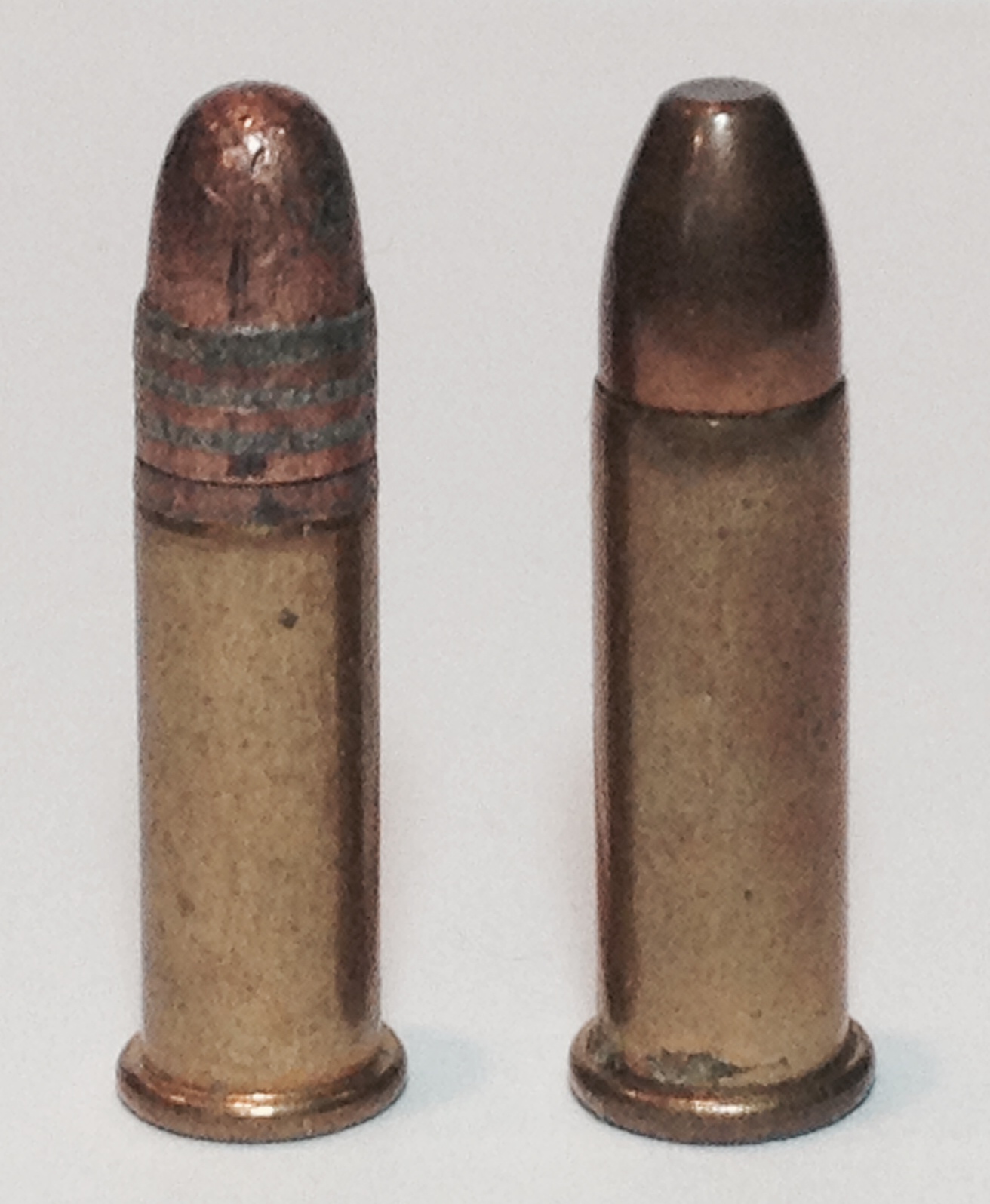 Magnum, although hollow soft point bullets have been observed. Per a discussion on the IAA Cartridge Forum, only about one million rounds were produced, none of which was in boxes labeled specifically for the .22 short magnum cartridge. A .22 short magnum is shown to the right of a .22 long rifle cartridge in the picture on the right.
Capable of firing 1500 rounds of .22 long rifle rimfire per minute, the American 180 sub machine gun was first introduced by American Arms, Inc of Salt Lake City, Utah for commercial sales in the early 1970s. However, as a result of production problems and l

egal issues with the BATF, American Arms went out of business in 1986. The next year, the Illinois Arms Company, Inc. (ILARCO) purchased the patent and manufacturing rights to the 180 and began making changes to some of it's parts to improve its functioning and reliability. Another change was to develop a more powerful cartridge for it to use; this cartridge was the .22 short magnum. The gun was capable of functioning with either the .22 long rifle (1500 rounds per minute) or the .22 short magnum (1800 rounds per minute) using the same magazine and requiring only that the quick-detachable barrel be changed when switching from one cartridge to the other. One shortcoming of the gun was the time required to load the 165 round magazine. This was apparently such an issue that the company considered producing disposable pre-loaded magazines. The American 180 is still produced in a semi-automatic .22 long rifle version, with magazines holding up to 275 rounds by E&L Manufacturing of Riddle, Oregon.
Sources:
Image of American 180 sub-machine gun from Wikkipedia at https://en.wikipedia.org/wiki/American-180
Instruction Manual for American 180 found here: http://stevespages.com/pdf/american_180_rifle.pdf
General Information on the American 180 Sub-Machine gun:
WORLD GUNS, http://world.guns.ru/smg/usa/american-10-e.html
E&L Manufacturing, https://elmfg.com/am180/articles/swt11-88.html
and https://elmfg.com/am180/history/history.html
Cartridge information - IAA cartridge forum: http://iaaforum.org/forum3/viewtopic.php?f=8&t=9811&view=previous
.
.
.
.
.
.
.
.
.
.
.
.
.
.
.
.
.
.
.
.
.
.
.
.
.
http://stevespages.com/pdf/american_180_rifle.pdf
American 180 Rifle Instruction Manual American Arms International, Inc
.WORLD GUNS: http://world.guns.ru/smg/usa/american-10-e.html
Characteristics
Caliber: .22LR (5.6x15 rimfire); .22ILARCO (.22 Short Magnum rimfire)
Weight: 2.6 kg empty; approx. 4.5 kg with loaded 176-round magazine
Length: 900 mm (35 ½ in)
Barrel length: 470 mm (18 ½ in) standard; 229 mm (9 in) short.
Rate of fire: 1200 rounds per minute with .22LR ammo; 1500 rounds perminute with .22ILARCO ammo
Magazine capacity: 165, 177, 220 or 275 rounds
Effective range: 100 meters
The American 180 is one of the most interesting submachine guns. The idea of the very high capacity, small caliber rifle which can be fired for a long time without reloading had been devised by the American gun designer Richard (Dick) Casull in the early 1960s. During that same time he produced about 80 semi-automatic rifles, known as Casull Model 290 rifles, in.22LR, with 290-round flat pan magazines. these rifles were finely made and quite expensive. During early 1970s the idea of the Casull rifle had been upscaled into a small-caliber submachine gun intended for police use. The .22LR ammo, which is low powered by all standards, has advantages of low report, low recoil ,low probability of ricochets and over-penetration, as well as good accuracy. Necessary stopping power has been achieved by multiple hits in a short period of time, thanks to the aforementioned low recoil, high rate of fire and very large magazine capacity. Designated as American-180, the submachine gun was initially manufactured in Austria under contract from US-based company, and then imported into USA by Christopher and Associates. latter guns were manufactured by American Arms International and Illinois Arms Company, Inc. (ILARCO) (hence the names .22 American and .22 ILARCO). Significant numbers of American-180SMG's were purchased by police departments and prisons, mostly for riot control situations. But it soon had been found that, while single .22LR rounds cannot defeat typical police body armor if used by 'wrong' hands, long bursts will literally dig through the body armor and do significant damage to the officer wearing it.
American-180 is a conventional blowback operated submachine gun, firing from the open bolt. It can be fired both in single shots and in full automatic mode. The receiver is a solid machined steel part, the furniture is made from wood. The most unusual part of the gun is its multi-layer flat pan magazine, reminiscent to magazines of the pre-WW2 aircraft machine guns. The original magazines were made from steel and held 177 rounds in three layers, bullets pointing inwards (to the center of the pan). Late production magazines were made from translucent Lexan plastic, and held either 3, 4 or 5 layers of ammunition, with 165, 220 or 275 rounds capacity respectively. Some guns were chambered for .22 ILARCO ammunition. As the .22 ILARCO was more powerful, the rate of fire increased from already spectacular 1 200 rounds per minute to 1 500 rounds per minute. Spent cases were ejected to the bottom. American-180 submachine guns were fitted with adjustable sights, and a 'Laser Lok' laser sight has be been offered as accessory. For stationary use in prisons or during riots on the streets, ILARCO provided dual and quadruple mounts fo
.
.
---